Land Urbanism
The theme of the 4th Seoul Biennale of Architecture & Urbanism is "Land Architecture and Land Urbanism: City of Mountain Ranges, Waterways, and Wind Breezes, Drawing of Seoul's Next 100 Years." This exhibition introduces architects' research works and ideas on 'Land Architecture and Land Urbanism.' The main contents are imagining the future city of Seoul and South Korea. These are largely divided into three categories: Seoul Green Ring (SGR), Future Transformation of Architecture & Urbanism (OCS), and Seoul Architecture & Urbanism Platform (SAUP).
Seoul Green Ring (SGR) started its concept from the old city of Hanyang Castle, where the Seoul Wall was built in the early Joseon Dynasty. Hanyang, the old city name of Seoul, was connected by Sunseong-gil around the castle wall as King Taejo designated it the capital of Joseon and built its wall. Since then, the population has increased, and the city has naturally formed its physical shapes around mountains, waterways, and valleys. Through modernization and economic development, it has become a place with 10 million residents and 25 million working people in the metropolitan area altogether. Despite the expansion to Gangnam and the city's growth, mountains surrounding Seoul were connected by the Seoul Dulle-gil and maintained its characteristics. With the growing emphasis on linear parks and the integration of parks with residential areas due to the impact of COVID-19, the importance of creating connection between parks and residences has escalated. Enabling seamless connectivity between pedestrians, parks, and their residences has become a crucial aspect in enhancing the quality of urban spaces. The objective of Seoul Green Ring is to establish a 3km-radius green path network in each area of Seoul that links the entire city, including the Han River waterfront. This network aims to facilitate convenient access to key green spaces from both residential and commercial areas across Seoul. Seoul Green Ring represents a form of "Massive Transformative Purpose," envisioning Seoul's future as an ecological city. To realize this vision, it is essential to establish urban planning incentive systems that utilize on multi-layered public walkways for new buildings. This green ring, can be used as emergency channels for future transportation such as urban air mobility (UAM) and our descendants will enjoy the future ecological city, Seoul.
One City-State (OCS), the future transformation of architecture and urbanism, is an exploration of how cities will change and where and how we will live in future Korea. The keywords of future urban architecture revealed through a data mining process with the help of AI can be largely divided into four categories: transportation logistics, digital transformation, carbon neutrality, and population change. Focusing on these keywords, our goal was to look at the future of megaregions in the United States, Europe, China, and Japan, and the future of Korea, where the population is decreasing and some remote regions are going extinct.
'SAUP, Hangang Whale' serves as a digital platform for imagining the future of urban spaces in Seoul. Various architects' diverse ideas of future Seoul are showcased in this exhibition, allowing easy exploration via computer screens and mobile devices. Although currently in its early stages, Hangang Whale could evolve into a significant platform for architectural communication as a variety of ideas accumulate over time, even after the Seoul Biennale of Architecture & Urbanism.
Curator: Eui Young Chun
Venue: Seoul Hall of Urbanism & Architecture
Exhibition Assistants: Yeong Won Yoo, Tae Kyu Kim, Hye Jin Han, Jean Chun
SAUP Platform: Korean Institute of Architects, GS Engineering and Construction Corp., Planningo Inc.
T-City
Ken Sungjin Min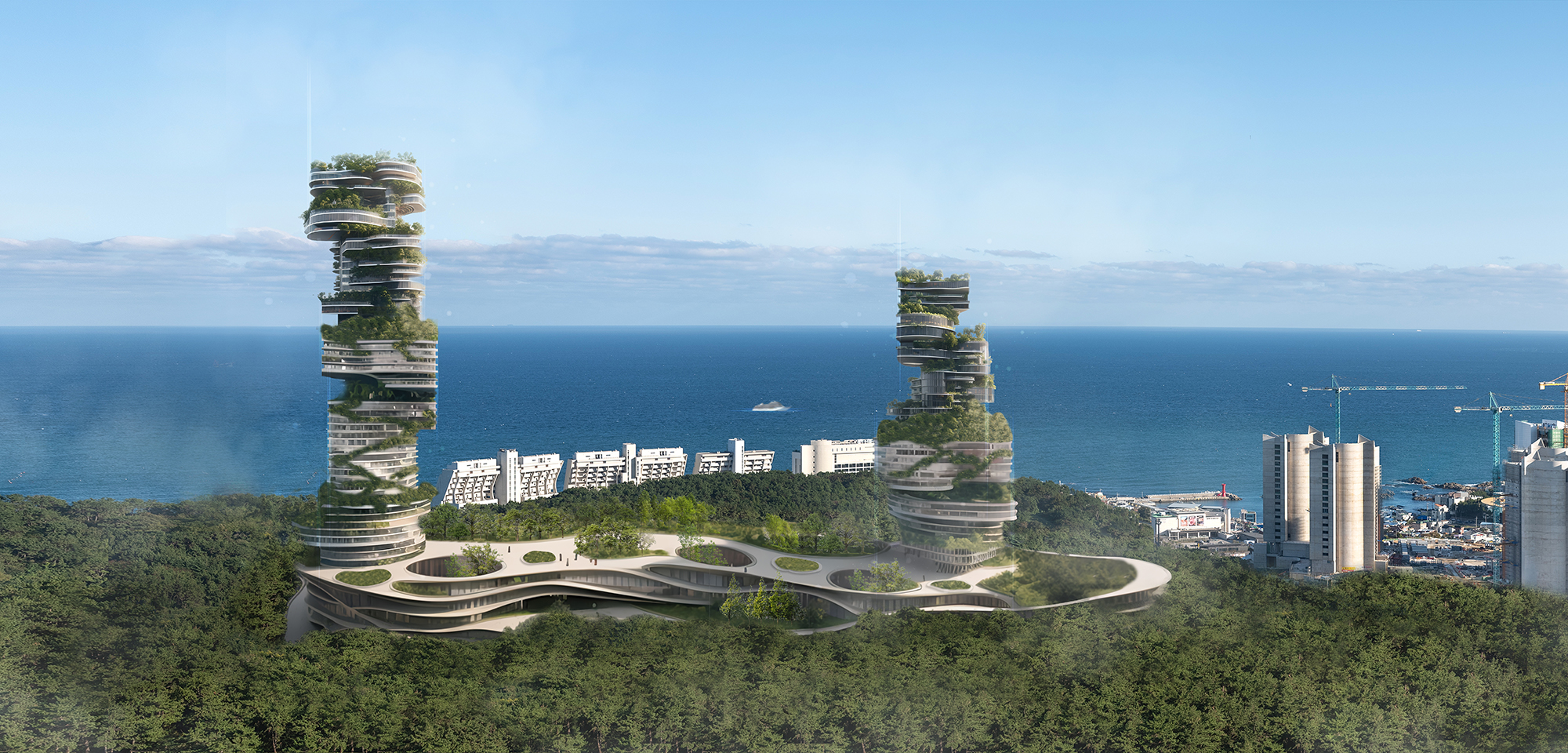 As urbanization speeds up globally, the Megaregion concept is gaining traction. Megaregions connect two or more megacities within a Metropolis, forming an urban cluster with over 10 million people. This idea holds economic and urban planning significance. Busan, South Korea, is poised to be a central hub linking Pacific Rim nations—Korea, China, Japan, Australia, Russia, and the US—within 50 years. The Gyeongnam region of Busan, Ulsan, Geoje, and Namhae aims to create a Megaregion in the southern Korean Peninsula, leveraging existing infrastructure. These developments could reshape work environments, introducing the "Workcation" concept.

SKM Architects present the visionary "T-CITY," a work-recreation complex within Busan's Osiria Tourist Complex. Located at the core of tourism and recreation facilities, "T-CITY" capitalizes on its geographical advantage, offering sea and green space access. Through an eco-friendly, forward-looking design, "T-CITY" embodies the Workcation concept, positioning Busan as a global Megaregion in technology, culture, leisure, and industry.
Ken Min Sungjin received his bachelor's degree in architecture at USC, and his master's degree in urban design at Harvard GSD. He founded his firm SKM Architects in 1995. He completed various large-scale projects in Korea and overseas, and is one of the most active architects. With a positive mindset and a forward-driving force, he approaches architectural projects with the belief that he can elevate the ordinary to the extraordinary. His comprehensive architectural perspective and values stem from extensive travel and diverse cultural experiences. He tries to ask questions about familiarity, and constantly seeks new possibilities in the belief that architecture can expand the frame of one's thought and bring positive changes in one's behavior.
The New Density of Han-River
Heechan Park(Urban Agency)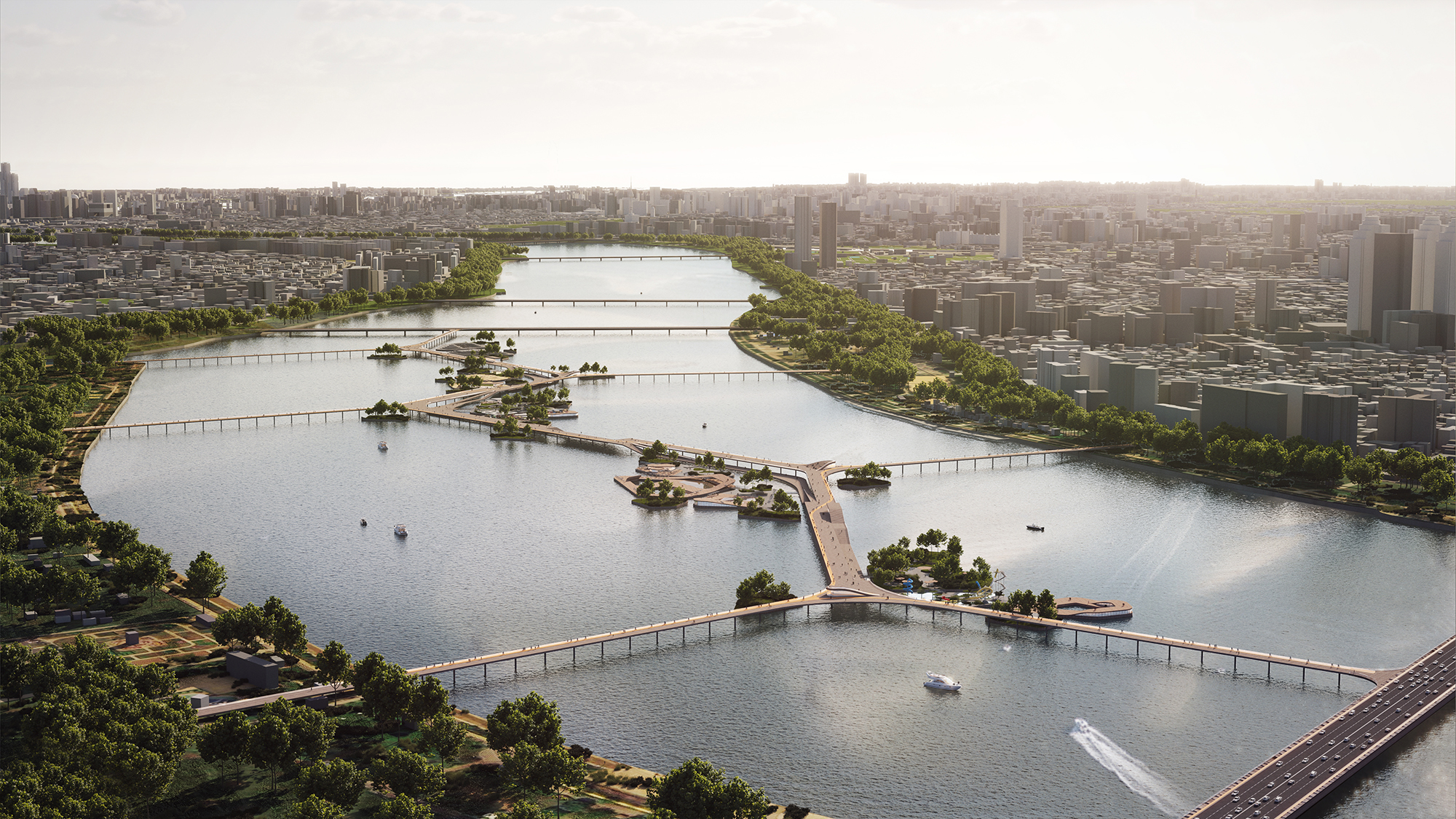 The Han River in Seoul formed the current uniform width of 1km due to flood prevention and the need to connect east-west arterial roads. These changes lost the diversity of the Han River and accelerated the social and economic separation between Gangnam and Gangbuk. In today's Seoul, the Han River requires a new urban strategy that can operate as a broad urban space that can accommodate various possibilities, not as a boundary dividing Seoul into north and south.

To this end, we propose a 'multi-layered complex connection' conceived through the process of extending and reconnecting the urban organizations of Gangbuk and Gangnam. 'Floating Islands' with various scales and programs are connected to the network and provide various waterside experiences and urban events to city residents. Through this series of processes, the density of a new urban space will be generated in the middle of the Han River, and the Han River can be transformed from a simple boundary between urban areas to a platform that provides various urban spaces.
Heechan Park, together with Henning Stüben, is co-founder of Urban Agency, jointly operating offices in Copenhagen, Denmark and Düsseldorf, Germany, and are carrying out various projects around the world.
Gateway+Park
Oscar Kang

This proposal explores the intersection between the city and the park in the context of the Seoul Green Ring. The project is situated along a prominent vehicular entry point to Seoul (Yangjae Interchange) and adjacent to a number of parks including the Maeheon Citizen's Park, a popular urban park in Seoul. Our proposal clarifies the relationship between nature and the built environment by clearly delineating the boundary of the city to preserve the existing natural element (park) and to celebrate a new Green Seoul through the creation of a new entryway (gateway).
Oscar Kang is a professor at Seoul National University of Science and Technology. He holds a Master's in Architecture from the Harvard Graduate School of Design and a Bachelor's Degree in Architecture from the Illinois Institute of Technology. He established Oscar Projects, a laboratory to explore architectural design. He previously worked for John Ronan Architects in Chicago, Machado and Silvetti Associates in Boston, and Grimshaw and Selldorf Architects in New York.
Doublethink for the Future
Haeyeon Yoo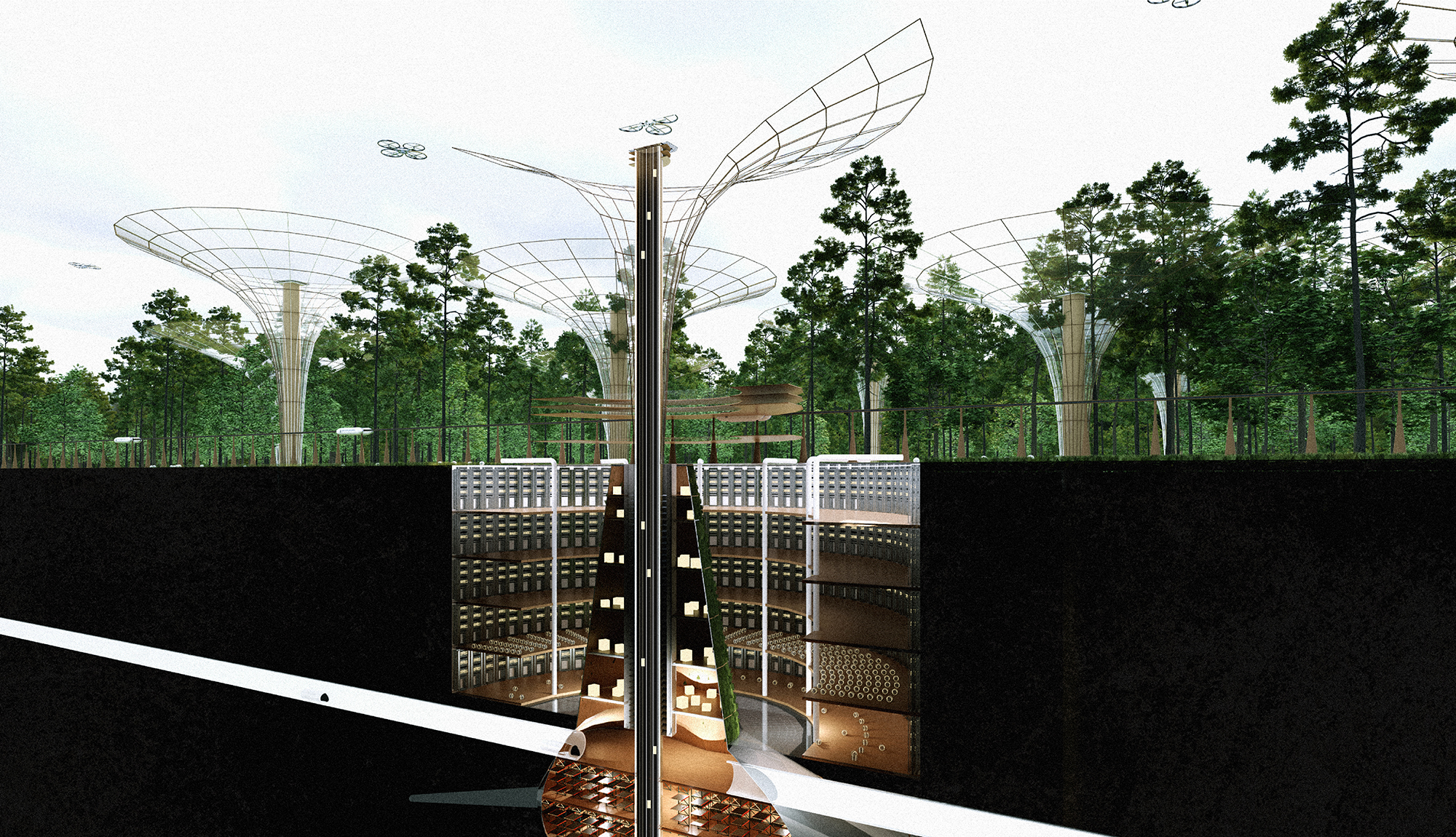 Why are OCS prototypes necessary, even though the most important thing in planning architecture and cities is to consider locality and specificity? This is because a system that restores nature damaged by the existing growth-oriented development and coexists with nature is needed before it is too late. Therefore, at a time when reconstruction and redevelopment projects are expanded and urbanization is maximized, we would like to propose the most "valuable doublethink" for the future, that is, the best alternative for nature and technology to coexist together.
Haeyeon Yoo participated in practical tasks such as urban housing master plan and design at Samoo Architects and Engineers (2000–2008). She obtained her PhD from Seoul National University. She studied policies and systems in the Urban Regeneration Project Team and General Project Team of the Korea Land and Housing Corporation (LH) (2010–2012), and has been conducting several classes at the Faculty and Graduate School of Architecture at Soongsil University(2012–present).
Haebangcheon Ruin City
Jaewoo Chon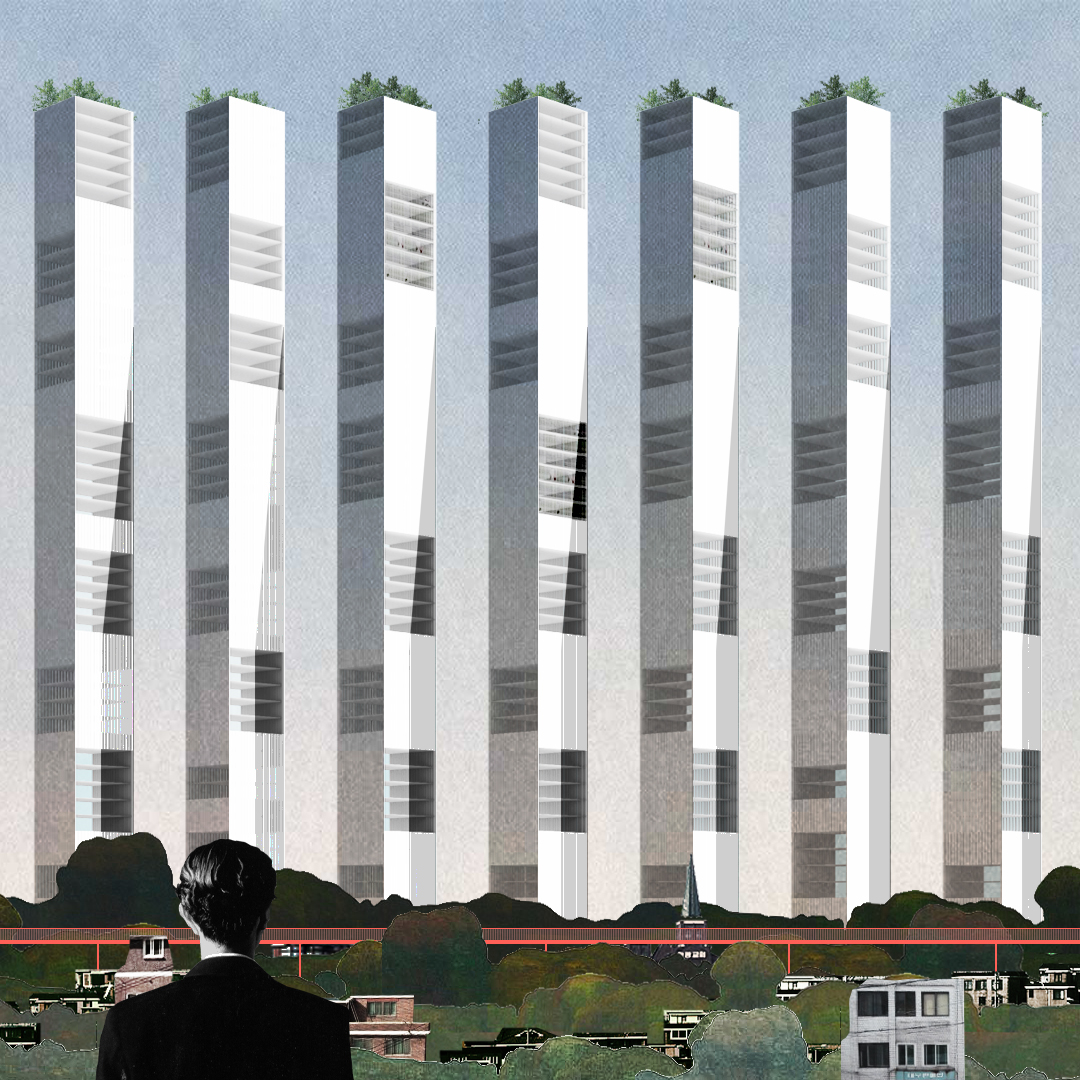 Haebangcheon Ruin City deliberately abandons portions of the Haebangcheon to allow the process of natural reclamation, bridging the long-standing gap between Namsan and Yongsan Park. The newly formed green corridor of Haebangcheon protected by rows of residential towers takes on a new identity as urban ruins, evoking a sense of history, reflection, and exploration.
Jaewoo Chon is an architectural designer, writer and scholar. He holds a Master of Architecture from Harvard University and a Bachelor of Architecture from the University of Waterloo. He established Hyperspandral in 2020, presenting not only architecture but also various spatial conceptual works at the 2021 Seoul Biennale of Urbanism and Architecture and the ACC Residency in Gwangju. He is currently an adjunct professor at Hanyang University and Inha University.
Han-River Makemake Project
Shinhyung Cho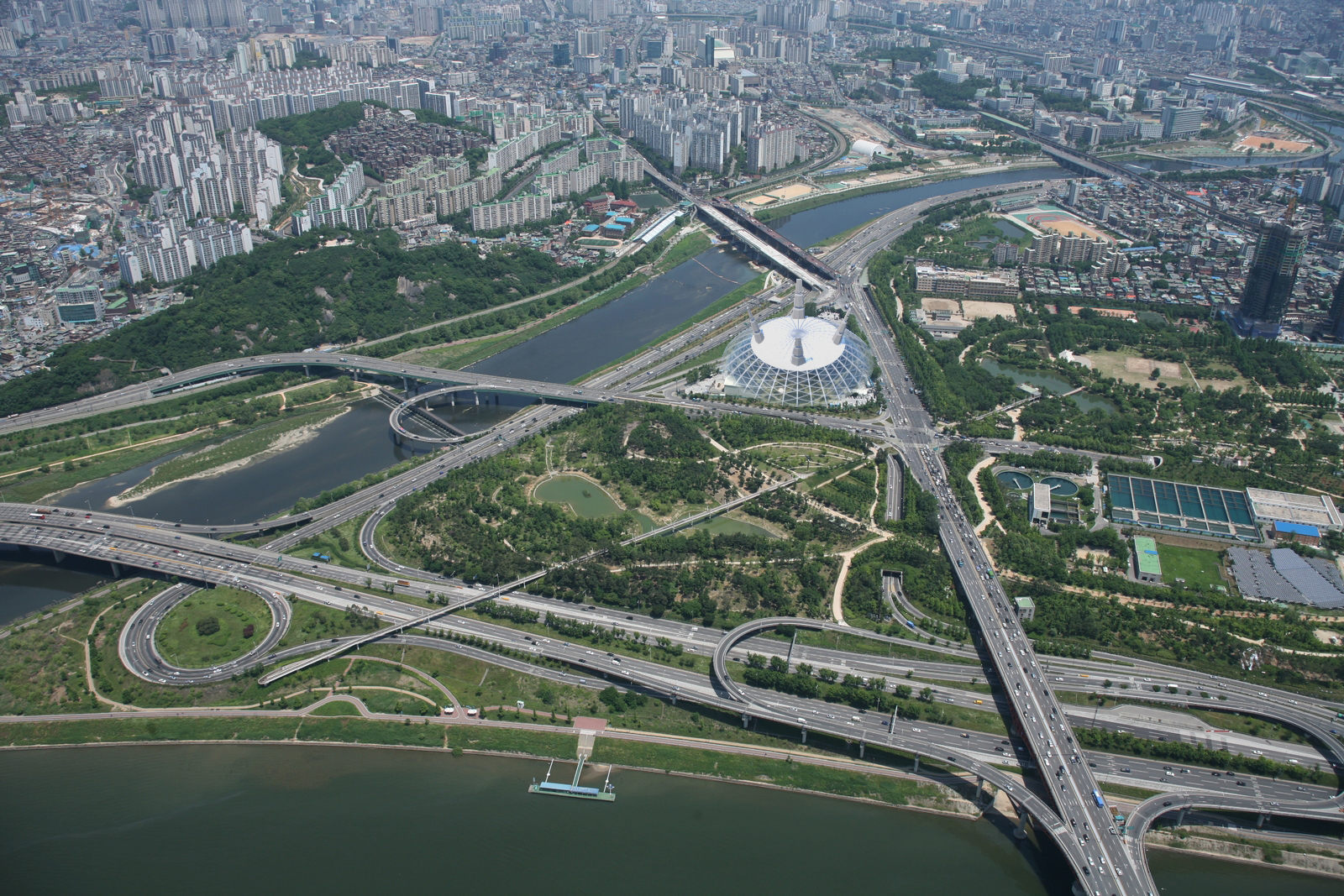 With an extensive and prudent research, Shin Hyung Cho ("DFFPM") proposes a groundbreaking idea of "Han River MakeMake Project".  It is a project that closely coordinates the water resources of Seoul, the Han River and most of all, Korea. The MakeMake Project proposes an innovative system and specially designed dome which could store and consume water of Han River and rainwater (of the Han River). To achieve this, DFFPM proposes to reduce the width of the Han River which may enable to secure and restore extra space, time and cultural leisure to the densely populated city of Seoul.
Shinhyung Cho, CEO of DFFPM, graduated from the Department of Architecture at Yonsei University, and studied at AA School in England and the Department of Architecture at Harvard University. He has teaching experience at Cooper Union in the United States and a career at the Norman Foster studio. In 2008, he was nominated as the Next Generation Designer by the Ministry of Knowledge Economy. He has experience in a number of projects, including Seoul Wave Art Center in Jamwon-dong, Space Shinseon in Hannam-dong, Wirari House in Hwacheon, and Monolithic Stone in Busan.
SBAU
The 4th SBAU
EXHIBITION
PROGRAM
LOCATION
CREDIT
NOTICE
KR
SBAU
The 4th SBAU
EXHIBITION
PROGRAM
LOCATION
CREDIT
NOTICE
KR