Parallel Grounds - Cities between Density and Public Value
The 4th Seoul Biennale of Architecture and Urbanism revolves around the theme of "Land Architecture, Land Urbanism." This theme underscores the importance of recognizing and restoring our connection to the land, encompassing land paths, waterways, and wind routes. As urban areas rapidly expand, there's a pressing need to consider multi-level usage and interconnections within urban spaces. These considerations must balance between the density of the city and enhancement of public spaces. The Guest City Exhibition delves into these complex topics, questioning how we can invigorate the vibrancy at the ground level within multifaceted physical and socio-cultural terrains, and whether it's possible to address urban density and public space in tandem.
The city, as we know it, starts at ground level. The ground level shapes our immediate urban experience and serves as the foundational stage for a myriad of activities, from personal interactions to events and commerce. Yet, as urban areas grow denser and more stratified, the very essence of this ground level is challenged by intricate dynamics. The segmentation and detachment of this crucial plane curtail the vibrancy and breadth of public activities within the city.
〈Parallel Grounds〉 emphasizes the quest to expand public spaces amidst increasing urban density. Its exploration operates on the belief that any successful densification strategy must inherently align with the underlying ground conditions. Rather than viewing densification merely as a vertical stacking of functions, the exhibition aims to redefine it as a means to bolster public engagement by reimagining the concept of the ground itself. To achieve this, the exhibition delves into the very essence of the ground, spotlighting city examples that are either broadening or reshaping their foundational terrains.
Through both completed and ongoing projects, we aim to delve deeper than just the impressive end results. We'll explore how various stakeholders aligned their goals and interests, and the methods employed to resolve disputes and ensure coordination. The exhibition will further shed light on the intricacies of urban operations by analyzing the social, political, legal, and administrative contexts cities navigate when they are dealing with issues of effectiveness and public value.
With this objective in mind, the exhibition poses six questions which form the exhibition's six sub-themes. They encompass inquiries into the definition, nature, and value of the ground; strategies to harmonize density with public realms, private property against the greater public interest; methods for bridging urban voids or even crafting new terrains; and sustaining urban dynamism within multi-tiered urban environments. By looking beyond the allure of iconic landmarks and addressing the monumental challenges of urban development, we hope to understand the societal consensus necessary for refining urban spaces and directing our collective efforts towards the greater good.
Curator: Sang Soon Youm, Jinyoung Lim
Venue: Seoul Hall of Urbanism & Architecture, Seoul Citizens Hall
Assistant Curator: Solhee Yoon
Curatorial Assistant: Shinwoo Park, Jaejun Isaac Lee
Translation: Heather HyeSang Lee, Sunjin Kim
Panel Editing: Hye Min Song
Video Subtitling: Pyke Media
Z-Dimension Architecture
Steven Holl Architects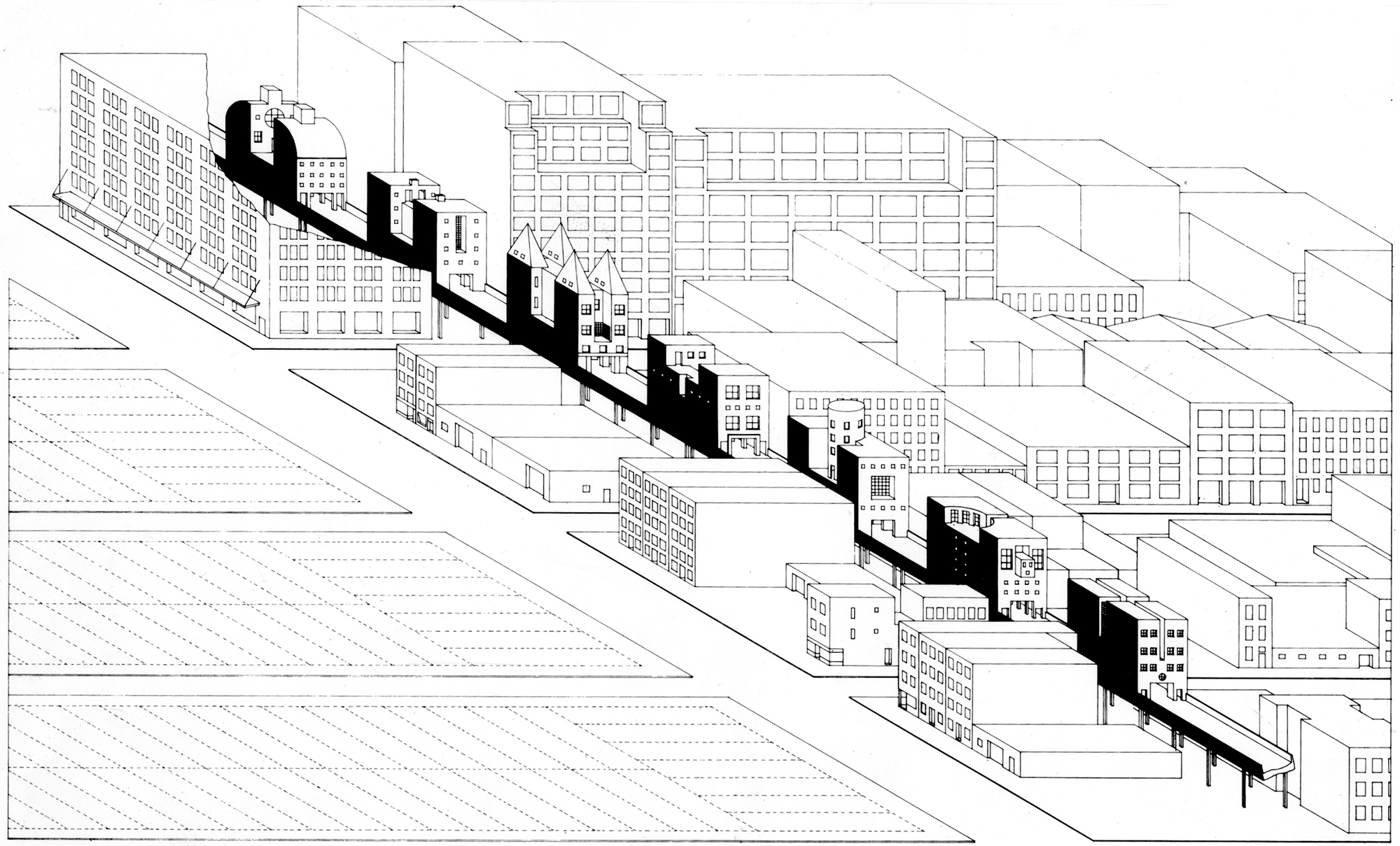 In 1981, Steven Holl unveiled a visionary proposal to repurpose an obsolete elevated railway in New York's Chelsea district, which after four decades is now known as the Highline, into a fusion of housing and public space. Since his innovative "bridge house" concept, which intertwined the railway's infrastructure with the ground, Holl has consistently delved into an architectural paradigm that marries landscape and structure, addressing the city's intricate layered form. Over the ensuing 40 years, this exploration has given birth to an array of projects that echo the ethos of three-dimensional architecture in harmony with the land. This multifaceted architectural form not only unveils expansive green spaces for the public but also stands as an iconic landmark.

Steven Holl's architectural journey underscores a profound relationship with the land and an enduring commitment to integrating landscape and architecture. This approach epitomizes how the principle of Parallel Grounds can manifest in urban realms, carving out public spaces and bestowing green lungs. Through this exhibition, Steven Holl Architects seeks to illuminate how the Z-dimensional architectural philosophy evolved in synergy with the terrain, with a vivid display of the firm's sketches and projects.
Steven Holl Architects is an internationally recognized, innovative architecture and urban design office with locations in the Hudson Valley, New York, and Beijing. Steven Holl founded the firm in 1977 and leads the office with partners Noah Yaffe, Roberto Bannura, and Dimitra Tsachrelia. Steven Holl Architects is internationally honored with architecture's most prestigious awards, publications, and exhibitions for excellence in design. Awards include the Velux Daylight Award for Daylight in Architecture (2016), the Praemium Imperiale Award for Architecture (2014), the Gold Medal from the American Institute of Architects (2012), the RIBA Jencks Award (2010), the BBVA Foundation Frontiers of Knowledge Award (2009), the Grande Médaille d'Or from the French Académie D'Architecture (2001), and the Alvar Aalto Award (1998).
Berlin—City of Courtyards
Quest (Christian Burkhard & Florian Köhl)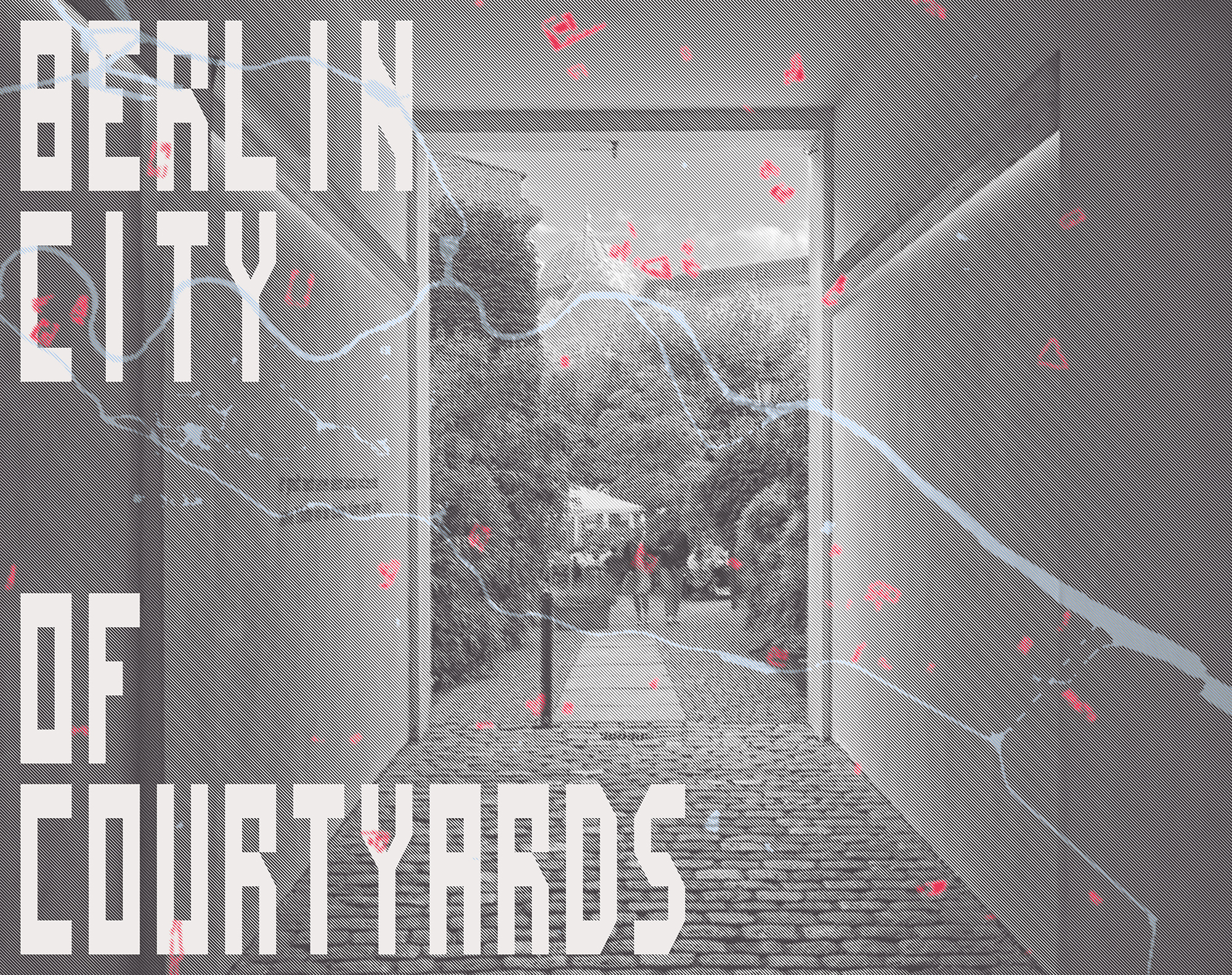 Urban spaces inherently evolve over time. What may start as overlooked or enclosed areas can often transform into pulsating public hubs that infuse life into cities. The courtyards of Berlin, primarily birthed during its expansive growth phases, have seamlessly woven themselves into the city's tapestry, bridging neighborhoods both physically and socially while also serving ecological purposes.

During Berlin's phase of rapid expansion, the formation of city blocks encapsulated existing plots, giving rise to spacious courtyards. These spaces, which sometimes were strictly functional or closed out, and in some cases destroyed by war evolved into vibrant public realms over time. Today, these courtyards are cherished pathways, doubling as public parks or even as green infrastructures that ingeniously recycle water through artificial wetlands.

In a deep dive into this transformative journey of Berlin, we'll examine four representative cases, illustrating their rich history and the evolution of city's physical structure into a treasured urban alcove. This exploration is poised to spark dialogues on how urban void can be reimagined to breathe life back into the cityscape.
Christian Markus Burkhard serves as a Senior Lecturer at Universität Kassel in the Faculty of Architecture, Urban Planning, and Landscape Architecture (ASL). His research prominently focuses on the integration of nature within architectural designs, emphasizing the benefits of incorporating trees into building facades for both aesthetic appeal and enhanced thermal comfort. Since 2013, Burkhard has collaborated with Florian Köhl on various projects aimed at fostering diverse, lively urban spaces. Their joint efforts led to the creation of a vertical green structure in Berlin's Prinzessinnengarten. Further solidifying their partnership, the two co-founded Quest in 2016, an initiative that centers on architecture's pivotal role in supporting urban ecosystems.
Florian Köhl is currently a professor at the University of Kassel, he researched and taught for several years at the Technical University of Berlin and the Bartlett School of Architecture, London. He is also a co-founder of the NBBA (Network of Co-housing Architects in Berlin), Teameleven, and Instant City, Berlin. Florian Köhl founded the Berlin-based fatkoehl architects in 2002. A major trait of the studio's work is its constant search for ways of relating people through architecture with their urban surroundings. In this context, his studio spearheaded efforts to elaborate alternative architectural production models on an all but stale Berlin housing market in the early 2000s.
Artist: Quest, Laboratory for Urban Ecosystems, Berlin
Sponsor: Senate Department for Urban Development, Building and Housing Berlin
Idea and concept: Christian Burkhard & Florian Köhl
Design and layout: Tim Sawford
Collages and illustrations: Gabriel Fortenbacher
The Traditional House of the Future
John Lin and Lidia Ratoi / The University of Hong Kong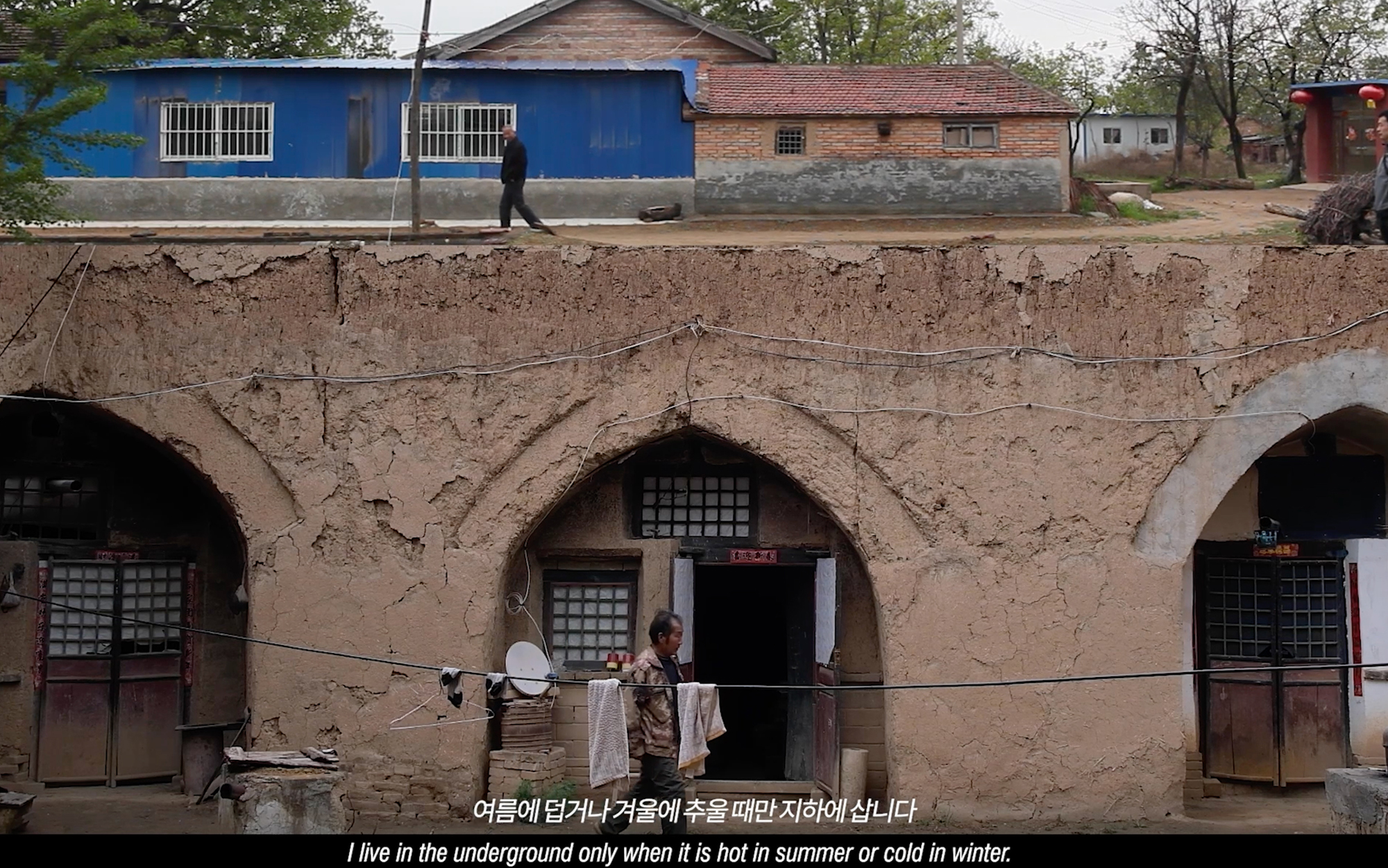 The ground often becomes a battleground where tradition and modernity clash. The separation evident between China's traditional underground homes and the contemporary above-ground apartments highlights the divide between customary land uses and today's industrialized infrastructure. Yet, there's an opportunity within this divide. By delving into this separation, there's potential to rejuvenate the traditional underground courtyards and create a balance between the old and the new.

John Lin and Lydia Ratoi have extensively researched traditional habitats across China and are reimagining our relationship with the land. They intervene in these separated grounds, either transforming courtyards into areas for community engagement or introducing structures that connect the disparate elements. Through their work, the architects prompt us to consider: When traditional land usage no longer aligns with our needs, how should we rethink our approach and become actively involved?
John Lin is a professor of Architecture at The University of Hong Kong. In 2005 when the Chinese government announced its plan to urbanize half of the remaining 700 million rural citizens by 2030 he recognized that the rural is at the frontlines of the urbanization process, and together with Joshua Bolchover established Rural Urban Framework (RUF). Conducted as a non-profit organization providing design services to charities and NGOs, RUF has built or is currently engaged in various projects in diverse villages throughout China and Mongolia.
Lidia Ratoi is an assistant professor at The University of Hong Kong – Department of Architecture. She holds a degree in robotic fabrication from IAAC Barcelona, the Open Thesis Fabrication program, and has previously completed her master's studies in architecture at UAUIM, Bucharest. At HKU, she is currently coordinating the year 2 undergraduate degree and works on projects investigating material ecology and sustainability in the realm of robotic fabrication.
Layers of Public Life: Three Project Sections
Herzog & de Meuron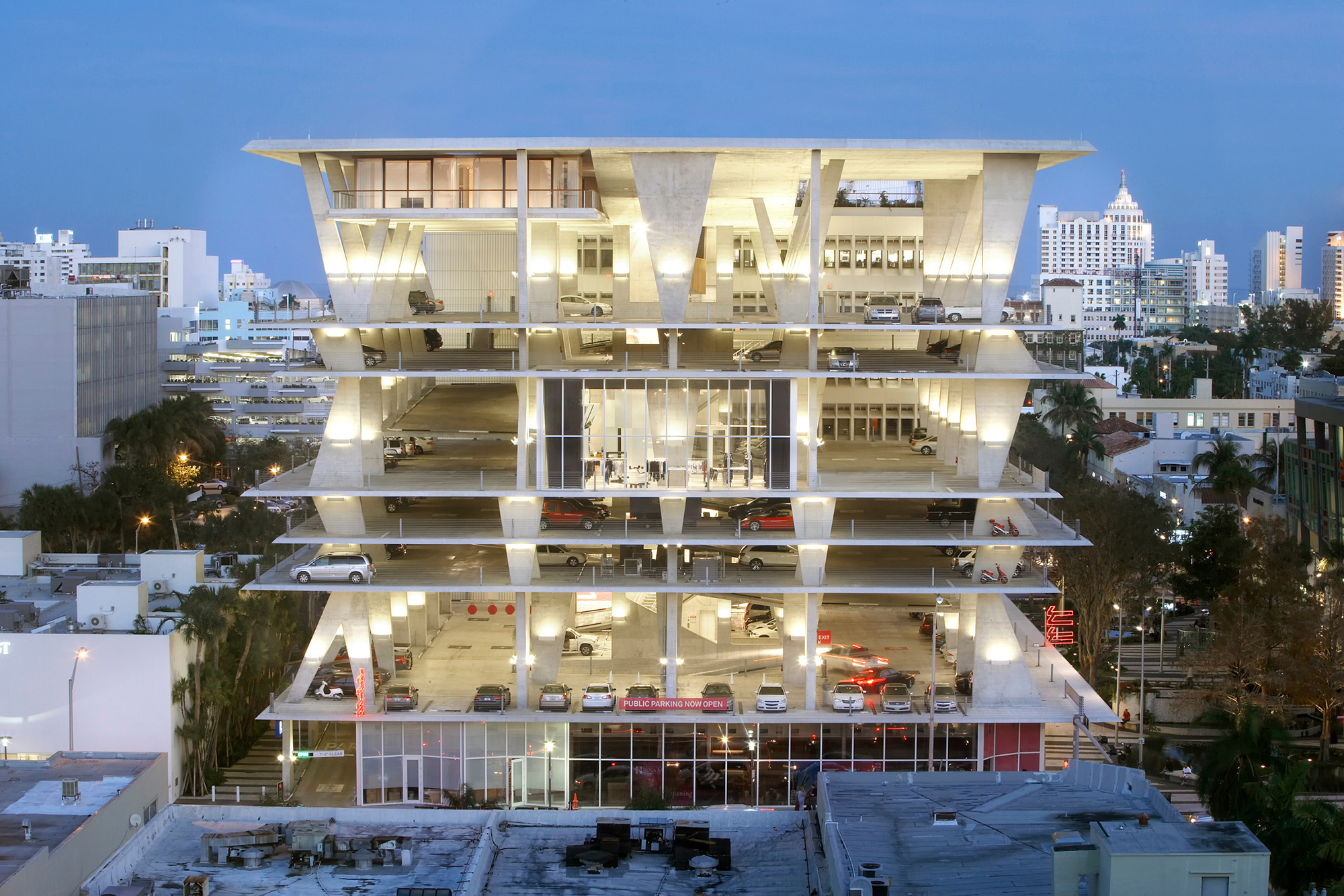 Integrating the "ground" into a building extends the city's vibrancy. Herzog & De Meuron, through three emblematic projects, illustrate their guiding tenets to nurture public engagement in their architectural endeavors. Their principles encompass: build on the built; maximize open and green spaces; reuse what you can; incorporate flexibility; mix uses; activate ground floors; prioritize public transport and slow traffic; involve the community throughout the process.

The landmarks - M+, a vast cultural hub in Hong Kong; the Elbe Philharmonic in Hamburg, Germany; and 1111 Lincoln Road, a multifaceted development in Miami Beach, U.S. - are not just focal points of architectural admiration, but they underscore a deeper narrative of community integration and amplifying civic participation.

To articulate this intertwining of urban flow and architectural design, Herzog & De Meuron employ expansive cross-sections and use QR codes to delve into the diverse community activities that each edifice nurtures.
Herzog & de Meuron is an international architectural practice based in Basel, Switzerland, founded by Jacques Herzog, and Pierre de Meuron. Approximately 600 highly engaged individuals from 50 countries are all eager to explore how architecture can meet the needs of our rapidly and radically changing world. They take an open and impartial approach to each project and seek collaboration beyond the conventional disciplines, with the like-minded, the curious, and the adventurous.
The Athletes Village: A new district of the Grand Paris—Paris 2024 Olympic and Paralympic Games
Dominique Perrault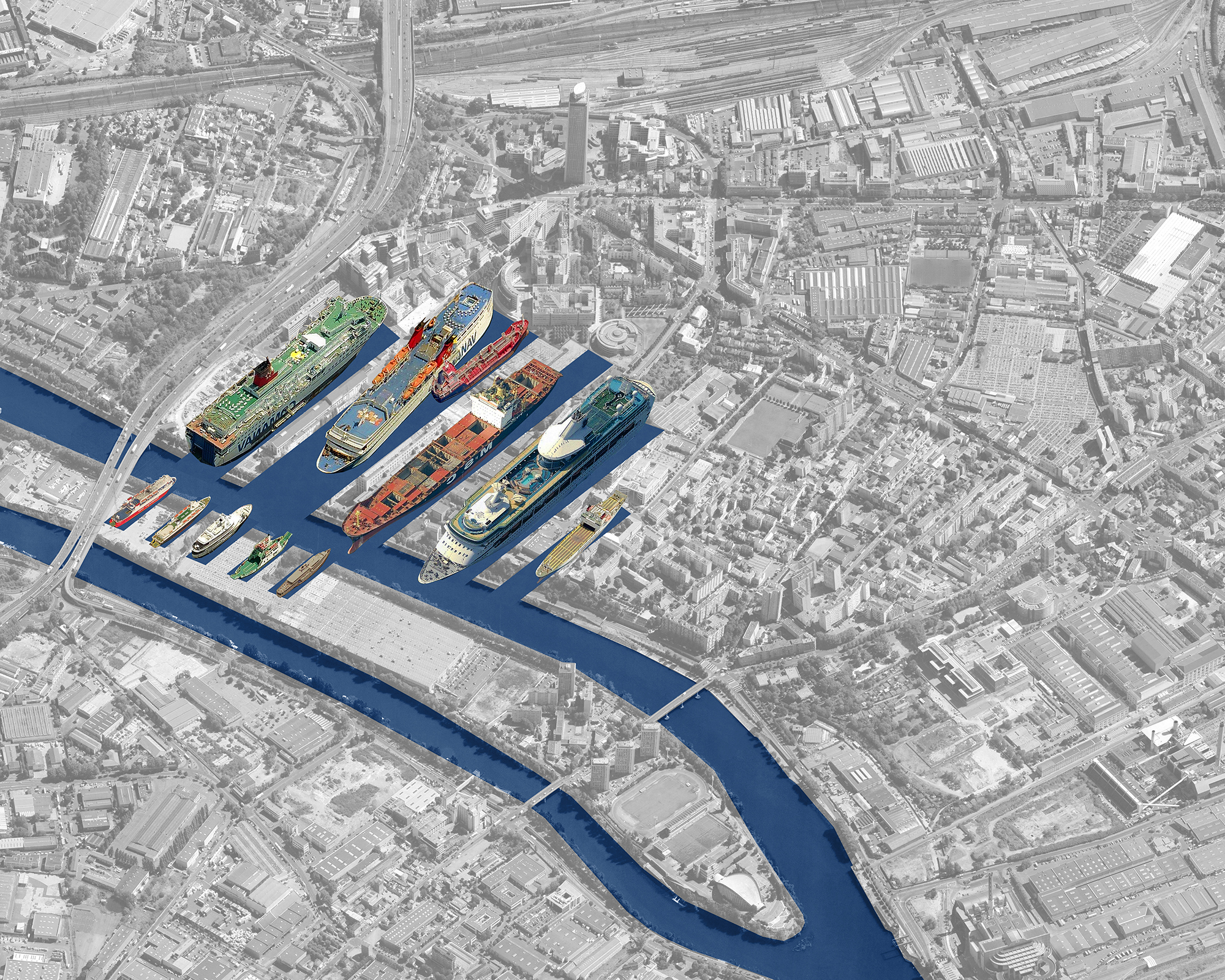 Dominique Perrault envisions six blocks perpendicular to the waterway, akin to colossal ships anchored by the Seine. The exhibition, with mirrors symbolizing the water's reflective surface, showcases a design method in a riverside development project that promotes airflow and broadens water channels and successfully reconnects the river to the city center.

The Athletes' Village, primed for the 2024 Paris Olympics and Paralympics, encompasses neighborhoods such as Île Saint-Denis, Saint-Denis, and Saint-Étienne-sur-Seine, all of which directly face the Seine. This village is crafted with six blocks, designated as 'Island Boats'. This layout evocatively paints the image of "six islands in the Seine", silhouetted against the urban horizon.

Fashioned to be slender yet elongated, the blocks lean towards the river, inviting its refreshing aura while fostering natural air corridors. The architectural design prioritizes vast green expanses and incorporates a central open space offering panoramic river vistas, thereby ensuring unobstructed views even from deep within each block. Additionally, with half of the entire athletes' village earmarked as public areas, the compound exudes an airy, communal ambiance.
Praemium Imperiale award laureate, Dominique Perrault gained international recognition with the French National Library (1995). This project marked the starting point of many other commissions abroad, such as The Velodrome and Olympic swimming pool of Berlin (1999), the extensions of the European Court of Justice in Luxembourg (2008/2019), the campus of Ewha's University in Seoul (2008), 뭉 the Fukoku Tower in Osaka, Japan (2010). The studio has also carried out various heritage conversion projects, such as the redevelopment of the Pavillon Dufour at the Château de Versailles (2016), the transformation of the Poste du Louvre in Paris (2021) or the refurbishment of Métal 57 in Boulogne-Billancourt (2022). Dominique Perrault sees architecture as a discipline intrinsically linked to urban planning, he has worked on the urban future of the Ile de la Cité in Paris and developed the Olympic and Paralympic Athletes Village for the Paris 2024 Games.
Cooperative Design for New Urban Infrastructures: TOKYO STATION YAESU DEVELOPMENT and MIYASHITA PARK
Nikken Sekkei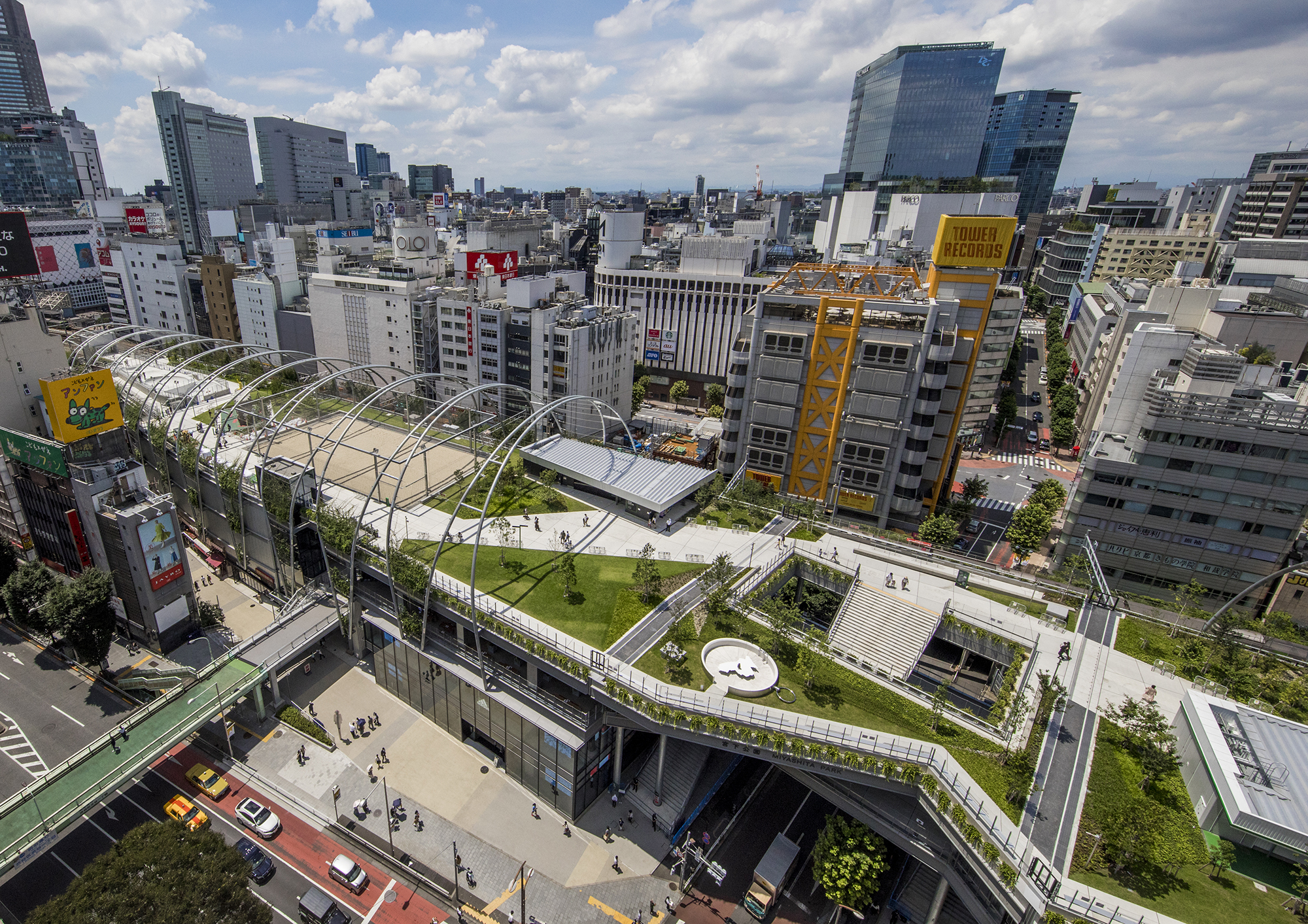 The COVID-19 pandemic underscored the significance of public spaces in densely populated urban areas. Beyond offering residents a vital outdoor refuge, these spaces inject life and vibrancy into cities. In Tokyo, where the fruits of a two-decade-long redevelopment initiative are now evident, a notable feature is the ample public space maintained amidst high density.

Tokyo, being a public transit-oriented metropolis, maximizes the areas around railway stations through a multi-layered utilization of the constrained space. These areas are transformed into pedestrian-friendly squares, forming a seamless network for easy mobility. Developed in collaboration with the private sector, they also merge parks and riversides, establishing interconnected spaces and fostering movement within layered public realms.
Nikken Sekkei is a comprehensive professional consultancy group providing integrated service solutions for a large variety of planning, design, and management. The group consists of Nikken Sekei (Planners, architects, engineers), Nikken Space Design (Interior design), Nikken Housing System (Residential design & planning), Nikken Sekkei Construction Management, and Nikken Sekkei Research Institute. Headquartered in Tokyo, Japan, the group has grown alongside changing society for the past 123 years. Even today, with the slogan "EXPERIENCE, INTEGRATED," Nikken Sekkei aims to incorporate design strategies that respond to the evolving needs of society, by observing trends in urban and built environment design.
Urban plate tectonics
Cantonal And Urban Development Department In The Presidential Department Of The Canton Of Basel-Stadt; MIDERI ARCHITEKTEN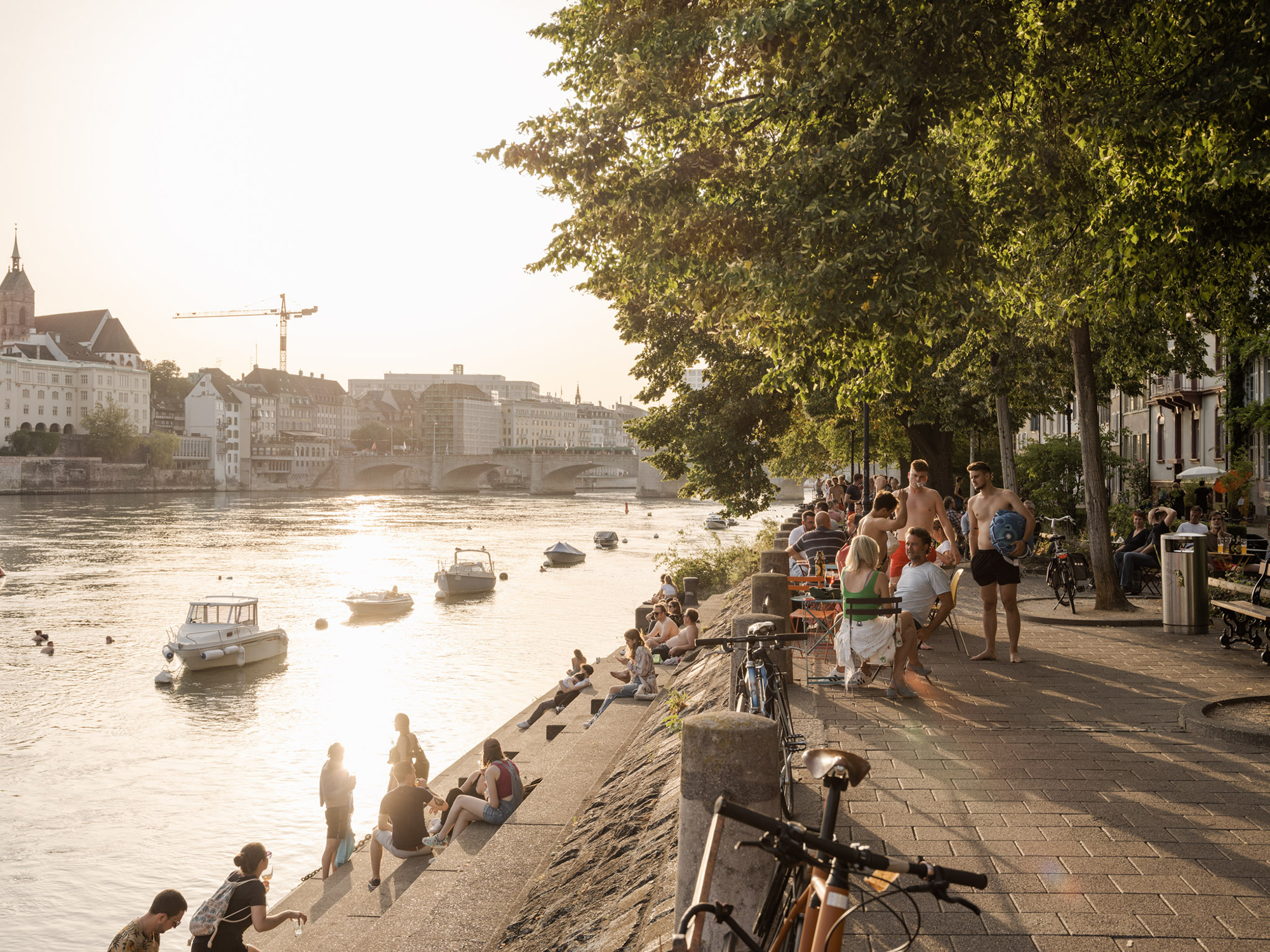 The process of activating a riverfront is multifaceted, encompassing elements like accessibility, the presence of support facilities, and its integration with the city core. Specifically, the juncture where the riverfront merges with the city center offers intriguing insights for potential access and expansion.

The area near the banks of the Rhine, once sealed off by medieval walls, underwent a transformation. By the early 21st century, with enhanced accessibility and water quality, it evolved into a vital public space after being integrated with the city's center. Now, the riverside is a bustling hub where residents swim, take a walk, dine, and interact socially, strengthening its ties to Basel's central areas. Additionally, buildings flanking the river are aiming to foster a more dynamic link by vacating their ground levels.

In this exhibit, MIDERI ARCHITEKTEN presents sensory videos capturing the Rhine's flow side by side with desks detailing riverfront analyses. Through a blend of maps, visuals, and narratives, they shed light on the Rhine's diverse influences, be they historical, cultural, sociological, geographical, or economic, and how the cultural communities along its expanse interact.
Miquel del Rio Sanin, the founding partner at MIDERI ARCHITEKTEN GmbH, is a renowned architect from Barcelona. He began his studies at the International Business School (ESCI-UPF) in 1998, followed by a decade at ETSAB, culminating in a master's in Architecture in 2009. Miquel's journey in architecture saw him partnering at RDR, Estudi d'Arquitectura from 2001-2012, and undertaking internships at esteemed firms like Herzog & De Meuron and Arriola & Fiol. In 2013, he co-founded the Focketyn del Rio studio in Basel with Hans Focketyn. Their studio has secured multiple accolades, including the Kaserne refurbishment in Basel. Alongside his professional achievements, Miquel has been an educator, serving as a teaching assistant at ETSAB under Moisés Gallego.
Pictures and Video: Maris Mezulis
Graphic design: Pascal Storz
The Wild Mile: Restoring Chicago's Urban River
Skidmore, Owings & Merrill (SOM), Urban Rivers & Omni Ecosystems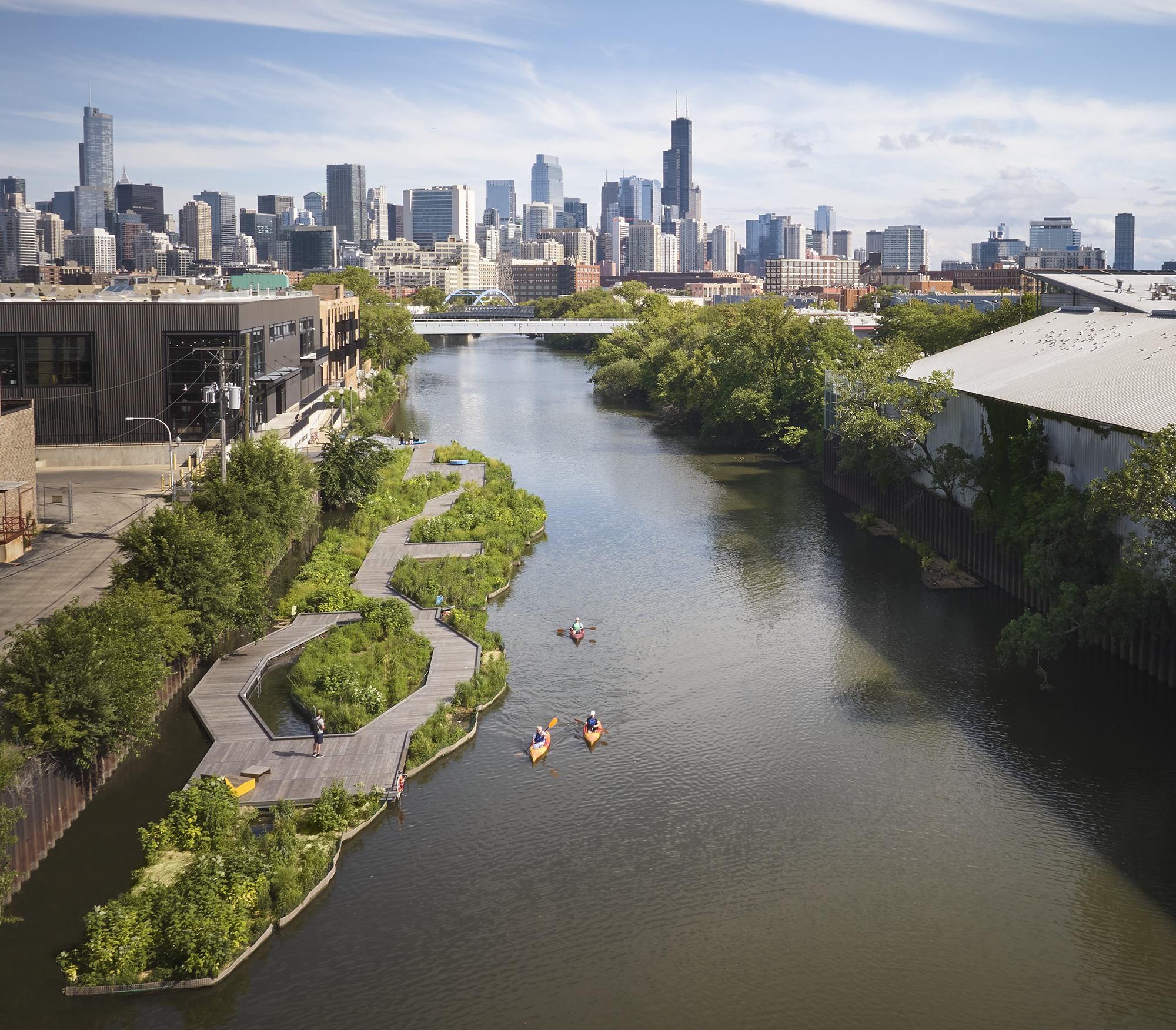 "Re-Ground" delves into restoration grounded in nature's logic, minimizing human interventions like levees in favor of ecological rejuvenation. Such ecological revival of rivers can be approached in straightforward, scalable ways.

The Chicago River, tainted and made inaccessible post-industrialization in the 1850s, has embarked on a 21st-century rejuvenation journey, repurposing the riverfront as a civic expanse. In an effort to revert the river to its natural wetland habitat from the last ice age, SOM in collaboration with Urban Rivers designed a sprawling 2,000-square-foot floating eco-park.

The "Wild Mile" initiative aspired to foster community engagement, amplify river access, and craft an environment where nature and wildlife flourish. This undertaking involved pinpointing and reviving native plant species across diverse river stretches. Central to the design approach is the modularity, enabling components to be merged and extended. Features such as floating modular platforms, tethered habitats, access ramps, observation decks, and docking units can be scaled and modified based on local demand and financial constraints. This showcases a blueprint for reinstating natural habitats utilizing a replicable design that doesn't always hinge on cutting-edge technology.
Skidmore, Owings & Merrill (SOM) is a collective of architects, designers, engineers, and planners working together to build a better future. They find innovative solutions to the complex challenges facing cities around the world—seeking always to create harmony between the built and natural environment. SOM is targeting net-zero whole-life carbon in 100 percent of our active design work by 2040. Urban Rivers is a passionate group of ecologists, entrepreneurs, and public servants with a collective background that spans world-renowned organizations, businesses, and institutions. They believe that transforming urban waterways into wildlife sanctuaries is not only an important environmental mission but also a critical social one.
Omni Ecosystems integrates science and design into working landscapes to improve resiliency within the built environment and empower healthier, happier humans.
Full Team List: SOM, Urban Rivers, Omni Ecosystems, Tetra Tech, Near North Unity Program, O-H Community Partners, d'Escoto Inc.
Ground Melbourne
Monash Urban Lab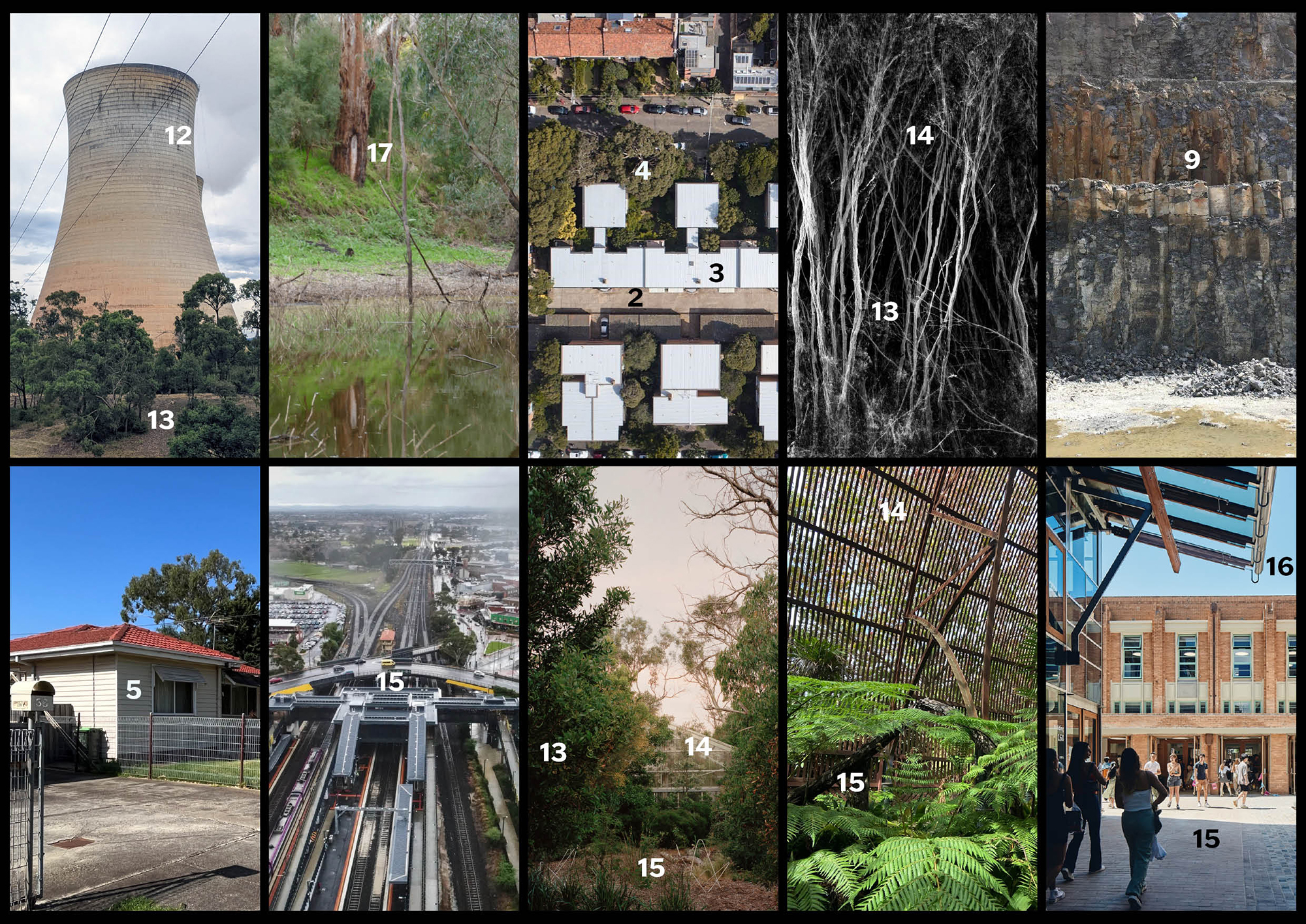 As buildings rise, age, deteriorate, and then undergo regeneration or redevelopment, the earth beneath them experiences similar cycles. From this perspective, Monash Urban Lab probes the interplay between structures and the soil, the extraction and use of resources, as well as patterns of urban migration, climate change impacts, and significant industry shifts. They explore this from both a detailed close-up and a broad bird's-eye view, aiming to comprehend the city's "ground" from micro to macro scales.

In the exhibition, every one of the 10 projects is summed up in a video and a brochure, each centered around distinct themes: Ravaged ground, Repaired ground, Reworking ground, hybrid ground, Bluestone Quarries, inclusive ground, Assembled ground, Sharing ground, Ripponlea, and Remaking ground. Drawing from an exhaustive range of research mediums—including video, photography, and written content—the exhibition comes together as a cohesive anthology named "Ground Melbourne", chronicling Melbourne's journey towards crafting sustainable and multifaceted urban spaces.
Monash Urban Lab is a research studio undertaking practice-based research into urban architecture in Melbourne and is based at the Faculty of Art Design and Architecture (MADA) at Monash University. Much of the Lab's research is focused on the intersection of the natural history of Melbourne with its urban form and processes.
Cities Without Ground: A Hong Kong Guidebook (2012)
Adam Frampton, Jonathan D. Solomon, and Clara Wong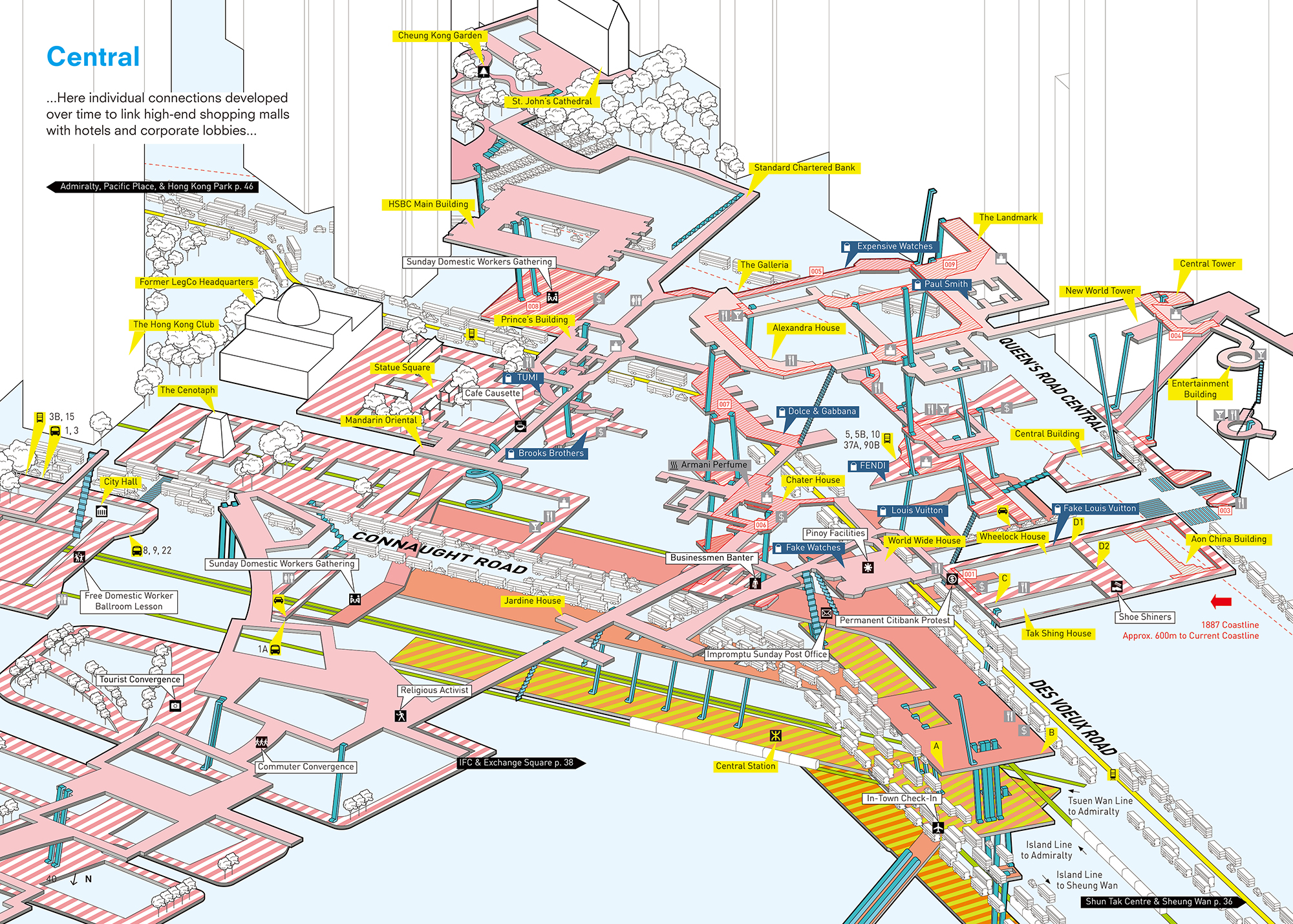 In hyper-dense urban landscapes where acquiring ground space is a challenge, how does public activism navigate its terrain? The intricacies of Hong Kong compel us to re-evaluate the perceptions of ground's significance and purpose.

Scholars Adam Frampton, Jonathan D. Solomon, and Clara Wong characterize Hong Kong as a "city without ground". They paint a picture of Hong Kong as a seamless interior labyrinth of intertwined spaces, where transport routes, pedestrian pathways, commercial centers, and building lobbies weave together across multiple levels to sculpt a singular, cohesive structure. The city's distinctive tapestry of pedestrian overpasses, its remarkable vertical density, combined with climatic factors, offers a window into a prospective blueprint for future urban public spaces.

In a setting where ground space is severely limited, Hong Kong's urban life births a distinct culture. Malls become arenas for both exhibitions and protests, walkways transform into meeting points for domestic workers, and streets evolve into dining spots and dance venues. The artist illustrates how Hong Kong underscores the potential and resilience of public spaces, even without conventional groundings like plazas. Reflecting this, the sketches showcase the intricate interconnections of the city's foundations, offering a three-dimensional portrayal of Hong Kong's reimagined ground.
Adam Snow Frampton is an American architect and educator. He is a Principal of Only If, a New York City-based design practice for architecture and urbanism, founded in 2013, together with architect Karolina Czeczek. He is the co-author of the pedestrian-centric Cities Without Ground: A Hong Kong Guidebook. He has been celebrated at the 12th, 14th, and 16th Venice Biennale of Architecture. He is also an adjunct assistant professor at the Columbia Graduate School of Architecture, Planning, and Preservation. and has taught as a visiting assistant professor at the University of Kentucky College of Design and as a visiting critic at the Syracuse University School of Architecture.
Project Lead: Cyrus Penarroyo
Creating Conditions for Freedom
KCAP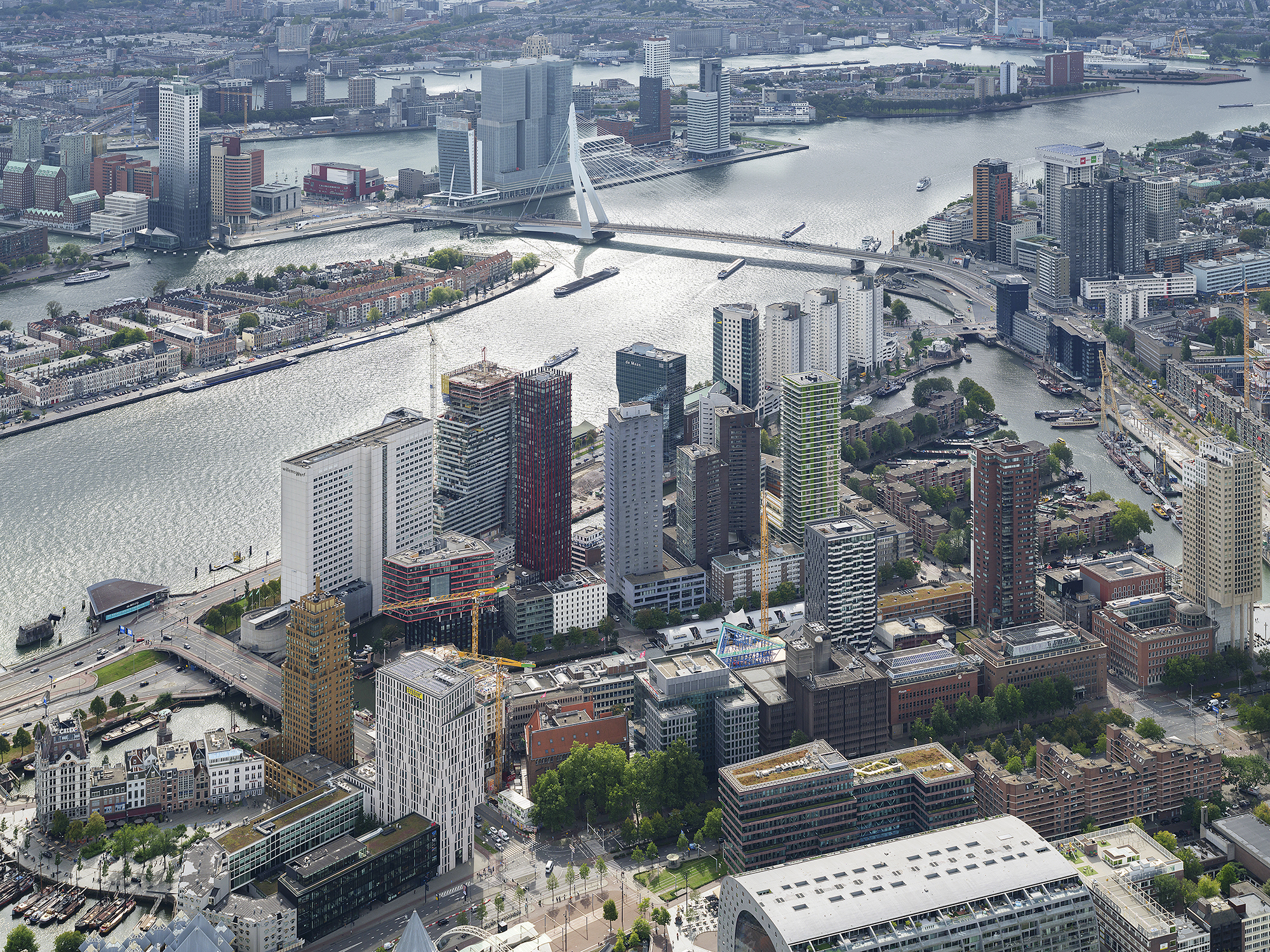 Two masterplans presented by KCAP illustrate the importance of strategic and detailed urban planning in crafting flexible and vibrant urban spaces. The first, Wijnhaven Island, is an initiative to create a 24/7 liveable complex along the Maas River, reinforcing Rotterdam's position as a prominent European logistics hub. The second, Europaallee, is a layered development surrounding Zurich's main station, encompassing various functions such as living, working, and shopping.

The exhibition delves into the necessity of creative 'restrictions' and balancing freedoms to rejuvenate vital city areas like riversides and train stations. A specific focus will be on strategies that manage the density of new constructions while preserving the existing urban landscape and aligning with market needs. Additionally, the exhibit will explore the dynamics between various programs crucial for revitalization. This exposition underscores that impactful and sustainable urban evolution demands designs that involve a broad spectrum of city stakeholders, interpret regulations insightfully, and expand upon them.
KCAP is a globally renowned urbanism, architecture, and landscape design firm, comprising a team of over 100 people and more than 25 nationalities. With offices in Rotterdam, Zurich, and Shanghai, They specialize in taking care of the lifecycle and transformation processes of buildings, neighborhoods, and urban regions. KCAP works on innovative projects around the world that result in timeless urban interventions for the world's ever-growing cities, and metropolises.
Video: (C)SBB
The City, The Water, The People… The Bio Region
Jorge Perez Jaramillo Arquitecto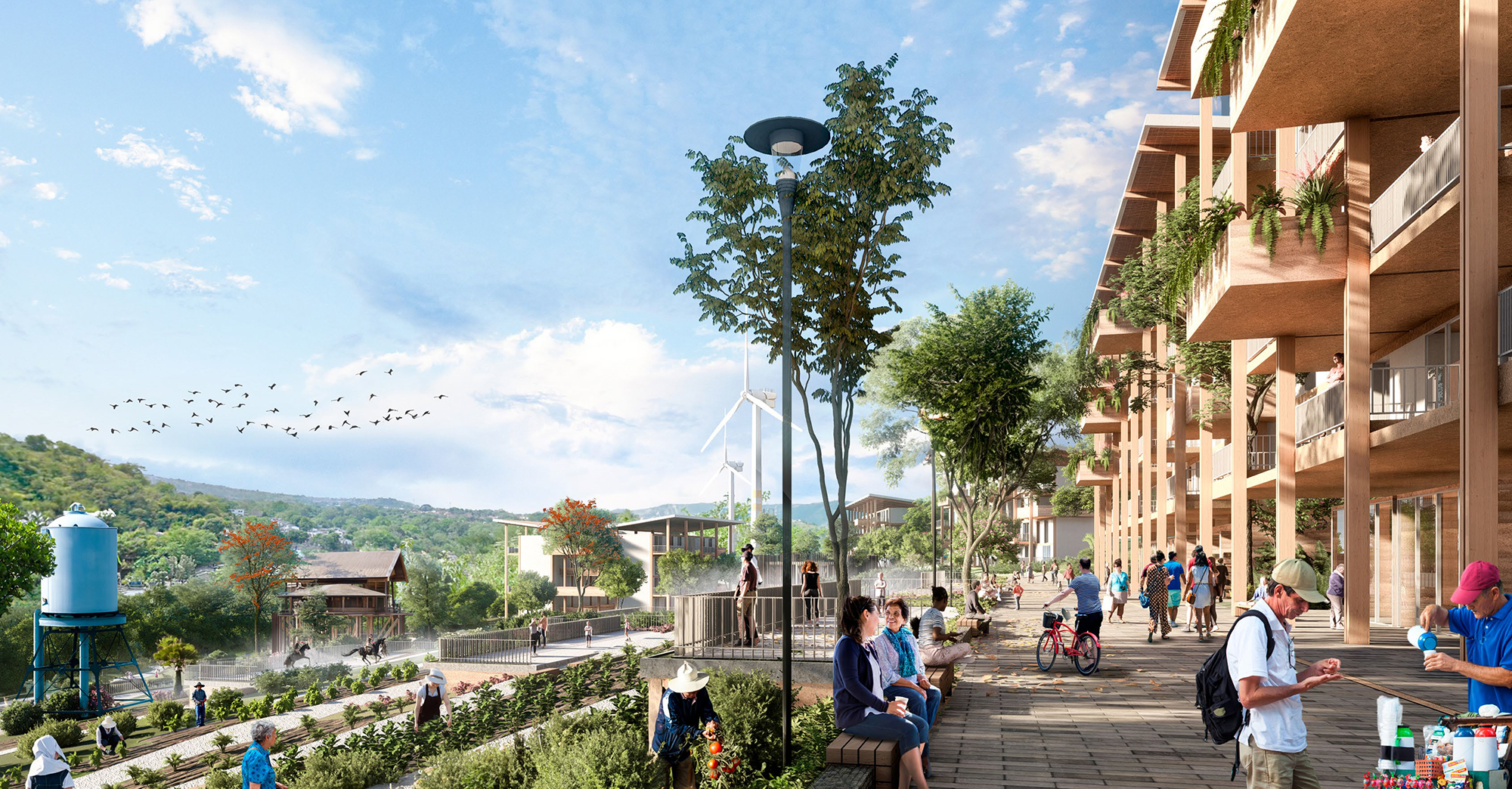 Macro-planning that integrates a city's topography and waterways can transcend mere human infrastructure to foster harmony with nature, resulting in territorial equilibrium and eco-conscious strategies. Medellín, cradled within the vibrant landscapes of the Andean moorlands, rivers, marshy savannas, lakes, and lagoons, showcases a methodology termed "following the water" in this exhibition. Three distinct city layouts at varying scales emphasize land-use planning anchored in water ecosystems.

At the city level, the Land Management Plan of Medellín is featured; at the metropolitan tier, the strategy for the Aburrá Valley is highlighted; and at a broader regional scale, the water-centric initiatives and macro-processes of Antioquia are explored. These macro-level strategies, rooted in nature, craft urban planning around aquatic ecosystems. They emphasize the information systems and land understanding that influence project decisions.

The MDE Urban Lab, having contributed to this initiative, manifests the expansive process of innovative thought and urban interpretation, encapsulated in the design of maps, information platforms, and databases.
Jorge Pérez-Jaramillo is an architect and urban and regional planner, based in Medellín, Colombia. He is currently a member of the Medellín-based think tank MDE Urban Lab and was the city's Chief Planner between 2012 and 2015. He participated in the definition of several strategic projects such as the Parques del Río ('River Parks') and the Unidades de Vida Articulada (UVAs, or the 'Articulated Living Units'), among many others. Pérez-Jaramillo served as dean of the school of architecture at both Universidad Pontificia Bolivariana and Universidad Santo Tomás in Medellín, where he remains a professor, and is a visiting professor at several universities around the world. He published Medellín: Urbanismo y Sociedad in 2019, about the processes of urban transformation in the city, and writes a+u, Arquitectura Viva, and The Architectural Review, among others.
Coordination: Jorge Pérez-Jaramillo_Architect.
Team members: Carlos Fernando Cadavid Restrepo_Chemical Engineer, Camilo Chaverra Monsalve_Lawyer, Santiago Cadavid Arbeláez_Architect, María Camila Diez J_Architect, Isabel Grisales M_Architect
Public Density and the New Heritage: Tokyo's Urban Redevelopment
Jiewon Song + Sanghoon Youm + CAT LAB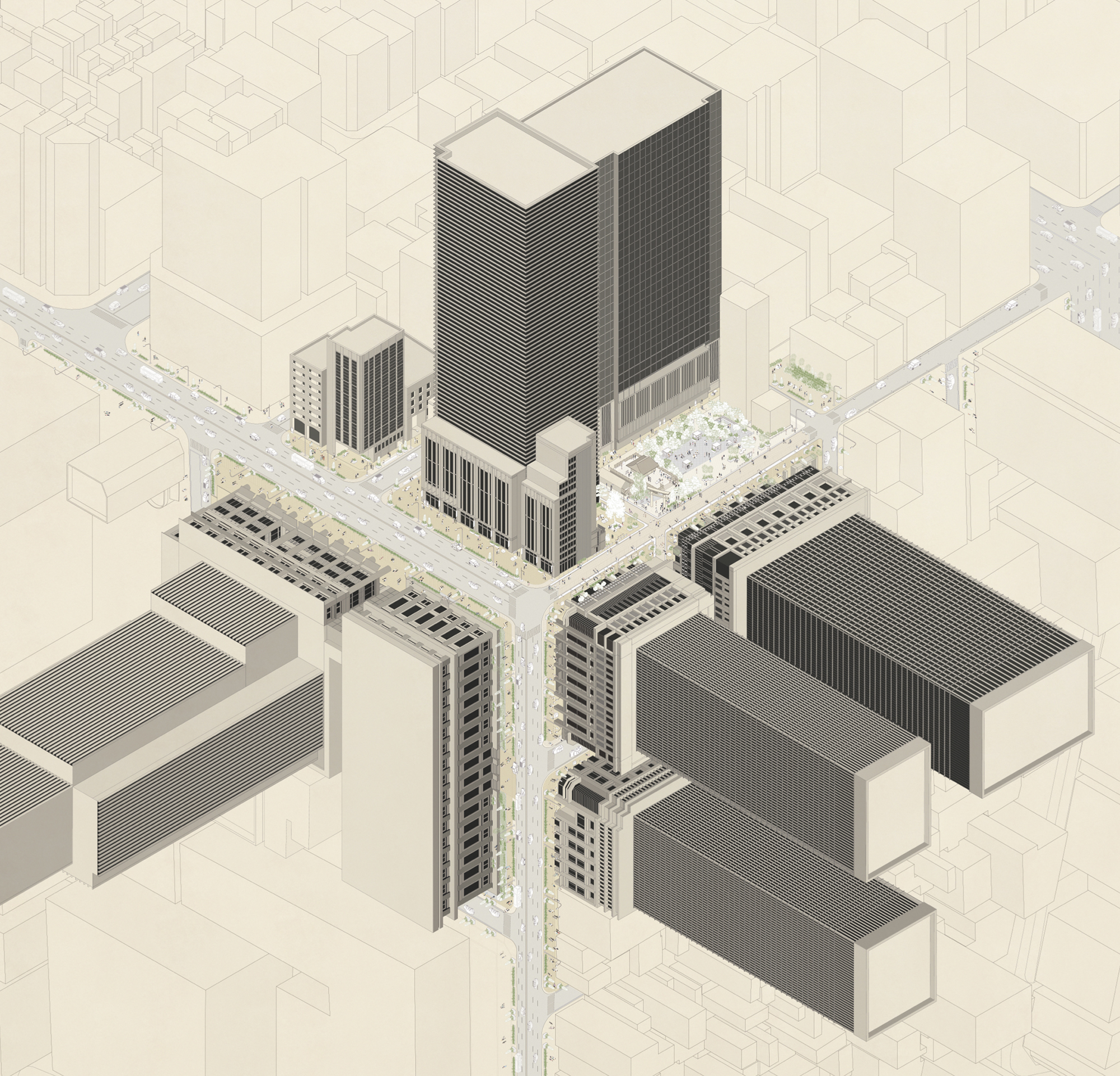 What can expansive redevelopment contribute to a city? In densely-populated urban landscapes, architecture takes on a fundamentally public persona. It's within this interplay between private and public sectors that truly habitable urban spaces emerge. Tokyo's commitment to heritage-focused urban renewal showcases this delicate dance between societal benefit and individual compromise. Specifically, the revitalization projects in the Nihonbashi and Marunouchi districts underscore the intricate balance between economic interests and historical preservation.

Tokyo's urban metamorphosis is marked by its grandiosity and the unified efforts spanning multiple institutional and societal mechanisms. These efforts are manifest in the form of sweeping public announcements, robust disaster evacuation facilities, and enhanced pedestrian pathways. In exchange, developers receive incentives that modify traditional floor area ratios. This exhibition delves deep into the historical evolution of the Nihonbashi and Marunouchi districts. Through 'Voidscape' drawings, we capture and represent the resulting urban tapestry, offering a three-dimensional perspective of ground-level spaces.

When we view public spaces through a 3D lens—emphasizing vertical and horizontal proportions over mere area—it offers fresh insights into the urban fabric. Tokyo's approach, which involves leveraging floor area ratios, ambitious development projects, and the expansive reach of its public spaces, prompts us to reflect on the symbiotic relationship between economic interests and public welfare in high-density settings.
Jiewon Song is an expert in urban planning and heritage studies. She holds a PhD in Urban Planning, The University of Tokyo; an MS in Historic Preservation, Columbia University; and an MA in Cultural Heritage Studies, University College London. She also earned a BA in Sociology, Ewha Womans University. Currently, she works as a principal investigator at the Environmental Planning Institute of Seoul National University after conducting extensive fieldwork for global urban heritage projects.
Sang Hoon Youm graduated from Seoul National University and Columbia University and he is currently an Associate Professor at Yonsei University and runs the CAT Architecture & Urban Design Lab. His research focuses on architectural & urban design strategies, urban boundaries, architectural welfare, and psychology & architectural design. His architectural design and research has been commissioned and exhibited worldwide and have received various architectural awards.
Team: Jiwon Kang, Minji Kim, Hyeongseok Kim, Hyelim Yu, Ara Cho, Sumin Hong
Ikebukuro, Tokyo: Probably Public Space?
Christian Dimmer + Keigo Kobayashi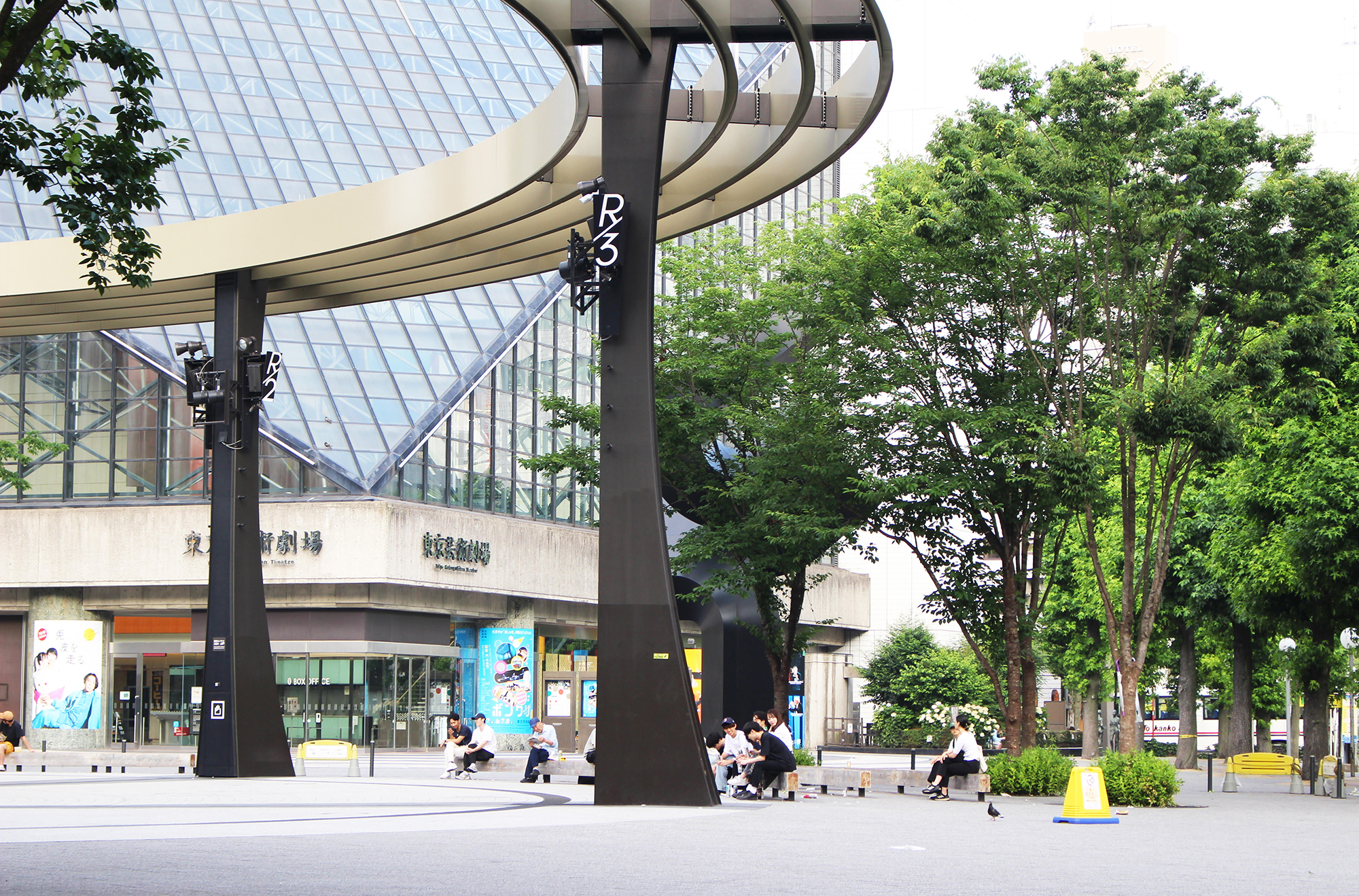 Privately Owned Public Space (POPS) presents a unique urban phenomenon, where private lands are dedicated as public realms. This arrangement allows property owners to develop beyond typical zoning allowances in exchange for offering accessible public spaces. However, the demarcation between public and private often remains blurred, leading to ambiguity in how these spaces function. Christian Dimmer and Keigo Kobayashi delve into this intricate dynamic, focusing on the Ikebukuro district of Tokyo. Their exploration challenges the dual nature of POPS, probing whether such spaces genuinely embody the spirit of publicness in urban societies.

Historically perceived as an edgier, less-central district of Tokyo, Ikebukuro is undergoing a transformation, curating new public spaces to shed its erstwhile image and bolster its appeal. With a rich tapestry of theaters, Dimmer and Kobayashi conceptualize these emerging spaces as actors on Ikebukuro's urban stage. Much like a thespian who oscillates between their onstage persona and their offstage self, these POPS in Ikebukuro echo the juxtaposition of public facades over private nuances.

Visitors are encouraged to engage with Ikebukuro's vibrant tableau, reconstructing its urban narrative, and to ponder upon the true essence of urban spaces. Through this, they can explore and reshape the character of a city's spaces, reevaluating the balance between private ownership and public utility.
Christian Dimmer is an associate professor of Urban Studies at Waseda University's School of International Liberal Studies. He graduated from the trans-disciplinary Spatial and Environmental Planning program of the Technical University of Kaiserslautern, Germany. Christian earned his Ph.D. from The University of Tokyo on the social production of public space ideas in Japanese urban planning. His research interests are the emergence of human-centered design theories and practices in architecture and planning, new urban commons, transition design, policy mobilities with a focus on co-housing, and Doughnut Economics.
Keigo Kobayashi graduated from the Department of Architecture at Waseda University, Tokyo, Japan, and completed a Master's Degree at the Harvard Graduate School of Design, Cambridge, USA, in 2005. He was involved in numerous major projects at an architecture design firm called OMA in Rotterdam with Rem Koolhaas until 2012. Kobayashi's recent works involve a wide variety of spatial designs such as buildings, furniture, and exhibition designs. He designed the 2014 Venice Biennale Japanese Pavilion Exhibition and Gordon Matta-Clark Exhibition in the National Museum of Modern Art, Tokyo in 2018.
Project Team: Abudjana Haider Elwaseela Babiker, Christy Elias, Misato Fujii, Sorami Ikoma, Owen Hendrik Law, Jun-Rong Lin, Ryuto Otsuka, Ha Eun Park, Yuri Park, Sachi Sawamura, Selenay Yakin
Hudson Yards, New York
Kohn Pedersen Fox (KPF)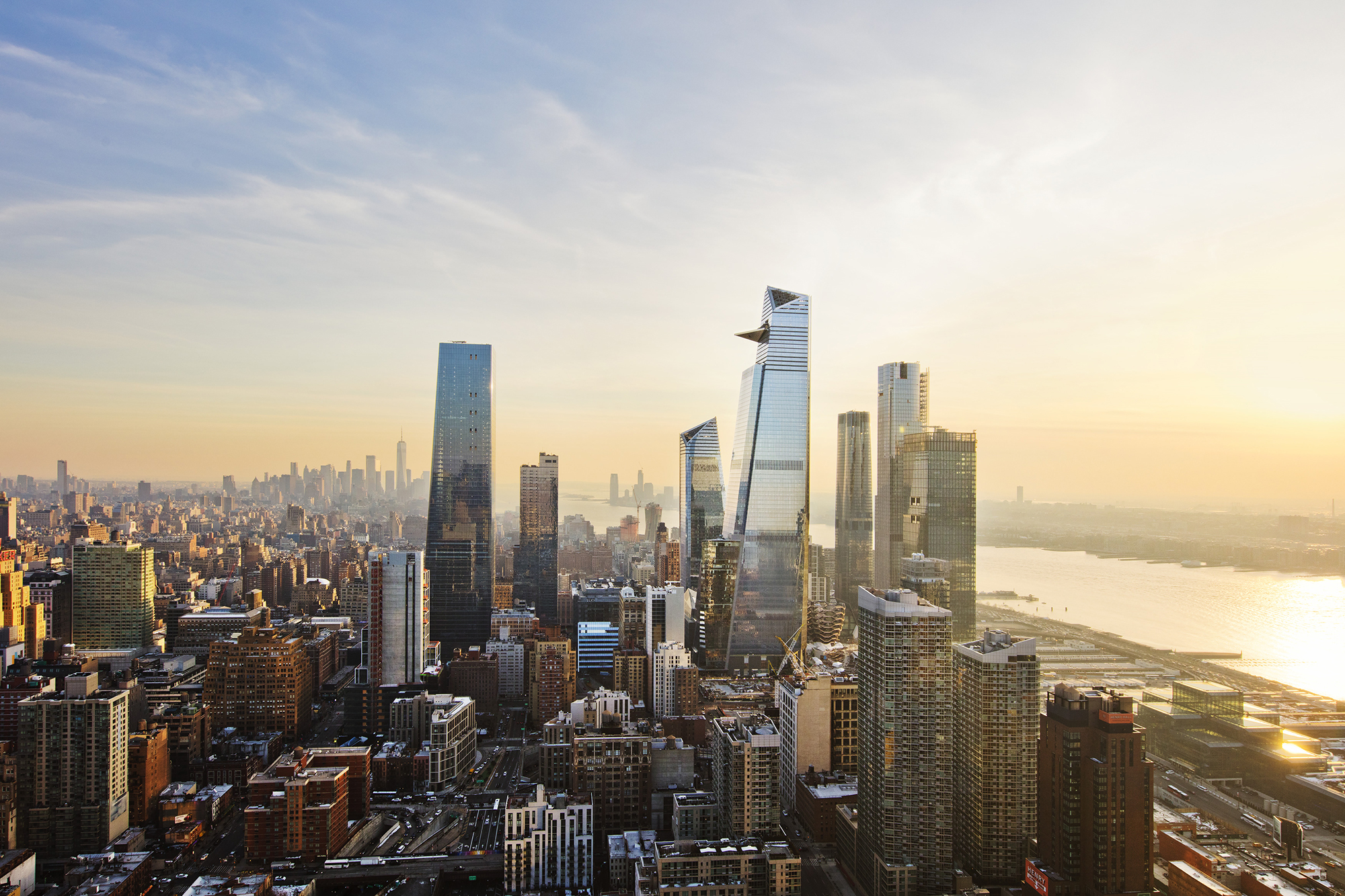 Hudson Yards is often evoked by the iconic Vessel and the avant-garde arts center, The Shed. Yet, at its core lies The Public Square and Gardens, an expansive public space ingeniously constructed atop 30 active railroad tracks. The vast landscaped decks bridging the divide once created by these rail tracks stand as a marvel of technological innovation. The endeavor to create arable land on this newly minted terrain demanded intricate engineering solutions, encompassing ventilation systems, efficient stormwater management and reuse, and foundational stability.

Representing the most extensive private real estate development in U.S. history, and ranking among New York City's most intricate construction undertakings, Hudson Yards seamlessly integrates with the renowned High Line to its south and is punctuated by towering office edifices on either side. The visionary transformation of a once-neglected railroad depot into a pulsating hub adorned with public spaces, cultural initiatives, and enveloping skyscrapers underscores the imperative of thoughtful planning in grand-scale urban development.
Kohn Pedersen Fox Associates (KPF) is an American architecture firm that provides architecture, interior, programming, and master planning services for clients in both the public and private sectors. KPF is one of the largest architecture firms in New York City, where it is headquartered. Their projects include the world's tallest towers, longest spans, most varied programs, and inventive forms. The goal that binds their work – and what motivates their efforts – is finding the smartest solution for each project. KPF believes that the best design is the product of an open-minded search, one without preconceptions or stylistic formulae.
Client: Related Companies, Oxford Properties Group
Photos: Connie Zhou, Raimund Koch, Aaron Fedor, Related Companies, Michael Moran/OTTO, Justin Whiteford, Google Maps, Kohn Pedersen Fox, Bernstein Associates Photographers
Video: Kohn Pedersen Fox, Earth Cam, Aaron Fedor
Microclimatic Infrastructure: Tempering Public Space in a Dense Tropical City
Christine Yogiaman and Kenneth Tracy with Hendriko Teguh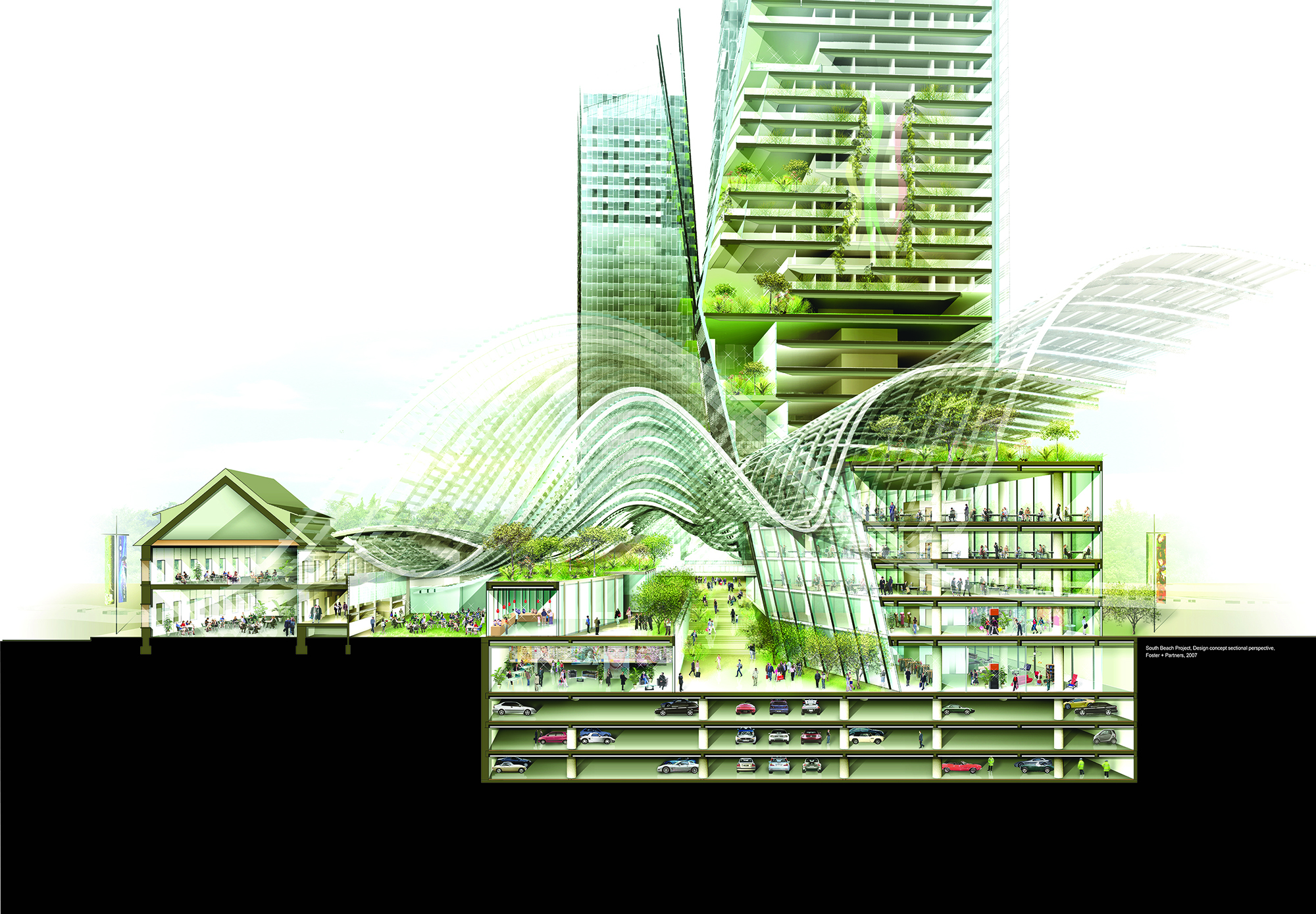 In regions where the climate plays a decisive role, crafting comfortable public spaces in the midst of tropical heat and humidity poses unique challenges. Singapore, a forerunner in innovative mixed-use development, has consistently crafted public spaces that seamlessly integrate multi-level circulation while also being tailored to its tropical milieu.

Christian Yogiaman, Kenneth Tracy, and Hendriko Teguh delve into this evolution by spotlighting two iconic structures: the Golden Mile Complex, the brainchild of architects William Lim, Gan Eng On, and Tay Keng Soon, and the South Beach Road Tower by the renowned Foster & Partners. Inaugurated in 1973, the Golden Mile Complex stands out with one of the earliest and grandest air-conditioned atriums within a mixed-use setting. Despite being on the cusp of needing rejuvenation, the building garners significant public sentiment advocating its preservation.
Conversely, the South Beach Road Tower, a product of Foster & Partners, incorporated advanced climate simulation and parametric design, fostering innovative passive strategies. This led to the extension of a shade-providing canopy across the entire city block, paving the way for a rejuvenated urban setting. The outcome? A public domain that offers a refreshing microclimate, balancing permeability with comfort. This pioneering venture serves as a testament to the possibility of public spaces harmoniously coexisting with challenging climates.
Christine Yogiaman directs Yogiaman Tracy Design (yo_cy), a research and design practice that focuses on the utilization of digital techniques along with contextual influences to create culturally embedded, affective work in Indonesia. She previously taught as an Assistant Professor at the American University of Sharjah and Washington University in St Louis, where she coordinated and developed the Architecture Graduate Core studios curriculum.
Kenneth Tracy is an Assistant Professor in Architecture and Sustainable Design at the Singapore University of Technology and Design. Previously Tracy taught at the American University of Sharjah, Pratt Institute, Columbia University, the New Jersey Institute of Technology, and Washington University where in 2009 he established a fabrication research lab. In 2010 Tracy co-founded Yogiaman Tracy Design. Formerly Tracy was a founding partner at Associated Fabrication, a digital millwork shop and consultancy in Brooklyn, NY whose clients include Zaha Hadid Architects, the 2010 Vancouver Olympics, Chanel, Vito Acconci, and MoMA.
Olympic Sculpture Park and Hunter's Point South Waterfront Park
Weiss/Manfredi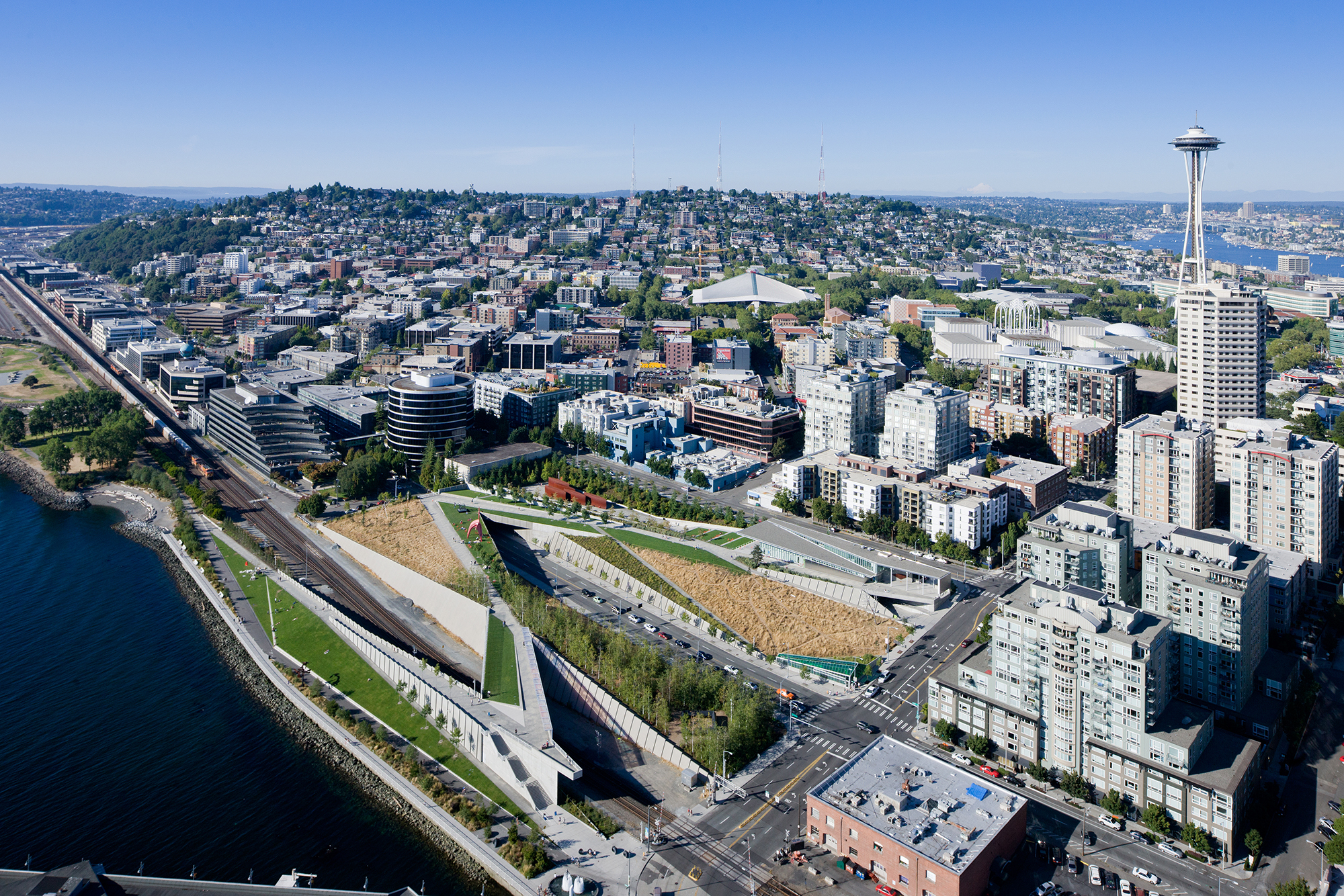 Waterfront parks, especially those that emerged during the industrial age, frequently face separation from urban cores due to transport infrastructures and the looming risk of flooding. Bridging this division not only enhances accessibility and magnifies the utility of urban parks but also promotes the extension of their ecological benefits.

One iconic transformation is Seattle's Olympic Sculpture Park. Previously a contaminated industrial zone isolated by railway lines and major roads, it was reimagined into a 'Z'-shaped verdant platform. This innovative design ensures an uninterrupted passage from the Seattle Art Museum straight to the waterfront.

Similarly, the more contemporary Hunters Point South Waterfront Park rejuvenates an erstwhile industrial space into an ecological artery, marrying the principles of landscape, architecture, and infrastructure. This transformation emphasizes sustainability. Concrete barriers give way to flexible infrastructure, bolstering the area's defense against potential flooding.

These exemplar projects spotlight nature's inherent adaptability. By forging new pedestrian connections and embracing ecological restoration, they underscore a holistic design approach that seamlessly integrates infrastructure, landscape, and architectural elements.
Weiss/Manfredi Architecture/Landscape/Urbanism is at the forefront of architectural design practices that are redefining the relationships between landscape, architecture, infrastructure, and art. The firm has spearheaded various design efforts that require progressive ecological and infrastructural frameworks, placing environmental stewardship and sustainability at the core of Weiss/Manfredi's work. They received the 2020 Thomas Jefferson Foundation Medal in Architecture and the 2018 Cooper Hewitt Smithsonian Institution's National Design Award, as well as the New York AIA Gold Medal and the Academy Award in Architecture from the American Academy of Arts and Letters.
Olympic Sculpture Park
Artist: WEISS/MANFREDI Architecture/Landscape/Urbanism
Client: Seattle Art Museum
Photo: ©Iwan Baan, courtesy of WEISS/MANFREDI
Video: ©Michael Selditch and Robert Tate, courtesy of WEISS/MANFREDI

Hunter's Point South Waterfront Park
Artist: SWA/Balsley and WEISS/MANFREDI Architecture/Landscape/Urbanism
Client: New York City Economic Development Corporation
Photo: ©Lloyd/SWA, courtesy of SWA/Balsley and WEISS/MANFREDI
Video: ©Spirit of Space, courtesy of WEISS/MANFREDI
Manifold Enclosures
Janette Kim with Hannah Leathers and Bennett Grisley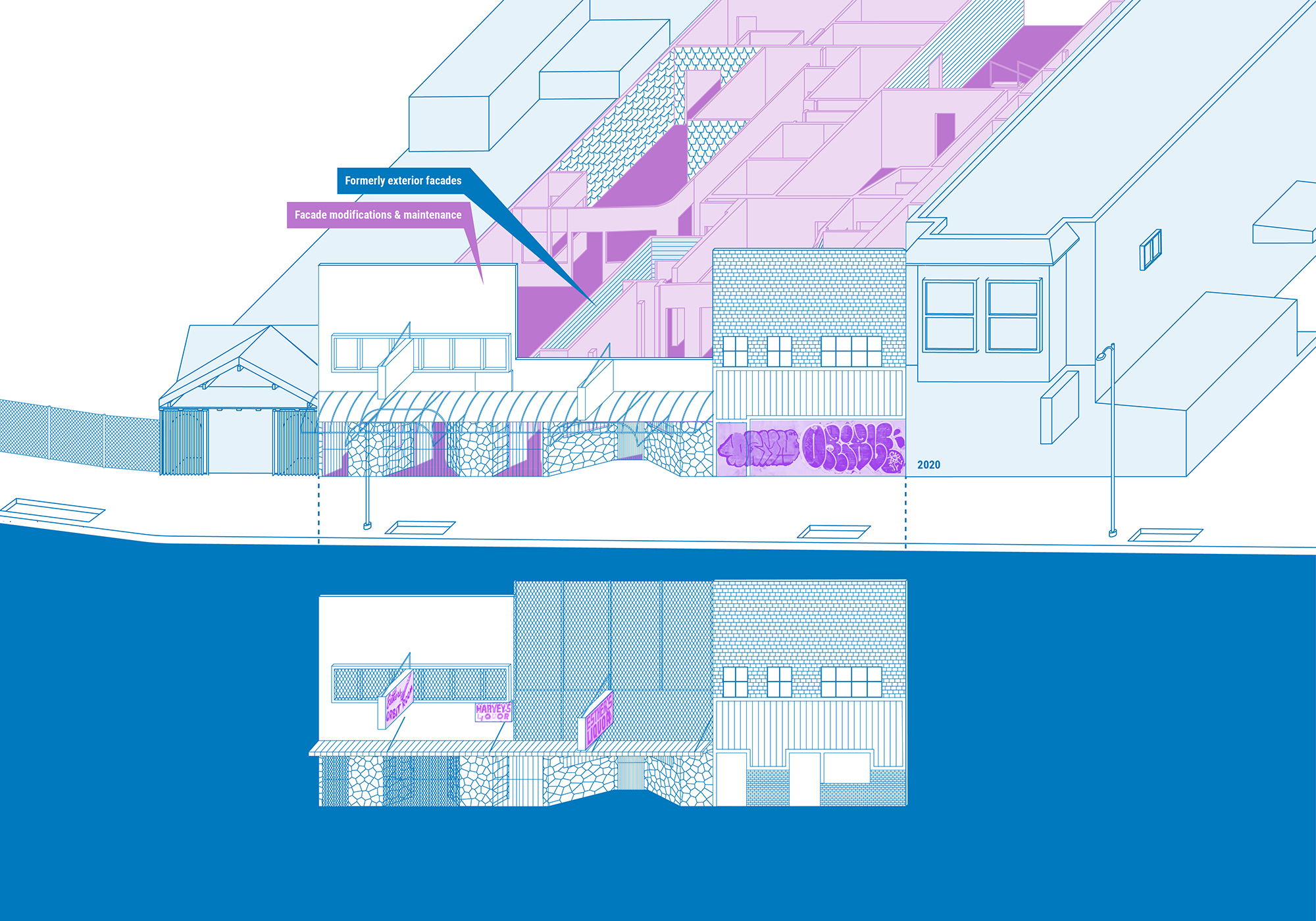 Land is more than mere property; its value greatly influences its utilization, consequently becoming a symbol of power. How would land utilization shift if the tenets of ownership were altered? Janette Kim delves into this question by examining Esther's Orbit Room in Oakland, California, suggesting that varied forms of ownership can engage a broader range of stakeholders, enhancing land resilience.

In Oakland, a prominent hub for West Coast blues, the East Bay real estate investment cooperative, EB PREC, acquired the Orbit Room. Their mission was to assist low-income inhabitants and merchants and to advocate for communities of color who had been sidelined from housing loan benefits. To shield the land from speculative market forces, the cooperative has set a ceiling on shareholder gains. Furthermore, it knits together labor, culture, and various activities to forge a tight-knit community.

Through a meticulous study of reports, oral accounts, and advisory documents on design, the artist employs color layering techniques to unravel the multifaceted and sometimes conflicting economic, societal, and architectural narratives surrounding property ownership. The work underscores the potential for new landowners to innovate, steering the rejuvenation and reciprocal dynamics of land utilization.
Janette Kim is an architectural designer, researcher, and educator based in the San Francisco Bay area. Kim's practice operates in three modes: as principal of the design firm All of the Above, as co-director of the research laboratory Urban Works Agency at the California College of the Arts, and as an independent scholar and author. Across these roles, she promotes equitable design protocols and creates multimedia decision-making tools to help translate between architecture and its stakeholders. In her own words, Kim aims to "empower communities to realize a more equitable redistribution of land, resources, and risk."
Aging TOgether: Inclusive Aging-in-Place Strategies for Toronto
Victor Perez-Amado, Vinaya Mani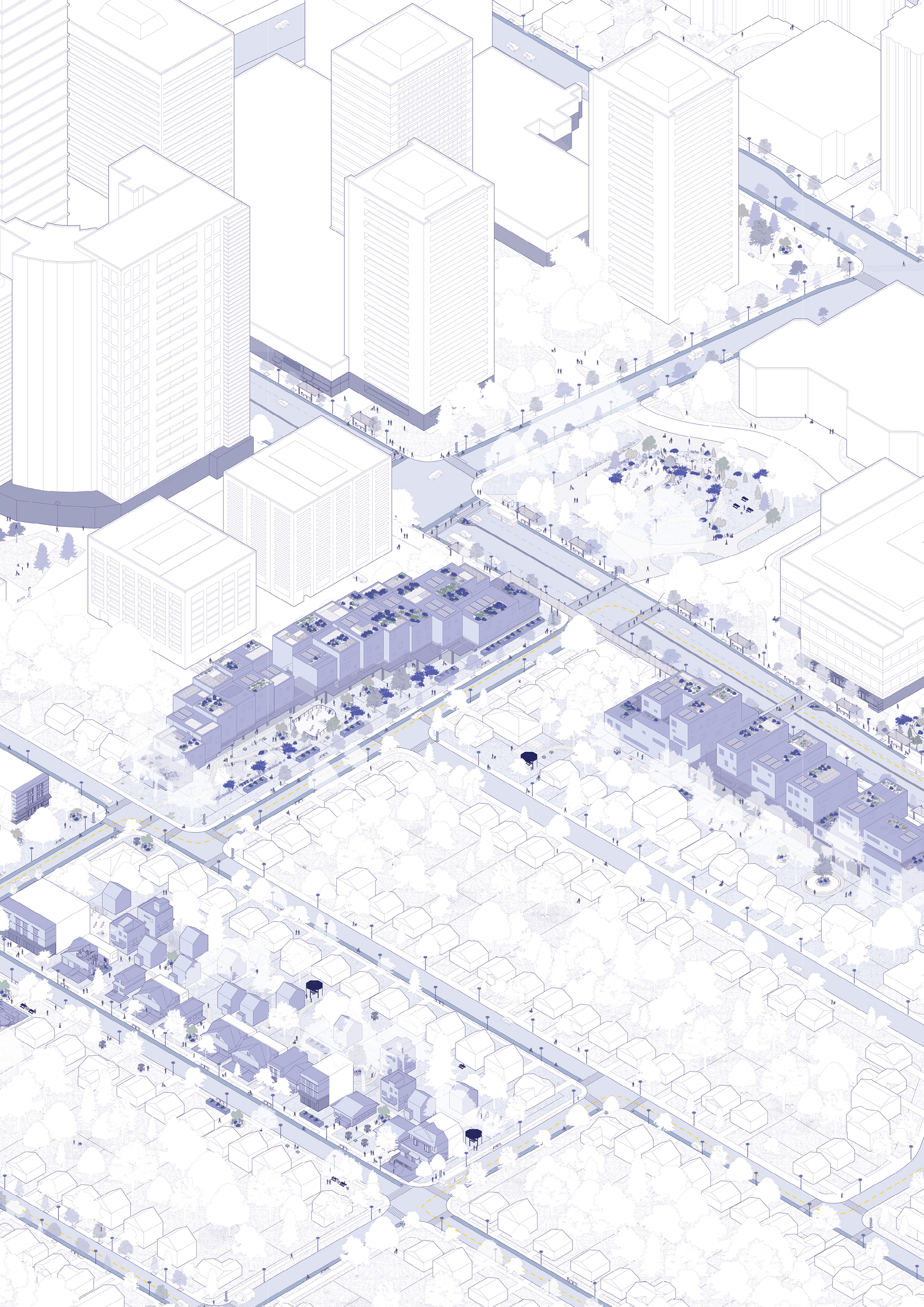 Cities teem with diverse inhabitants, and the same urban backdrop can be experienced uniquely based on factors such as age and gender. Particularly for marginalized demographics like the elderly, the urban terrain can offer a distinctive social and physical setting. This project delves into how Toronto, a rapidly aging city, has evolved in terms of policies and institutional structures to support its elderly population.

Toronto, which is witnessing an increase in its elderly population, now has more senior citizens than individuals under 15. Areas predominantly consisting of single-family homes are projected to predominantly house those aged 65 and over in the forthcoming six years. Given the rising number of communities for seniors and public housing projects, it's crucial to re-evaluate the physical infrastructure and layout of these neighborhoods to be more accommodating to the elderly demographic.

Victor Perez-Amado seeks to introduce innovative housing models and urban design guidelines that cater to the needs of the aging population, especially focusing on marginalized groups like the elderly and LGBTQ seniors. He presents fresh legislative initiatives, policies, and even ground designs tailored for LGBTQ senior communities, anchoring his proposals on the idea of "chosen families."
Victor Perez-Amado, an assistant professor at Toronto Metropolitan University's School of Urban and Regional Planning, previously served at the University of Toronto. Trained as an architect and urban designer, he boasts a distinguished academic background from Harvard University Graduate School of Design. Perez-Amado's research delves into aging in place, the transformation of long-term care facilities, and multigenerational housing, especially in LGBTQ2S communities. His notable projects include Lathrop Communities and The Lexington Brookhaven. Additionally, he's known for interactive public installations like "Woggle Jungle" and "Cavalcade." Perez-Amado has received several awards, including The Harvard Clifford Wong Prize and an ASLA Honor Award.
Green, Cultural and Entertaining: The Total Renewal of the Central Park of Budapest
LIGET BUDAPEST

How can urban development be harmonized with the preservation and enhancement of a historic park? City Park, a revered 200-year-old green oasis in Budapest, is at the crossroads of rejuvenating its lush landscapes and recreational features while simultaneously modernizing its long-standing institutional foundation. The architects sought a rejuvenation strategy that melds reverence for the past with contemporary needs.

To safeguard the park's verdant expanses, the design approach leveraged existing structures and peripheral areas, and looked below ground level to ensure that new edifices did not overshadow the tree canopy. This vision encompassed projects ranging from the restoration of a century-old art museum to the inception of SOU Fujimoto's House of Music Hungary. Moreover, the soon-to-be-unveiled National Gallery, a masterpiece by SANAA, adds to this tapestry of architectural brilliance.

The rejuvenation project, dubbed LIGET BUDAPEST, has birthed an array of cultural hubs, flaunted the genius of globally renowned architects, and epitomized the synthesis of a verdant park with cultural landmarks.
Tamás Végvári is the deputy-CEO responsible for content development of the Liget Budapest. He received his MA at the Corvinus University of Economics of Budapest in 2004. He took the opportunity to actively assist to the rebirth of the Museum of Fine Arts Budapest starting in 2004 as the institution's Head of Secretary at the Museum of Fine Arts Budapest. As the next step in his cultural management career, he spent 3 years as the Cultural Attaché of the Hungarian Embassy in Madrid until 2012. He joined the Liget Budapest team in 2015, and has been responsible for the IT team and the Department of Sales. The Liget Budapest is currently Europe's largest-scale and most complex cultural urban development project. It is aimed at the comprehensive development of the 100-hectare City Park in Budapest.
The Radiance of Metropol Parasol: Affordances and appropriations of an urban soul
J. MAYER H. and Partners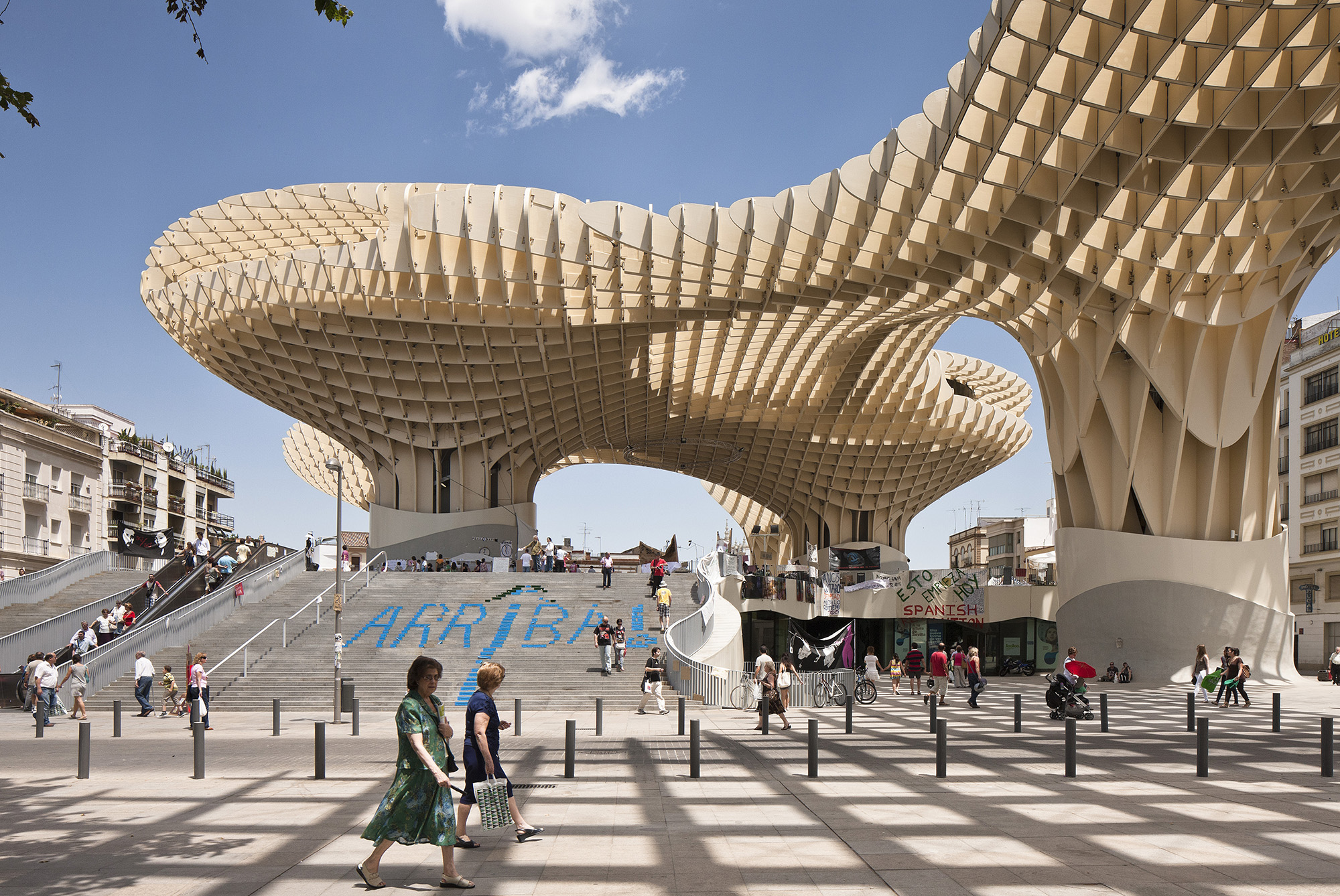 Urban landmarks often resonate most profoundly not just through their architectural allure, but through the myriad ways they are utilized. A little over a decade since the Metropol Parasol graced Seville's Plaza de la Encarnación, its influence has permeated various facets of daily life - from leisure and sports to religion, music, and even politics.

This timber-clad marvel, which revitalized the epicenter of the Old Town into a multifaceted urban hub, has found its visage even in unlikely places like cat food advertisements. Jürgen Meyer & Partners have curated a diverse collection of images and footage, painting a vivid tapestry of how the Metropol Parasol not only galvanized urban vibrancy but has also etched itself as a symbolic urban motif. This narrative underscores the quintessential role of iconic structures in molding urban communal arenas and fostering engagement with the activities they host.
Founded in 1996 in Berlin by Jürgen Mayer H., J. MAYER H. and Partners is an internationally recognized architectural firm. Specializing in the intersection of architecture, communication, and technology, their projects range from urban planning to innovative installations. Their approach emphasizes the synergy between the human body, technology, and nature. In 2014, the firm expanded with the addition of partners Andre Santer and Hans Schneider. Notable works include the Metropol Parasol in Seville, Spain, and various infrastructural projects in Georgia.
Nordic Sustainable Cities (Danish Architecture Center)
Nordic Union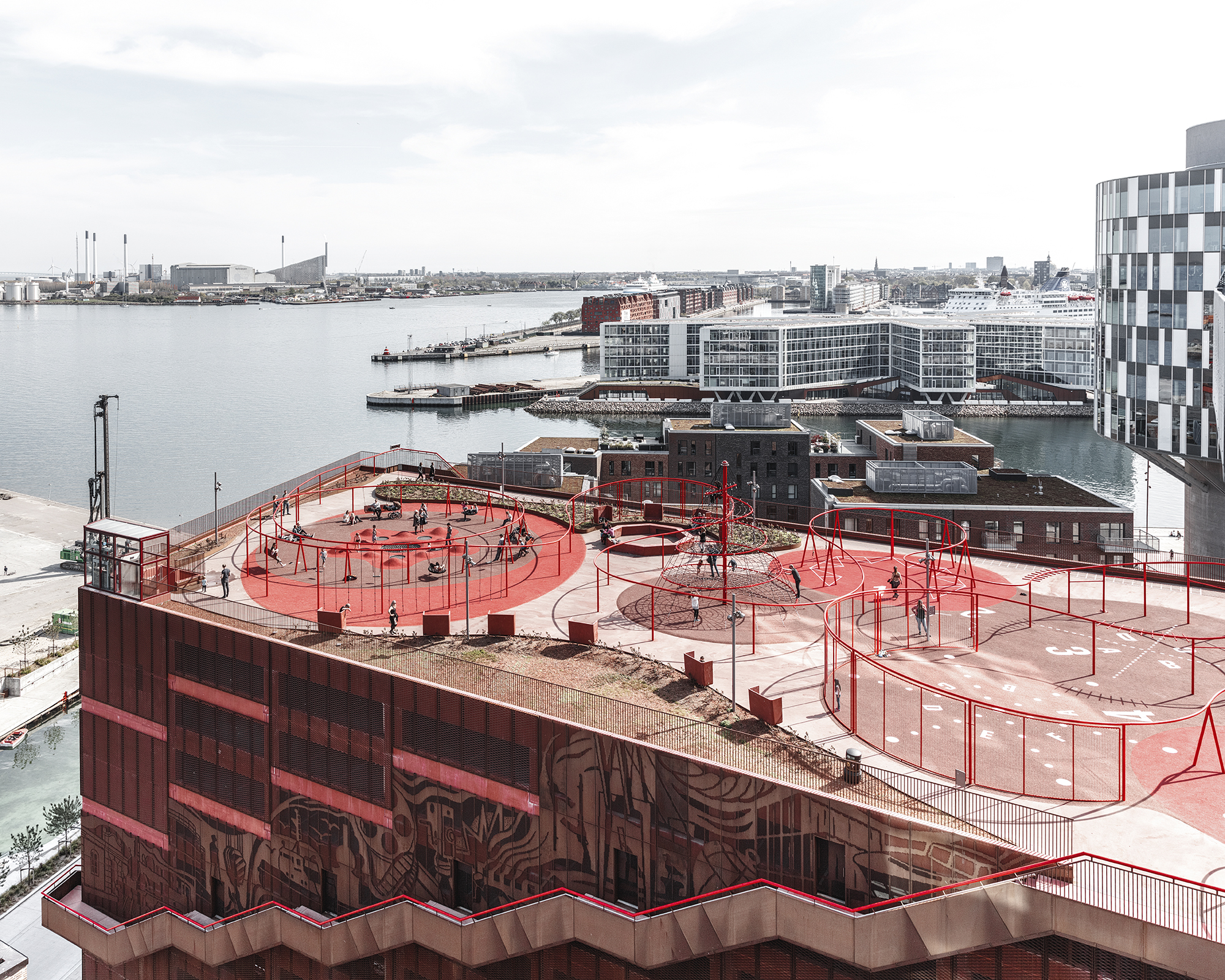 The UN's 2030 Agenda spotlights "sustainable cities and communities" as a pivotal strategy to tackle pressing urban challenges worldwide. In alignment with this vision, Nordic nations - notably Denmark, Finland, and Norway - have championed a plethora of sustainability endeavors. This exhibition unveils such exemplary initiatives from these northern European countries.Highlighted projects include Copenhagen's Kokkedal Village, an innovative approach that harnesses landscape planning to counteract flooding through comprehensive stormwater management. In the same city, the Park and Play initiative transforms parking garage rooftops into outdoor gymnasiums, providing residents with panoramic views of the urban expanse. Helsinki introduces a public sauna, meticulously erected along the shoreline of a quaint island, reminiscent of traditional lakeside saunas. Trondheim, Norway, showcases Ila, an initiative that breathes life back into Iladalen, a previously desolate industrial sector, by revitalizing an ancient watercourse. Lastly, in Helsinki's Jatkasari district, an avant-garde apartment complex stands as a testament to urban greening, with its rooftops adorned with lush gardens and its facades draped in verdant plant life.
Nordic Sustainable Cities by Nordic Union is a pivotal initiative designed to champion Nordic solutions for sustainable, liveable, and smart cities. As the world witnesses rapid urbanization, with an estimated 66% of its population to inhabit urban areas by 2050, the demand for innovative urban solutions grows. Rooted in the Nordic region's strengths, such as robust governance, public-private collaborations, design heritage, and environmental consciousness, the program aims to amplify the Nordic brand and open market avenues for Nordic enterprises. It encompasses ambitious branding, a unified Nordic export platform, and the establishment of political partnerships. Originating from the "Nordic Solutions to Global Challenges" initiative by the Nordic prime ministers, it builds on the legacy of Nordic Built Cities and is managed by Nordic Innovation.
Klimatilpasning Kokkeda / Kokkedal, Denmark
Park'n'Play_JAJA Architects / Copenhagen, Denmark
Lonna Sauna OOPEAA MFA / Helsinki, Finland
Ilabekken, recreational area along river / Ila, Trondheim, Norway
The Greenest Block of Flats / Helsinki, Finland
SBAU
The 4th SBAU
EXHIBITION
PROGRAM
LOCATION
CREDIT
NOTICE
KR
SBAU
The 4th SBAU
EXHIBITION
PROGRAM
LOCATION
CREDIT
NOTICE
KR