Seoul Green Network
The Seoul 100-year Masterplan Exhibition presents a master plan that envisions Seoul in 100 years to serve as a coordinate for the city's urban development and long-term planning. Although the city was founded with the respect for its landscape and natural environment, for the past 100 years, Seoul has been built and shaped by development-oriented plans for urbanization. However, it is difficult to achieve the balance and harmony of a city that connects tradition with the present and future, and the city is still mired in short-term change, adding to the chaos. Today's cities need new urban management systems, such as transportation systems using big data, parking lots, and public spaces. This calls for a shift towards highly efficient cities, which improve quality of life and ultimately lead to better use of nature and resources.
The Seoul 100-year Masterplan Exhibition presents a framework for an "eco-friendly high-density city of Seoul" that will have a single urban flow in 100 years by reconnecting the broken veins of Seoul's unique geographical and physical situation: mountains, valleys, waterways, and wind roads. First, we categorized various conflicts that occur in each environment by type, focusing on the flow of mountains near urban centers and the flow of the Han River and its tributaries. Then, we looked at case studies and creative suggestions for each type of problem to see how they might be solved. In particular, we looked for ways to alleviate urban continuity disruptions and conflicts caused by sharp differences in floor area ratios based on local zoning, to organically connect natural and man-made urban spaces, and to create a natural progression in the height and form of urban buildings that largely follows the flow of the mountain. By presenting an eco-friendly, high-density, high-efficiency city connected to its surroundings by mountains, waterways, and wind roads, we would like to propose the city of Seoul to provide quality housing and life for its citizens.
The proposals presented in the Seoul 100-Year Master Plan Exhibition are not conceived as fixed, unchanging, and completed plans. Rather, they are conceived as plans with an organic and smooth structure that can flexibly cope with and complement the economic, social, and cultural changes that will occur in the future. Since it was started in the context of the biennale, it is impossible to create a specific plan for every part of Seoul. Furthermore, such a plan would not be flexible enough to adapt to future changes in the urban environment. Therefore, the master plan presented in this exhibition is composed of tangible proposals that can be changed gradually by establishing common values that Seoul should pursue in the next 100 years.
Nonetheless, the research and proposals of the participating architects presented in the exhibition can be an important source of data for sketching the 100-year master plan for Seoul as a whole. It is hoped that proposals from the perspective of architects and urban designers to identify actual locations, infrastructure, and buildings to examine problems and potentials and find creative solutions will serve as the basis for a long-term approach and organic master plan to complete Seoul with "land architecture, land urbanism." We hope that it will be a useful proposal for shaping the future not only of Seoul but also of cities around the world.
Curator: Byoung Soo Cho
Venue: Seoul Hall of Urbanism & Architecture
Masterplan Research & Planning Team: Hyunbae Chang, Michele Maria Riva, Elina Zampetakis, Johanna Kleesattel
Assistant: Seokyeong An
Data Graphic Design: TO A T
Media Contents: rebel9
Topography of Water in Movement
Yoongyoo Jang, Mijung Kim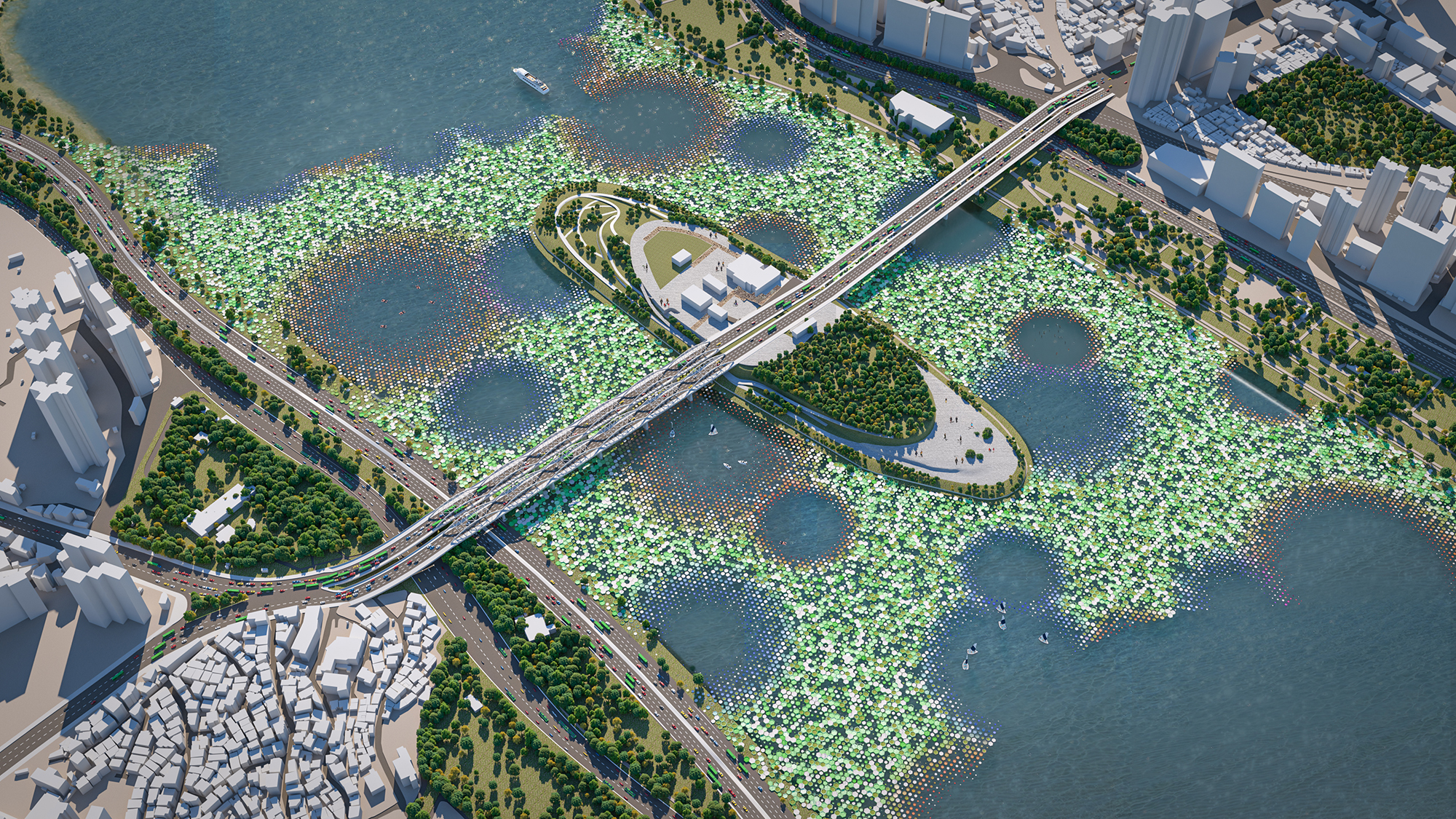 The river used to be a free territory, boasting sandy shores that accommodated flexible programming and serving as an ambiguous boundary between the city and nature teeming with a diverse plant ecosystem. Today, however, the Han River stands as a barrier that cleaves the northern and southern parts of Seoul in two. The 30 bridges spanning its width serve more as conduits for transportation than as spaces for communal living. Yet, in this project, the Han River itself binds our city. Its expansive breadth becomes a 'vast land,' and its immense volume transforms into 'deep space.' It represents dynamic terrain onto which new spatial concepts can be grafted.

steadily heighted these concerns. What was once a matter requiring attention has now become an unavoidable challenge for survival. Cities are changing rapidly and each architectural endeavor, whether construction or demolition, contributes to the depletion of resources and energy. As a fresh architectural paradigm aimed at disrupting the cycle of consumption, we introduce 'Amorphous Space,' an interim state with no fixed location but the potential to manifest anywhere. Amorphous Space is built as a fusion of micro-space imbued with mobility. These spatial units loosely interconnect with other units, and the river is where these units materialize. The watery terrain serves as an active and vibrant setting that is lightly utilized and basks in natural light.
Yoongyoo Jang
Yoongyoo Jang graduated from Seoul National University. His early works were awarded as finalists in international competitions such as the New Architecture Takiron International Competition, UIA Barcelona International Competition, and Israel Peace Plaza International Competition 13 Finalist, and was selected as the 40 world architects of the Japanese journal "10+1" in 2001. He is currently a professor at the School of Architecture, Kookmin University, and operates the gallery "Jung Mi So" for cultural expansions beyond architecture. As the founder and representative of UnSangDong, "Jang Yoon Gyoo Architectural Experiment Atelier" was transformed into "UnSangDong Architects Cooperation" to carry out various fields of architecture such as architectural design, planning, interior, and large-scale complex planning in the way of cooperative architects. Representative works include the complex cultural space Kring, Seongsu Cultural Welfare Center, and Saengneung Publishing House.
Mijung Kim
Mijung Kim, who has been a member of UnSangDong since 2010, studied architecture at Kookmin University and the Royal College of Art in London. She is experimenting with conceptual architecture to express various possibilities as cultural content. She is in charge of the design team for international and domestic architectural competitions, and currently leading the 'Visionary Architecture' team to unravel the discourse about society and the city with architectural imagination. Representative works include Lee Sang-bong Tower, Chronotope Wall House, and POSCO Incubating Center.
Team members: Wonjun Yang, Minkyun Kim, Jihoon Choi
Han Riverside Skyline; Pragmatic Chaos or New Seoul-ness
Seungman Baek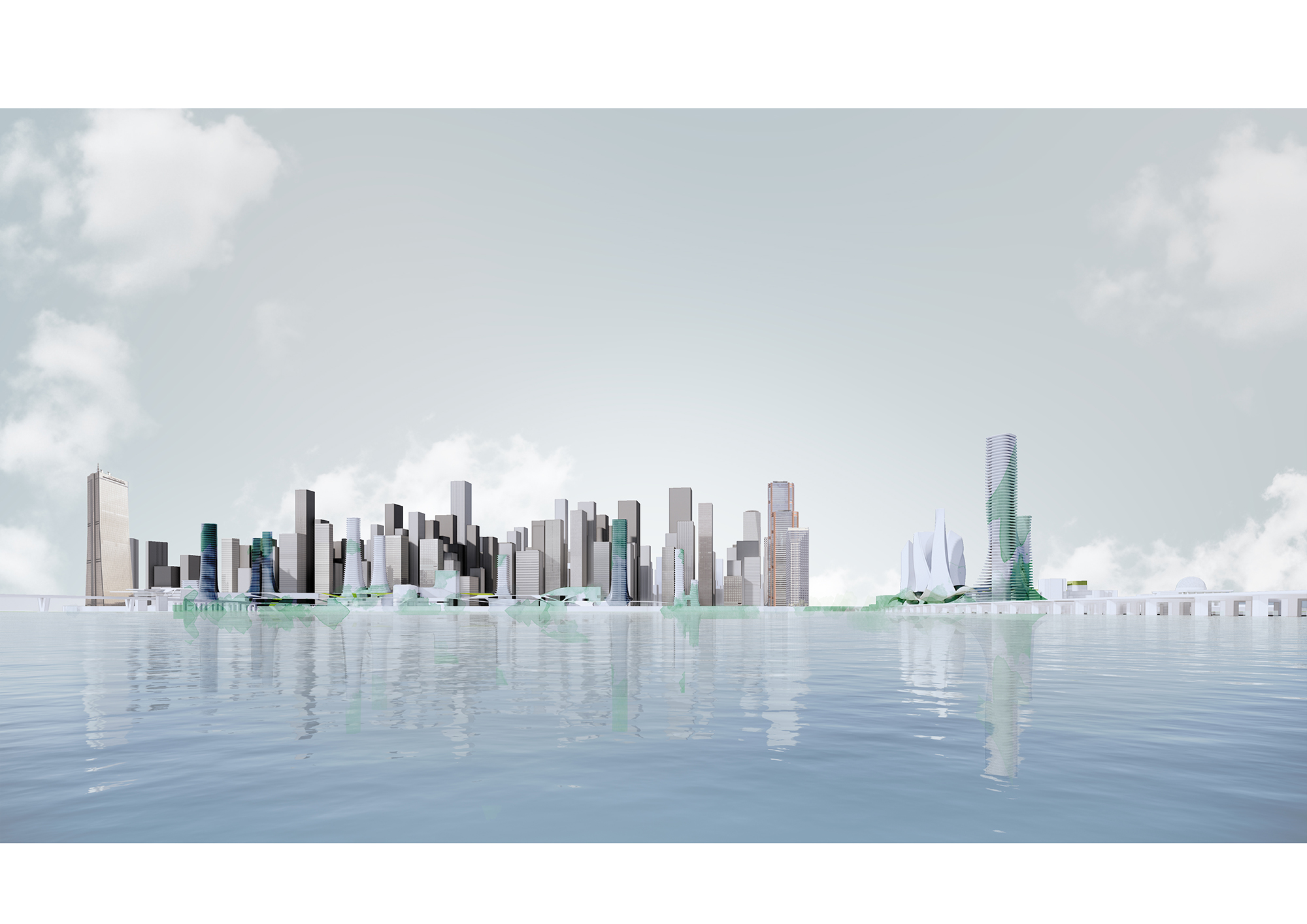 The waterside skyline tends to be symbolized as a representative image of a city. The contrasting silhouette of a vertical city against a horizontal water surface will stand out more than others. Many cities of today are competitively erecting symbolic skyscrapers. Where and how tall should we build the super high-rise buildings? Can the competitiveness of urban high-rises enrich the lives of citizens?
Neighborhood Living Area Green Ring
Seoul, a city based on geomancy, is surrounded by two layers of mountains (4 inner mountains and 4 outer mountains). The inner layer is the historical center of the 4 Main Gates Area (1396), and the outer layer is the Green Belt (1977), which defines the boundary of Seoul. These topographical characteristics develop into a pedestrian-oriented Neighborhood Living Area (Small Living Area) Green Ring, and form a Green Network like capillaries, making it a walkable city where everyone can take rest in nature
Project 1. Recreating Yeouido as International Landmark
We propose to make Yeouido an international landmark along the Han River by making the most of its spatial potential and correcting its shortcomings. Its urban fabric should be reorganized suitable for the central business district (CBD) and disparate and unbalanced development should be compensated.
- Existing residential areas are reorganized into grids that focus on commercial functions rather than residential ones.
- The landscape of the National Assembly will be protected as a historical and cultural resource, not by height regulation for security reasons.
- The potential of the place will be maximized visually and spatially with new landmarks, new programs, and green networks.
Project 2. Recreating a New Banpo District Optimized for Nature
Most of the Han Riverside areas, where residential use accounts for more than 85%, began to be developed as large-scale apartment complexes in the 1970s and have already been redeveloped or are in the redevelopment stage. In particular, the Gangnam area, which is closer to flat land, has higher housing demand than the Gangbuk area, which is adjacent to the mountainous area. In the process of redevelopment, the initial plate type is transformed into a tower type and a complex type, and the height of buildings increases and the distance between buildings narrows, increasing the development density. Today, Han Riverside apartment complexes are improving, diversifying, and luxuriating in design, but are deteriorating in terms of sunlight and landscape. Let's optimize the Gangnam Banpo district to the natural environment.
- Widen the space between buildings at the same development density.
- The lower part is transformed according to the urban fabric, while the upper part is adapted to the natural conditions.
- Various pedestrian-oriented green networks naturally connect living spaces and Han-river Park.
Seungman Baek graduated from Hanyang University, then earned a diploma from ENSA Paris-Belleville, a Post-Diploma from ENSA Paris-La-Villette, and a Doctorate of Philosophy from the School for Advanced Studies in Social Sciences (EHESS-Paris). He is a French Government Certified Architect (DPLG Architect) and has been working as a Research Fellow at the Seoul Institute, Space Group, Junglim Architecture. Baek has been working as a Professor at Yeungnam University since 2010, a Public Architect for Yeongju City, as well as the President of the French Architects of Korea and the Architectural Design Institute of Korea. His major publications include Ecosystème urbain et architecture en Asie orientale(2021), Bio-Digital City(2015), Architecture in the Urban Environment(2004), etc.
Green Rings of Seoul, City of Earth, City of Water, City of Air
Grupo Aranea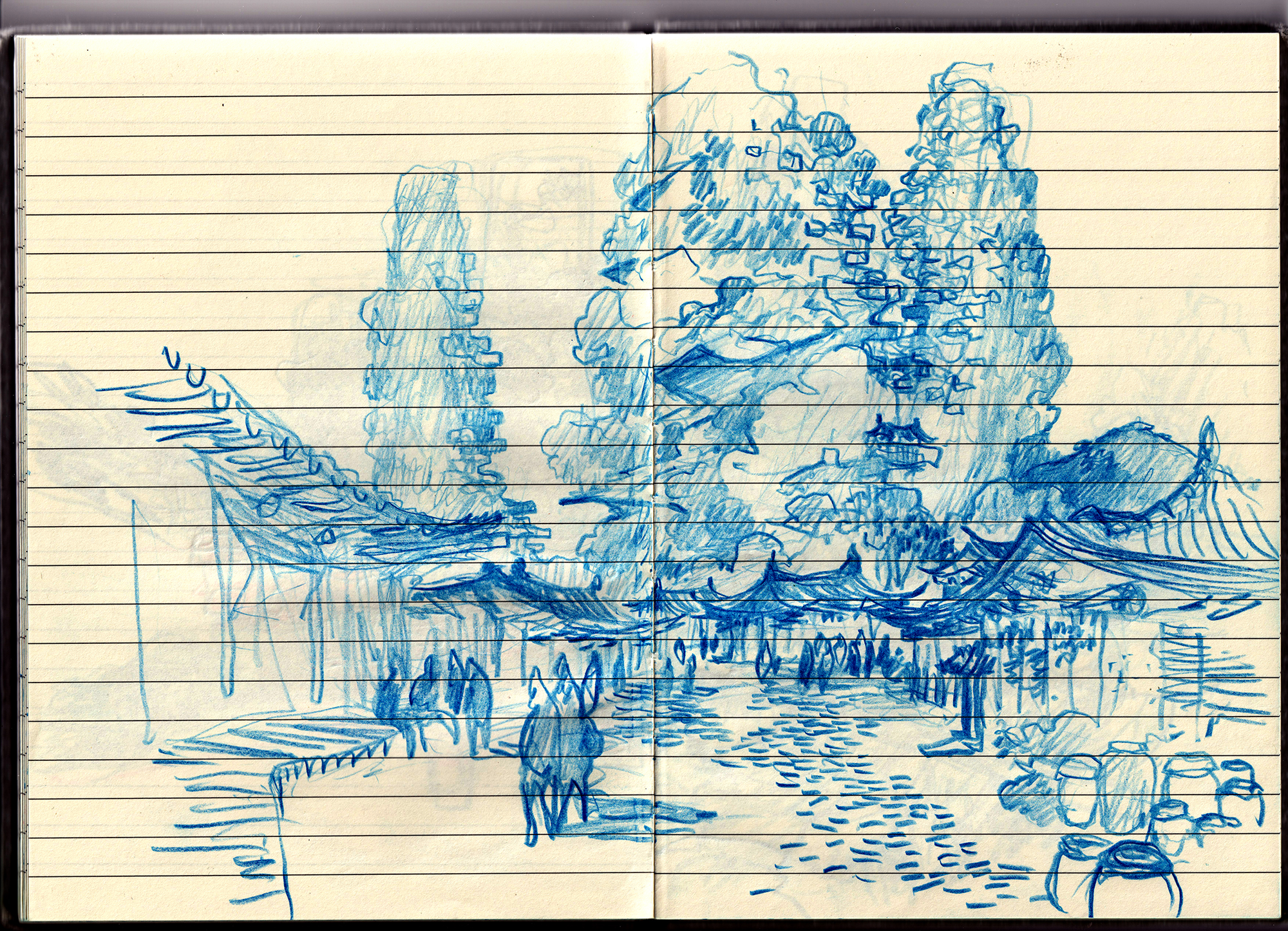 It is vital to recognise and value geographical identities as a powerful tool in the fight for a sustainable future. Analysing cities from its flow of wind, water, and land allows us to characterise them. Planning the future of Seoul must be in tandem with conversation of the geography of the city. The emotional connection between its geographical environment and nature is a long-standing tradition in the city of Seoul. Historic plans display interest in not only Seoul's mountains, rivers, foliage, but also their connection and continuity through these "green corridors".

Infrastructure makes soil impermeable and causes a lack of natural resources. This project aims to eliminate these structures in places where there should be nature; more specifically, in the valleys that, due to their topography, collect water and are containers of life. When these structures are eliminated, the remaining urban fabric will have to increase their density and height, while also incorporating space in the subsoil. New building typologies may need to be introduced: conversing with the ground, sky, wind, and water, integrated into the atmospheric processes and energy resources of the city. However, some historical architecture must be preserved. Examples of the connection with nature we had once lost and recovered can be used as a positive tool to reconnect us with the city and its past. With these processes, we will achieve the regeneration of natural cycles and recover the richness of the soil.
Grupo Aranea is a multidisciplinary team founded in 1998 by agricultural engineer Marta García Chico and architect Francisco Leiva Ivorra. Established in Alicante, their projects seek to anchor deep into the context, following the traditions of the Mediterranean landscape. Formed by architects, artists, and engineers, Aranea has been trying to dismantle the boundaries between landscape, architecture, and art for more than 25 years. Grupo Aranea's work has been recognized with numerous awards, including the Barbara Cappochin International Architecture Prize, the European Prize for Urban Public Space, the FAD Prize for City and Landscape and Architecture, AR House Award, and several nominations for the European Mies Van der Rohe Award. Additionally, Aranea has been awarded first place in numerous National and International Competitions, among which are, the Contest for design the Green Plan for Valencia City (2021), International Ideas Competition to design the Coastal Passage of Alicante (2019), International Contest of La Marina de Valencia (2019), and more.
Team members: Francisco Leiva, Rocío Ferrández, Andrés Llopis, José Luis Carratalá, Marta García
100 years on: Seoul in Thermodynamic Balance
Ji Otterson Studio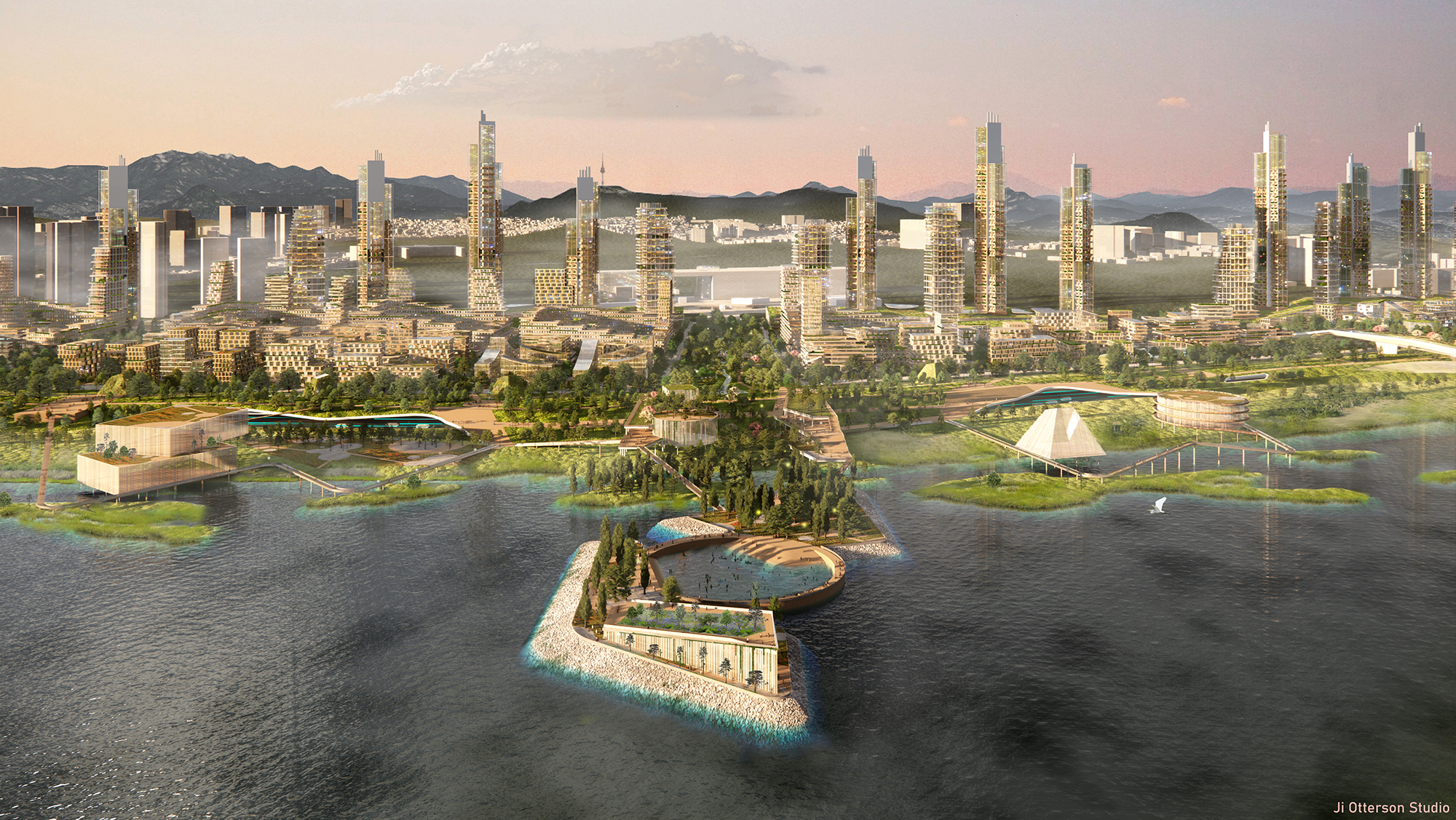 For the site in Ichon-dong, a series of interventions are proposed to restore thermodynamic balance over the next century. This includes restoring the river's edge as a wetland, making the riverside accessible to the city's entire length, and implementing green corridors and urban promenades to restore natural air conditioning and breeze cycles. Additionally, former concrete towers and slabs will be repurposed for heat exchange, and large thermal-battery structures will store heat for winter and release it during summer. Paved areas of the city will capture energy through thermo-electric and piezo-electric technologies, while autonomous vehicles and delivery robots ensure a near-loss-less energy cycle. The new architectural language of the city will be arranged through materials according to their ability to store, release, or reflect heat, store carbon, or clean the air, rather than according to their ability to instill meaning through symbolism.
Ji Otterson Studio is an architectural design office located in Boston and Seoul. Co-founded by Yewon Ji and Ryan Otterson, the studio focuses on projects dealing with energy and materials. The studio works to create spaces that deeply resonate with people, enhancing their quality of life while shaping ecology, climate, and new typologies, leaving a positive impact on the environment and society. Their dedication lies in fostering harmony between built environments and the natural world, promoting a profound sense of connection and well-being for inhabitants. Ji Otterson Studio works at the diverse scales of masterplanning, urban design, architectural design, facade design, and energy consulting. They are particularly interested in the urban and natural environments in Seoul and much of their work and research is based in the city.
Team members: Yewon Ji, Ryan Otterson
Rhythm City Seoul 2123
Jihyun Lee, Jayoon Yoon, Kyungjin Hong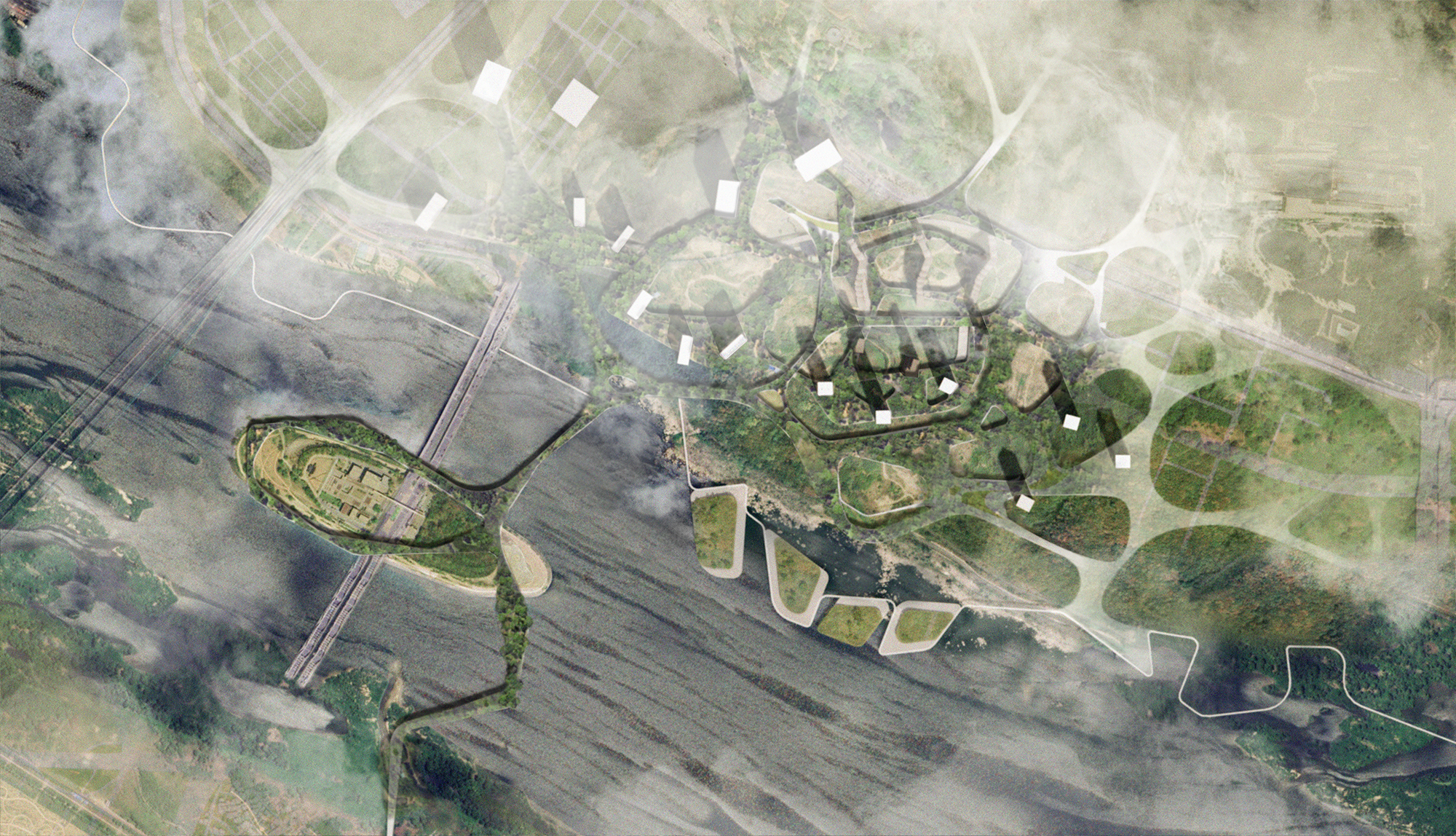 Nodes, arranged at intervals of up to 400 meters, will serve as the city's infrastructure promoting downtown. Also, these become the anchor point for floating structures that used to cross the Hangang River and the depot collecting water from the mountain.

The Urban fabric that is reorganized by the multi-layered platform will keep on rhythmic urban experience with recovered nature in Seoul. The multi-layered platform can be applied to any disconnected space and this is the design to create a soft city landscape. Void space will take a roll of windway releasing Urban Heat Island, and ground-level space underneath the Void will cool down around the site by restoring it to green space and stream. High-rises will be placed in consideration of mountains and wind paths, then connected with aerial platforms in the shape of a web. The space between these web-like platforms, which we call "voids", will be designed to minimize Seoul's density. The use of high-rises will reduce ground space occupied by a building, thereby the rest of the ground space is restored to ecological space.
Jihyun Lee
Jihyun Lee holds a degree in Industrial Design from KAIST and a degree in Architecture and Urban Planning from Politecnico di Milano. She worked for Mario Bellini Architects in Milan, where she was exposed to Italian renewal and regeneration contexts in Architecture. She then worked for HOK in Hong Kong, where she gained experience in various large-scale international projects. She has been with BCHO Partners since 2015 and became a partner in 2019.
Jayoon Yoon
Jayoon Yoon has received her Bachelor of Architecture at Korea University and her Masters of Interior Design at Royal College of Art. She has worked at BCHO Architects since 2015, and has begun her practice as partner since 2019. Currently, she is overseeing the Incheon CGV Renovation project that investigates the potential of architecture in the renewal of the Incheon Port. In 2016, she taught the 5th year Architecture Studio at Hawaii University under the subject, 'Material Investigation'.
Kyungjin Hong
Kyungjin Hong graduated from Ewha Woman's University, where she studied architecture and art history. She received her Masters of Architecture at University of Michigan in the U.S.A. She has worked for BCHO Partners since 2013 and is currently working as a partner of BCHO.
Team members: Ryan Nguyen, Michele Maria Riva, Hyunbae Chang
City and Multi-Layered Architecture—Green Hill
Luis Longhi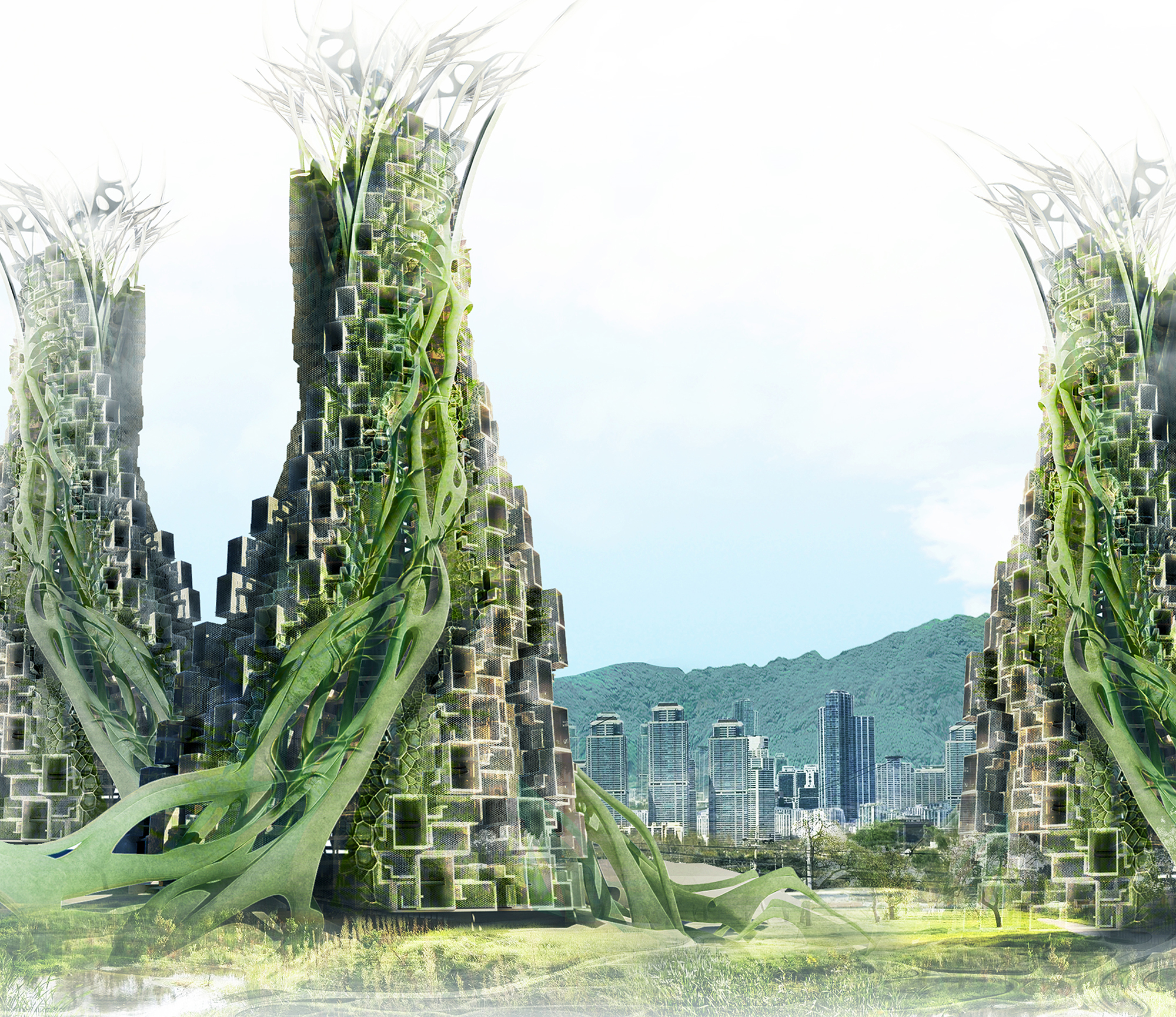 Architecture as the Nature of Nature
Long ago, at the origin of what we call nature, there existed the original design of the creator. Since then and as a result of human presence, this original nature has been changing, mutating and generating new and more recent ones. Due to human growth, nature has been used as raw material for the construction of cities, in many cases devastating it, to the point that we could say that; "cities would have stolen nature from nature". In our project in the hills around Seoul, we understand the site as the new nature, imagining as a design metaphor a forest of huge cut trees, where our architecture aims to be the extension of these remains, using the cut trees to turn them into 50-story housing towers. Since architecture should be an extension of nature, we see three ways to achieve such a condition:
- Vertical Nature, is an extension of nature designed as "vertical parks" for active and passive recreation on the different levels of the building, these green areas are also providers of natural light and ventilation for all units.
- Artificial Nature, the first skin or "shell" of the building, is the structure of architecture following natural orders where the composition of its forms defines the private and public spaces, also organized with landscape features such as waterfalls and vegetation.
- Nature of nature, architectural intervention as natural filter systems inhabited by man, covering the "shell" of the building or first skin, which in turn serves to transform the extreme climate for a comfortable life inside the buildings.
Luis Longhi is a Peruvian architect, sculptor, set designer and museographer. He has been awarded the Golden Medal Peru 2010 for Pachacamac Hill house, Doctor Honoris Causa UANCV 2011, Ricardo Palma University Architect 1980, and received a Master's Degree in Architectural Design and Fine Arts mention in Sculpture University of Pennsylvania in 1984, and a Diploma in Computer Animation applied to Architectural and Landscape design GSD Harvard 1991. In addition, Longhi has worked as a professor and international speaker whose professional objective is to share his thinking and achievements in contemporary architecture with ancestral traditions in order to accomplish architecture that belongs to nature in any culture on the planet. He calls this search: "Global Ancestral Contemporary Architecture".
Team members: Alfredo De la Cruz, Adrián Amez, Cristian Ruiz, Christopher Tapia, Fabrizzio Mesía, Harlyn Camarena, Junior Cuyutupa, Marco Leyva, Sebastián Yupanqui
Hyper-Abundant City
RIOS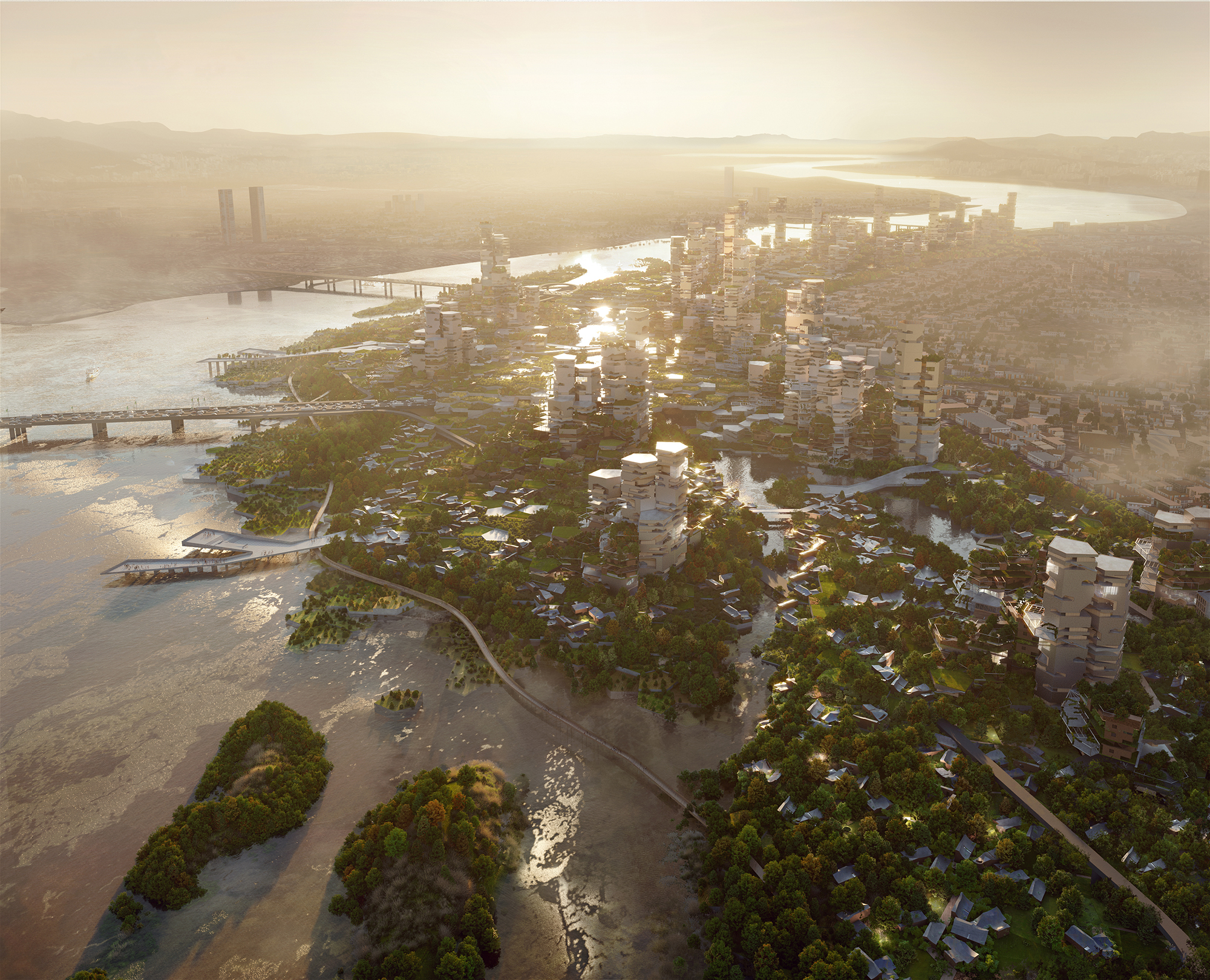 The masterplan uses the river as an organizing influence in creating a set of riverine islands, introducing a dense network of ecotones from the water's edge to a tapestry of architectural settlement. Defined by an ecological tapestry, which organizes the masterplan both horizontally and vertically, the plan presents the idea that the new urban section should maximize the potential for productive nature—aquatic to terrestrial ecologies, from the floodplain to the mountain—introducing biodiversity and cultivation at every slope, terrace, and façade. Regarding building form, the ecological tapestry presents the idea that habitation begins with the domestic unit and the scale of the community. Buildings, structures, and their infrastructure and community functions, negotiate the landscape and accumulate with the logics of a village prioritizing social and natural connection. The masterplan additionally imagines Apgujeong as a regional flood retention zone, where defensive infrastructure is traded for biological systems that embrace dynamic weather. In this Hyper-Abundant future, everyday life will be characterized by individual and collective prosperity and wellness.
RIOS is an international design collective working beyond boundaries to inventively combine disciplines and amplify the impact of design. Combined, our talents comprise a wide range of professional skills including architecture, landscape, urban planning, interior design, video, graphics and signage, and experiential and product design. Our work is irreversibly connected to the narrative of place and the complex order of human culture, creating solutions that are joyful, authentic, and unexpected. Our projects are diverse, including commercial, civic, hospitality, institutional, and residential.
River / Ground: New Ground over the River
Heechan Park(Studio Heech)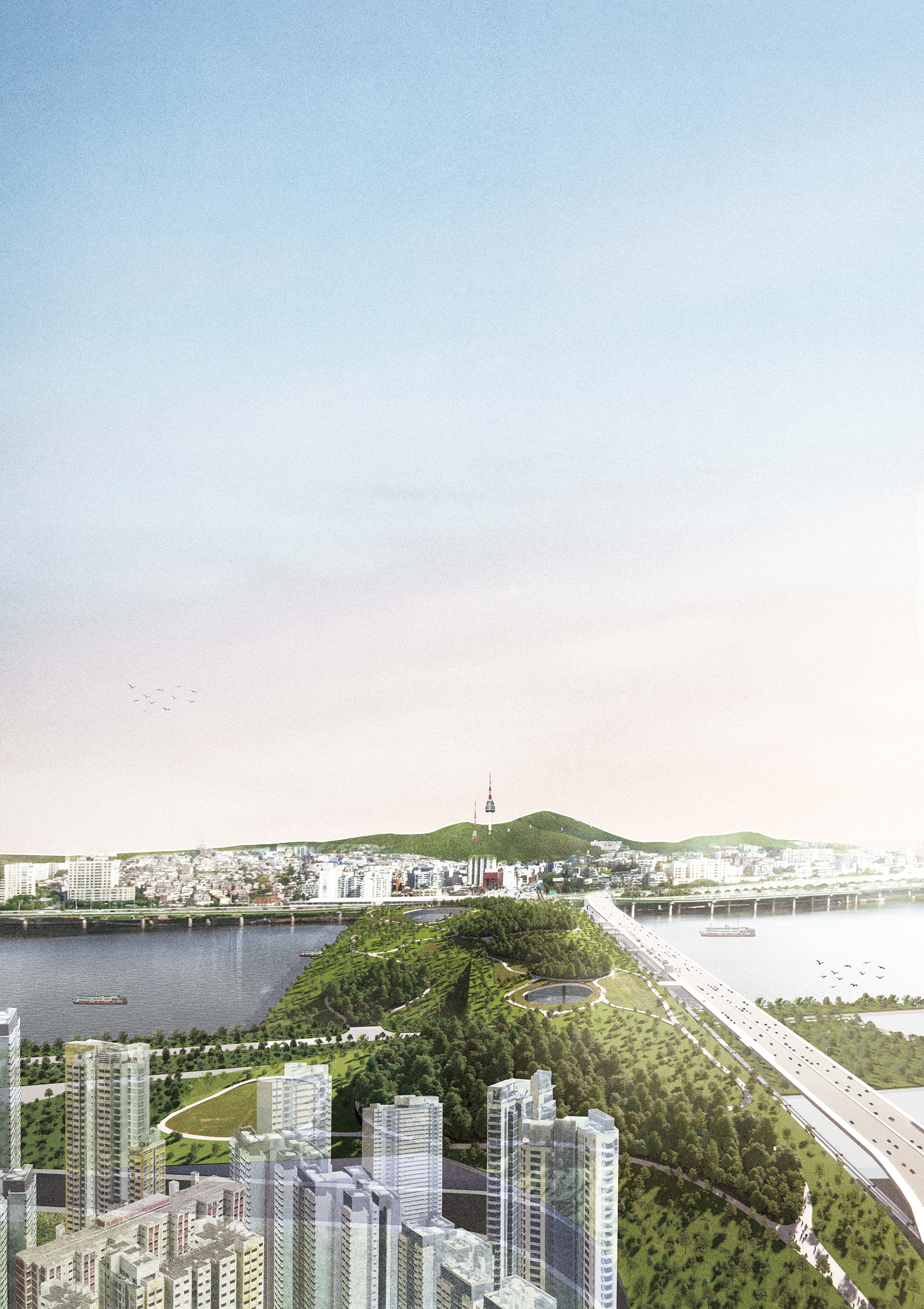 This project explores the potential possibility of the Han River as a 'Ground'; imagining the wide Han River as a potential public land, place, or space for the people of Seoul. 'River Ground', a new land on the Han River, is not just a bridge that serves as a connecting passage, but a new ground, a forest, and a public park in the city.

It is not simply a bridge or passageway connecting green areas, but a green space on a new level. The 500m wide land connects Gangnam (South of the Han River) and Gangbuk (North of the Han River) right admist the center of Seoul. This large-scale public park is directly connects to the existing urban facades such as Gangnam and Gangbuk, as well as roads and waterfront spaces, and forms new relationships with the rest of the city. People in Seoul can easily access the new land on foot, and it is directly connected to Hannam Bridge, making it convenient to use public transportation. In addition, the new 'River Ground' becomes a device that connects and expands the green areas of Gangnam, which were created through the undergrounding of the Gyeongbu Expressway, to Gangbuk.
Heechan Park
Heechan Park studied Architecture and worked as an architect in Seoul and London. He was awarded the Bartlett Travel Scholarship and his work "Experimental Toy Factory" was invited to show at the 2014 Summer Exhibition at the Royal Academy, UK. Park is a qualified architect and established Studio Heech in 2018. Studio Heech carries out projects in architecture, industrial design, fabrication, and digital interaction. Additionally, Park has won the 2021 best building of the year award by Korean Institute of Architects and "Today's Young Artists award by Ministry of Culture, Sports and Tourism, South Korea" in 2022, as well as writing his book, "Aalto, Architecture & My Travels" (2016, Spacetime).
Studio Heech
Studio Heech is an architectural design practice based in Seoul, working across the field of architecture, industrial design, print, furniture and interactive performance installation with a focus on cultural projects. Their work is mostly based on traditional approaches in architecture merged with modern technology.
Team members: Jinhee Lee, Geonhyuk An, Jiwon Park, Sunwoo Choi
Restructuring Seoul: Restoring Waterways, Rehabilitating the Ecological Layer within the City's Urban Fabric—an answer to climate change and increasing flood risks
Snøhetta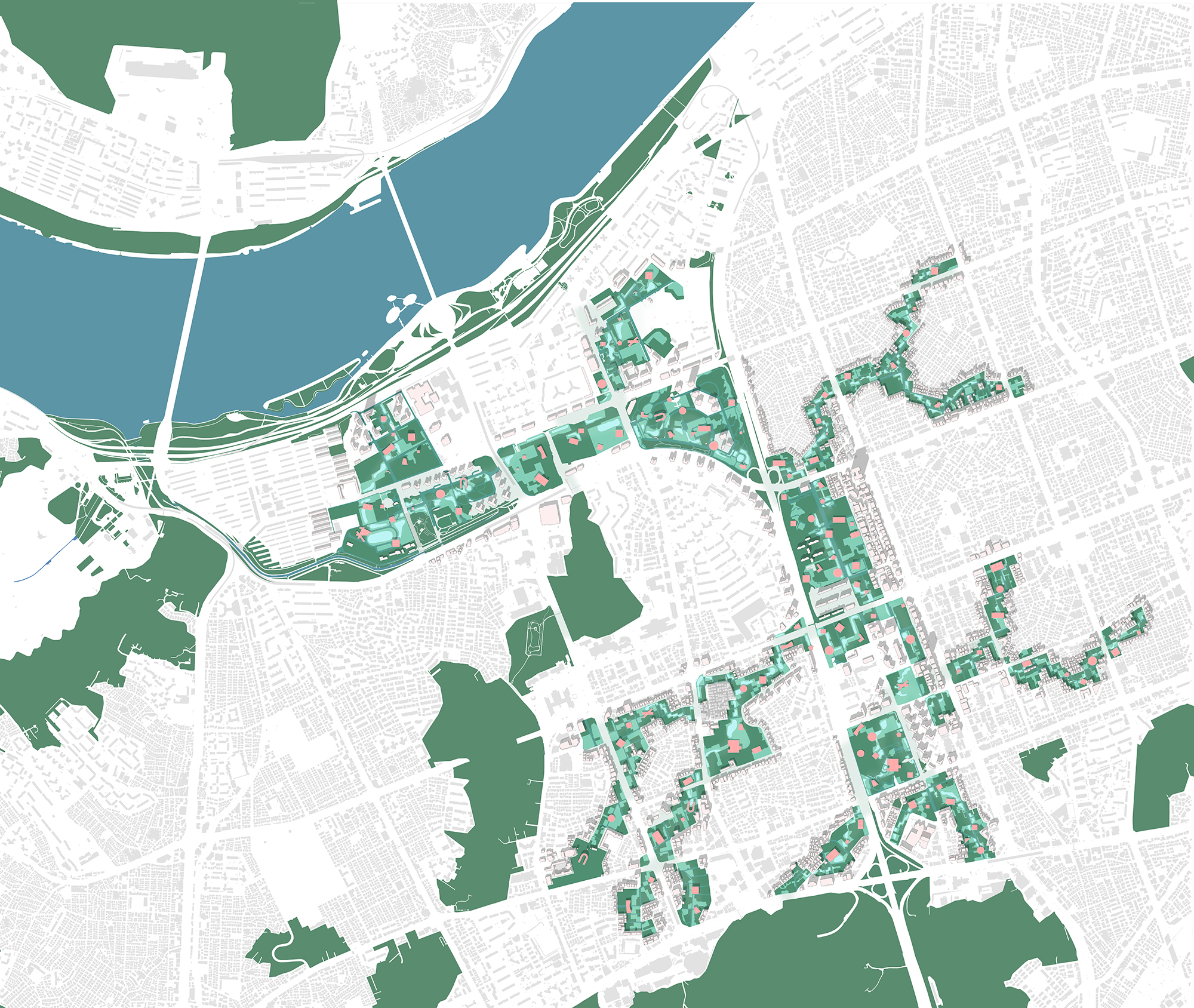 In Phase 1, the flow of currently hidden waterways is identified and converted to open spaces that can be secured along the path into green areas as much as possible. In Phase 2, sufficient time is needed to expand green spaces and create water spaces where waterways pass by or meet. In this process, the existing buildings included in this area are gradually demolished. In Phase 3, the existing roads separating green areas and water spaces secured in Phase 2 are converted by blocks into connection spaces. These serve as a starting point for forming a new type of urban organization along the waterways and their flow; free from the grid-type urban structure built around it. Diverse programs are allowed to create a linear mixed-use space across the land use plan that was previously separated by the rigid grid. In Phase 4, the final phase, redevelopment starts by readjusting the density around the blue-green corridor. The linear park newly created in the process of passing through the above three Phases with sufficient time will act as an important factor in promoting the development of the surrounding area.

The proposed methodology is limited to a quantitative approach of redistribution while maintaining the density accepted in the Gangnam area as much as possible. It does not deal with the complex matters of actual land ownership, compensation, and its procedures. However, it was intended to show a substantially realistic vision if supported by appropriate strategies, plans, and research.
For more than 30 years, Snøhetta has designed some of the world's most notable public and cultural projects. Since its inception in 1989, the practice has maintained its original transdisciplinary approach and often integrates a combination of architecture, landscape, interior, product, graphic, digital design and art across its projects. The collaborative nature between Snøhetta's different disciplines is an essential driving force of the practice. At the heart of all Snøhetta's work lies a commitment to social and environmental sustainability, shaping the built environment and design in the service of humanism.
Among its many recognitions, Snøhetta has been awarded the European Union Prize for Contemporary Architecture—Mies van der Rohe Award for the Norwegian National Opera and Ballet, National Design Award for Architecture, and the Aga Kahn Prize for Architecture for the Bibliotheca Alexandrina.
Team members: Robert Greenwood, Seul Lee, Emily Yan, Yue Hong, Taejun Yim, Richard Wood, Karen Shueh, Chun Wing Fok
From Mountain to River
Minsuk Cho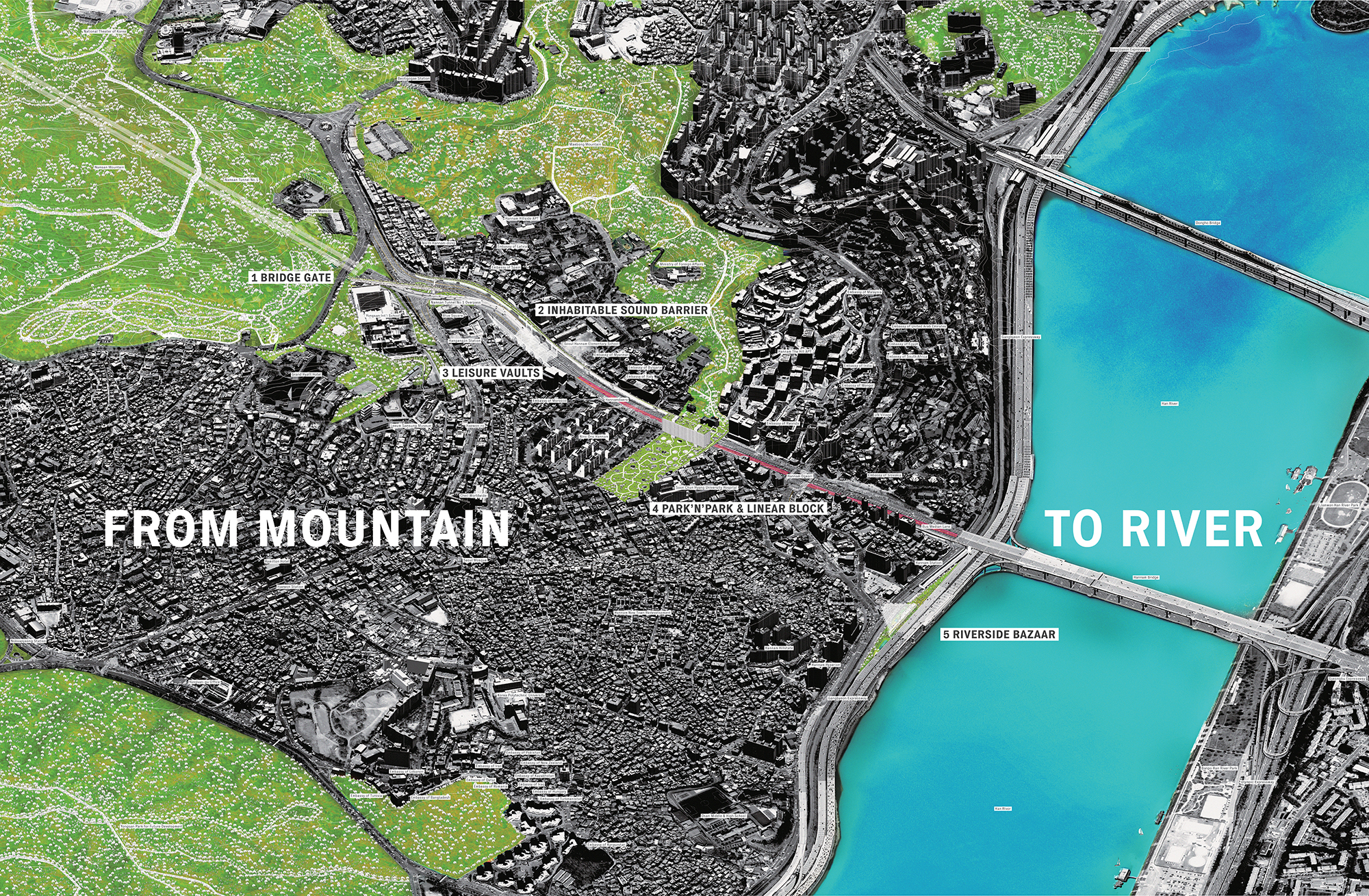 Spanning from Namsan Mountain to Hannamdaegyo Bridge, the two-kilometer-long Hannam-daero (Hannam Boulevard) is composed of ever-changing natural and man-made landscapes and intricate urban features, with an elevation difference of 82 meters from one end to the other. Drawing on inspiration from a contemplation of Hannam-daero, the architectural concept of "From Mountain to River" emerges as a harmonious response to Seoul's urban revitalization, with a strong focus on pedestrian-friendly spaces and gently reminding us of the deep-rooted connection between our urban setting and the rich natural environment. The congested and disjointed urban landscape resulting from rapid expansion will undergo a welcoming transformation via five interventions that prominently feature nature. Simultaneously, it aims to build a communal space by fostering a dynamic interplay between urban infrastructure and cultural areas.
Minsuk Cho founded the Seoul-based firm Mass Studies in 2003 and has been committed to the discourse of architecture through built design and socio-cultural and urban research. Works include the Pixel House, Missing Matrix, Bundle Matrix, Shanghai Expo 2010: Korea Pavilion, Daum Space.1, Tea Stone/Innisfree, Southcape, Dome-ino, Daejeon University Student Dormitory, Space K Seoul Museum, Pace Gallery Seoul, the Won Buddhism Wonnam Temple, and the New French Embassy in Seoul (in collaboration with Tae Hoon Yoon, SATHY). Current projects—all finalists in competitions—include the new Seoul Cinematheque (Montage 4:5), the Danginri Cultural Space (Danginri Podium and Promenade), the Yang-dong District Main Street (Sowol Forest), and the Yeonhui Public Housing Complex. Apart from his own practice, Cho also co-curated the 2011 Gwangju Design Biennale and was the commissioner and co-curator of the Korean Pavilion for the 14th International Architecture Exhibition—la Biennale di Venezia, which was awarded the Gold Lion for Best National Participation. In late 2014, PLATEAU Samsung Museum of Art, Seoul, held its first-ever architecture exhibition, highlighting his works in a solo show titled "Before/After: Mass Studies Does Architecture." Cho is also an active lecturer and speaker at symposiums.
Team members: Junkoo Kang, David Koo, Nathaniel Lee, Betty Kim, Chiwhan Seok, Daein Cheong, Geunho Min
Bridge of Aquifer: Topo Revived
Office Parkkim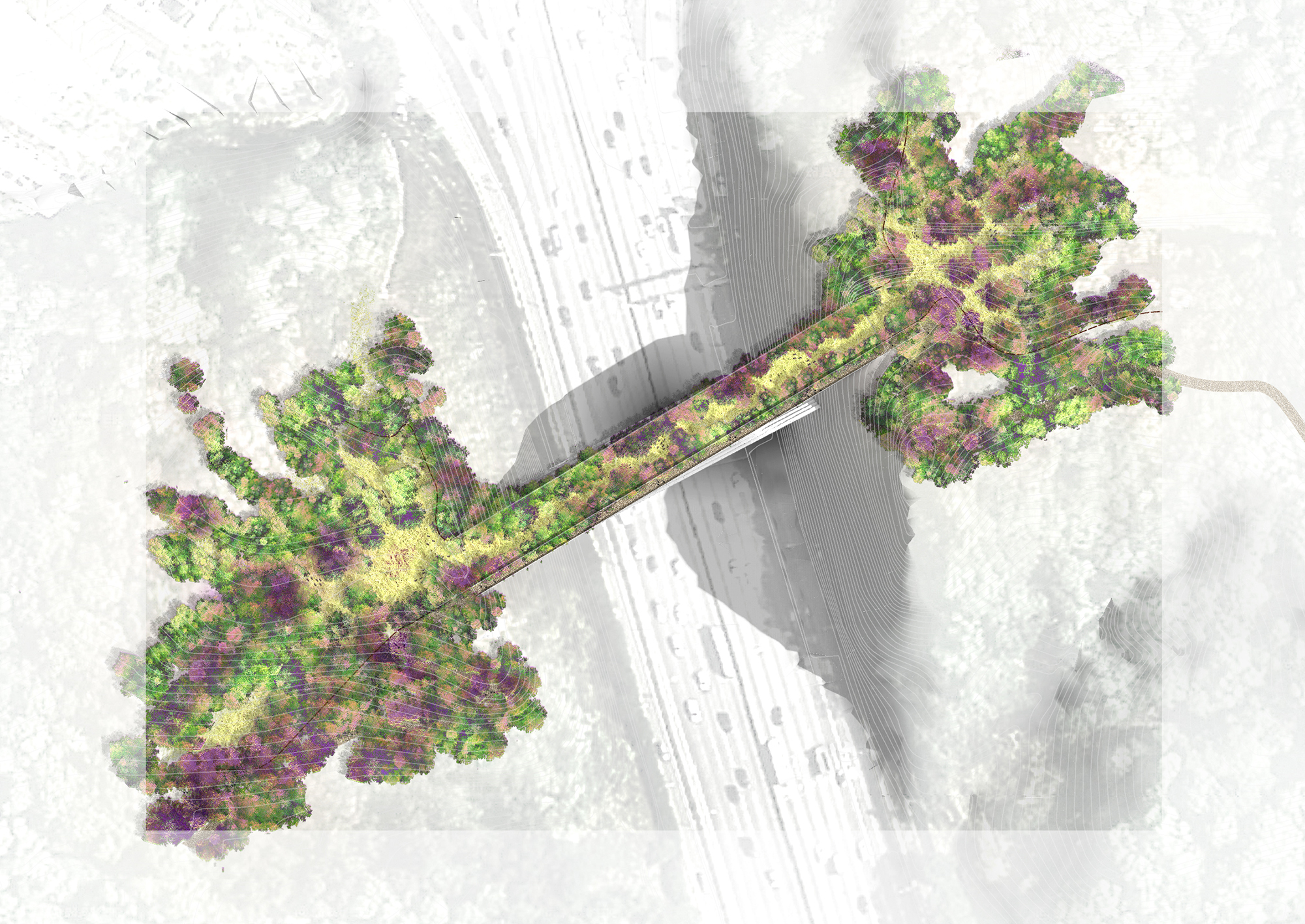 This proposal is an eco-bridge made of a shell arch that would structurally revive the pre-existing topography of Umyeonsan Mountain lost in the construction of the Gyeongbu Expressway, the first highway in Korea built in the 1960s. The eco-bridge was sited by connecting the more gentle ridges of the mountain in consideration of animal migration. The deck was leveled and positioned, aiming for the shortest passage to ensure the smoothest movement. A pedestrian passage is attached to the deck, away from the animal passageways.

The horizontal space of the upper bridge works as the fundamental function of the eco-bridge—providing animals with a passage within the city. The shell arch works as the visual symbol of the gateway to Seoul while supporting the weight of soil and water required for the foliage. Run-offs are retained in the pipes composing the arch so that the structure itself acts as an aquifer.
Parkkim is a Seoul and Boston-based landscape architecture firm founded by Yoonjin Park and Jungyoon Kim in 2004 Rotterdam upon winning the Taiwan Chichi earthquake memorial design competition and relocated to Seoul in 2006. The firm in known for its speculative thinking and well-built projects. In 2015, Park and Kim published the book "Alternative Nature", A compilation of Articles written by the two principals in various media since 2001. The term 'Alternative Nature' was first coined in their essay 'Gangnam Alternative Nature: The experience of nature without parks', published in the book 'Asian Alterity (ED. William Lim, Singapore: 2007)', Rethinking the concept of 'Natural' within the context of contemporary east Asian urbanism. The debate and related research have continued to enrich Parkkim's work to realize the experience of nature in urban environments. Two founding principals also have been teaching at Harvard graduate school of design, Their alma mater, since 2018.
The Weave: Tancheon/Han River Waterfront
MVRDV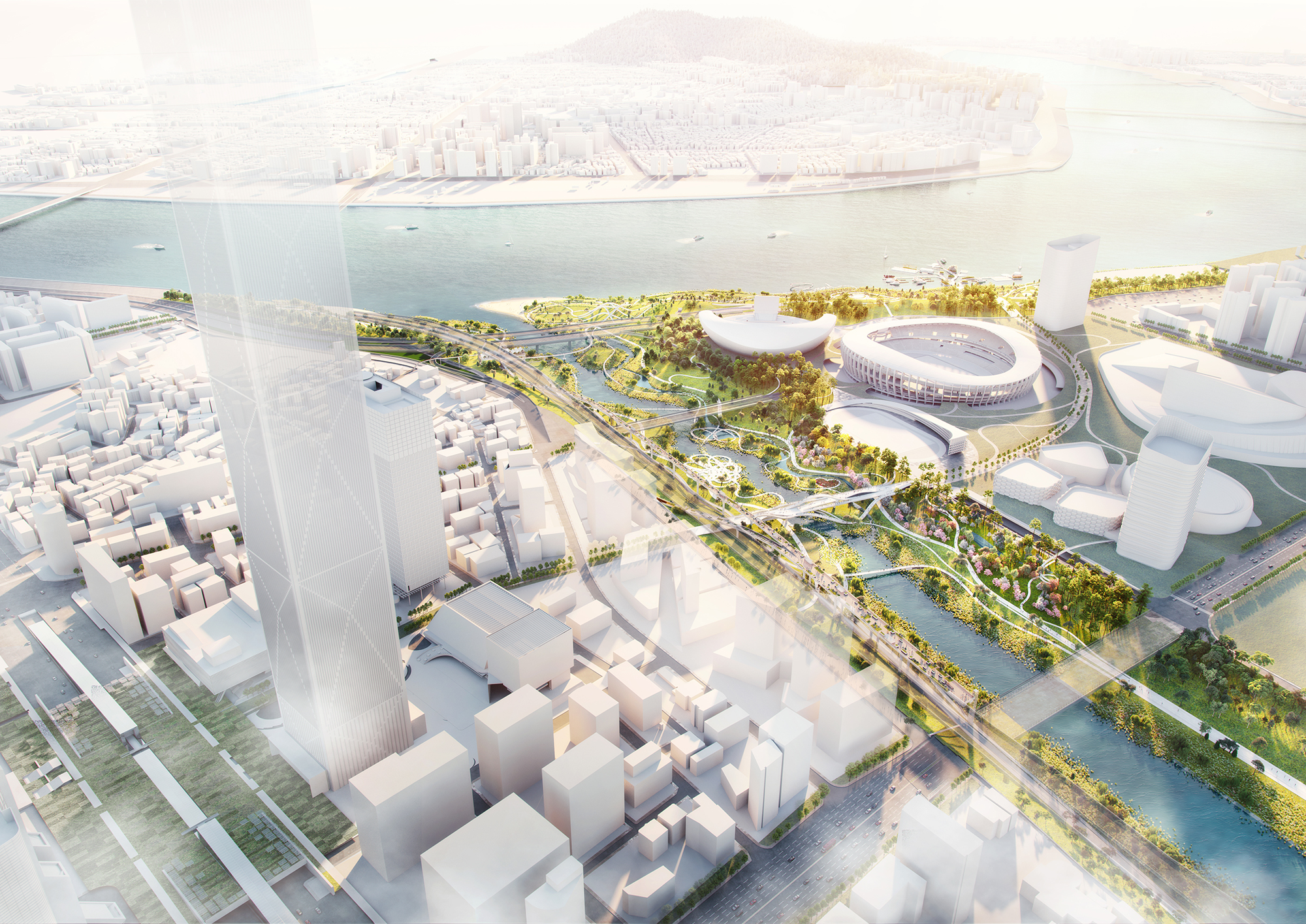 Located between Seoul's former Olympic Stadium in the Jamsil district and the rapidly growing central business district in Gangnam, the point where the Tancheon River joins the Han River is currently dominated by surface car parking and elevated highway structures. The central concept of "The Weave" was to intertwine three aspects of the landscape: 'Restoring nature, Accessibility improvement, and Leisure-Cultural waterfront'. Through the central concept of weaving, MVRDV envisions creating a continuous, fluid space that fosters the interplay between humans and nature.

'Restoring nature' is a crucial design facet, as the project seeks to introduce greenery and biodiversity. Native plant species will be incorporated to ensure the development is harmonious with the local ecology. 'Accessibility improvement' involves creating pathways, bridges, and viewing platforms for seamless navigation and stunning river and city view threads that weave the tangible connection between the Jamsil and Gangnam districts. 'Leisure-Cultural waterfront' components are versatile, hosting diverse cultural and social activities. From outdoor theaters to family playground, the project aims to be a cultural hub echoing Seoul's energy. Water features like pools and fountains create recreational spaces, acknowledging the site's river proximity.

'The Weave' is an innovative project, transforming an underused area into an ecologically sound, interconnected urban oasis, bridging the natural and built environments while becoming a cultural hub for Seoul.
MVRDV was founded in 1993 by Winy Maas, Jacob van Rijs and Nathalie de Vries. Based in Rotterdam, Shanghai, Paris, Berlin, and New York, we have a global scope, providing solutions to contemporary architectural and urban issues in all regions of the world. Our highly collaborative, research-based design method involves clients, stakeholders, and experts from a wide range of fields from early on in the creative process. The results are exemplary, outspoken projects that enable our cities and landscapes to develop towards a better future.
"InfraNature" Reconciliation of Green and Urban Infrastructure with Future Mobility
Eunjung Yoo, Seongmo Ahn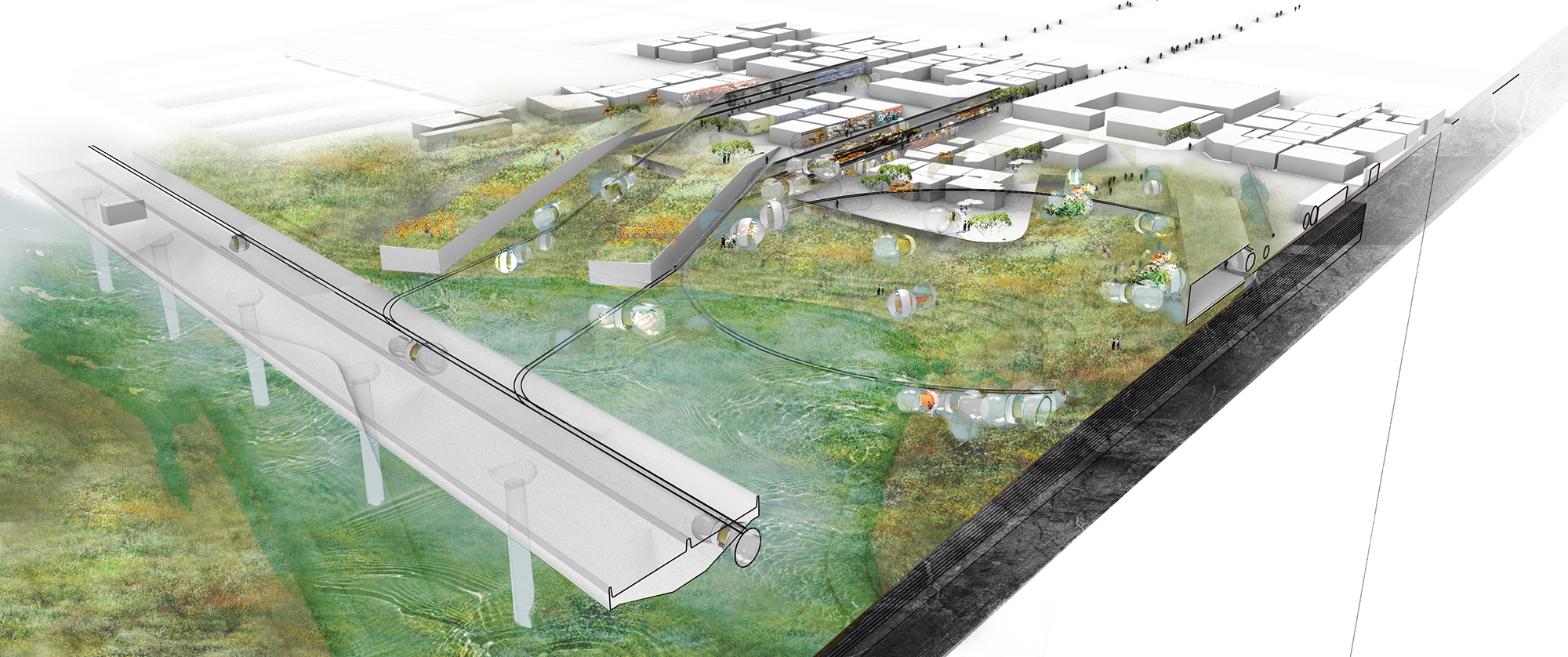 The site, Naebusunwhan-ro near Jeongneung-cheon, is a large traditional market complex, adjacent to Gyeongdong Market selling herbal ingredients, Cheongnyangni Agricultural Market, and Majangdong Livestock Market. The formation of these traditional markets originates from Cheongnyangni Station, a thriving logistics hub for healthy and abundant produce. The moving smells, arcades, markets, and the flexibly shaped roads and railways, inspired the proposed new transportation device that takes the form of a self-driving, inflatable bubble-shaped module. On the ground, these modules cluster together, forming an arcade-like market, while they move suspended beneath the Naebusunwhan-ro, transporting fresh produce across Seoul. The key catalyst, the bubble PBV(purpose-built vehicle), connects the two parallel scapes of the Naebusunwhan-ro and Jeongneung-cheon to the three-dimensional fabric of the old city, thus attempting to reconcile infrastructure and nature through blurred boundaries. Ultimately, the infrastructure built upon nature becomes "InfraNature," giving back to nature in reverse, and proposing a master plan that suggests the Naebusunwhan-ro(inner circle ring road) as an alternative to creating the future Seoul Green Ring.
Eunjung Yoo
Eunjung Yoo's spatial work crosses various scales, including urban, architecture, interior, and furniture design. Her research projects include: 'New Mobility and Urban Space', 'Portal Design from Generative body and Scale', 'Immersive space design', and 'Artificial Intelligence and Generative Space', while her interests vary from mobility, virtual space, ambience design, and artificial intelligence. Through her experimental works, she has won numerous international design awards, including the Red dot Award, IDEA Award, and iF Design Award. Eunjung Yoo studied design and architecture at Seoul National University and the Harvard Graduate School of Design and is currently a principal at StudioIZE and a director at Xorbis R&D centre.
Seongmo Ahn
Seongmo Ahn has conducted research on various spatial issues derived from the intersection of three main areas of interest: human, technology, and the environment. He has been involved in studies such as 'Digital Environment Research,' 'Digital Form Research,' and 'Spatial Design Research.' Furthermore, he has received numerous international design awards, including the Red Dot Design Award, IDEA Award, and iF Design Award, for experimental works applying these concepts. Seongmo Ahn majored in design and architecture at Seoul National University and Cooper Union and currently serves as a professor in the Department of Design at Seoul National University.
Terrain Manipulation: Towards Resilient Landscape
Hyeyoung Choi, Sungjin Na, Sua Im, Hanseul Lee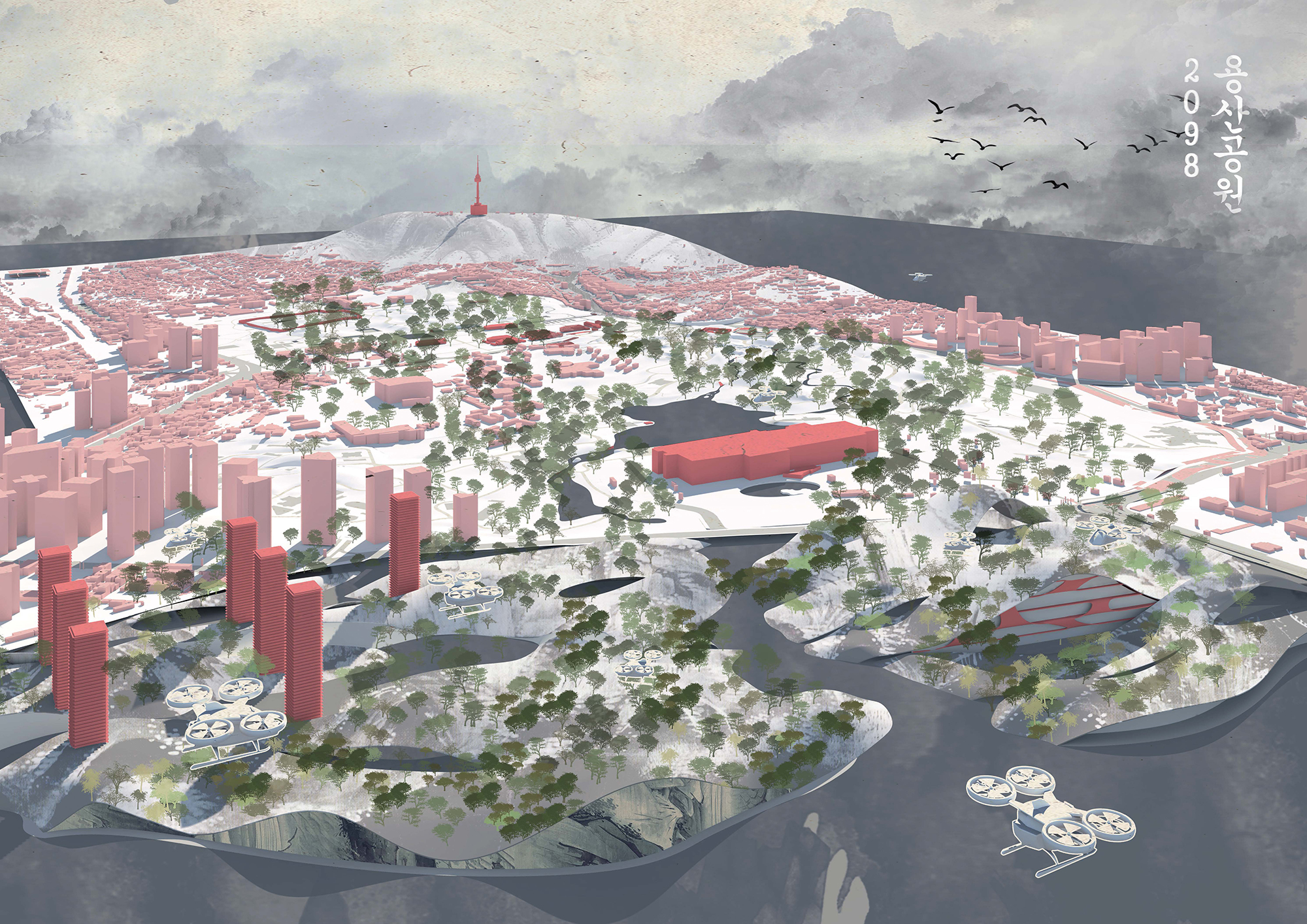 This location, situated between the future Yongsan Park and the Han River, holds immense potential to be transformed into a future ecological hub for Seoul. Additionally, it presents an ideal opportunity to showcase Korea's symbolic landscape. Our proposal involves introducing a new terrain, presenting a vibrant landscape that resiliently addresses environmental issues while embodying the fundamental characteristics of Korea's interconnected mountain ridges. The cluster of undulating topography is meticulously formed through innovative interpretation, active disturbance, and careful manipulation of the urban topography. This new topography exhibits adaptability to rising sea levels and the prevention of natural disasters caused by abnormal weather patterns. The hills, varying in size, shape, height, and slope, establish harmonious connections with the surrounding areas and create diverse green, water, programmatic, and essential functional spaces within the city. The varied forms of the land prioritize ecological and landscape dynamics, instilling a sense of joy among citizens. Consequently, the resulting third nature, "landscape" fosters a city that evolves and adapts to unexpected environmental changes, ensuring its long-term sustainability.
Hyeyoung Choi
Hyeyoung Choi, an associate professor at Sungkyunkwan University and a landscape designer, joined SKKU in 2017 after leading the West8 Team to win the Yongsan Park design competition. Since 2007, she has worked on various multidisciplinary landscape and urban projects. Hyeyoung holds a Ph.D. from Seoul National University and an MLA from the University of Pennsylvania School of Design.
Sungjin Na
Sungjin Na is the founder of Subdivision, a Seoul-based landscape architecture firm specializing in computational design. Their projects range from residential gardens to urban regeneration initiatives. Sungjin also manages a YouTube channel dedicated to computational design methods. He has an MLA from Harvard University Graduate School of Design and a Bachelor of Landscape Architecture from Seoul National University.
New Terrain
Chiyoung Park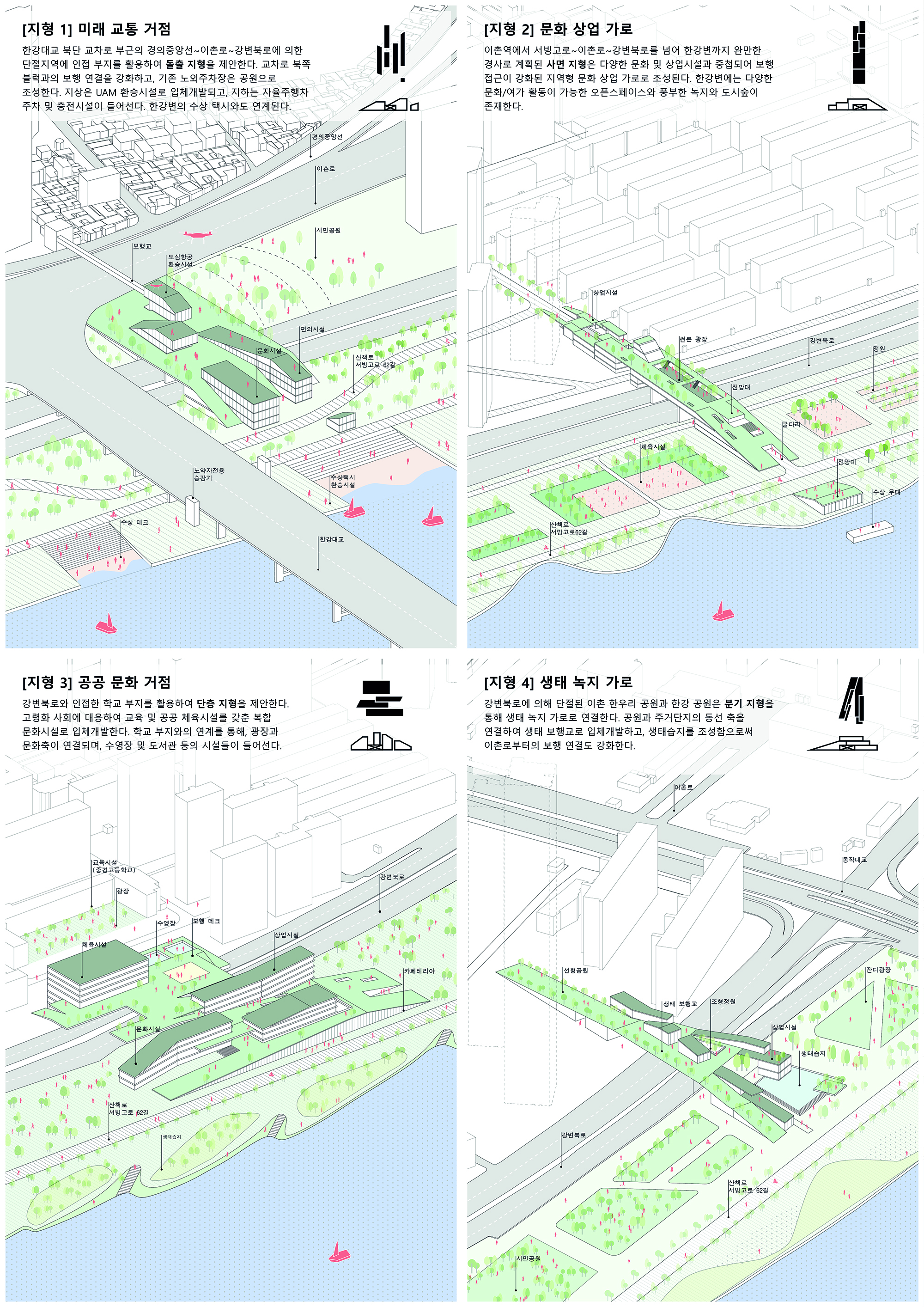 The pathways that connect Seoul's mountains, waters, winds, and pedestrian areas have become fragmented due to car-centric urban planning and the expansion of transportation infrastructure. As a result, urban space in Seoul has become vulnerable to disasters and uniformity, losing its diversity and resilience. However, there is an expectation that through the introduction of new mobility, the declining demand for existing vehicle-occupied spaces such as roads and parking lots can be repurposed to transform Seoul into a more inclusive and resilient green city.

The physical environment and daily mobility patterns of the target area in Dongbu Ichon-dong are analyzed to create a data-driven topography. The New Terrain connects Yongsan Park, Seobinggo-ro, Ichon-ro, Gangbyeonbuk-ro, and Han River through green spaces and parks, thereby enhancing the urban pedestrian network in the city. The multi-layered urban space, planned with inspiration from the form of the terrain and geological strata, is developed into various facilities such as (1) future transportation hubs, (2) cultural and commercial streets, (3) public education centers, and (4) ecological green spaces.
Chiyoung Park is the director of City Place Laboratory and an assistant professor in the School of Architecture at Soongsil University. He conducts research on urban spatial structures, mobility, smart cities, spatial typologies, and public spaces from an integrated perspective encompassing urbanism, architecture, and landscape. He earned a Master's degree in Landscape Architecture with a concentration on Urban Design from the University of Pennsylvania, and a Bachelor's degree in Architecture from Soongsil University. In 2023, he was selected as a participating artist for the Seoul Urban Architecture Biennale. In 2018, he received the third prize in the international design competition for the remodeling of the main stadium at Jamsil Sports Complex, hosted by the Seoul Metropolitan Government. Since 2020, he has been conducting research on "Urban Regeneration Strategies and Guidelines in the Era of Autonomous Vehicles" with the support of the Korea Research Foundation.
Team members: Kitae Kim, San Jang
SUNDAY AFTERNOON
Federico Taverna, Siebrent Willems, Felicia Liang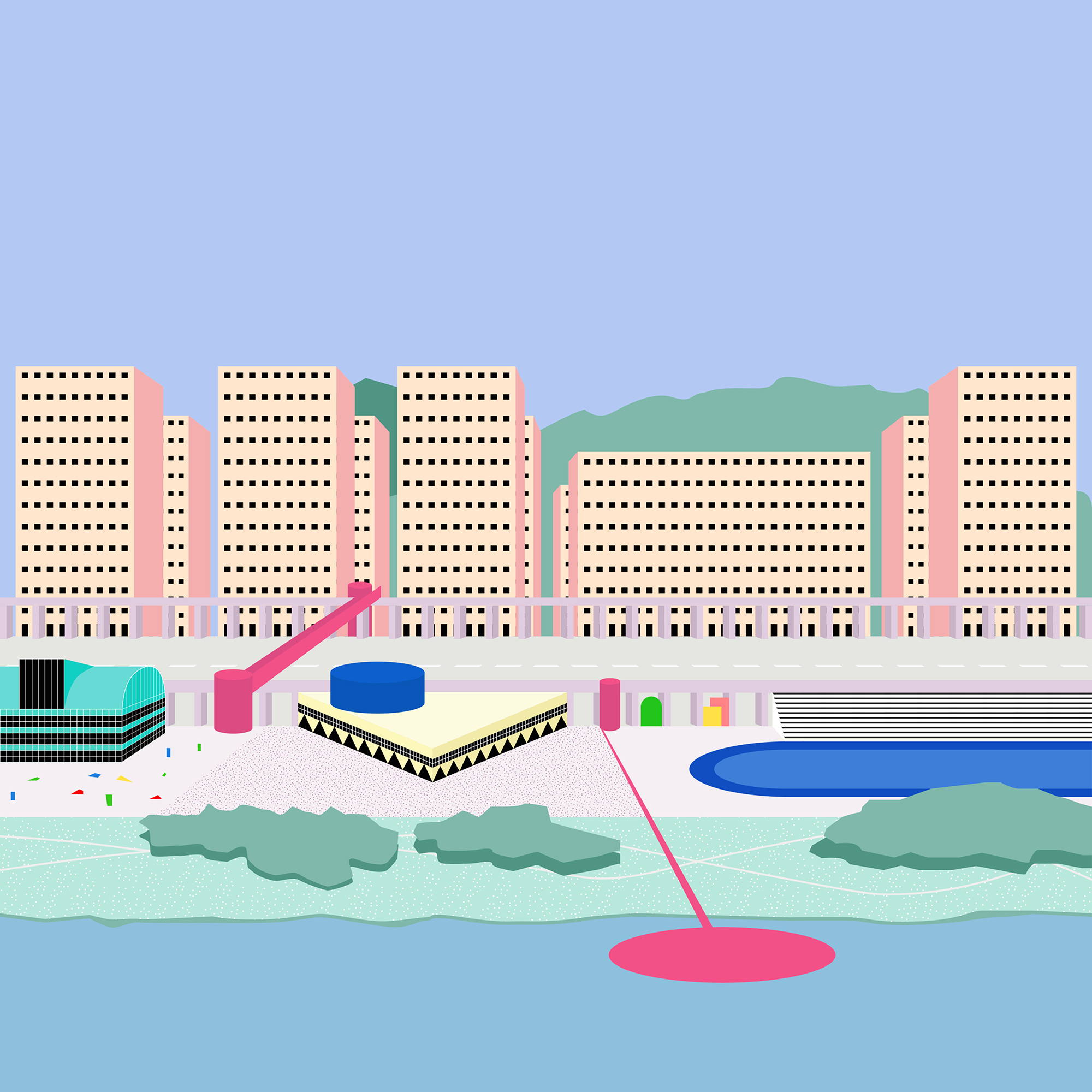 Our vision for Ichon Hangang Park over the next generations to come is not a definite park but a "method" to allow diversity and difference, confusion and clarity, highs and lows, density and emptiness, quietness and loudness—materialized in a system with structures. We´re not proposing something that is solely beautiful or splendid in its architecture but we want to establish a place for change and progress that blends in well with the lives of Seoul to imagine and use together.

The proposal aims to bring together groups and programs and connect the park to everyday life. In our proposal the urban development will gradually change from the existing specialized parallel sectors to an intersection; without losing the basic linear infrastructure. Step by step, in each layer (see diagrams), an addition of different factors will intricately entangle with each other with an overriding emphasis on programmatic flexibility with architectural specificity in an urban space geared for Seoul for the next 100 years. The method of layering is to formulate basic tools to give all people an answer to how to invent their own way to use the park, in each layer. The park will accommodate a complex programme and be a place that people can take over and it would not constrain them. It is not realistic to attempt a finished urban space without engaging people along the way and with time.
Federico Taverna, Siebrent Willems and Felicia Liang are three young architects based in Belgium and Sweden. After a shared studying experience, they work internationally as practicing architects and curators.
Seoul Tetrapod
Joohui Son, Hyunsoo Kim, Hyunwoo Lee, Gyuwon Han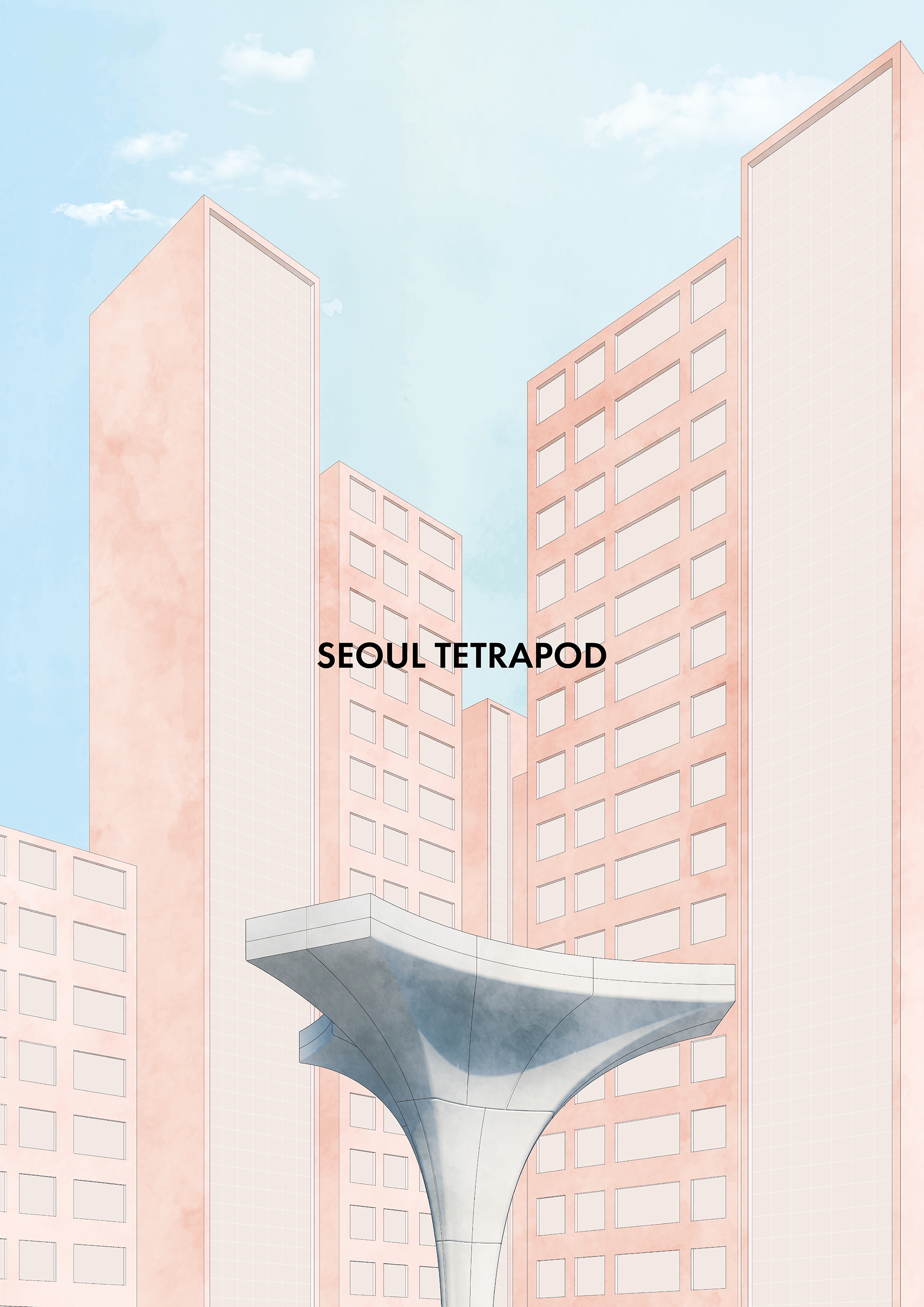 Seoul is a dynamic city with countless faces and constant transformations. The Seoul Tetrapod is an infrastructure module situated within the city center, parks, and along the riverbanks. It serves as a structure that adapts to Seoul's diverse terrains and ever-changing nature. The Tetrapod functions as facilities for pedestrians, structures for nature, and urban utility facilities. The Tetrapod modules consist of a central column and a tetrahedral shape extending in three directions, allowing minimal disruption to the existing urban ground while connecting with other modules. They can come together to create parks, stretch linearly to form elevated pedestrian bridges, or stand alone as landscape and utility structures. While preserving the existing Ichon Hangang Park, the Tetrapod extends beyond the Gangbyeonbuk-ro, the artery at the north of Han river, to create an aerial park that integrates with the natural and urban spaces, extending to the Han River and Yongsan Park. Moreover, it connects with various levels of surface terrain, underground spaces like subway stations and parking lots, underwater spaces within the Han River, and high-rise buildings to create a multi-dimensional urban environment for Seoul. The Tetrapod fulfills the following roles: aerial green space, canopy shelter, UAM PORT, and other aerial pedestrian paths; horizontal and vertical ecological corridors for flora and fauna; a resting place for migratory birds along the Han River; underwater habitats for fish and other aquatic species to promote the ecosystem; roles in environmental aspects such as rainwater collection, fine dust filtration, underground ventilation, and underwater waste collection. Constructed with precast concrete structures, the Seoul Tetrapod serves as a flexible platform that accommodates various functions based on the urban environment. It can be installed and dismantled to adapt to the changing and diverse facets of Seoul.
SON-A is an architecture group led by Professor Son Joohui from the department of architecture at Hanyang University. They focus on observing and analyzing the social context of urban and architectural environments, aiming to discover living spaces that align with the modern human experience. Their interests lie in reinterpreting local architecture and urban settings to inform architectural designs that incorporate regional characteristics, emphasizing practical research activities. Engaging in various endeavors such as architecture, interior design, public art, lighting design, architectural research, and education, they are expanding the scope of the architectural field. Their work transcends specific functions or scales, reflecting a diverse approach.
Team members: Joohui Son, Hyunsoo Kim, Hyunwoo Lee, Gyuwon Han
Where is our house?
Junhoi Kim, Gyujin Kim, Subin Yun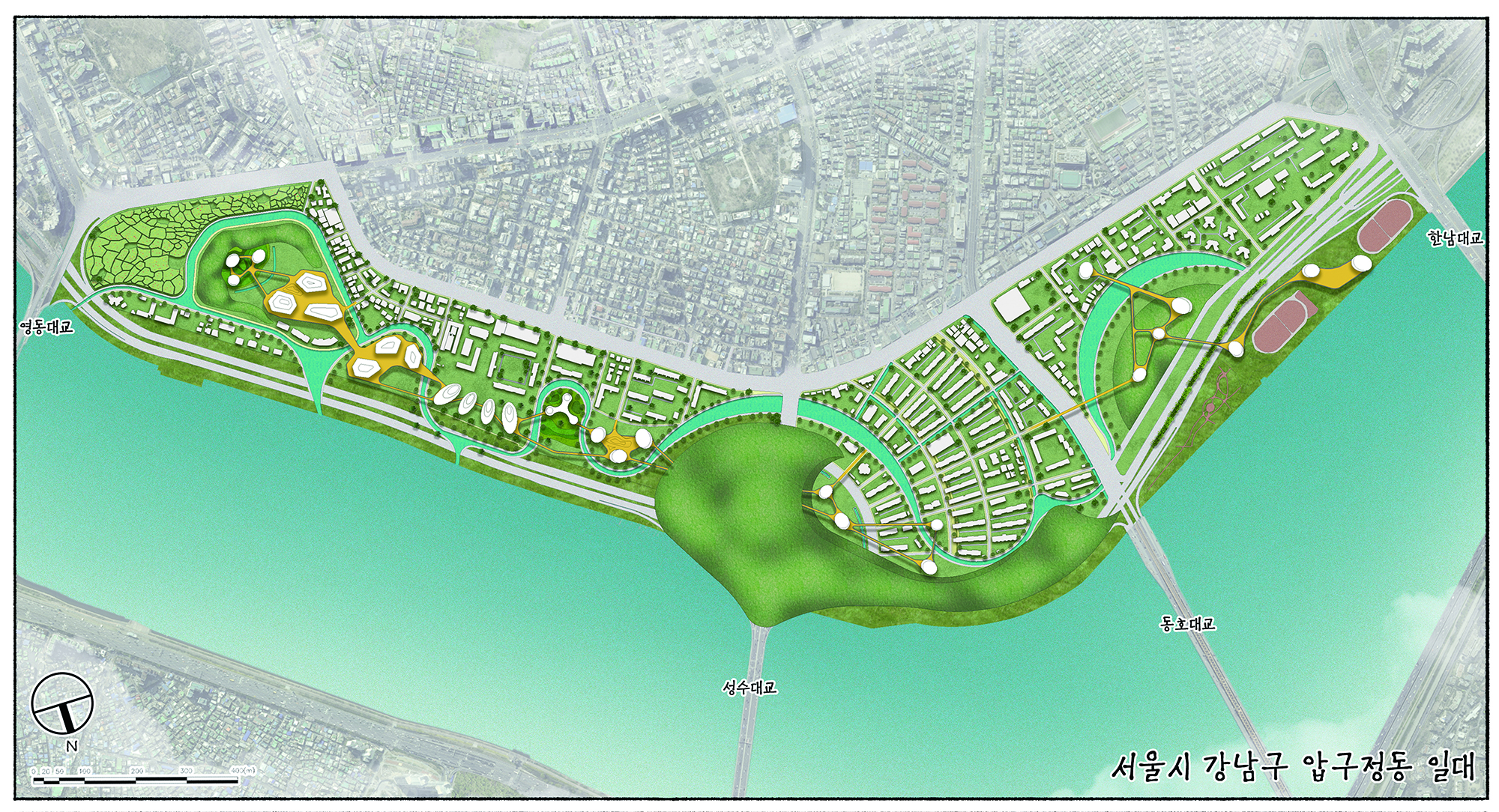 Why do we regard nature only as an object of observation? This recognition has led us to consider nature only as an object to be conquered and preserved. Bringing nature, which has been classified until now, closer to our home means that we must break away from existing perceptions and live in a deeper relationship with them. Our clients are nature. Exposing nature means that architecture for nature is also necessary. Therefore, we started the project by imagining the architecture they want from the point of view of nature. We invited nature, which has already been living together in various parts of downtown Seoul, such as water, soil, wind, and light, but was a little excluded from the realm of members, into an architectural space for coexistence. Humans and nature are both objects and members of the city. And such a city will finally transform Seoul into a harmonious ecosystem that embraces both nature and humans.
Everything we touch has a unique story. In TORY's own way, stories that are created and disappear countless times in encounters and partings are captured. STORY, which means story, intangible stories that disappear like smoke (S) are reborn as TORY. TORY looks at the world with a delightful yet delicate gaze.
As part of that, TORY's first project, archiTORY, begins with the story of nature surrounding us. We created a new story based on architectural interpretation and delightful imagination. We hope that the stories we share in everyday life will bring more enjoyable moments together. TORY's story continues on Instagram
@archi_tory
Burying & Shrouding by the Defined City
Jiseung Shin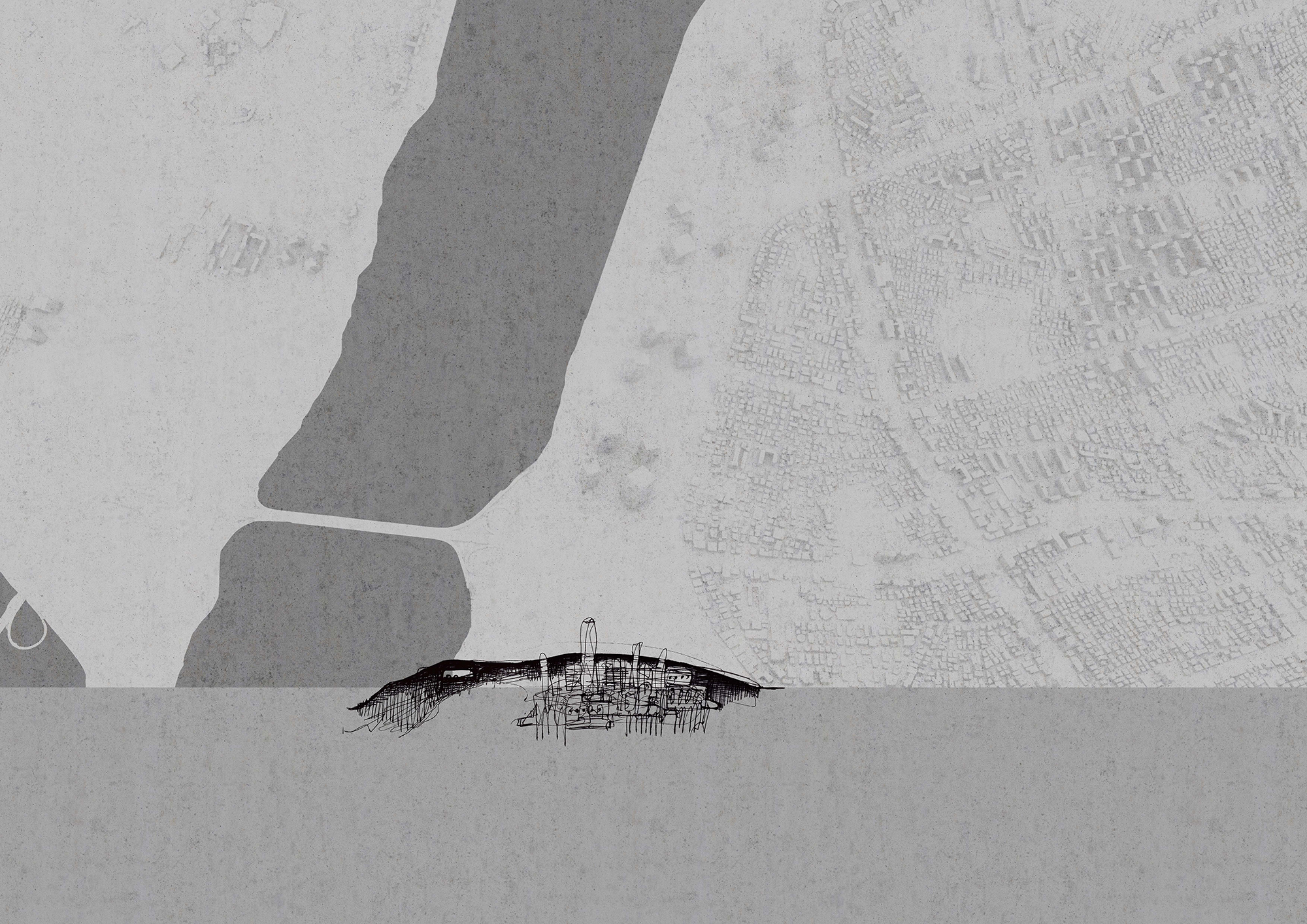 Burying & Shrouding by the Defined City. Even if nothing disappears, everything changes at some point. Let's start with burying sharp severance, selfish exclusivity, greedy possession, by-products you don't want to encounter, future you don't want to know, with a layer of shallow soil.

- Given Condition
Of the many elements that make up a city, here is the place of an extremely rigid, lack of publicness, consisting of a fragment. In particular, residents here have owned the Han River and enjoy "exclusive publicness" by pushing wastes and deaths outward.
- Hypothesis
The huge tower is controlled by a possessions of the minorities, and the huge land that forms other mounds and extends to the Han River is an area experienced by majorities, which is not refined and exists as it is.
- Big Tower
These buildings, which shake off current single-use apartments and vertically heterogeneous programs, inserted in, are parts of wholeness, which are the Defined Cities, with high densities and small tread.
- Big land
The inside of this mound is an environmental basic facility, and the outside is a covered park that extends from the top of the boulevard to the inside of the city. The site, owned by a minority so far, will become a common domain except the buildings, enriching access and experience to the Han River, which has been cut off so far.
The architecture major who has not yet decided on an architectural direction and has yet to be refined. During the undergraduate years, I was interested in topics such as topography, artificial landscape, a part and a whole, collectivity, archipelago, irrelevant beings, repetition and difference, ambiguity, folds, etc. Graduated from the Department of Architecture of the Korea National University of Arts, and currently a member of One O One Architects.
Come, Sweet Death
Carl Seungpyo Hong, Hayley Siyun Huang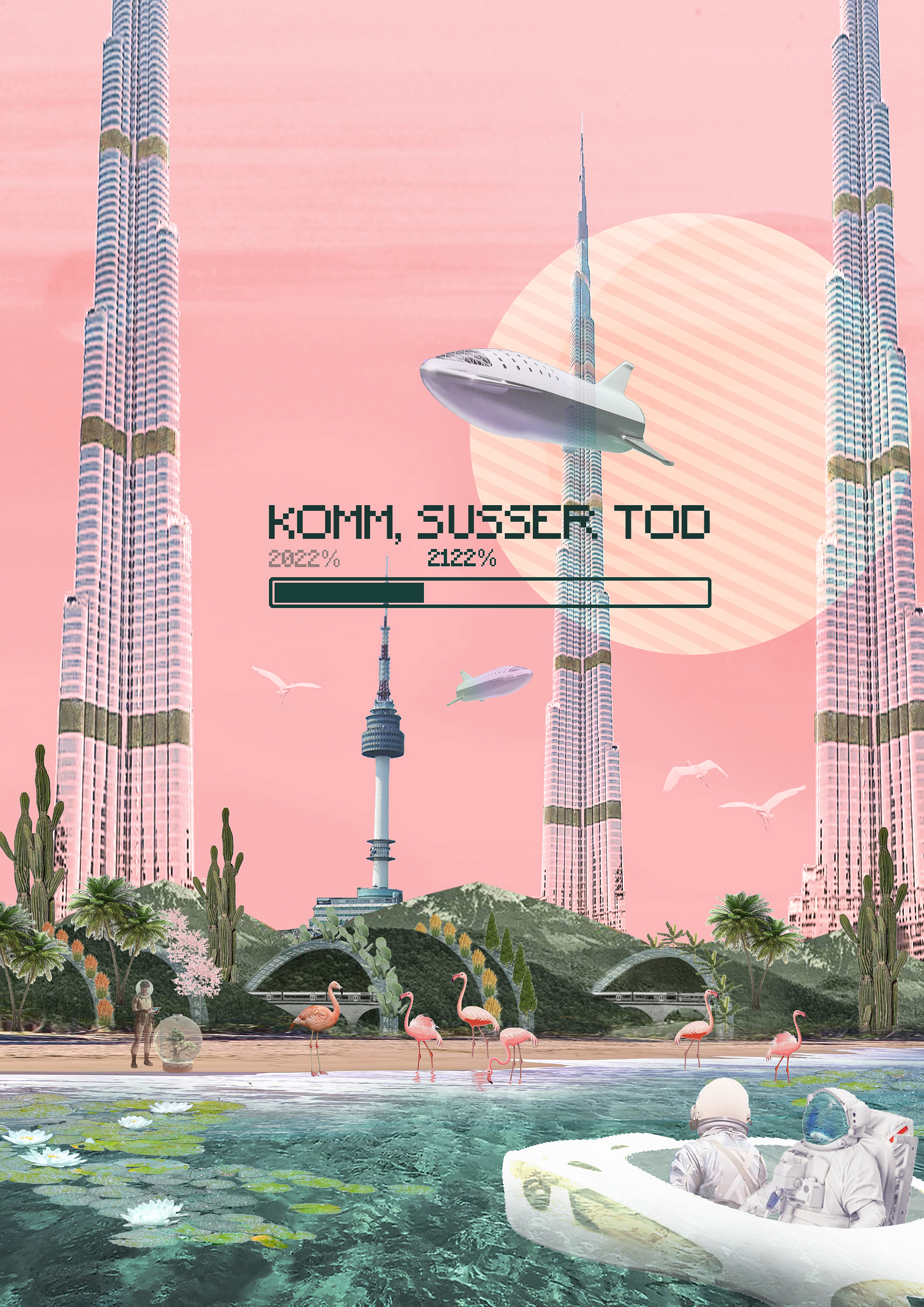 "Komm, Susser Tod" envisions Seoul's extreme weather future, emphasizing adaptability and restoring nature. It's a darkly humorous, apocalyptic project exploring urbanization complexities. Apgujeong symbolizes tragic modernization, stifling green spaces. Facing crises and climate change, underground infrastructure and transformable buildings adapt to the evolving environment. We reconnect nature and provide habitats through symbiosis. Our planning scheme maximizes green spaces, incorporating farms and preserving for future generations, offering a fresh perspective on urban design.
Carl Seungpyo Hong
Carl Seungpyo Hong is a landscape architect, graduated from RMIT University. currently working for AECOM Melbourne.
Hayley Siyun Huang
Hayley Siyun Huang is also a landscape architect finished University of Melbourne, worked in multiple cities and currently works at Rush Wright Associates in Melbourne.
CLOUD ATLAS
Dokyun Kang, Donghee Kang, Hyoju Kim, Jeewoo Park, Haeyoon Lee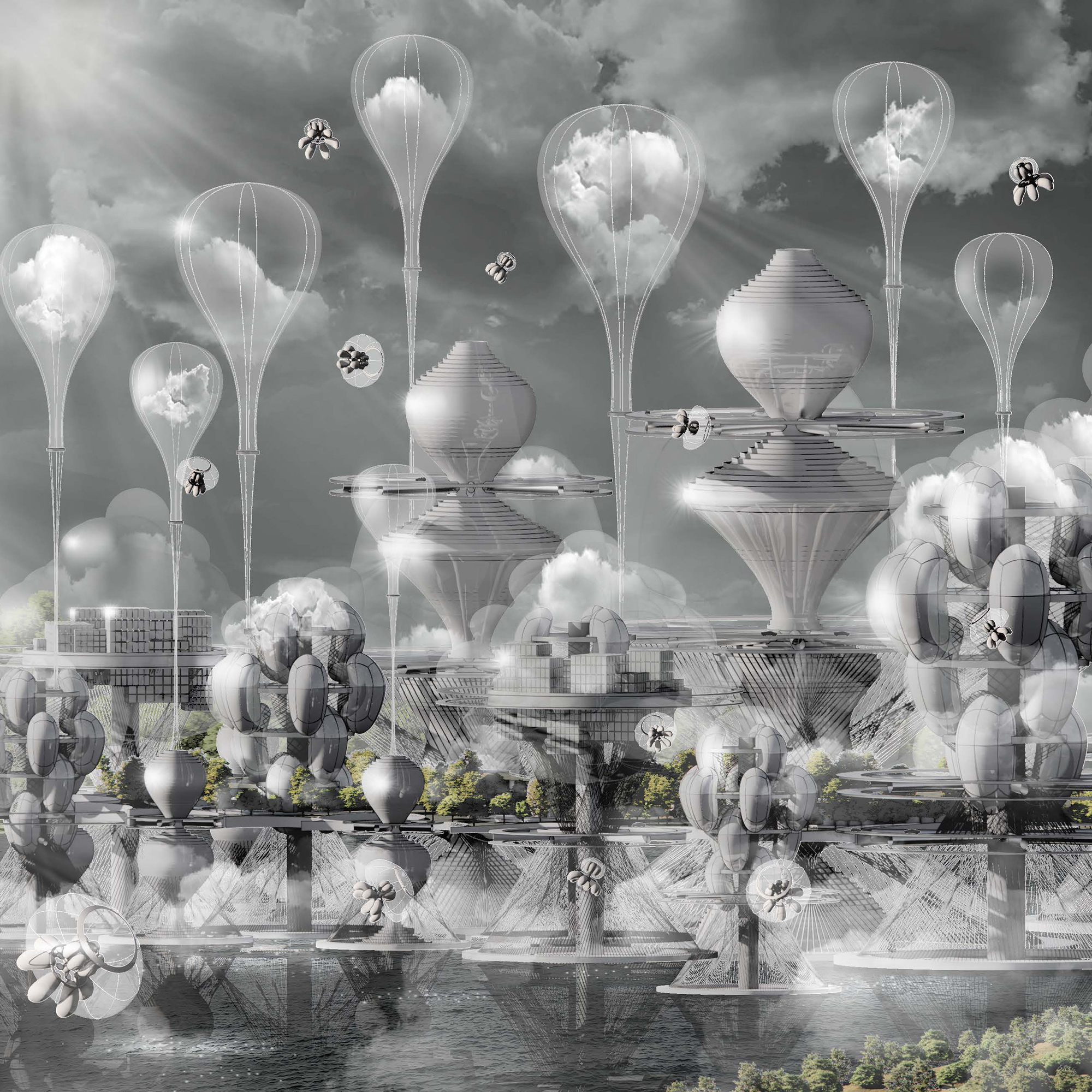 Seoul, a city built in an eco-friendly way to match mountain roads, waterways and wind currents. Seoul, which pursued only economic efficiency through modernization, has gradually moved away from existing natural factors. Such natural destruction and reckless development have stopped purification and circulation, causing problems such as abnormal weather conditions and global warming. If the current trend continues to lead to unfriendly development, Seoul will be transformed into a barren land where people cannot live. In the future, 'land architecture' cannot exist in Seoul. We propose survival in Seoul 100 years after many parts of the city will be eroded, and construction to heal the land that has become a sea of fire. Cloud Atlas will work as a fortress on the Han River that gradually expands and provides residential and urban infrastructure, and as a system that will restore Seoul's identity and restore it to the land of life by connecting the broken veins of nature.

We have to go back to the ground. Propose the construction of a new land.
The future painted on the light gray drawing paper, Seoul, is somewhat dark.
Fateful gathering of five people who are in architects group:
Dokyun Kang, Donghee Kang, Hyoju Kim, Jeewoo Park, Haeyoon Lee.
We are thinking about how to live productively and survive in it.
Based on five people who grew up in different schools and groups chatting about one future, it was designed by imagining the standard and complexity of architectural collections.
Fu fu!
SEOUL GATE
Donghwi Kim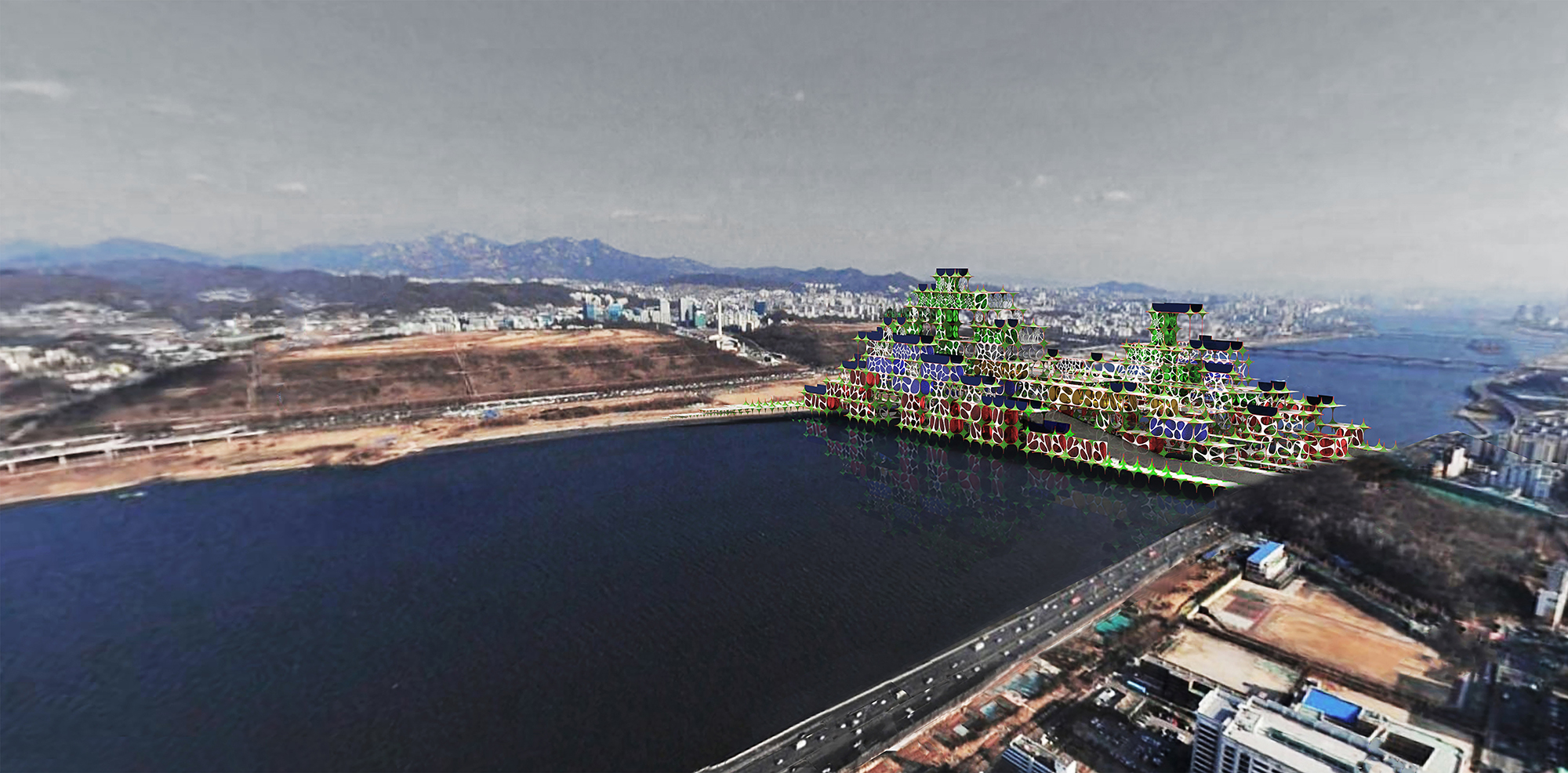 Nanji Han River Park: Jeungmin Mountain—Until now, the site location has effectively maintained its natural greenery as well as the ecology of the Han River by largely avoiding urban redevelopments. The area is significant as the gateway to Seoul, with many people gathering their first impression of South Korea, and Seoul, when passing through the gateway from Incheon International and Gimpo Airports—where lively human and material resource exchanges take place. In this context, the designer has created a futuristic urban architectural design which allows the mountains, the river, the wind, and humans to work together in harmony at the location. Voxel (the unitized structure utilized by the design) proposes a variable and solid urban architecture. Each Voxel unit can be multiplied and type modified as needed and stacked with the aim of becoming a new topographical architecture on the Han River. In this scenario, the units are concrete but variable, stacked but open, with the designer anticipating that the end urban architecture will look like numerous mountains, wind pathways, and waterways in Seoul and South Korea. The Voxel type can be combined together to produce the required structure. In addition, this combined Voxel methodology provides space for the creation of slabs and walls as needed, with various programs for citizens installed into it. Finally, this urban architecture connects the South of Seoul with the North and allows people to enjoy Han River.
Donghwi Kim is a Korean architect and designer (MAA / Member of The Danish Association of Architects, M.Arch 2016 / UCL—the Bartlett School of Architecture). He established architectural design studio 'Index' in 2022. He has extensive Architectural and Design experience from across Europe, Asia, and the Middle East. His current practice focuses on new architectural models engaging with increased computational design and digital fabrication.
Lost and Found—Discover Yourself!
Azizah Rigma Arum Pawestri, Fanny Hilyatunnisa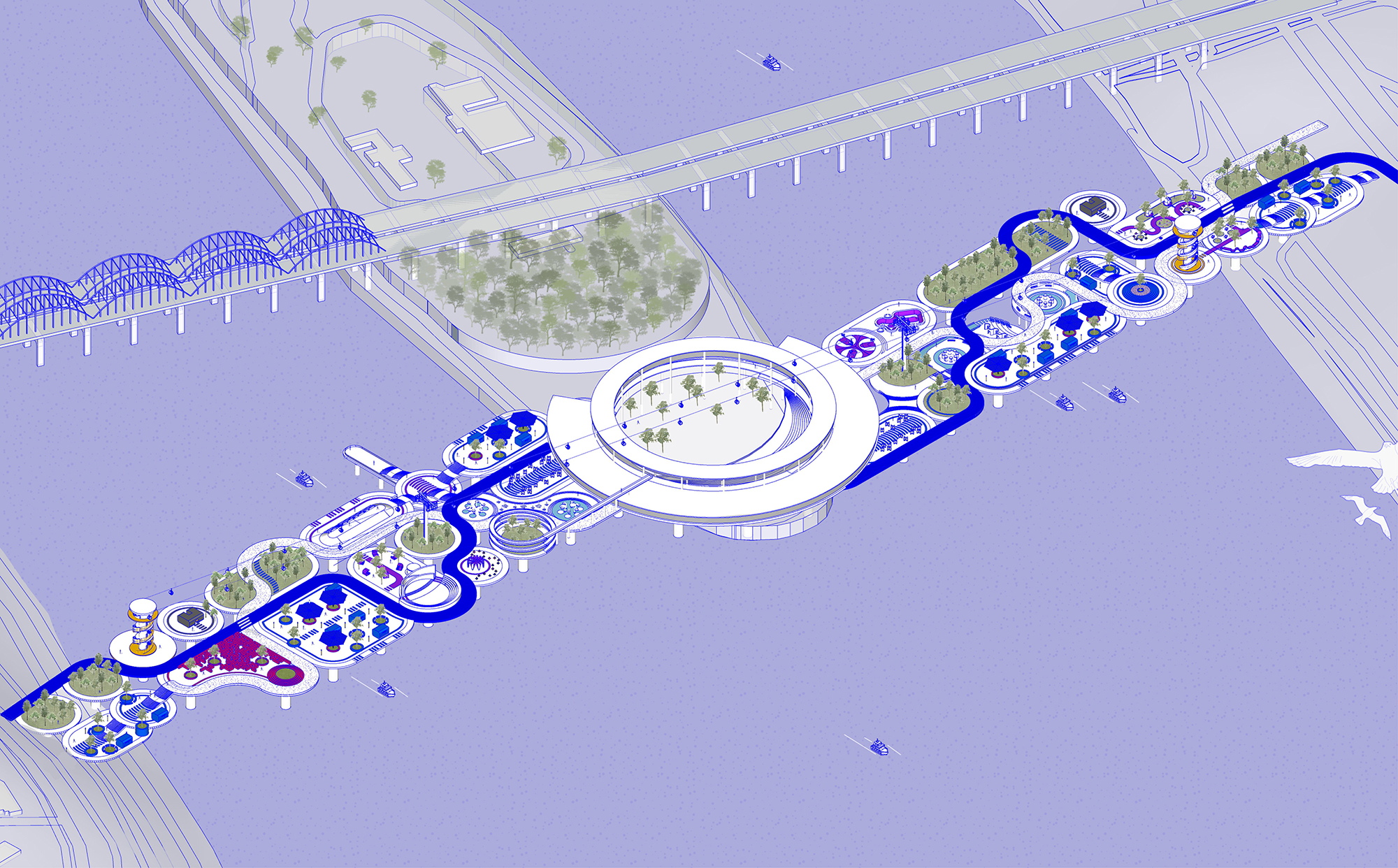 Stress or anxiety has become a big issue globally or specifically in South Korea. Lost and found is a space for people to rediscover what they have lost; inspiration, mood, or even energy after a long day of work or school. The design orientation is how to make people with various characteristics feel accommodated to their respective needs in the context of activities in public spaces. The bridge is composed of modules that are then developed to accommodate the diversity of activities as well as people's preferences; including individual-communal areas, cultural space, waterscapes, playgrounds, sightseeing, and commercial retail. The design was developed with the awareness that the best way to cope with ourselves is to find ourselves that are sometimes lost but there's always a way back, found us.
Future Seoul
The development of the era that makes individuals become more and more secluded, demands adaptive spaces where they can be encouraged to socialize without feeling intimidated. Lost and Found is a picture of a future friendly Seoul that is inclusive of all groups and open to all preferences. Interventions on selected sites are expected to become pilots for other areas in Seoul to develop public spaces that are more open, diverse, and engaged
—a hot spot for a good shoot.
Starting in 2019, our collaboration has unexpectedly continued to this current state. Various adaptations and developments passed over time. Whether it's design preference, work pattern, character, and many other adaptations that make us grow and develop. Back then, it took hours or even days to negotiate and explore the design until finally it was appropriate and agreed upon. Over time each other's preferences became less and less different and it became super agreeable. We strive for fun, even in a stressful environment. We strive to find something unique, something exciting to explore. Trying to interpret the brief as pleasantly as possible.
Ark (方舟) Dong
Dain Kim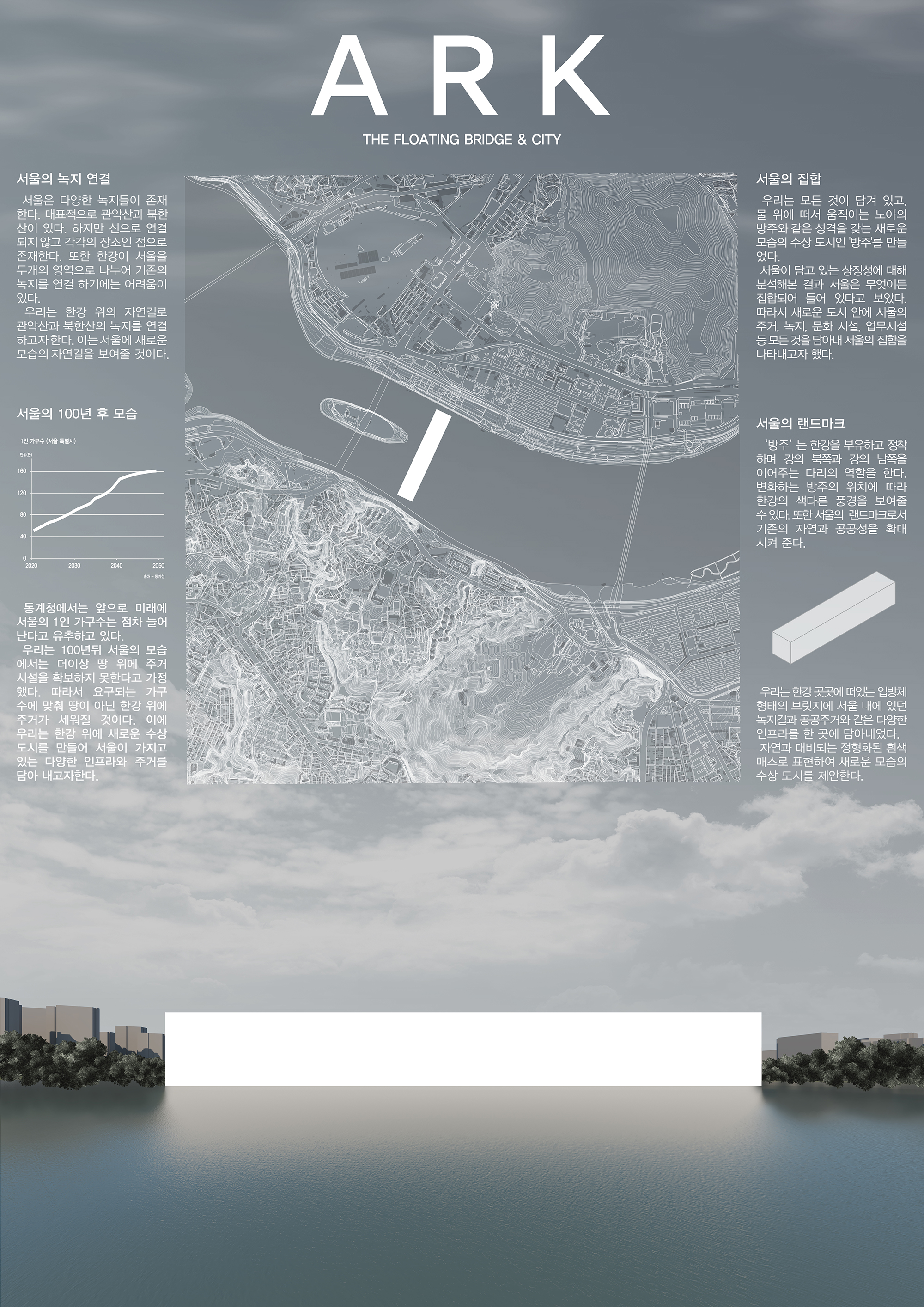 An ark is typically characterized as a square vessel. When we gazed upon Seoul, it instantly evoked thoughts of Noah's Ark. Noah's Ark is described as a vessel capable of sheltering all that exists in the world. That is why Seoul, a place that seems to encompass everything, resonates with Noah's Ark. We interpreted Seoul as a sort of modern-day Noah's Ark, where everything has been 'gathered' within its bounds: nature, culture, residences, and people. Drawing inspiration from Noah's Ark, we aimed to capture Seoul's amalgamation in the form of a square ark, where everything is aggregated and floats upon the water.

The Ark, a compilation of Seoul, encapsulates every facet of the city and interlinks its mountains, waterways, and breezy paths over the Han River. Leveraging the span of the 750-meter bridge, we aimed to accommodate various infrastructures in the large space. By placing UAM, residential complexes, and commercial facilities at the upper level and connecting them with bridges, residents of the floating city can effortlessly access any facility on foot and be connected to the inside and outside of the river to facilitate fluid traffic in and out of the floating city. At the lower level, green areas such as forests, lawns, and plazas are arranged alongside the waterways, connecting the natural beauty and landscape of Gwanaksan and Bukhansan Mountains on either side of the river and encompassing all that Seoul has to offer within the area.
Team members: Yonghyeon Park, Oyun Gwon, Jaehun Jeong, Mingyeong Kim
Just leave it alone.
Junyub Kim, Taeju Choi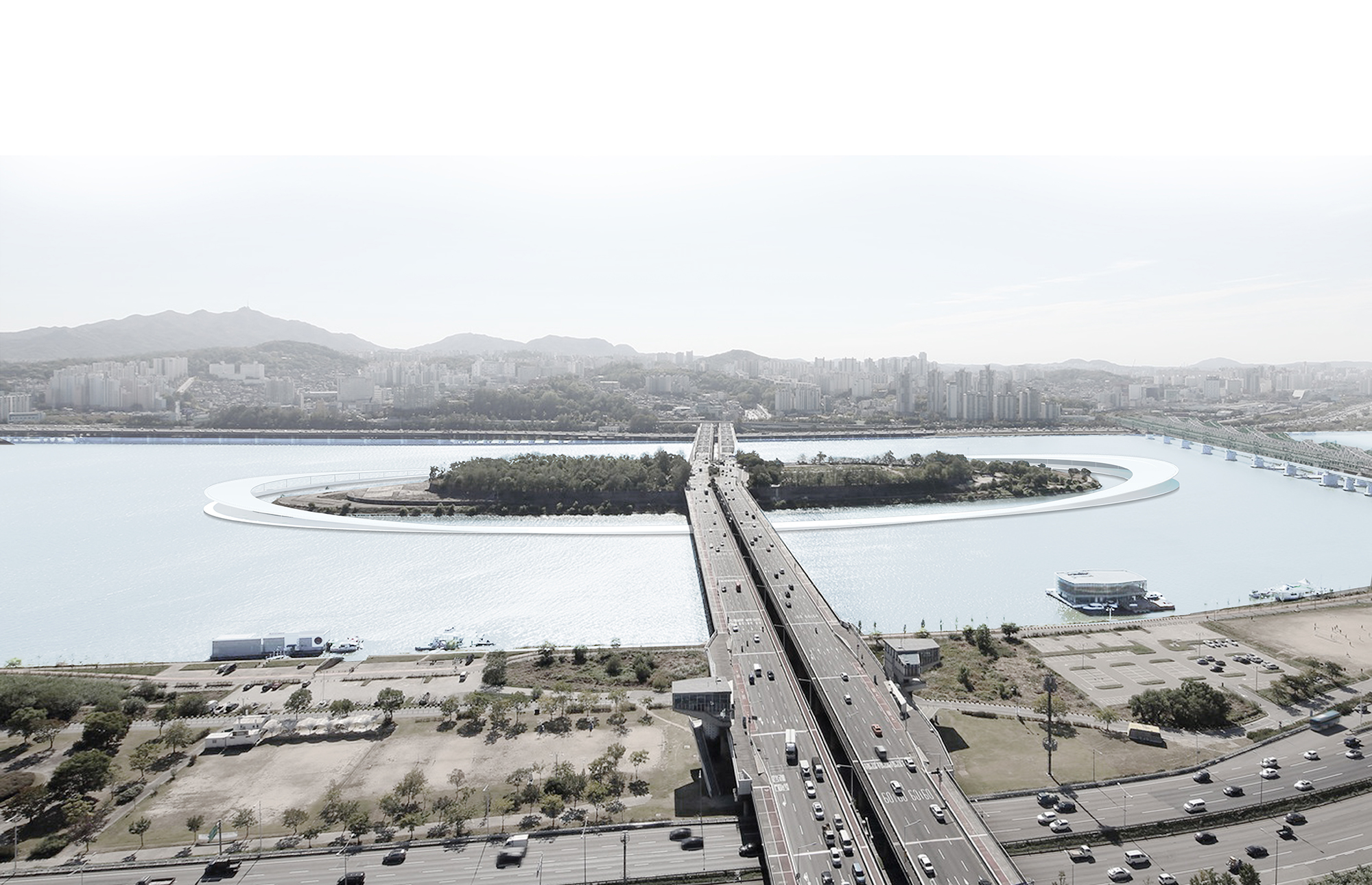 While preparing for the exhibition, We didn't expect Nodeul Island to become such a hot topic. It is regrettable that the name of Nodling was taken away. It seemed like a lie to add something to the image that we made for the first time, while developing it. The image we came up with is as follows.

0. We hope Nodeul Island will be a comfortable place and not a special place in 100 years from now.
1.We hope everyday life will be soaked in the Nodeul Island as slowly and calmly as it is now.
2.We wanted to preserve the existing Nodeul Island and provide a new space around it as the wavelength of water naturally grows around the island.
We are a story-based collaborative studio. We don't try hard to make some style.
SKY-MIRROR
Wenyi Zhu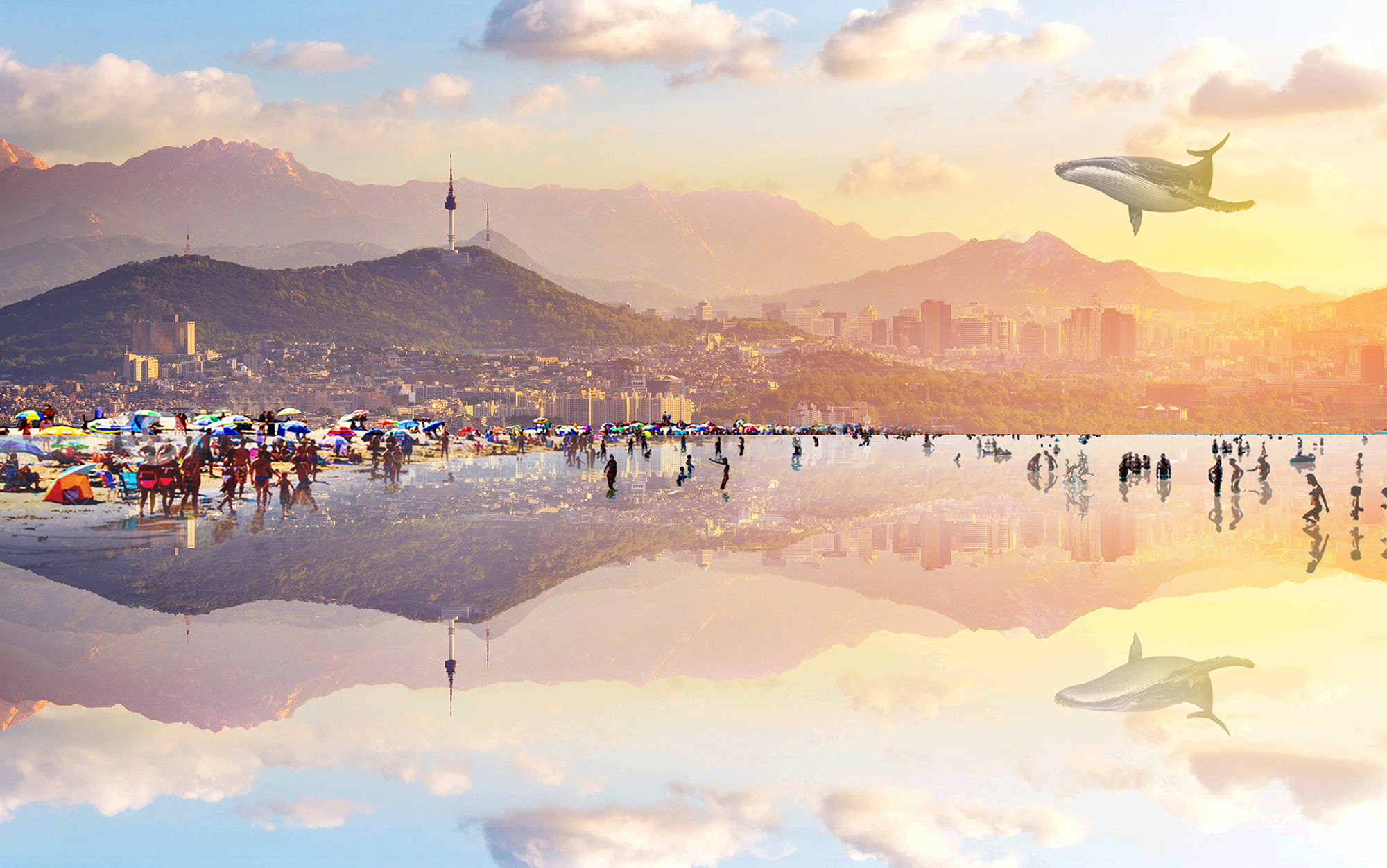 [WATER] In the city, water that you can touch and play with is very rare. In the center of Seoul, Cheonggyecheon is such a charming water space. Is it possible to create a larger-scale water space that can swim in the center of Seoul where land is expensive? The proposal SKY-MIRROR gives the answer: on the east side of the Hanyang Bridge, with the help of Nodeul Island, a huge triangle-shaped aerial beach swimming pool is created over the Han River.

[MEGASTRUCTURE] The equilateral triangular beach swimming pool with a side length of 1,000m and an area of 442,800m2 is supported by bridge structures. Recreational spaces such as restaurants, cafes, hotels, etc. are set in the 5m-high structural layer, while the water from the Han River is treated and supplied to the beach swimming pool at the top. It is conceivable that tens of thousands of people are playing in this sky swimming pool. Of course, this is also a pedestrian bridge connecting from Dongbu ichon-dong to Nodeul Island to Yongyang Peak.

[NATURE] The ancient city of Seoul is located between the mountains and rivers, thus forming a north-south axis, creating an overall spatial pattern that integrates the city and nature. The proposal SKY-MIRROR is located on the west side of the intersection of the axis and the Han River. The connection between the city and nature, the communication between the sky and the earth, and the combination of man and nature are greatly strengthened. At sunset, SKY-MIRROR creates a wonderful place for people to fully enjoy nature.
WENYI ZHU
Born in 1963
Online Architect
Architecture Competitor & Theorist
Online Architecture 2023
A Theory of Online Architecture 2015–2023
Post Urbanism 2014–2022
Megastructure from the View of Stratosphere 2020
Digital Twin Aesthetics and Internet Famours Places 2020
On-Screen Architecture 2020
Rooftop Urbanism 2020
Flat Design of City Landmark 2016
God's-Eye-View Architecture 2015
Urban Disadvantaged Architecture 1996–2011
An Outline of Architecture and Environment 1997–1999
A Concept of Green Field & Lane
Space-Symbol-City: A Theory of Urban Design 1993
Website:
www.zhuwenyi.com
ATMOSPHERIC BRIDGE
RE-Laboratorio Creativo
Isabel Ramírez, Lorena Ramírez, José Naspirán, Nicolás Maldonado)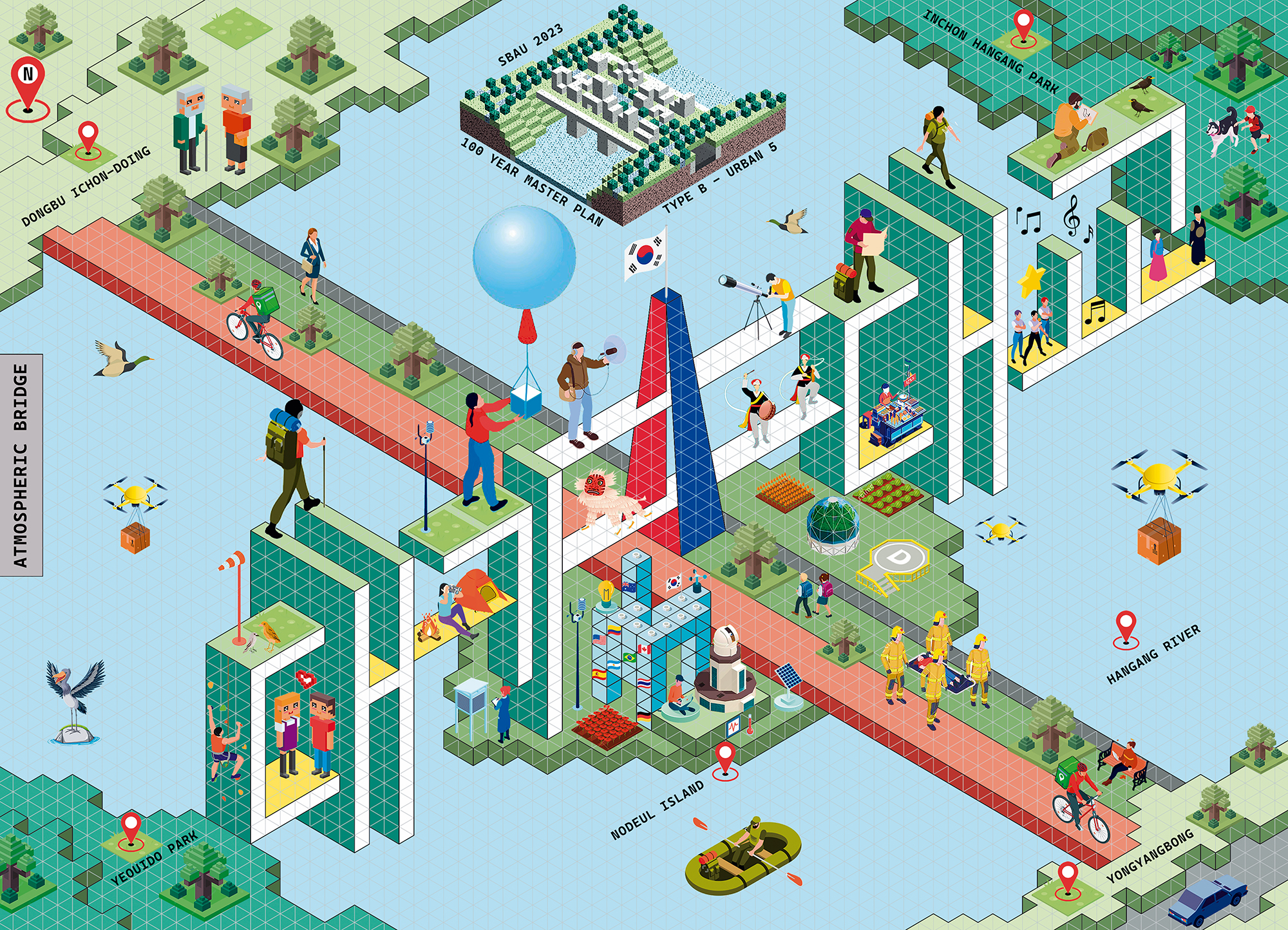 ¡Hangang Bridge is a Monument to Resistance and Perseverance!

The bridge is composed of four layers, whose synergy seeks to respond to the current and future needs of the population: Nodeul Island, which together with the other layers of the bridge, considering the global context of climate change, will be a space for research and meteorological and environmental monitoring, seeking cultural sustainability by becoming a world reference on this important issue. The second layer, the Happy 빨리빨리Bridge, aims to make the experience of rapid mobility in Seoul a pleasant experience with the pedestrian as the protagonist, transform the 빨리빨리experience into the Happy 빨리빨리 experience! The third layer, the Social, Cultural and Commercial 마음Bridge, Inspired initialy by six important categories (Hanbok, Hansik, Hanji, Hangeul, Hanok and Hanguk Eumak), this level aims to rescue and enhance the Korean way of life and finally the Topographic 상상의 산 Bridge Inspired by the mountainous topography that predominates in Korea, this layer aims to value and recover the natural landscape, as well as the culture of hiking, a predominant sporting activity in Korea.
We are a multidisciplinary group that seeks to explore and understand the relationships between architecture, urbanism and gastronomy as essential axes of culture. From different scales and through research, design and experimentation, we inquire about other possibilities of experiencing the built city, which, moreover, are connected by the sense of "the urban" shared by those who inhabit it. We firmly believe that, to the extent that these city experiences can be appropriated and narrated, it is feasible to find the poetics they contain and define them.
Enlarged Territories
Kyungyul Kim, Hyejin Song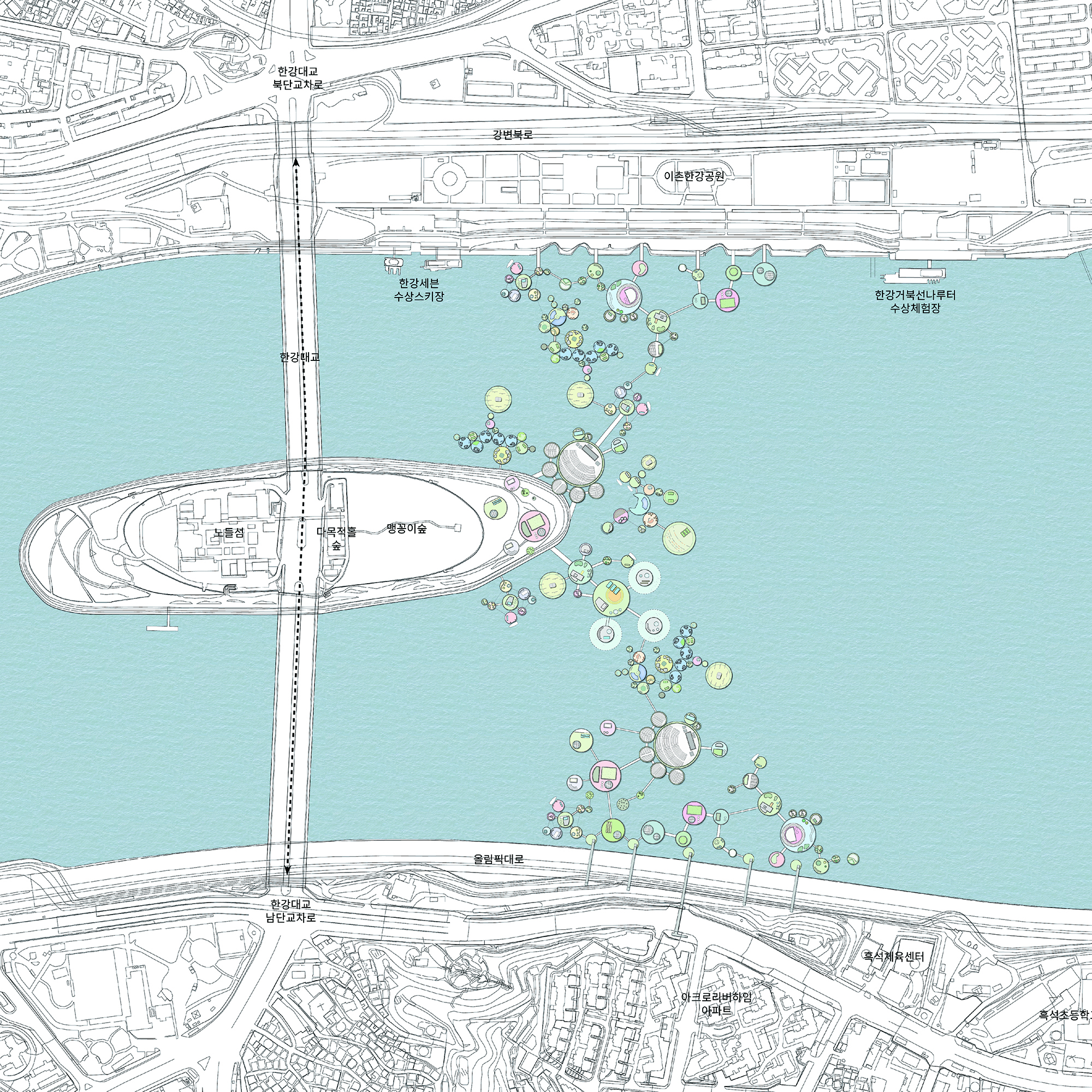 The artificial island network we propose is a group of small artificial islands made through flexible combination of general-purpose units. Each unit island has a single program with a single facility, and the cluster of these islands becomes a cultural, commercial, leisure, green, and service facility, as well as a huge pedestrian land that widely utilizes the area of ​​the Han River. This artificial island does not have a fixed permanent structural system, and that enables this system to adapt to various situations and needs. In the site we chose to realize this conceptual idea, the network of floating artificial islands widely connects between Ichon Hangang Park, Nodeulsum, and Noryang Bridge. It is a buoy-type pier, respond to changes in water level, that accommodates pedestrians from the northern side of Ichon Hangang Park. Crossing artificial islands on Han River, pedestrian enter into the southern city through the stair tower installed on the extension of artificial islands and the bridge installed on the upper part of the Noryang Bridge. This artificial island system with various urban facilities including performance halls, swimming pools, playgrounds, camping grounds, pop-up stores, and floating gardens, enlarging urban territories from land to river, provides citizens with a wealth of entertainment and allows pedestrians to freely walk and cycle across the river.
Kyungyul Kim
Artist Kyungyul Kim is the founder of YUL Architecture, Inc. Graduating from Seoul National University's Department of Architecture and Architectural Engineering, he has carried out various design projects such as private housing, collective housing, office and commercial building. Recently he focuses on public architecture including library, community center, media center, university building.
Hyejin Song
Artist Hyejin Song, who went to the same university with him, has been involved in various projects of YUL Architecture, Inc.
SEOUL RING
Jungsik Kim, Sohee Kim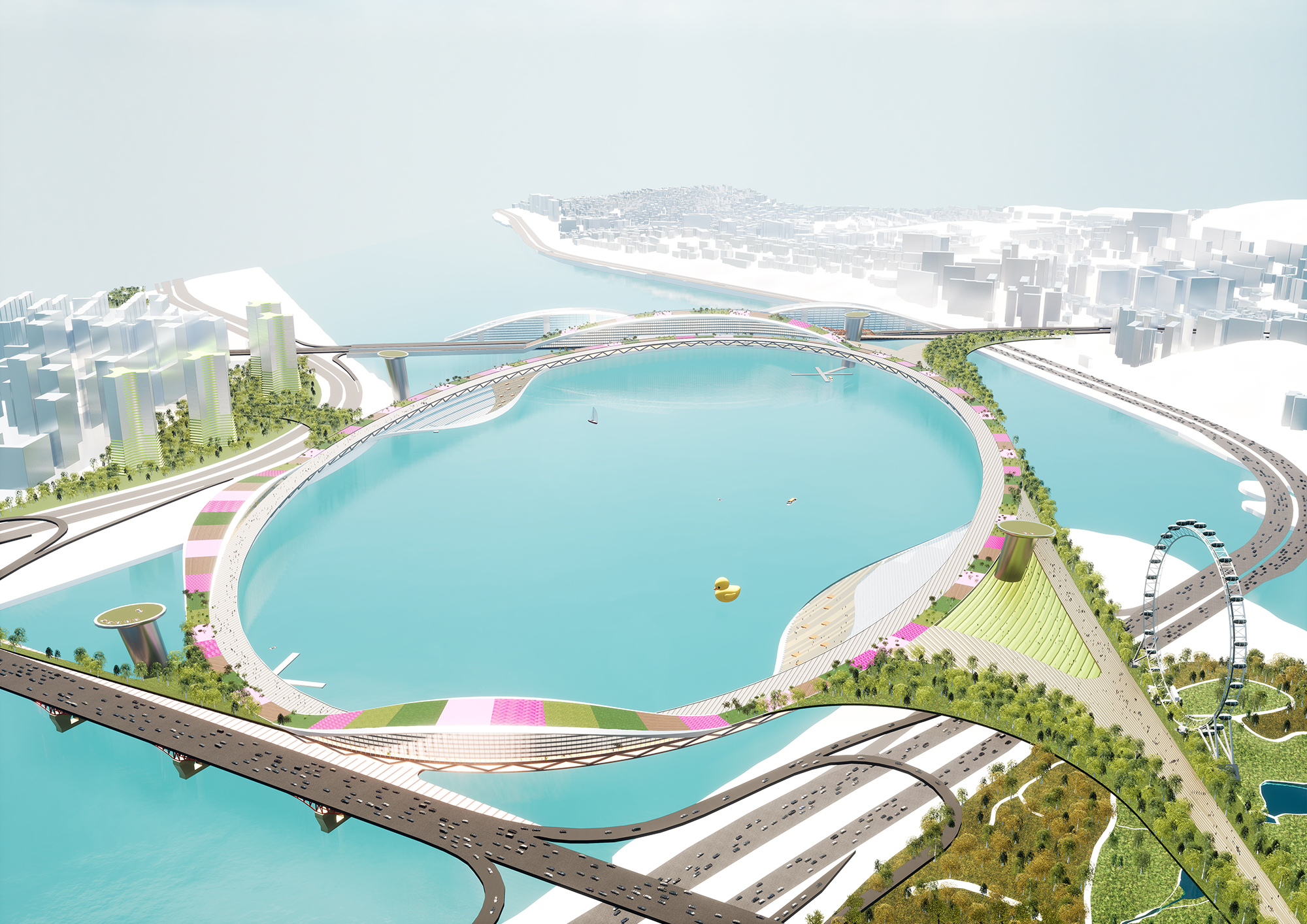 SEOUL RING is a pedestrian bridge that connects four distinct NODEs. These NODEs, located at Dongho Bridge, Seongsu Bridge, the southern part of Seoul Forest, and the northern part of Apgujeong, will serve as key transportation hubs accommodating both traditional and future transportation infrastructure. SEOUL RING integrated city features functioning as a PATCHWORK. The upper section of the ring offers pedestrian pathways incorporating programs such as pop-up stores, cafes, and urban farms. The lower part serves as a roadway for the fast transportation such as autonomous vehicles, bicycles, and personal mobility devices. SEOUL RING is a pedestrian-friendly pathway and a self-sustaining ecosystem that seeks to restore the human scale of Seoul. It is an urban platform allowing citizens to envision the concepts of mountain ranges, waterways, wind breezes, and human flow within the city of Seoul.
Jungsik Kim and Sohee Kim have experienced architectural design firms across the United States and South Korea. Based in Seoul, they're gaining practical expertise while delving into the deeper significance of architectural endeavors. With a vision for another popular destination in Seoul, they participated in the Seoul Biennale of Architecture and Urbanism 2023.
Constructed Nature
Hyung Rok Do, Sanggyu Shin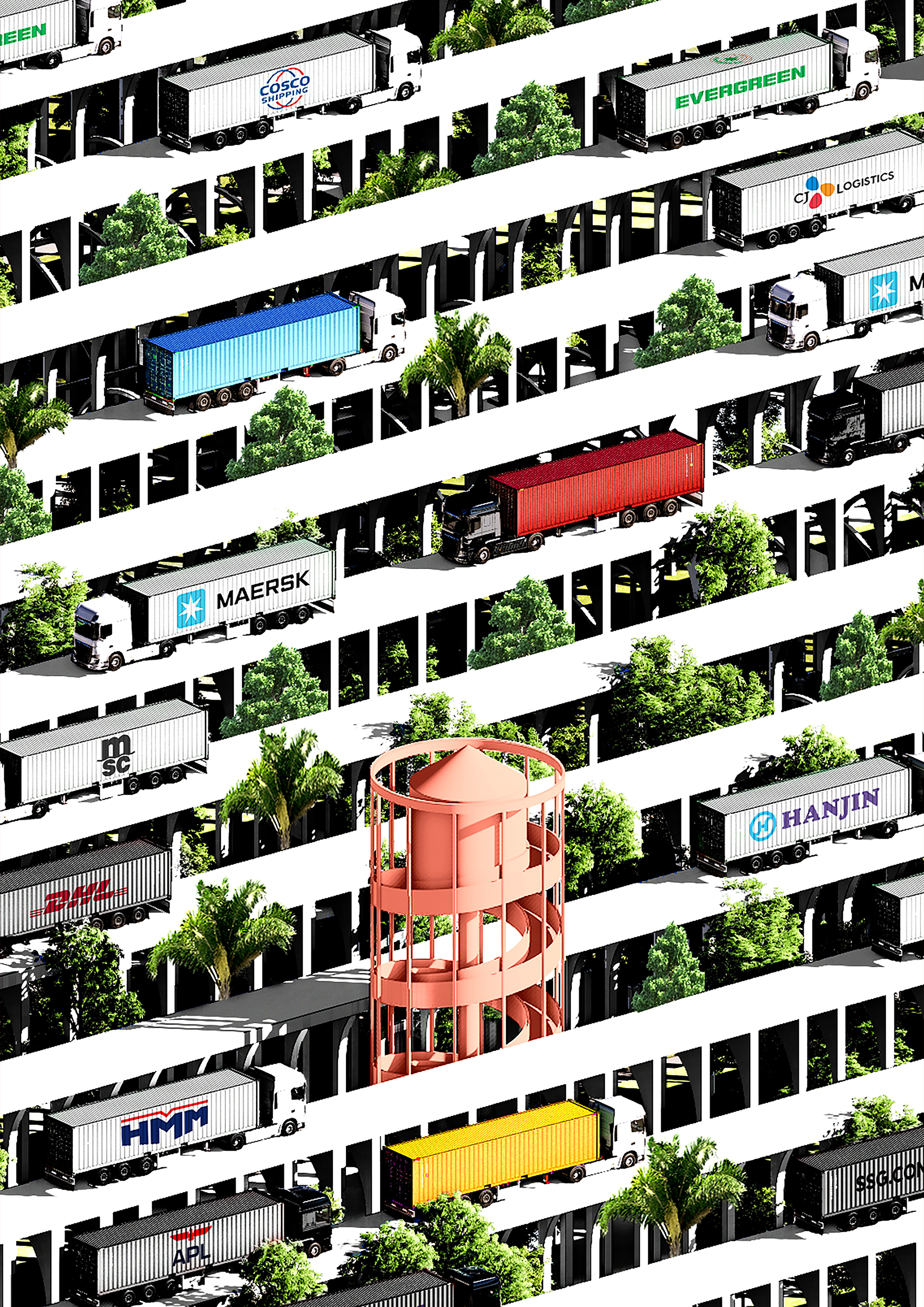 "Constructed Nature" is a sanctuary for ecosystems that have been created by human hands. It is a double-decker bridge connecting a busy road to Seoul Forest. The upper level features a dedicated logistics road connecting major roads in Seoul, while the lower level offers green space for pedestrian walkways and bikeways. It also includes a research facility and park for studying nonnative species and ecosystems on the Korean peninsula. As logistics trucks pass through the bridge, the seeds of nonnative species will naturally fall to the green space below. They will grow, creating new nature through human hands. The research center on the lower level will collect and study the nonnative plants created by logistics movements to analyze changes in the domestic ecosystem. It will also identify nonnative plants suitable for the changing ecosystem of the Korean Peninsula due to climate change and seek coexistence with native species. The center will be connected to the existing green spaces and research facilities of Seoul Forest to maximize synergies. Water, essential for plant growth, will be supplied by the Han River under the bridge. The exotic plants that grow on the bridge will not be simply relegated to the status of ecological disruptors, as they have been in the past. Instead, they will provide a unique experience for citizens while contributing to the formation of a new ecosystem. "Constructed Nature," an artificially created nature on the Han River that has never existed before, will connect green spaces in the north and south of Seoul. It will become a public infrastructure that allows Seoulites to experience Seoul with a sense of unfamiliar familiarity.
Hyung Rok Do
Hyung Rok Do received his B.Arch and M.Arch degrees from Hanyang University and Columbia University in New York. He has participated in exhibitions with Korean and international architects at the Korea Pavilion of the 2016 Venice Biennale and the 2019 Seoul Urban Architecture Biennale. He has also worked on numerous other architectural projects in Korea and New York. Currently, he practices architecture at Weiss/Manfredi in New York.
Sanggyu Shin
Sanggyu Shin received his B.Arch degree from Yonsei University and his M.Arch degree from Columbia University in New York. He has worked at Skidmore, Owings, and Merrill in New York and at Hotel Lotte in Korea, among other offices in Korea and abroad. He has been involved in many projects ranging in scale from interiors to architecture.
Water Runnels Revitalizing a Hillside Neighborhood
Haeseong Kang

While studying resilient cities in response to climate change, the importance of water circulation in reducing urban heat was discovered. Exploring water circulation at various scales, examples were found where small water runnels flowing throughout the city enhance the collective urban experience for citizens. So, what if Seoul had small, clear water paths? Particularly, the potential was identified in hilly residential areas with slopes that allow the water to flow. These neighborhoods had small water paths flowing through various parts, leading to the currently covered Mancho Stream. Therefore, considering the challenging terrain, densely populated areas with old houses, and aging infrastructure, we propose establishing hubs for water circulation and creating small water channels in Cheongpa and Seogye-dong. These small waterways connect fragmented urban tissues and create public spaces for residents.
Having spent my childhood near Suwon's Hwaseong and Suwoncheon, and later studying architecture in Seoul, I developed an interest in phenomena that arise from the collision between an old city structure and contemporary social demands. In this context, I pay attention to the dual nature of water, which embodies both gentleness and forcefulness, serving as a geographical record of history and a urban infrastructure with dual values in today's cities. Based on the belief that reflecting and responding to extraordinary events like urban flooding and heatwaves fortify everyday life, I'm attentive to the anomalies emerging in urban environments.
Seoul Panorama 2123
Jiyong Chun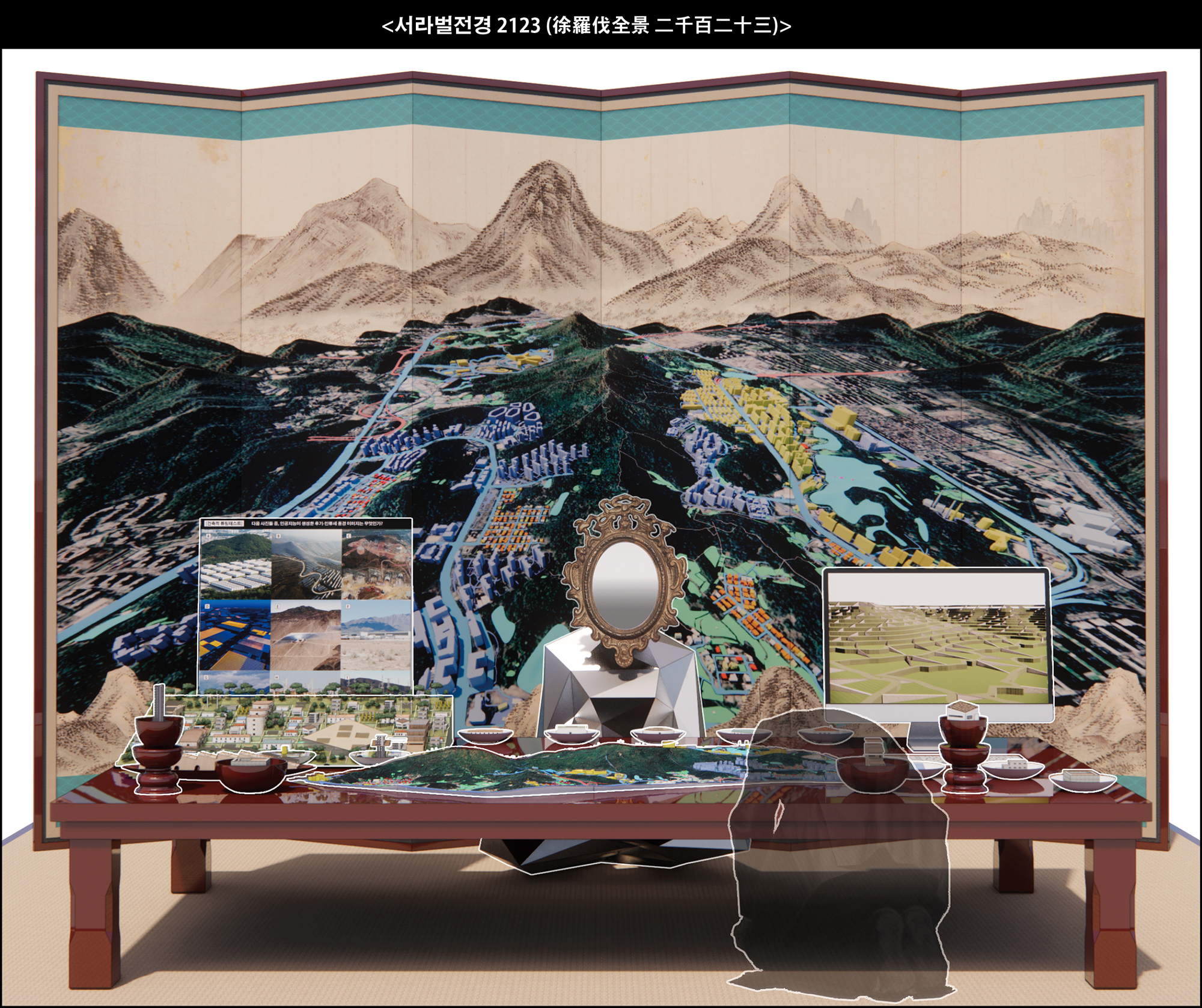 <Seoul Panorama 2123> is a message sent from the future, the year 2123, intended for the well-being of Daemo-Guryong Mountain. Adopting the format of a ritual offering, the exhibition prompts reflection on the past and present and entrusts the future of Seoul to 'you.' The exhibition, through research, models, and open-source software, highlights mountain destruction and invites not only experts but also citizens to contribute. The mountain, entwined with interests from the National Intelligence Service to apartment complexes, faces alteration due to human habitation and future infrastructure. As automated infrastructures by tech companies could become geological agents in the Post-anthropocene, an inclusive planning method is essential. Our master plan algorithm, which integrates data centers into residential and office spaces without damaging mountains, will be shared as open source for wider application. It proposes an infrastructure grid based on contour lines and uses gamification to encourage participation.
The <Seoul Panorama 2123> team aims to form a new discourse on architecture and design processes through technical critique and computational thinking. We believe that by fostering constructive relationships between society and emerging technologies, such as AI and programming, we can greatly amplify the potential in urban and architectural design. Based on research in architecture, design, and the philosophy of technology—with a focus on areas such as science and technology studies (STS) and posthumanism—we are exploring the future definition of architects. Our research includes 'Alternative City and Technology: Oxymoron City,' 'Young Architect Fellowship Korea 2021: Robotics Office Standards,' and a web service for architects that provides comprehensive real estate information and analysis.
Team members: Jaejin Lee, Meelae Jang, Changyong Kim, Sungjin Park
Border of Coexistence: City of Infrastructure, Mountain of Ecological Networks
Namjoo Kim, Kangil Ji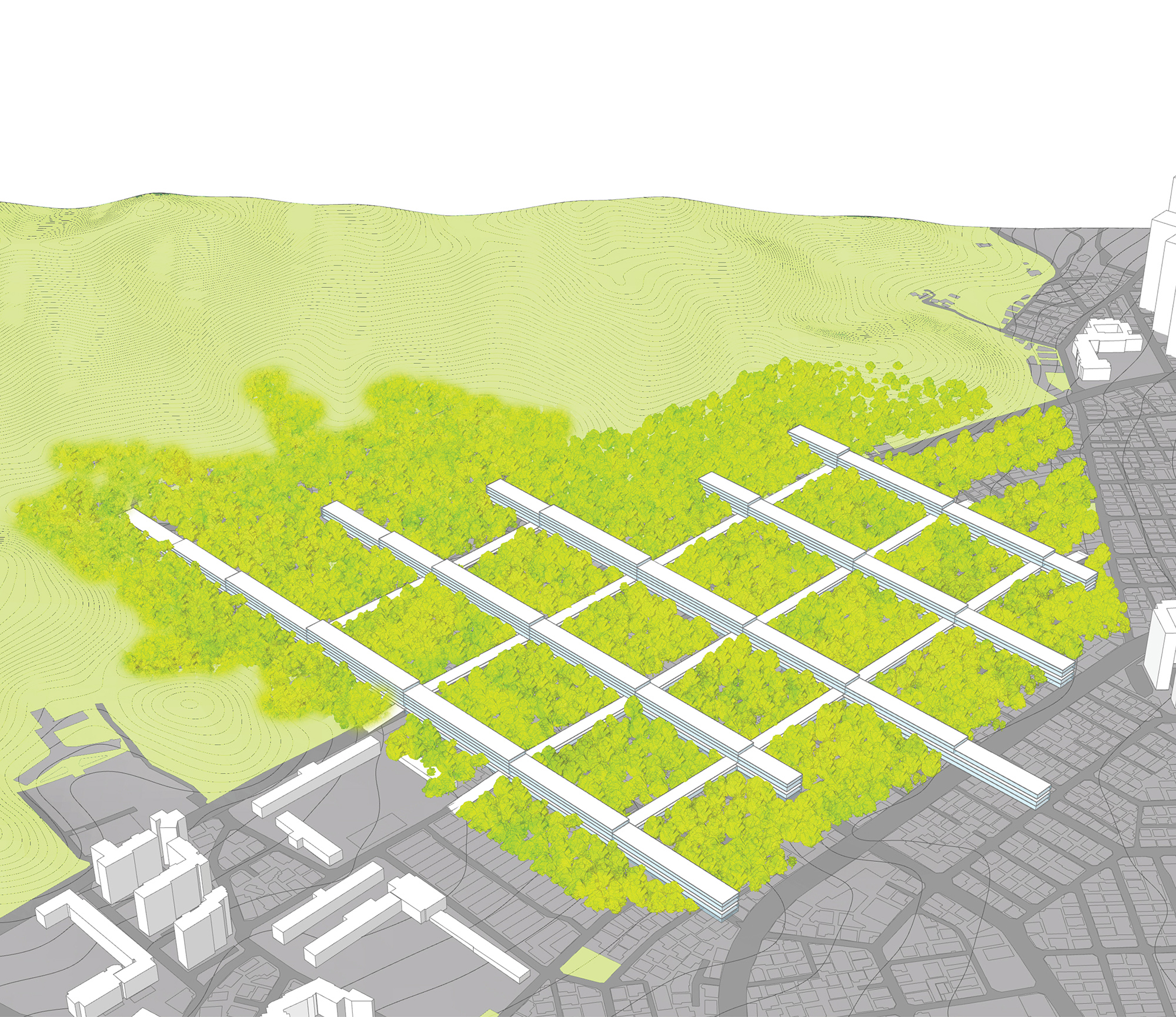 City of Infrastructure
If we examine the urbanization process of Seoul, the outskirts of Seoul were previously rice fields or sparsely populated villages. With the implementation of the Land Readjustment Project, these areas underwent a gradual transformation into urban areas, accompanied by the expansion of essential public infrastructures such as water supply and sewage systems. Therefore, in present-day Seoul, the boundary between the natural environment of mountains and the built environment of the city aligns with the edge of infrastructure. The unique topographical characteristics of Seoul, surrounded by mountains, have resulted in the phenomenon where the boundaries of the city and its infrastructure coincide with the hilly areas.
The Future of hilly areas: Shrinking City and Expanding Nature
As demographic shifts occur due to an aging population and future mobility enables higher density in city centers, Seoul will likely experience partial urban shrinkage in the hilly areas. Hilly areas with limited accessibility are particularly vulnerable to these future changes. Given that the underground infrastructure is located at different depths of the roads and becomes part of a vast network once built, it will be difficult to remove them completely in the case of urban shrinkage. Therefore, when partial urban shrinkage occurs in hilly areas, nature and the city will need to negotiate the boundaries between them, with infrastructure remaining on the land.
When nature reclaims space from the city, is it urban area or nature? The nature-urban dichotomy is only valid when the city has expanded and grown so that the boundaries of the infrastructure coincide with the boundaries of the city. In a shrinking city, the areas embraced by nature are the middle ground—a realm that lies between the urban and natural spheres. This realm holds new possibilities that we have yet to imagine. While reckless energy consumption has triggered climate change, paradoxically, humanity needs solid infrastructure and artificial climate control more than ever to survive the climate crisis. In the hills, where the boundary between nature and the city intertwines, we envision a new coexistence between humans and nature, supported by existing infrastructure.
Namjoo Kim
Namjoo Kim is an architect, researcher, and educator who is currently an Assistant Professor of Architecture at the University of Seoul. Kim received a Bachelor of Architecture from Korea University and a Master of Architecture from MIT. Kim was an associate at Höweler + Yoon Architecture, where she led a range of award-winning projects. In 2018, she founded Studio DOHGAM, a design research studio dedicated to exploring the intersections of environment, technology, and architecture. Kim is a registered architect in Massachusetts, USA.
Kangil Ji
Kangil Ji is a registered architect in New York, educator, and researcher. Since 2021, he has been an Assistant Professor at the Korea National University of Arts (K-Arts). He received a B.Arch from K-Arts and an M.Arch from Harvard GSD. He co-founded Studio DOHGAM with Namjoo Kim in 2018 and has been working on many award-winning projects. His design and research work has been presented and published internationally, including the Venice Biennale, Seoul Biennale of Architecture and Urbanism, Storefront for Art and Architecture, Architectural Review, and SPACE Magazine.
Village Dam
Yoona Lee, Habin Park, Jeongsun Ma, Hanseo So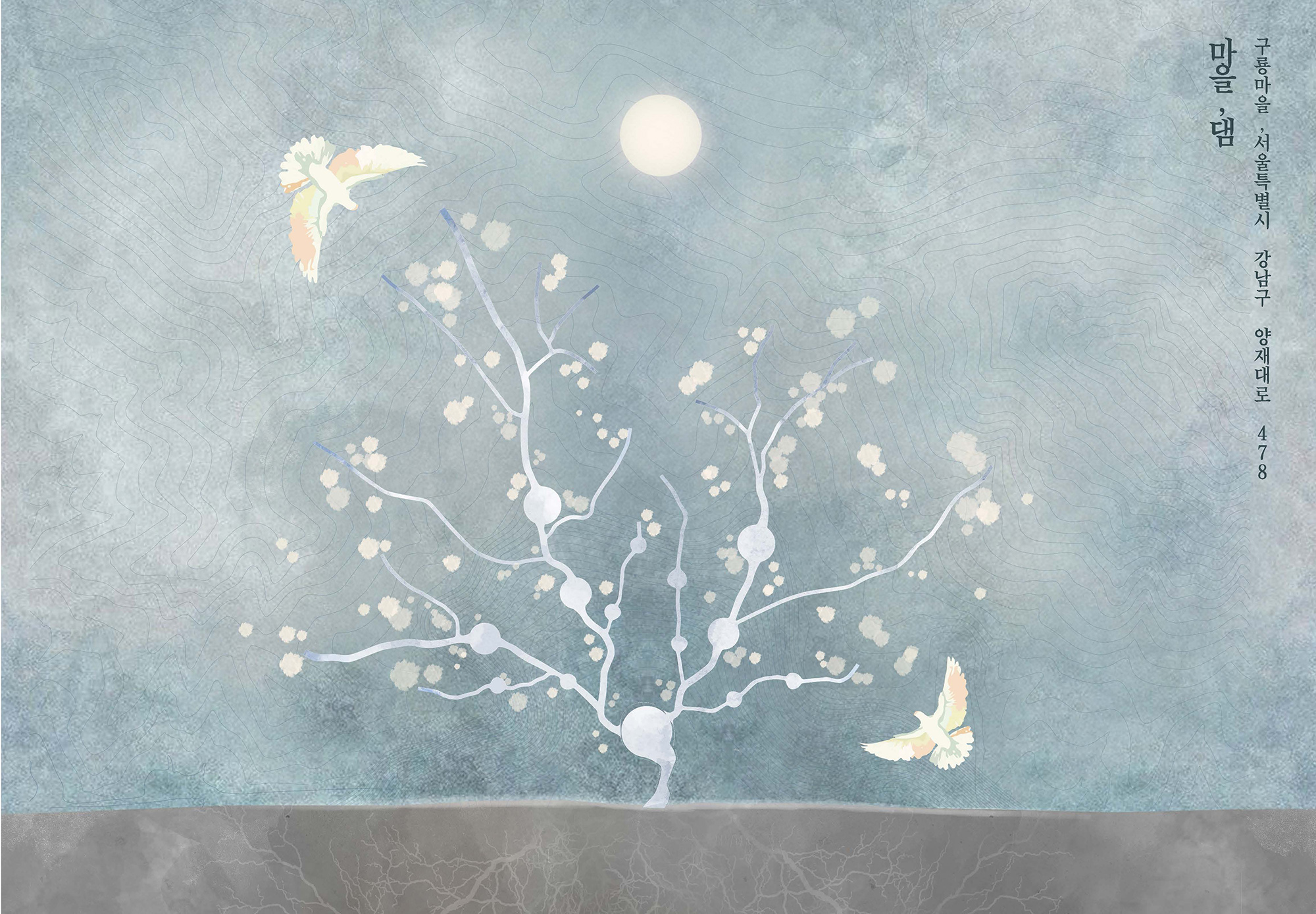 Seoul faced major challenges in 2022 as heavy rainfall flooded the entire city. The rising frequency of intense rainfalls has amplified the scale of flood damage. The lack of adequate rainwater treatment facilities has further exacerbated the situation. Among the affected areas, Gangnam stands particularly vulnerable due to its low-lying land. The extensive presence of asphalt roads has hindered natural water absorption, transforming Gangnam into a chronically flooded region in Seoul.

To tackle this, we must embrace nature's solutions. We can reduce flood risks by restoring mountainous areas to their original state, enhancing their ability to retain water. Recognizing the urgency of severe weather patterns, we integrated natural topography into our urban disaster prevention infrastructure. Project Village Dam imagines a resilient future for Seoul, safeguarding against submergence amidst escalating abnormal weather.
Team "Purge Fudge" is a group of ambitious young architects who are passionate about sustainable architecture. They work in various areas, including buildings, furniture, and urban planning, sharing a common architectural consciousness. Taking a citizen's perspective, they focus on the challenges faced by Seoul, starting with the issue of flooding in Gangnam-gu. Their solutions prioritize immediate environmental improvement rather than a distant utopian vision. "Purge Fudge" strives to expand architecture's social and environmental value, exploring future city potential.
Living Surface
Jungmin Nam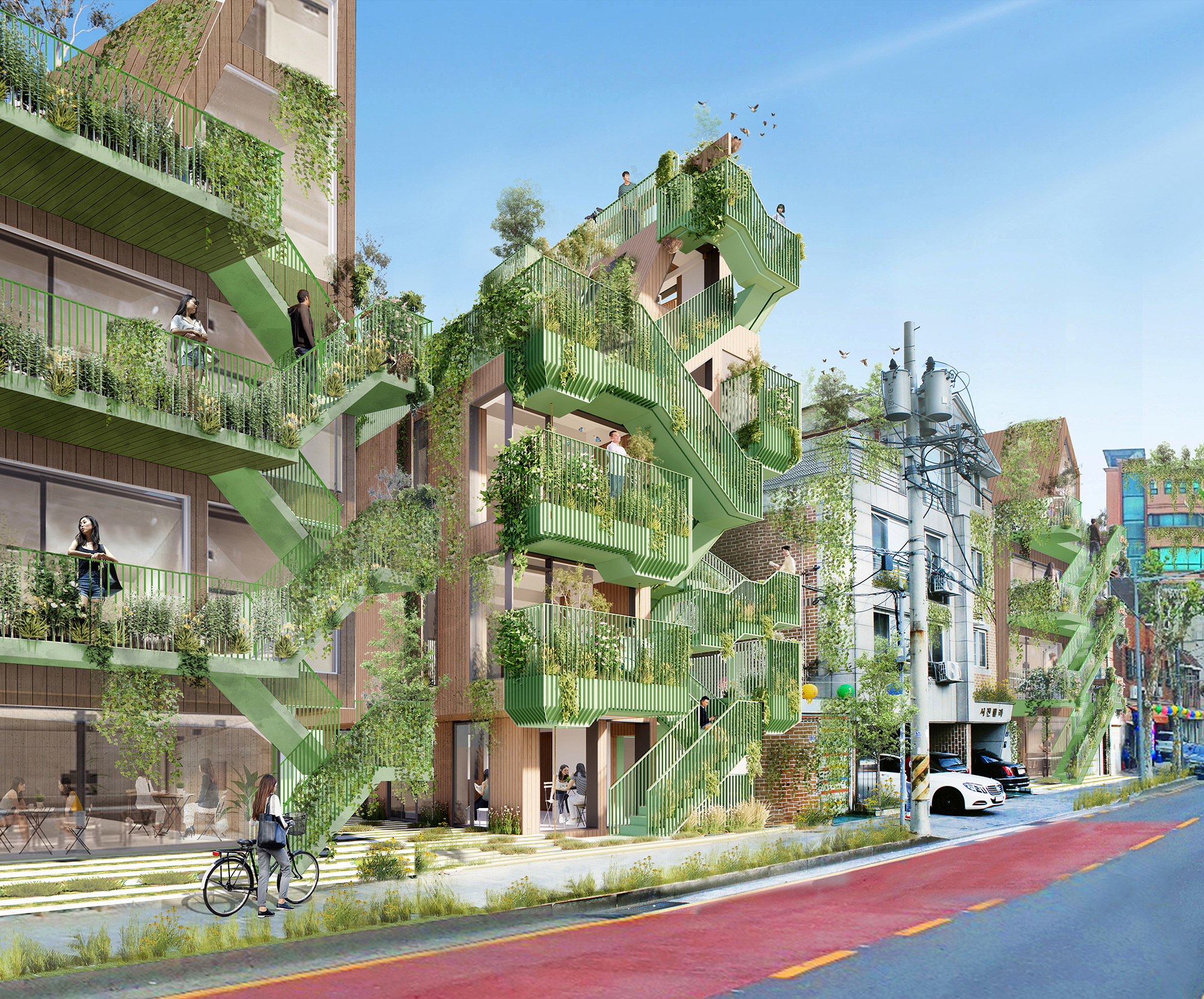 The "Living Surface" project re-recognizes the value of various niche spaces in Seoul that have been neglected. It discovers Seoul's unique urban potential from them. The individualized and isolated buildings stand apart, leaving abandoned niches. Despite their spatial potential, these niche spaces are not properly used between "architecture and city" and between "public and private realm." The spaces are made up of a collection of various types of surfaces, such as "road surface," "ground," "elevation," and "rooftop," and are left with various lost possibilities ranging from small gaps between buildings to public areas in the city.

The "Living Surface" project emphasizes the importance of "the many small but ordinary architecture of everyday life" rather than "a large but few landmarks." Recognizing both the potential and problems of the middle and low-rise areas that can represent a universal urban problem in Seoul, the project is looking for a direction for Seoul to move forward. Searching for better living environments at various boundaries between buildings and the public realm, "Living Surface" suggests a sustainable future for Seoul where people and nature coexist full of life.
Jungmin Nam is an architect and educator. He is currently teaching as a professor at Korea University, Dept. of Architecture, and conducting design research as a founding principal of OA-Lab(Operative Architecture Lab). Believing the value of many small architectures encountered in everyday life rather than the few monumental architecture, he focuses on small architecture and their collective built environment as critical elements for better human living. Previous to his own practice, he has gained his architecture education at Harvard University(GSD) with the Letter of Commendation and experienced his professional practice at KVA, OMA and Safdie Architects. He received numerous awards, including Harvard GSD's 2009 Thesis Award Finalists, 2009 BSA/AIA's Housing Competition 1st Prize, 2018 Korean Young Architects Awards, 2021 Winning Award for Suncheon City Hall Competition, and 2021 AIAHK Honor Award for Architecture. Currently he is working for better cities in Korea as a Seoul-Public Architect and Suncheon-General Public Architect.
Five Layers for a Nature-Based Korean City
Patrick M. Lydon, Suhee Kang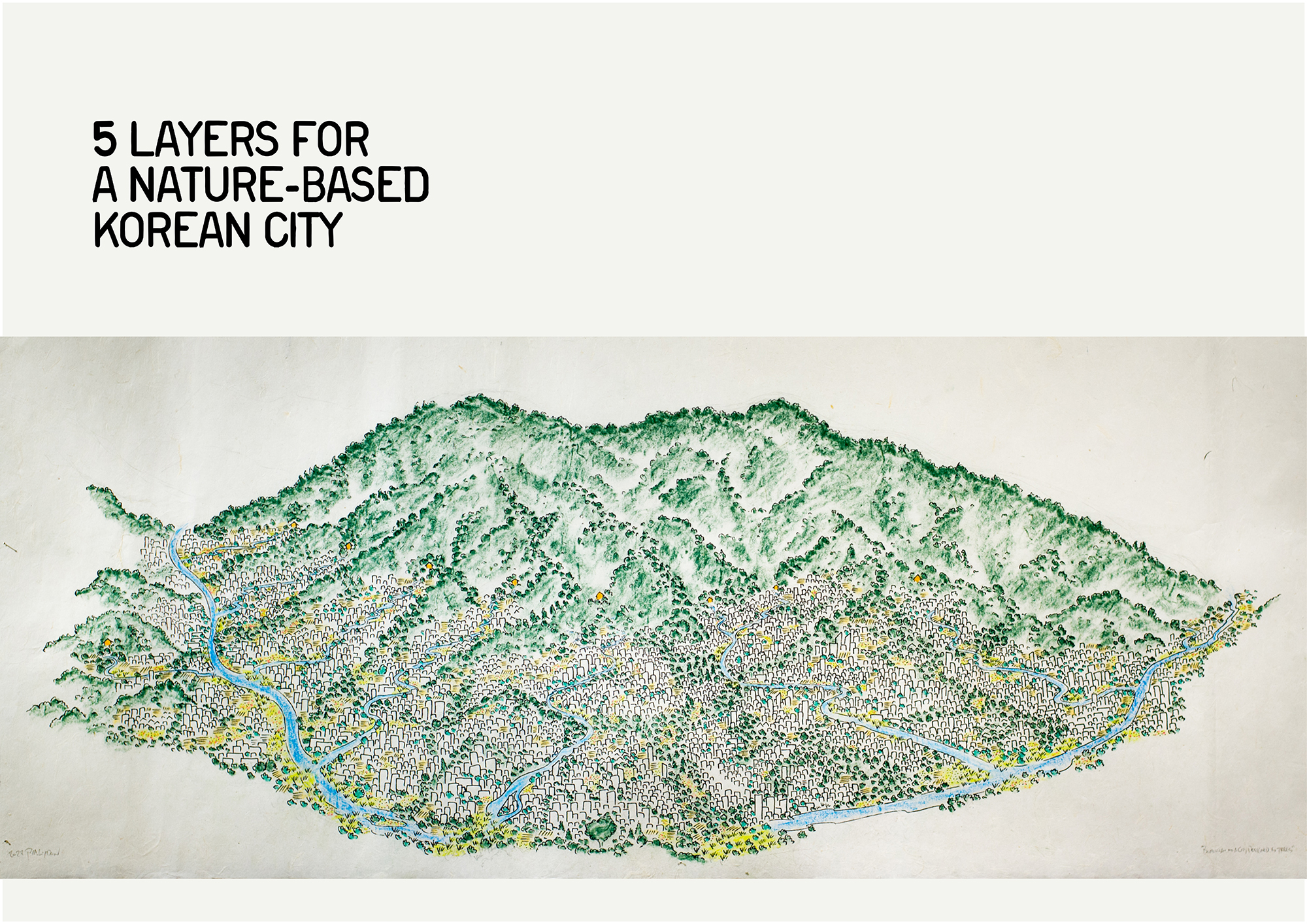 If we listened to the voice of the trees, how might the things we hear transform the landscape of a city over years, decades, centuries?

(1) Forest Corridors; (2) Right-of-Way for Streams; (3) Meadows and Wild Plants; (4) Wetland Zones; (5) Regenerative Urban Farms.
There is no explicit 'urban' layer in this proposal. You see, in the future, urban systems themselves—such as waste water, refuse, streets and buildings—are ecologically integrated within nature's layers. Waste water treatment for instance, makes use of natural composting and wetland systems, while streets and buildings, food and energy production make use of mostly regional materials that are regenerative actors in the lifecycle of a landscape. Inspired by the ingenuity of Korea's historic urban landscapes, backed by scientific research, and connected by meaningful relationships, the Seoul of the future might of course be ecologically responsible. More than this however, it will be an abundant living landscape that finally achieves that elusive goal: a society where all beings are supported to live according to their nature.
City as Nature is a creative urban ecology studio, founded in 2011 by artist Patrick M. Lydon (United States) and herbalist Suhee Kang (Korea). They work across disciplines and ways of seeing to re-connect people and cities with nature, and have collaborated with groups and individuals in more than 40 countries on award-winning art, storytelling, and placemaking projects. The studio is currently based in Daejeon, Korea.
www.cityasnature.org
Team members: The Nature of Cities (NPO)
Performance-Based Maximum Height Envelope along the Hangang Riverfront
Lim Justin Heejoon, Jaemin Lee, Jongmin Won, Jaeseong An, Jinseo Hong, Sanghyuk Do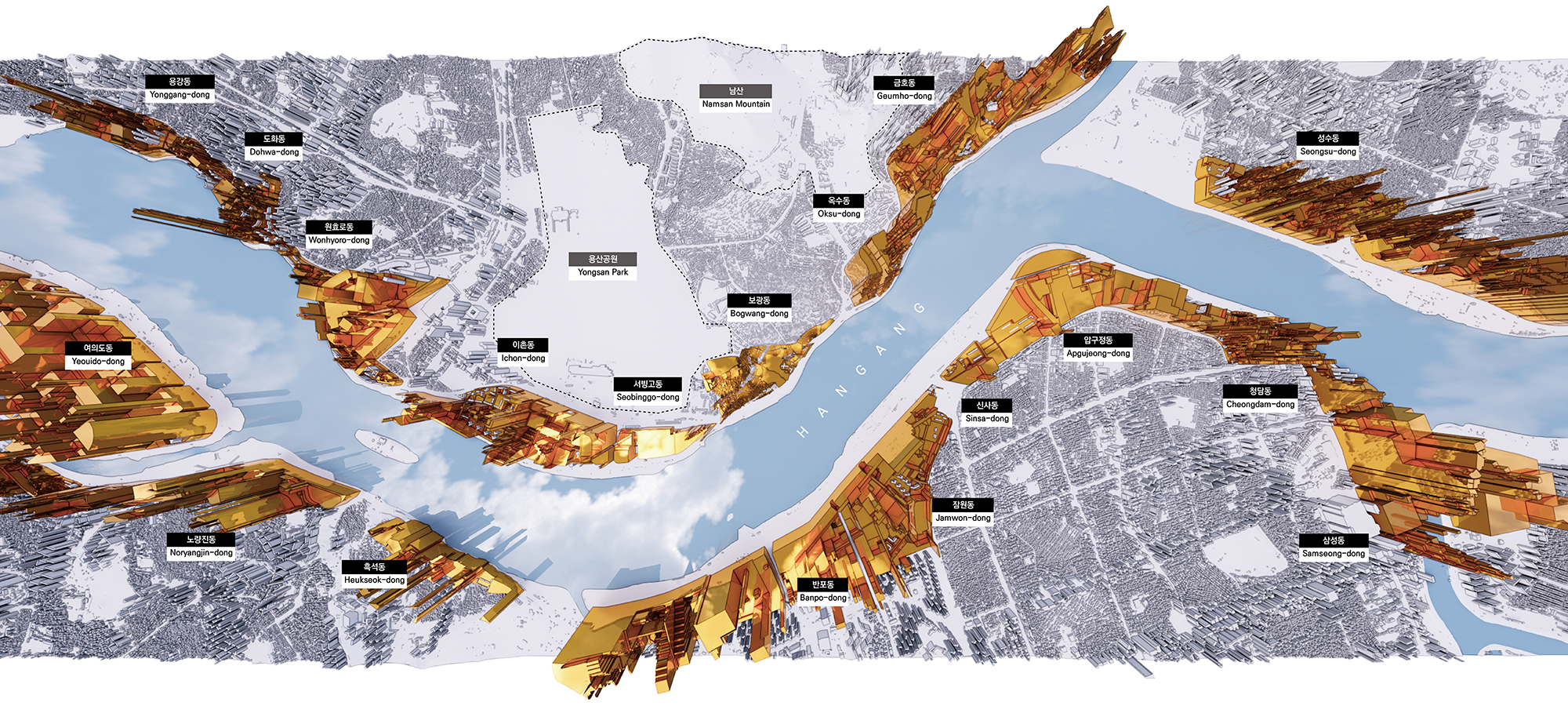 The team has developed a Grasshopper script that automatically determines the maximum envelope based on the following five elements:

1. Significant view corridors to the important mountain peaks and ridges: Historically considered as the main driver for the existing height limits along the river, the ten viewpoints illustrated in "Seoul Riverfront Vision 2030 (2015)" were investigated.
2. Important vehicular and pedestrian corridors: The network of important vehicularand pedestrian corridors will also contribute to the development of height envelope. They create important visual and physical thresholds to and from the river.
3. Important cultural and historic site corridors: The cultural and historic sites along the river provide location-specific influences and further shape the height envelope.
4. Important open spaces: Views from and to the major open spaces, such as green belts and water bodies will have a major impact. They created important viewsheds and will be preserved to allow visual connections to and from the river and its surrounding areas.
5. Views blocked/unblocked by the existing buildings: Understanding the existing buildings will be extremely important. This will allow us to understand the relationship of the blocked/unblocked views from the built environment.
Lim Justin Heejoon: Assistant Professor, Graduate School of Environmental Studies, Seoul National University
Lee Jaemin, Associate Professor, Yonsei University
Won Jongmin, Graduate Student, Interdisciplinary Program in Urban Design, Seoul National University
An Jaeseong, Graduate Student, Graduate School of Environmental Studies, Seoul National University
Hong Jinseo, Graduate Student, Graduate School of Environmental Studies, Seoul National University
Do Sanghyuk, Graduate Student, Graduate School of Environmental Studies, Seoul National University
The Ripple Yeouido-Verse
El-Koussy Nour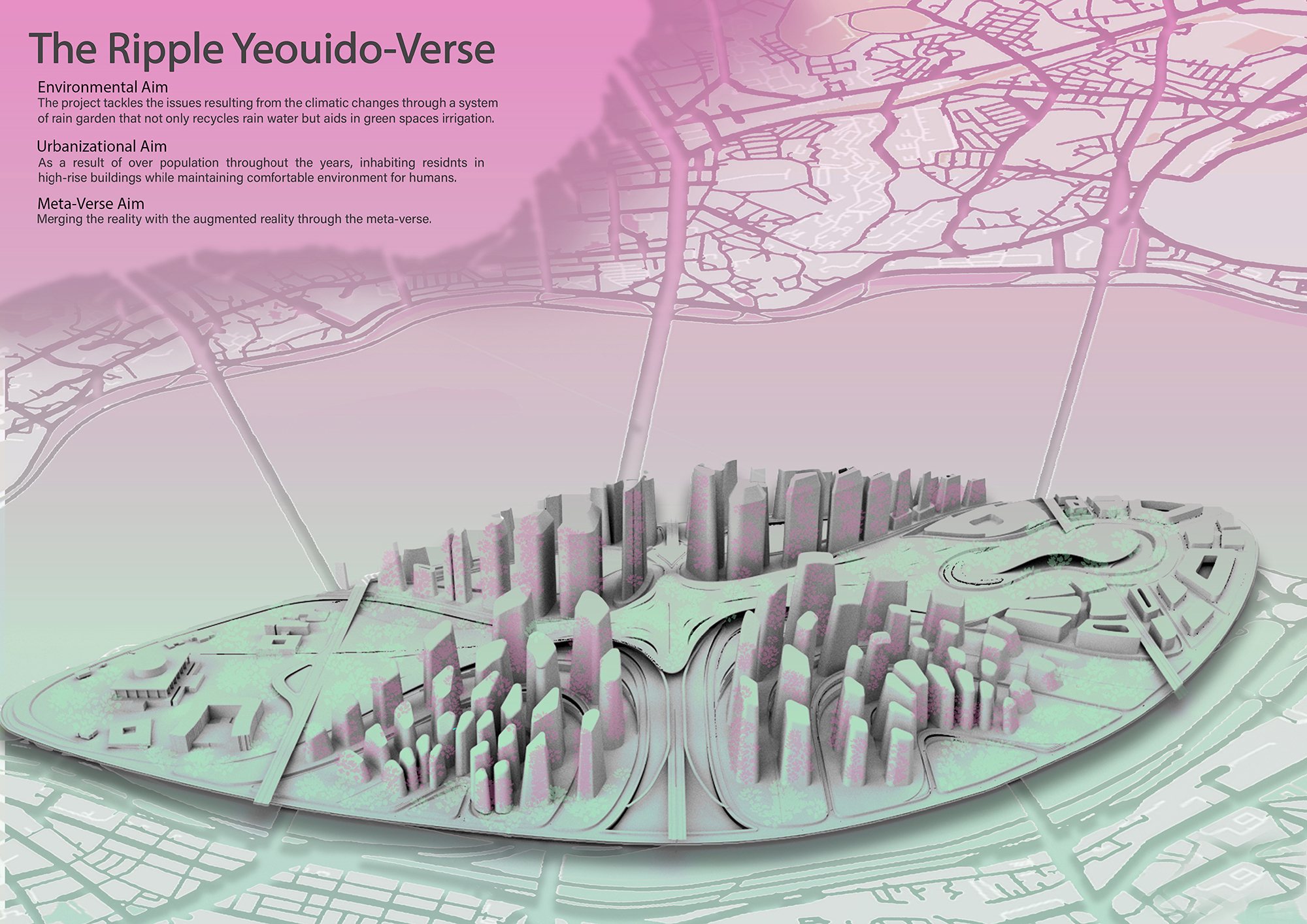 The Ripple Yeouido-Verse is a proposal to the Yeouido Island of Seoul to redesign the urban tissue, street networks, and urban design.
First approach, environmental; After studying the existing urban plan, we developed the street network to be compatible with the new zoning functions of the island. After studying the sea level rise in Korea and the future effect it has on the Island, we designed rain water garden systems on the sloped ripple continuously and among the three zones to use the rain water for recycling usage in planting activities.
Second approach, urbanization; Regarding the zoning functions; the commercial zones are merged together in front of the sea view in a stepping form sprouting from the main ripple spine to create a harmonized skyline on the sea view.
Third approach; technological; Finally, we wanted to develop the island's technology to match Seoul plan for the upcoming years by creating a proposal of the Yeouido Island in the metaverse.


In conclusion, having three main different aims to be proposed:
The Environmental Aim: To tackle the issues resulting from the climatic changes through a system of rain garden that not only recycles rain water but aids in green spaces irrigation.
The Urbanization Aim: As a result of overpopulation throughout the years, inhabiting residents in high-rise buildings while maintaining comfortable environment for humans.
The Meta-Verse Aim: Merging the reality with the augmented reality through the meta-verse to meet Seoul plans for the future to enhance the user experience in work, life, economic, etc.
Team members: Ashraqat Khaled, Amr Gamal, Abeer Ahmed
The way mankind intervenes at junction of land and sky
Suin Kim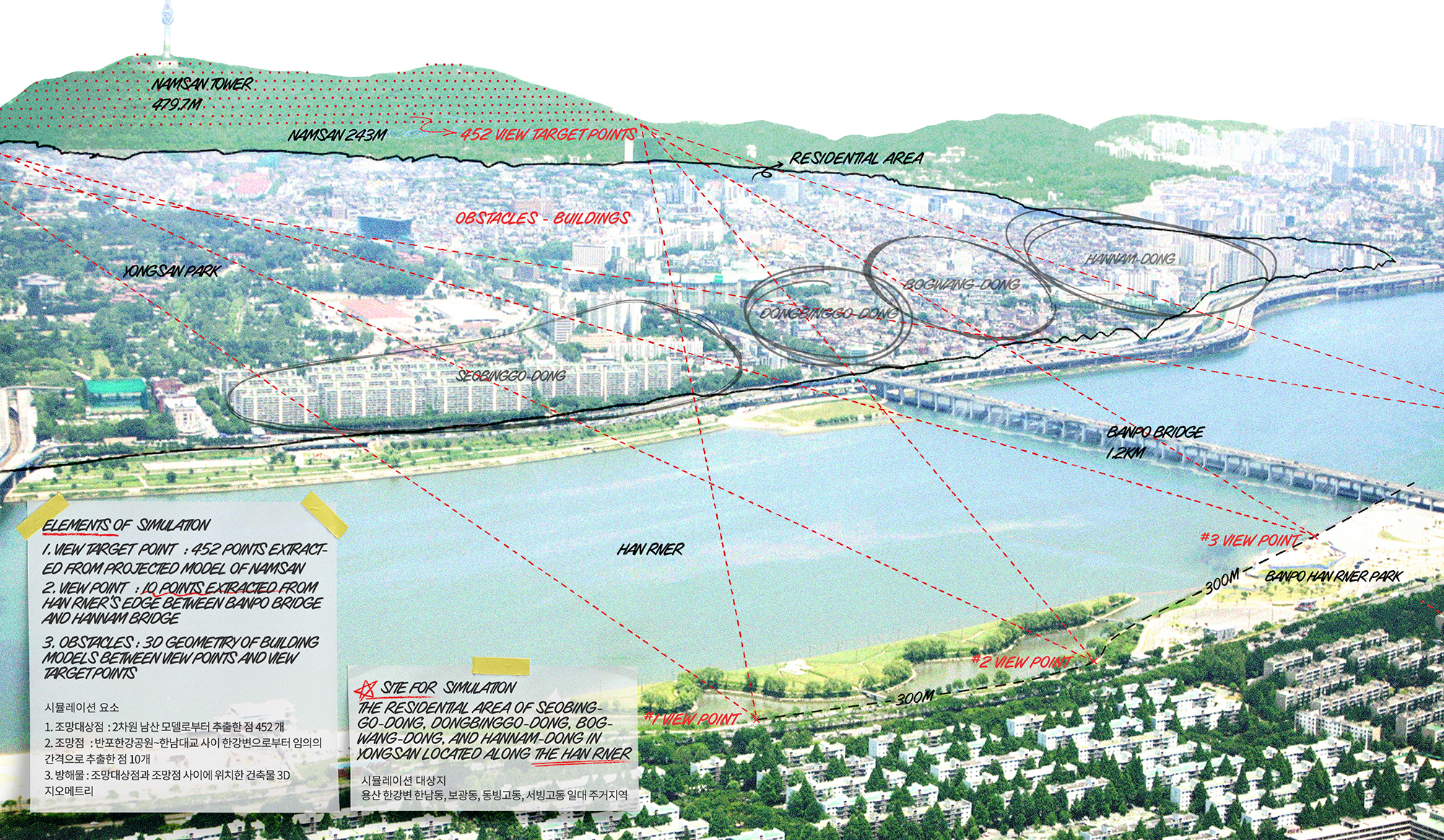 Wayne Attoe regarded the way mankind intervenes at the junction of land and sky as one of the meaningful measures of civilization. Following the establishment of cities, the concept of a skyline emerged, denoting the horizon defined by structures constructed by humans. This not only reflects architectural and construction techniques, resource utilization approaches, but also extends to attitudes towards nature, visually capturing urban development and evolution. However, each of these interventions also resides within a topological duality relationship.

Cities like Seoul, which have developed within natural topography, possess a history of urban planning involving height restrictions on buildings to conserve the natural landscapes of mountains. These mountain-bound cities each form unique skylines through a juxtaposition of ridgelines and tall structures, amidst the interplay between urban development and height regulations.So, does the existing height regulation genuinely facilitate an 'ideal' skyline? Furthermore, what forms of skylines that protects mountain views while meeting appropriate development capacity or specific goals?

In actuality, there has been insufficient simulation to satisfactorily address the questions posed. This endeavor introduces optimization as a proposition to establish the foundation for such discussions. It is not an endeavor to carve out a highly rationalized single urban model or to locate deadlocks in discourse. It is an attempt to explore the potentialities of diverse urban forms and enable adaptable compromises. Hence, it suggests examining the trajectories drawn by the multitude of forms generated within the optimization process, rather than extracting optimal model. Through complementing qualitative assessments or accommodating viewpoints, or by engaging in processes like aligning with alternative plans, this methodology can unearth better points of deviation.
Suin Kim studied Architecture at Chungnam National University and Integrated Design・Landscape Aesthetics lab at Seoul National University. She won the Minister of Land, Infrastructure and Transport Award and researched at the Seoul Institute and the Urban Research Institute. She is currently establishing a master plan for the green ecological city for downtown Seoul at HLD.
The Fragments of Seoul's Delights
Amy Brar, Giulia Cielo, Dahee Kang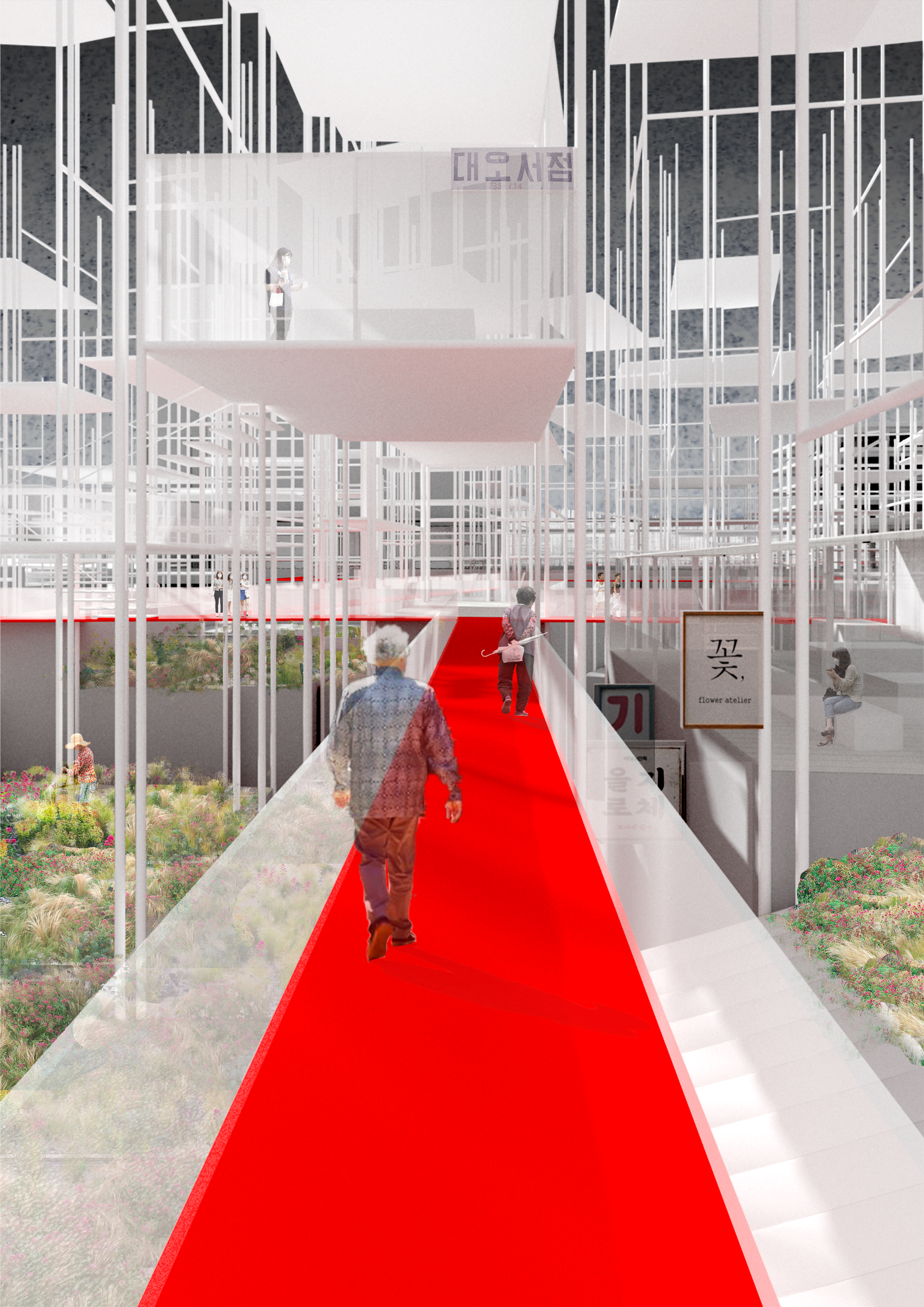 What is Seoul's identity? In the recent past, layers of natural landscape have been overshadowed by accelerated anthropogenic growth. And this dense web of socio-spatial conditions emerging out of unplanned micro-settlements and post-war mega structures are inextricable from the identity of Seoul. In Sewoon Plaza and its neighbourhood, although both urban typologies seem polarised, the scales of occupation within them are highly akin, creating a challenging dialectic between preservation and transformation.

And so, guided by the undulating topography of Seoul and expanding through the constellation of informal settlements, the proposal stitches the spatially alienated Sewoon Plaza and its vicinity through a series of green platforms and pathways by specifically activating its podium level. A lightweight scaffolding system, punctured at irregular intervals, extends across Seoul's labyrinth, providing the framework for a new urban-scape to materialize on.
Shared Notes, led by Amy Brar, Giulia Cielo and Dahee Kang, is a design collective investigating the intersection between architecture, landscape and technology. Grounded in research and development tools native to architecture, the collective explores individual behaviour through interactions between humans and non-humans, the tangible and intangible, by addressing the environment we inhabit as a symbiotic body. Coming from three distinct cultures, heterogeneity and dialogue is at the core of the trio's ethos.
Layered Ground, Layering Forest
Yongnam Kwon, Seungjun Son, Kyungik Yun, Seunghoon Lee, Dongjun Jeong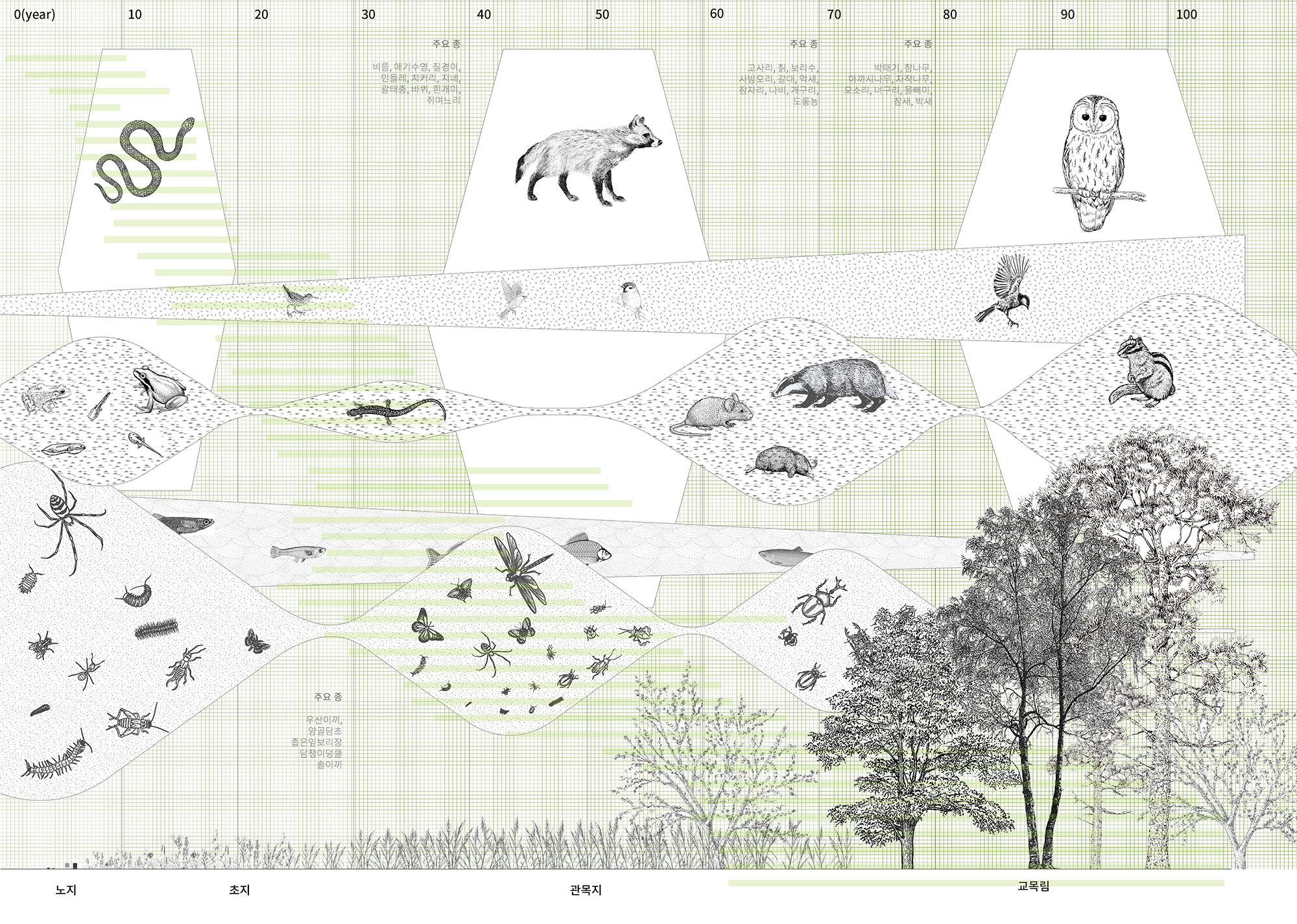 "Layered Ground, Layering Forest" is a project that turns a multi-story concrete mega-structure into a multi-story forest. Instead of demolishing the buildings and creating a large urban park, it makes a high floor area ratio(FAR) green ecosystem from Jongmyo to Namsan while utilizing the existing structure.

The main point of replanning Sewoon Arcade is not renovating the architectural heritage of the past but asking how the people who live in Seoul would plan the city's future. Sewoon Arcade should be the prototype of an "Urban Multi-layered Forest" as a green axis. "Layer Ground, Layering Forest" is a manifesto of methodology for creating green areas in the city and a suggestion of a universal supply system of light, water, and soil in architecture. The layered ground will be turned into a forest over 100 years by ecological succession, transitioning from bare ground to a forest. The forest created by applying the food chain of Cheonggyecheon and Namsan is not a simple park but a transplanted ecosystem that connects the environment in the city.
BBra is a design studio that covers installation, furniture, graphics, and space based on architecture. The members are trying to deal with things that are non-architectural in an architectural way and architectural in a non-architectural way.
TRACES OF EARTH
Lesch Guillermo, Facundo Garcia Berro, Paula Lesch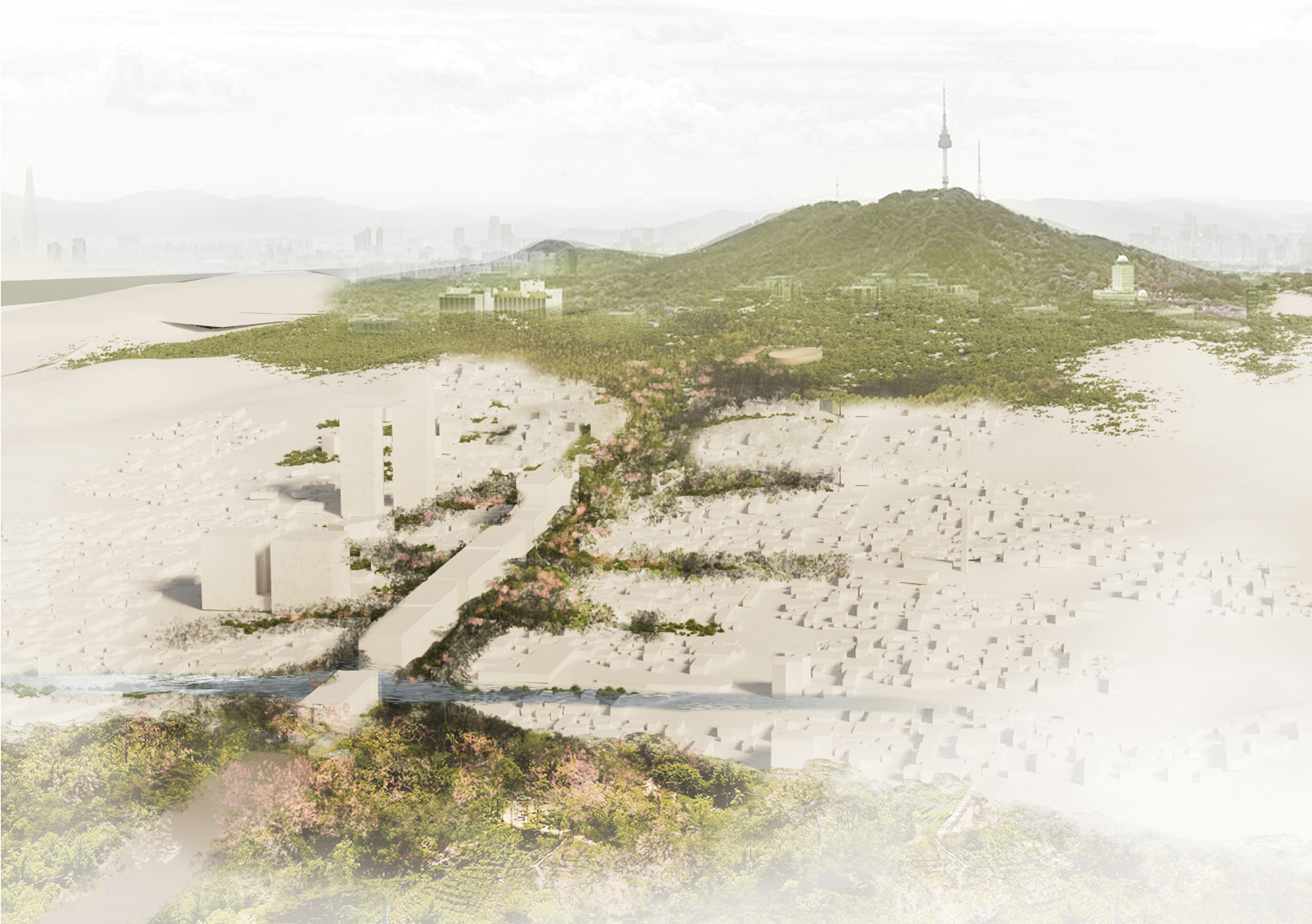 The intervention recovers the traces of the land, pushing nature's vital force to emerge from in between the urban pieces in order to recreate a natural ecosystem that provides great quality of public open space for the community. In the beginning, there was land, water and sun. We propose to recreate this vital cycle, the essential. Starting with the water, so it stops being a problem because of shortage (droughts) or because of excesses (floods). Instead, it transforms into the vital element that gives the possibility for vegetation to grow into the urban framework, generating shadows and oxygen. This recreation of the native landscape and its vital cycles, is the conductive string, proposed in order to give value to the urban and natural pieces of the city, and also link them with one another creating a continuous walkable public space. The proposal is not based on architectural solutions or design gestures, it is aiming to give value to the natural processes, those things that transcend, the essential for the next hundred years of Seoul.
We are TERRA. Enthusiastic architecture thinkers in search for the essentials of designing places for life: the soil of each site, the substrate and the link with its people. Understanding that it is the engine that drives each proposal, creating experiences especially attached in each particular place.
We believe that when there is a problem or a crisis there is also a great opportunity to change the reality, we see a degraded area with a lot of potential.
EISM-PR(East Ichong-dong Sector Master plan Project)
Wonwien Kim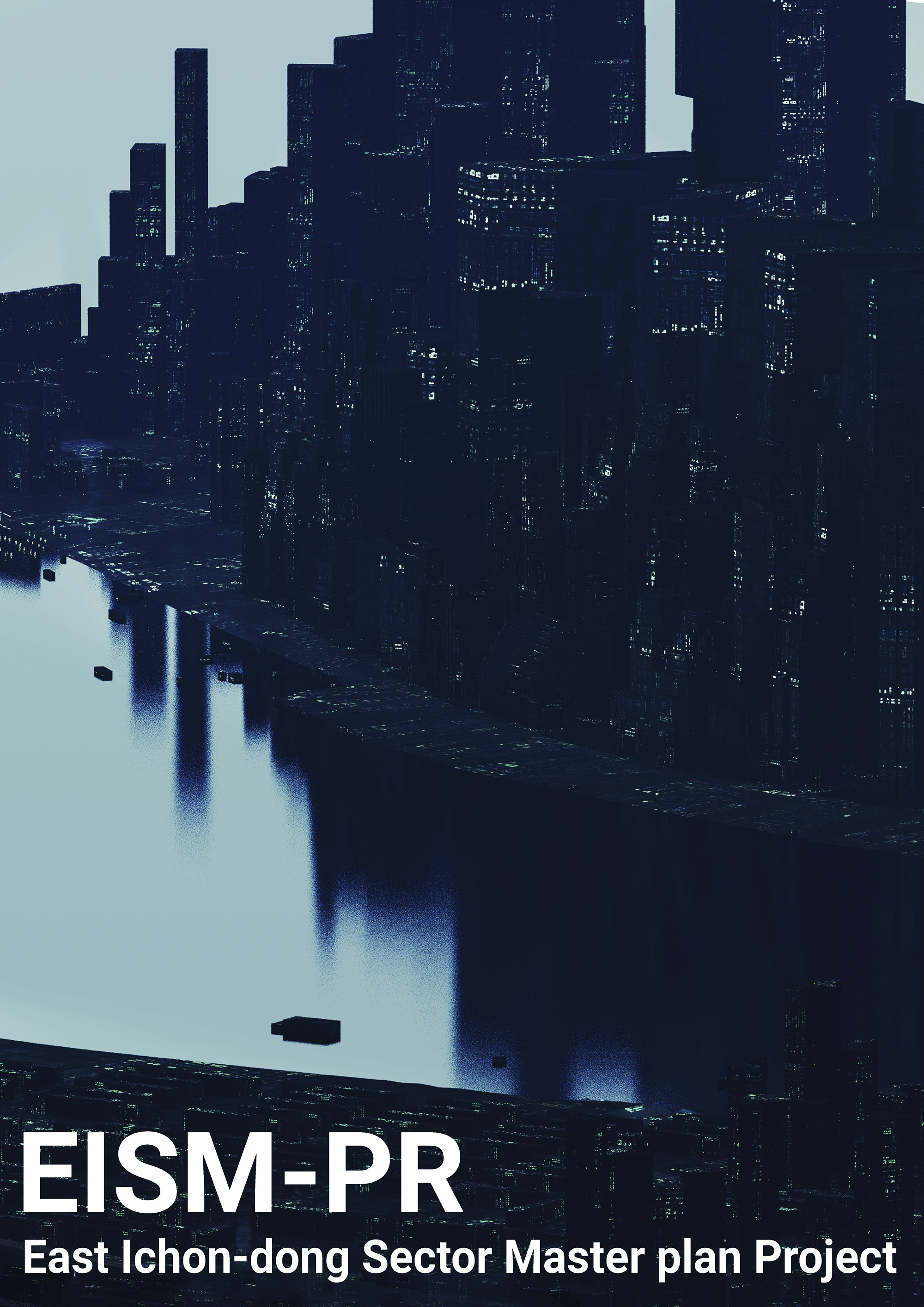 EISM-PR, East Ichon-dong Sector Master Plan Project in 2100 started to respond zeitgeist, Climate crisis, and internal poverty of Seoul citizens. Today, humanity is appeared on the verge of extinction due to the climate crisis, zoonotic viruses, the advent of the multipolar world, and food shortages. But humans will not go extinct. Many adapt to the extreme environment and will only survive the painful process of survival for hundreds of years to come. In this situation, what role can architects do? I presented the countermeasures through architectural methodologies for the survival crisis that future generations will experience due to the mistakes of our time. And I considered the characteristic of Seoul's society for the detailed methods such as "Demolished Citadel", "Responding Climate crisis by securing balconies". Based on these, I intended to create a place, our descendants can think "It's worth living" who will experience extreme environment in 2100.
Wonwien Kim
Wonwien Kim is an undergraduate of Architecture school at University of Seoul. Before starting his program at UOS, he devoted himself to Heerim Architects & Planners Co., Ltd. and participated in various projects from mid 2018 to early 2021. In 2023, he took part in Global Studio, Seoul Biennale under the guidance of Professor Calvin Chua at Singapore University of Technology and Design.
Sangwoo Kim
Sangwoo Kim is an undergraduate of Architecture school at University of Seoul. He is interested in Grasshopper, and Python for making 3d models and crafting architectural models by laser cutter.
Team members: Sangwoo Kim
English Proofreader: Sunjae Yoo
Engendering Grid: Growing City
Eunsol Jo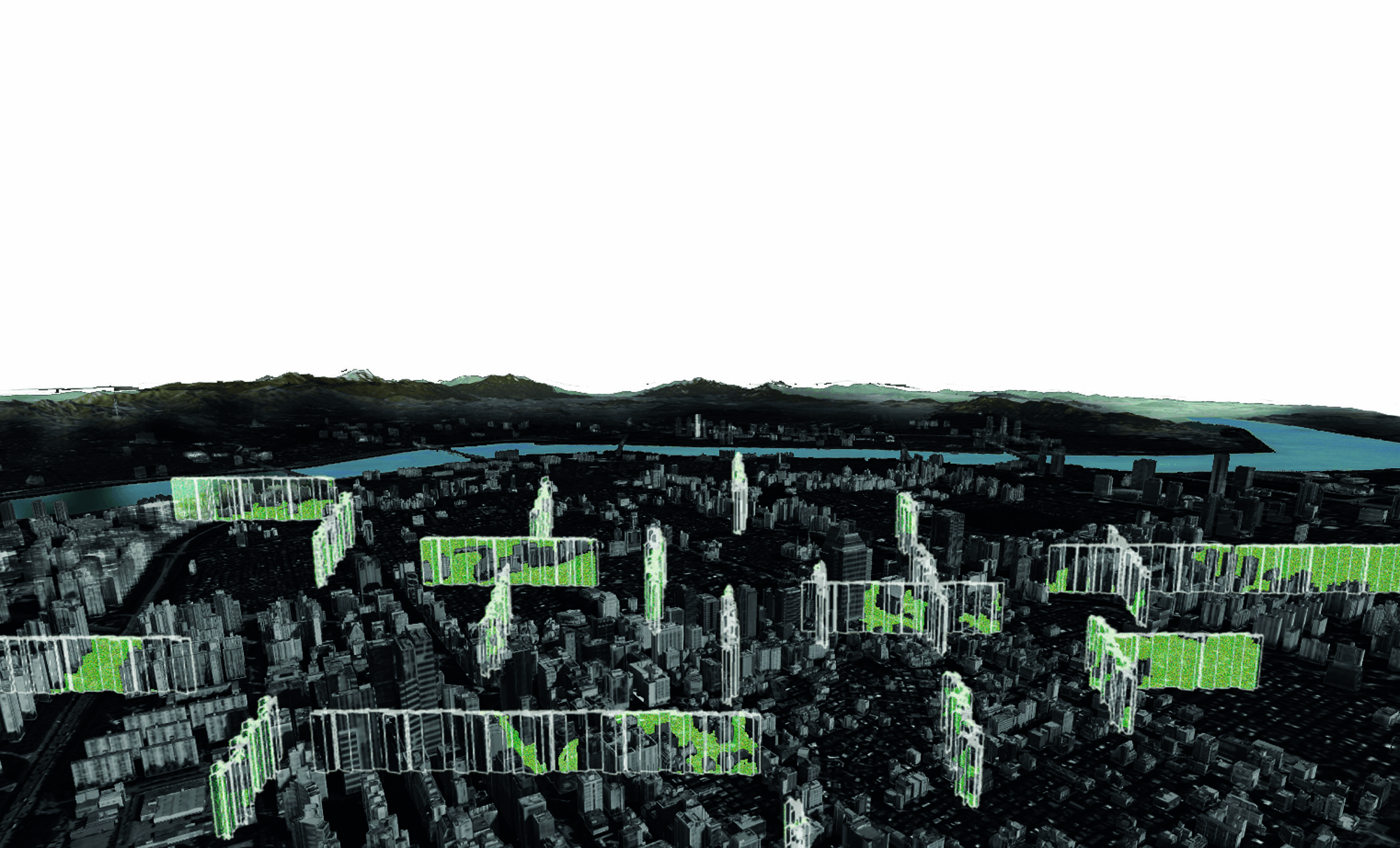 This work proposes a high-density residential area that creates a green grid at the bottom of the Han River starting from Apgujeong-dong. The mega-blocks in Gangnam, separated by large roads, are divided according to their use, and are separated into fragments without being able to relate to neighbors. Current urban planning follows a grid system tailored to the logistics movement of transportation, giving pedestrians an uncomfortable experience. The artist creates a grid here to produce and store resources that can be supplied directly to people in the city center, contributing to reducing carbon dioxide emissions by reducing the movement of logistics. This suggests not only the environment but also the people living in the city center a good street to walk on, and has the possibility of replacing commercial vacancies in Gangnam with housing. As city expands, we believe that we should have the ability to create ourselves rather than receive resources from outside the city.
Eunsol Jo studied in the Department of Architecture at Korea National University of Arts. After graduation, she is working in Geneva, Switzerland. She is passionate of bringing abstract ideas within and outside the boundaries of architecture to reality, and is interested in the universal art experience that architecture offers to the public.
Urban Estuary Confluence City
Keojin Jin, Yeonhee Kim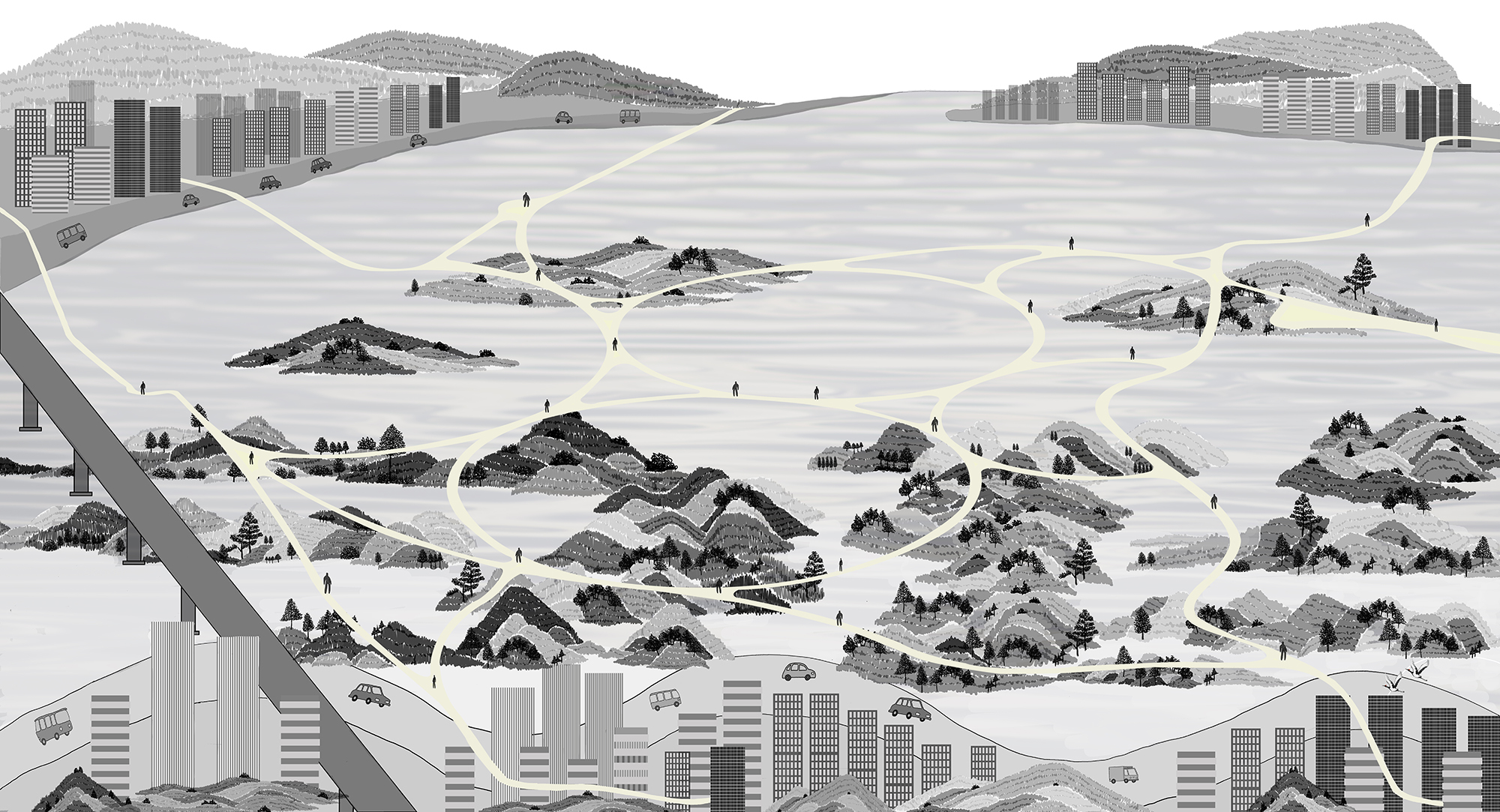 'Bamseom' Island, which has expanded nearly fivefold in the past three decades, now serves as a sanctuary for migratory birds, showcasing the bountiful richness of its ecosystem. As we look ahead, it is imperative for our city to depict a landscape that harmonizes with the river's estuarine ecology. Over the past half-century, the riverbanks have been transformed into engineered structures, and riverside highways have forcefully encroached upon the expanding city, severing the waterfront areas from the daily life of its inhabitants. Similar to how Gwanghwamun-daero, once an authoritative boulevard, has gradually evolved into a pedestrian-oriented urban space through societal deliberations, the estuaries and broad expanse of the Han River should merge with the organic flow of nature, becoming a genuine Seoul courtyard and plaza interwoven with the surrounding urban fabric. The orchestrated construction of this extensive network of reservoirs necessitates a recalibration, taking into account the inclusion of natural, ecological, and urban cultural factors. By incorporating these variables, we can achieve a harmonious coexistence between engineered and natural elements, fostering a truly sustainable and vibrant future for Seoul.
Keojin Jin, an architect and assistant professor at Pusan National University's Department of Architecture, collaborates with Justin Hee-joon Lim from Seoul National University's Graduate School of Environment. They both actively contribute to research, education, and practical work in their respective fields. Yeonhee Kim, an artist and adjunct professor in the Department of Visual Design at Suncheon University, passionately pursues video installation projects alongside her commitments to teaching and research. Our team, composed of experts in architecture, urban planning, and fine arts, aims to envision an Apgujung's urban waterfront, where nature and human create a complementing relationship, projecting a century ahead.
Team members: Lim Justin Heejoon, Seongwon Kim, Wonyan Htet, Hyeonjin Lim, Yeeun Gwak, Seonggyeong Kim
SEOUL RE-WILD Vacant to Vibrant of Seoul
Heewon Kim, Jeongwon Yoon, Yongjun Jang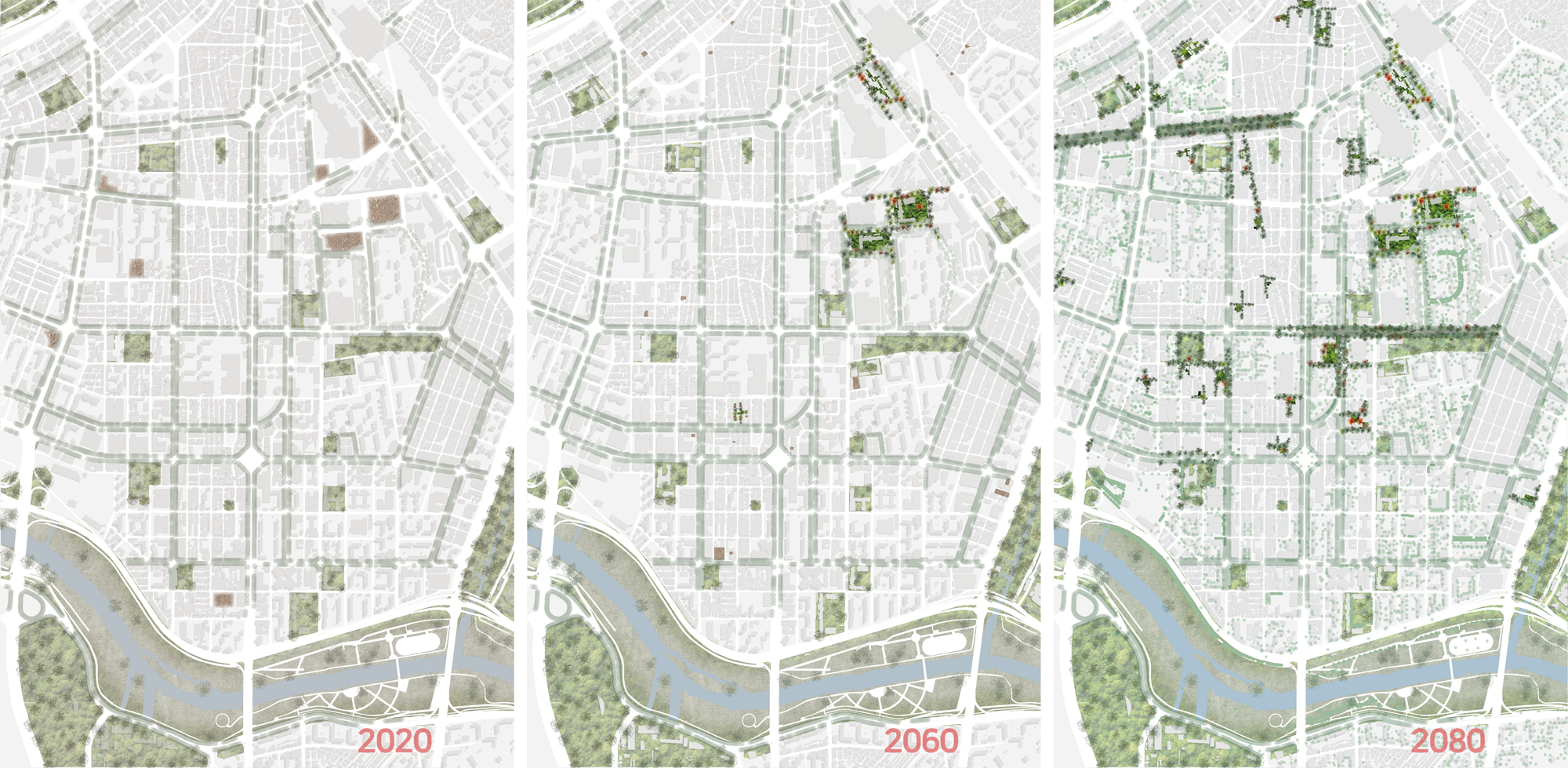 The Seoul's rigid green-network framework will be complemented by resilient and qualitative utilization of organic spaces a 100 years from now, becoming a new public space of the Green masterplan, the 'Coexistence Space.' "If it were not for the tall steel plates concealing and conveniently flattening a vacant lands, it could have been a city's meadow and a sanctuary of wild, embracing water and life, serving as both a playground and park, becoming a nostalgic place for all urban flaneur. Vacant land is the city's 'Coexistence Space.'"

① Vacant lands types
② Vacant lands Ecological System
③ Prediction of Vacant lands Occurrence
It's like a Bul-nabang. They're drawn into the light whenever they see it. Like them, we're eager to get our hands on and churn out creative and imaginative ideas on topics that ignite our curiosity and spark discussion, whether it's a topic that fades like the warmth of dwindling charcoal fire or strikes suddenly like a lightning bolt. Our background is in urban and landscape architecture. We are immersed in, discuss, and explore space, experience, landscape, industry, branding, physical property, society, and the planet within our work and daily life. We envision alternatives and ideals for a better world and hope that our discussion can make a small but meaningful difference, serving as a new spark and guiding beacon.
127
Jae Min Lee, Lim Justin Heejoon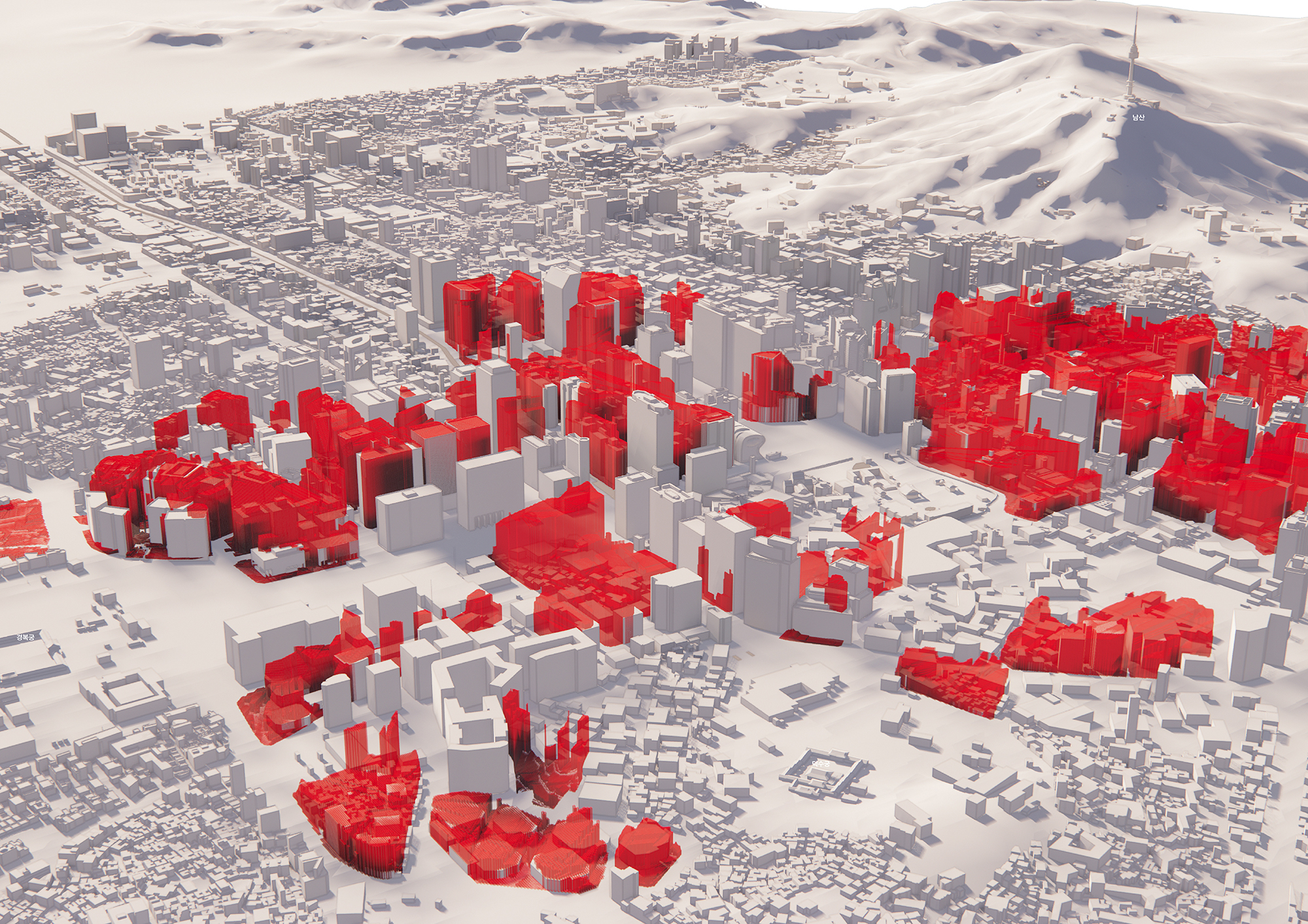 Seoul's landscape, characterized by its historic palaces, four major mountains encircling the city, and modern skyscrapers, presents both challenges and solutions. A common assumption is that historical preservation and urban revitalization stand in opposition with no middle ground, but this doesn't hold true. While the existing skyscrapers in the city center might be seen as disruptive to the historic landscape, they also hold the potential to complement Seoul's skyline by serving as a protective barrier for new skyscrapers. Leveraging the concept of viewing the shadows cast by these existing structures, we attempted to unearth fresh avenues for growth within the declining historic city center. By conducting an extensive 3D ISOVIST analysis on digital models from 27 vantage points—including various angles of elevation from cultural treasures such as Gyeongbokgung Palace, elevated perspectives from the city's four major mountains, and viewpoints along main streets—we've arrived at the conclusion that buildings that blend seamlessly with the historical landscape can be erected within a range spanning from a minimum height of 31 meters and a maximum of 127 meters, instead of the fixed height limit we have today. Setting the new city envelope to 127 meters allows the historic center to continue to evolve.
Jaemin Lee is an associate professor at Yonsei University . He has research interests in non-conventional and underground public space, ecological modeling of cities and regions, and bridging the gap between quantitative and qualitative research traditions in urban design. He is an emerging scholar at the PENN Institute for Urban Research and an external faculty collaborator at the Center for Environmental Building & Design, University of Pennsylvania. He has worked in a range of city building projects as an urban design associate in both Chicago and New York offices at Skidmore, Owings, and Merrill LLP.
THE PATTERN CHANGERS: LIFE & TRAFFIC
THE PATTERN CHANGERS
Ayoung Lee, Yeji Won, Kwangik Baek, Hyunjun Song, Raeun Park, Yugyeong Shin, Minyoung Song, Jaehyun Sim, Eunju Yun, Jinmi Lee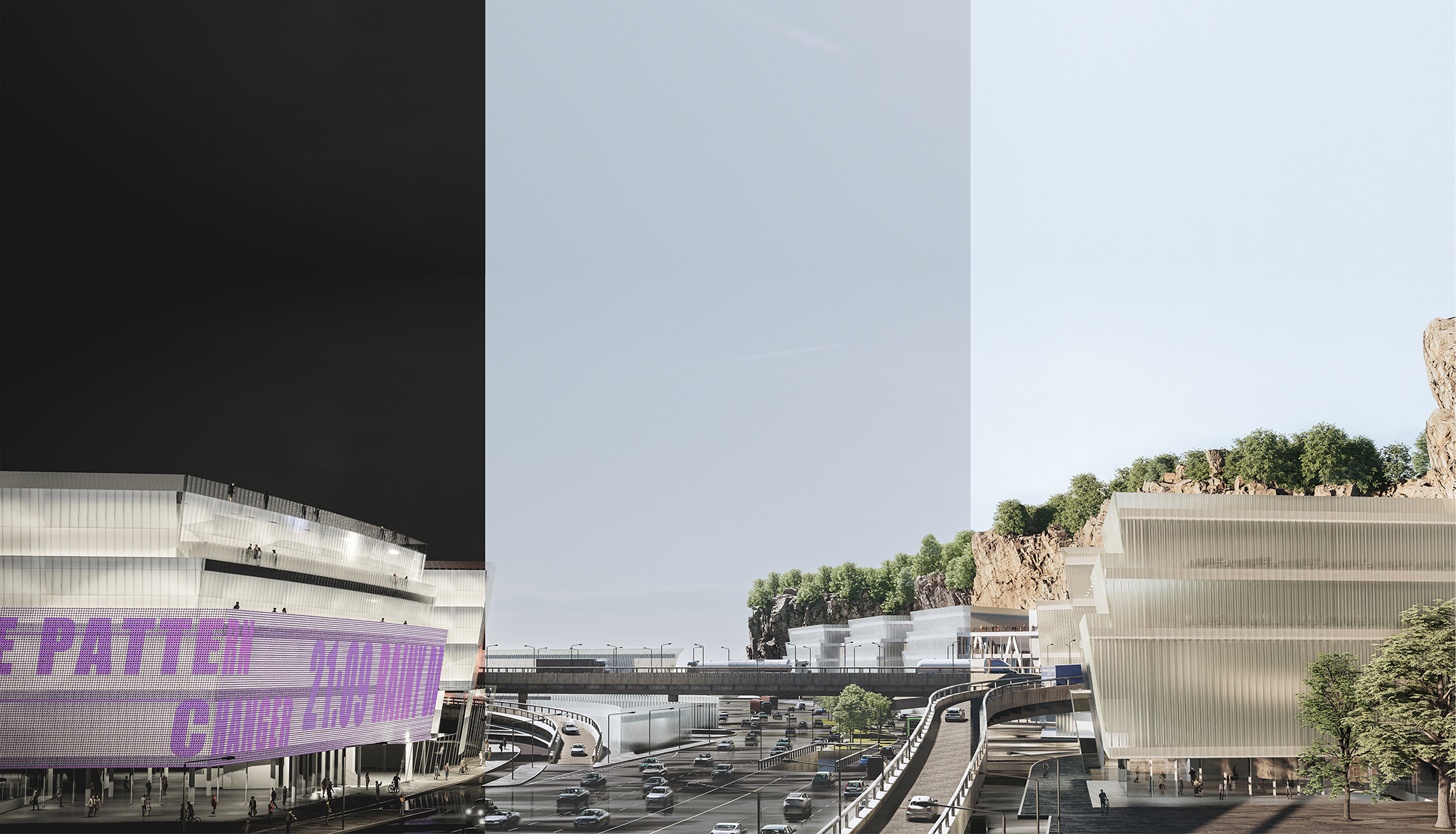 Every day during commuting hours, numerous commuters pass through key gateway points between Seoul and Gyeonggi Province. Among these gateway points, attention is drawn to the area around Sadang Station, which serves as a route from Gyeonggi South to Gangnam and Seocho. The proposal is to create a Green:Urban:Network that connects the disrupted Dolsan Road (quarry) in the vicinity of Sadang Station, which has been severed by economically driven urban development, to the daily lives and urban flow of city dwellers.

The proposal aims to form a Green Network that connects the natural elements of the urban center, which are currently disconnected due to the quarry around Sadang Station, and to establish a sustainable Urban Network that transforms the urban flow and daily life in Seoul and Gyeonggi. Furthermore, the Green:Urban:Network, operating as a new platform, will serve as a space for mobility experiments incorporating cutting-edge technologies. It will act as a catalyst for everyday changes, returning the three hours lost in the daily lives of citizens (The Pattern Changer).
The Pattern Changers, composed of undergraduate students and professors from the Department of Architecture at Hongik University, has been conducting research on the transformative power of architecture in various urban contexts in Seoul. With the advancement of transportation and communication, cities are becoming more closely interconnected on a metropolitan scale, leading to the formation of different lifestyle patterns compared to the past. The group has been exploring architectural programs and spaces to accommodate these changes, and as part of their initial research, they introduce The Patttern Changers.
Arcadia Seoul 2123
Sejin Lee, Sungyub Chang, Seongyeon Hong, Qionghua Xu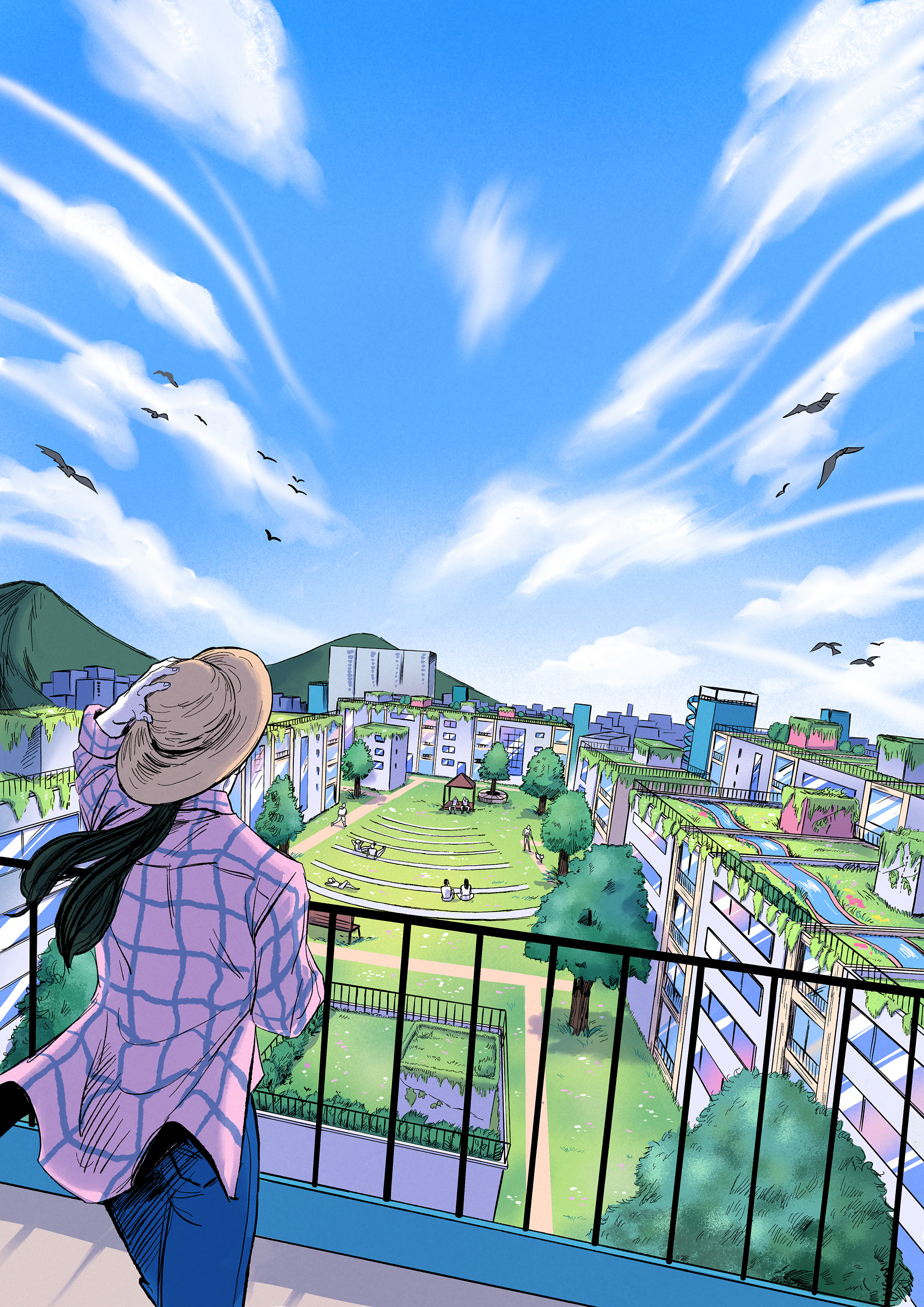 Many neighborhoods in Seoul are densely populated with low-rise buildings such as apartments and villas, leaving the exterior spaces to serve only as corridors. We propose a new urban landscape master plan that regulates the density of buildings within residential neighborhoods, bringing natural elements and greenery into the city center. The residence buildings are low-rise, dense, and disjointed, with no clear hierarchy between the exterior spaces. This project proposes a proposal for clustering the buildings within an approximately 10,000 m² plot of land within the existing residential area, creating an interior courtyard and densifying the exterior streets. There are gaps between the existing buildings, and these incomplete spaces can be used for residential, commercial, or even an elevator to enhance barrier-free circulation, depending on the situation. The buildings inside the complex are vacated by the newly planned courtyard area. The vacated space is greened and parked, serving as a buffer zone between the public and private spheres, providing a safe place for citizens to rest, and a way to bring in enough light and air for residential areas.
The ar-ge team, a group of architectural, urban, and artistic professionals working between Germany, South Korea, and China, believes that the multi-layered nature of architectural and urban projects can be expressed through artistic solutions. Sejin Lee is a registered architect in Germany and the principal of ar-ge working on various architectural projects and teaches at Gangwon National University. Sungyub Chang has practiced in Berlin and Frankfurt, participated in various international projects, and is currently a master's student at the Technical University of Darmstadt. Seongyeon Hong is an illustrator based in Hamburg, whose work involves observing the city to capture its spaces and express the narratives within them, and is currently collaborating with various artists. Qionghua Xu studied architecture at Seoul National University, practiced in Shanghai and Berlin, and is currently preparing her master's thesis at the Technical University of Berlin.
PATCH—SEOUL 2023–2123 MASTERPLAN
Selma Alihodžić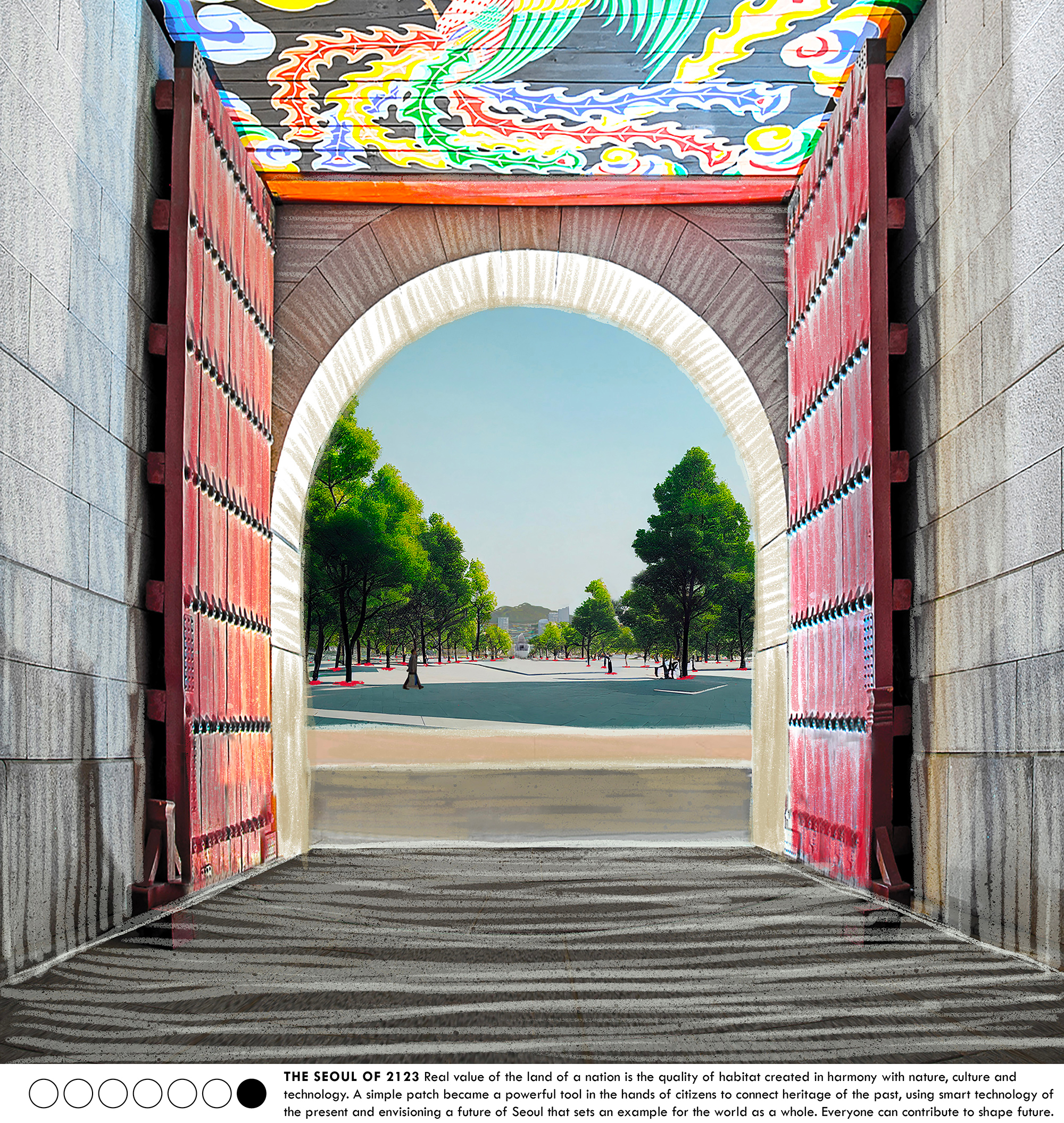 What does the visitor of the 4th Seoul Biennale of Architecture and Urbanism take home after the exhibition? How can a 100-Year-Masterplan have a positive impact already today? These questions lead to the doors of Seoul Hall of Architecture and Urbanism, which also contains a display of excavated layers of Seoul's history as physical matter. Sejong-daero as a neatly sealed off asphalt surface is representative of a urban planning in which the car is the main actor. Located along the historical axis, building upon the current aims to extend pedestrian walkways, this idea argues for a bold intervention. By creating a car-free zone the potential of going one step further calls for action: restoring the visual Bugakasan-Gwanaksan-Axis with a linked green network.

How to show the value of natural heritage, projecting the potential of the present into the future? Patch is a piece of sphere shaped land made of layers on which the entire Seoul is built: clay, sand, silt. The red is expansive as it contains a special QR-code that opens the door to experience a digital space: the 100-Year-Masterplan. It is laid out nearby the excavations on display can be taken by the visitor to interact with the landscapes. As the real value of this unique land-architecture-land-urbanism-philosophy started as an artistic intervention at the front door of Hall it shows the responsibility of architects and urbanists. Many cities will learn from this idea: the real value of the land of a nation is the quality of habitat created in harmony with the nature, culture and technology. A simple patch became a powerful tool to connect heritage of the past, using smart technology of the present and envisioning a future of Seoul that sets an example for the world as a whole.
Selma Alihodžić is dedicated to hybrid design practices and urban regeneration. At the State Academy of Fine Arts in Stuttgart she taught design theory and sharing economy strategies. Together with artists and local NGOs she realized urban interventions across Europe. She contributed to the American Pavilion at the 14th Venice Architecture Biennale and her writing has been published in Swiss and German books and magazines. She collaborated with Herzog & de Meuron among others and is based in Basel, Switzerland.
Seoul Loop: A Plan for Seoul's Resilience Against Climate Change for the Next 100 Years
Lim Ter Min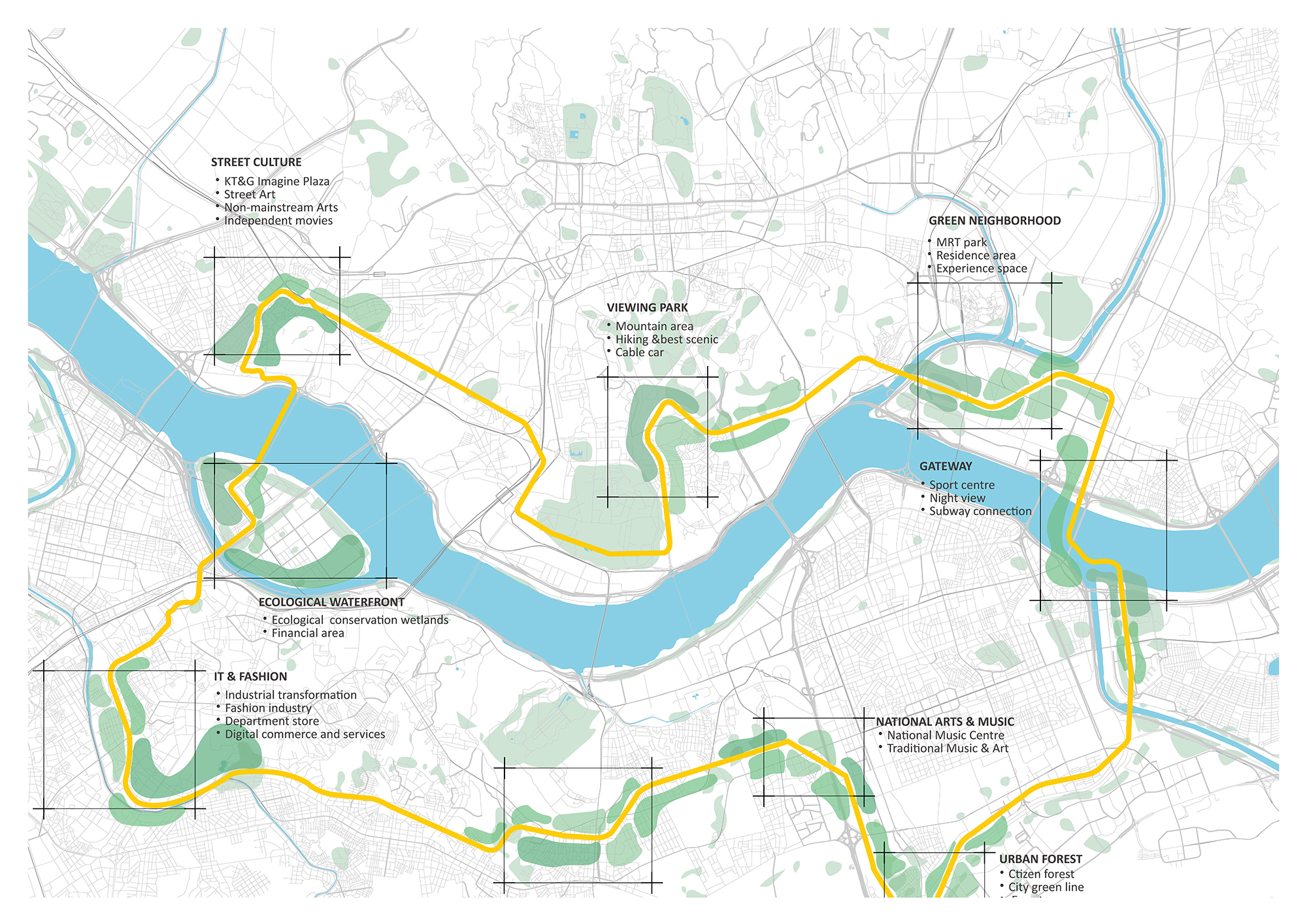 Is there a way to create an urban intervention that uses disaster infrastructure as a catalyst for urban regeneration? Can flood mitigation and urban regeneration be mutually constructive tools?

As inspired by the Ancient Fortress Walls of Seoul, we propose a ring of infrastructure that connects many flood disaster zones in Seoul that are also spaces of urban blight and destitute in dire need of urban regeneration. Because these issues are inextricably linked, the social-infrastructure approach will create a long-lasting and meaningful impact to the entire city. As evidenced by the success of Cheonggyecheon Stream Restoration Project, we witness that a sub-street level public space is a highly feasible idea. We propose to expand on this idea to create a stormwater detention reservoir that encircles the geographic center of the city. As infrastructure, it captures excessive rainfall and channel them to two zones that intersect with the Han River. With carefully designed water locks, they protect these spaces against rising sea levels, but are also outlets for water evacuation into the river. On days that are not impacted by disaster, these reservoirs are extremely valuable as new public spaces and eco-friendly mobility routes.
Team members: Qin-Chao Zhou, Wan Hsuan Wu
Productive Han-Ga-Ram: Han River as Madang of Culture and Ecology
Donghwan Moon, Clayton Strange, Theodore Hoerr, Dongsei Kim, Evan Shieh, Pilsoo Maing, Jihoon Kim, Kelly Watters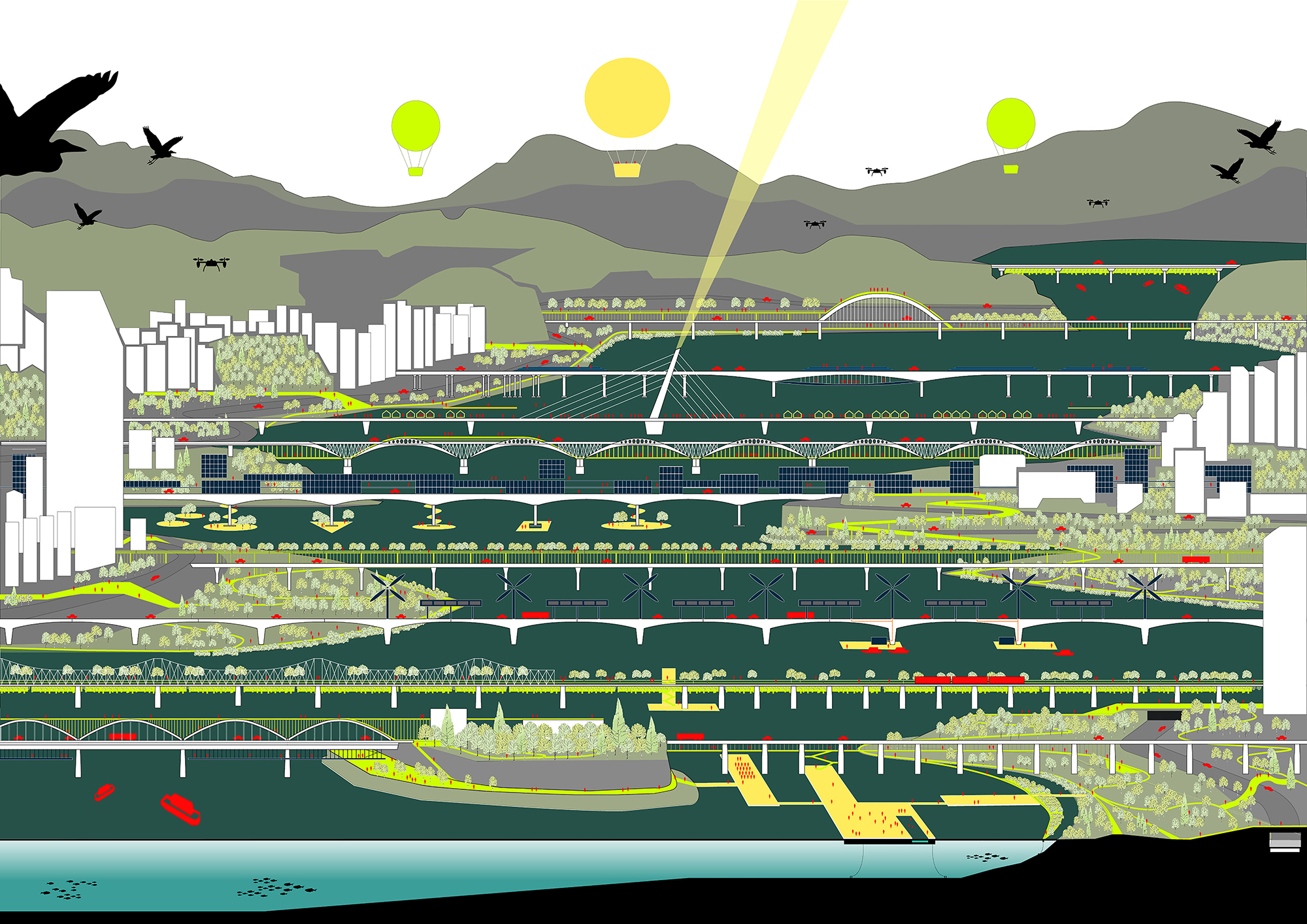 Productive Han-Ga-Ram reimagines the Han River as Seoul's central public space by transforming its thirty bridges and riverfronts into a collective green network. The existing bridges and the waterfronts will be gradually transformed into a productive and performative public infrastructure. This phased process will create a series of pedestrian-oriented platforms and spaces where energy is produced, air and water are filtered. In addition to the continuous trails for walking, running, and biking, these bridges will become multi-functional 'madang' spaces integrated into rivers' new soft edges that mitigate the effects of increasing floods. At the human scale, playgrounds, picnic areas, pools, trails, learning centers, restaurants, and cafes, provide opportunities for young and seniors to mingle and share the river's new spaces. Further, bridges and riverfronts will be retrofitted into infrastructure that proactively mitigates the increasing impacts of the changing climate and water crisis. Productive Han-Ga-Ram generates a new collective identity for Seoul proactively by connecting the people of Seoul to its immediate waters and mountains and to the water bodies that connect to the Taebaek Mountains and the Yellow River and amplify Han River's ecological potential to trigger a series of sociopolitical transformations for Seoul's next 100 years.
New York Eight is a team of architects, urban designers, landscape architects, and academics who first crossed paths at the Harvard Graduate School of Design. Their collaborations are driven by interdisciplinary dialogues that interrogate how spatial design can confront today's complex socio-political issues facing our built environments. New York Eight's contextual, timeless, socially, and ecologically responsible approach to design amplifies their multi-disciplinary synergistic approaches that advance new visions for our future cities.
[ Archivology ] 100 Years of Yeouido Facades
Jaehun Woo, Charlotte D'Acierno, Clarence Lee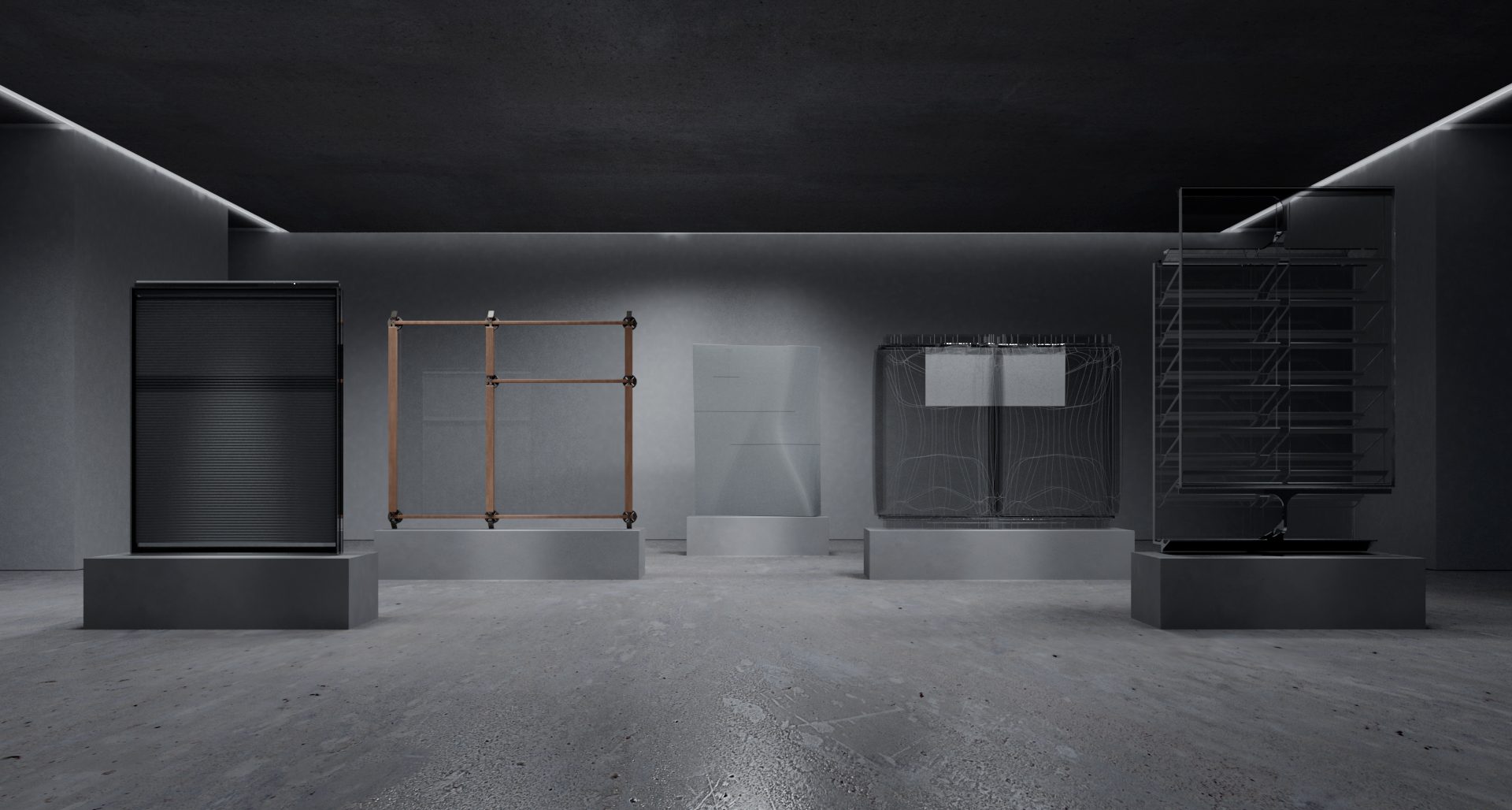 This project is structured as a museum exhibit, set in the year 2125. The introductory wall plate to the exhibit, titled "Archivology" informs visitors:

In 2120, the Samsazon corporation designated Seoul one of the world's top three sustainable cities. The distinction prompted many to ask: How did what was, and still is, one of the densest cities in the world balance its growing population and dwindling natural resources to become the paragon of environmental urbanism? Join our team of architectural archivists as we examine the transformation and unification of the South Korean capital over the last century. Our investigation focuses on a discrete architectural module within the urban history of Seoul: a single curtain wall panel. These components are the lenses through which we view the world, the barrier between interior and exterior, and the micro units which build upon each other to eventually connect the entire ecotopia of Seoul.

In the spirit of the 100-year timeline of the 2023 Seoul Biennale, this exhibit combines tactile physical representations as well as digital visualization techniques. The exhibit is organized around 5 scale drawings, each depicting a single curtain wall panel from the years 2025, 2050, 2075, 2100, and 2125. We invite visitors to explore these drawings at two scales: 1) the scale of a single unit and 2) the scale of the city. Visitors can also use their smartphones to access video information on each panel. In the exhibition, these narrative videos depict a larger speculative framework for which each of the panels exist and provide explanations for the architectural decisions and their impacts on the city at large. It is our hope that this exhibit inspires visitors to think at both micro and macro scales, and the reciprocal relationship between the two. Even the smallest architectural components can have a broad impact on an entire city.
We are diverse team of designers with 5+ years of experience collaborating as classmates, professionals, and educators. We believe in the power narrative design and scenario planning to cultivate architectural propositions, address urgent social issues, and envision future possibilities and alternatives.
Faces of Seoul 1, 2
rebel9
Faces of Seoul 1: Seoul has changed constantly from the past, present, and future. Faces of Seoul observes various faces and stories of the city through the lens of an urban flaneur. Seoul archive images illustrate many familiar and unfamiliar faces of the city and draw future visions through the proposals from the Seoul 100-year Masterplan Exhibition 13 Invited Teams.

Faces of Seoul 2: The video presents the landscapes created by the rupturing and restoration of our relationships with Seoul's nature and ecology. The overlapping of Seoul's past and future allows us to imagine the lives of those who will be living in this city in the future and feel hopeful about the restoration of the mountain paths, rivers, and wind paths that exist in the cracks between one era and the next.
Video-Generating Service
rebel9
The video-generating service(VGS) is a virtual introduction to the future Seoul. The VGS channels provide a reinterpretation of the themes and ideas of the "Seoul 100-year Masterplan" exhibition as a perspective of daily life in the future. VGS proposes that if we think of land as being imbued with a "memory gene," we who live on that land can be viewed as constantly engaging in generating things that the future will regard as memories. Defining the future is not a completion of the present; it is part of the memories and stories we create now. The VGS constructs everyday scenes based on architects' proposals, and some are manifested with AI's "future memories." Visitors can explore the empirical potential of the "Seoul 100-year Masterplan" through this very special video channel.
SBAU
The 4th SBAU
EXHIBITION
PROGRAM
LOCATION
CREDIT
NOTICE
KR
SBAU
The 4th SBAU
EXHIBITION
PROGRAM
LOCATION
CREDIT
NOTICE
KR