THE 4th BIENNALE OF
ARCHITECTURE AND URBANISM 2023
SEOUL BIENNALE OF ARCHITECTURE AND URBANISM
The Seoul Biennale of Architecture and Urbanism was first launched in 2017 to address urban and architecture-related challenges resulting from rapid urban growth in one of the world's most densely populated cities. Since its inauguration, the theme of urbanism and architecture has been pivotal in reinstating Seoul as a human-centered and eco-friendly city.

The Biennale aims to harness Seoul as a testbed, as it explores and seeks solutions for urban issues in global cities. It is composed of five sections: a Thematic Exhibition featuring the key theme of each edition, a Cities Exhibition inviting leading public projects from around the world, On-site Project, which engages with Seoul's most present issues, and Global Studios and educational programs, which establish discussions where the people of Seoul—global and domestic experts, public institutions and citizens alike—can participate in drawing up a common future for the city.
The 4th Seoul Biennale of Architecture and Urbanism will continue the ongoing discussions from its past editions—Imminent Commons, Collective City, and Resilient City—with a focus on 'Land Urbanism' and 'Seoul.'




Seoul Biennale Archive Site
Land Architecture,
Land Urbanism:
City of Mountain Ranges,
Waterways, and Wind Breezes—
Drawing of the Seoul's
Next 100 years
Seoul was once called Hanyang, the capital of the Joseon Dynasty, 600 years ago. Koreans at the time dreamed of the city as the "city of the land" that followed the course of mountains, rivers, and winds. Hanyang was an eco-friendly city. To the north, Bugaksan and Bukhansan Mountains protected the city against the cold winds of winter. To the south was a wide-open space with a river running through, which welcomed the cool summer breeze.

Although the city was founded with the respect for its landscape and natural environment, the urban development over the past 100 years has destroyed much of the natural environment of mountains, waterways, and wind roads that make up the city's true identity. Due to the collision of traditional and modern urban structures, the skyline of the city is jagged and without continuity. The connection between nature and the city is handled fragmentarily by district-level plans. As a result, there is a lack of rational land utilization based on the surrounding nature and urban continuity. However, in order to revive Seoul's true identity, it is necessary to set a common standard of value for Seoul 100 years from now.
Subtitled "City of Mountain Ranges, Waterways, and Wind Breezes—Drawing of the Seoul's Next 100 years" the 4th Seoul Biennale of Architecture and Urbanism looks into Seoul by imagining the city in 100 years. The biennale examines the figurative, ecological, and cultural relationships embedded in the land, reflecting on the "realization of interdependence" in the "land architecture." In addition, the biennale gathers examples of "land urbanism" created by such architecture to propose an idealized vision of "what Seoul should look like in 100 years." It is hoped that the solution to these cities will not be limited to Seoul, but will also serve as a great coordinate for urban improvement and the. construction of new cities throughout Korea and around the world. In addition, the 4th Seoul Biennale aims to enable audiences to experience and perceive the city in a new way by directly experiencing and learning about the mountain, water, and wind paths that run along Seoul's central axis. In this way, it will showcase Seoul as a unique city that was planned on the basis of eco-friendliness and organicism, and help visitors from all walks of life, including Koreans and foreigners, architects and urban planners, realize the importance of continuing these qualities.

The 4th Seoul Biennale of Architecture and Urbanism
General Director Byoung Soo Cho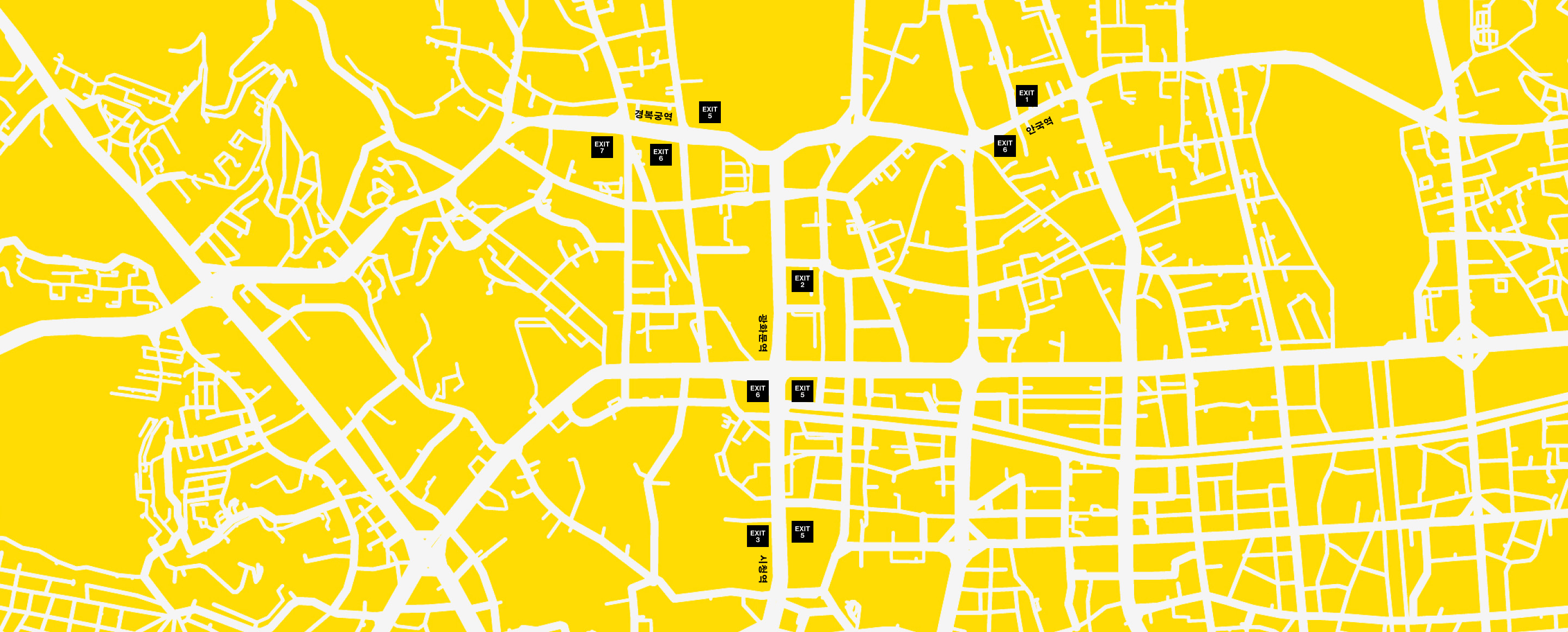 1
2
Seoul Hall of Urbanism & Architecture
3
Songhyeon Green Plaza
Songhyeon Green Plaza is the central venue of the 4th SBAU. Signifying a pine tree
(song)
pass
(hyeon)
, Songhyeon village originally evolved to the east of Gyeongbokgung Palace and served as a backdrop for historical events during the Joseon Dynasty and the Japanese colonial period (1910–1945). Following liberation from colonial rule, the site was occupied by the U.S. Embassy, and then changed ownership several times. Eventually, it was left idle and blocked off with 4m high fences for a long time. Following Seoul Metropolitan Government's project to overhaul the site in 2021, Songhyeon was reopened to the public in October 2022. Songhyeon Green Plaza is located where the green axes extending from the three surrounding mountains, Bugaksan, Inwangsan, and Namsan converge, and it is on this site that the SBAU will present pavilions featuring thematic exhibitions with hands-on experience.
Songhyeon Green Plaza VR Website
Songhyeon Green Plaza Live Cam
10:00-21:00, Fri/Sat -22:00
296m from Anguk Station Exit 1
Seoul Hall of Urbanism & Architecture
Opened in 2019 as Korea's first architecture and urbanism exhibition space, Seoul Hall of Urbanism & Architecture (SHUA) serves as a platform for experts and the public to exchange on the values of architecture. In 2015, marking the 70th anniversary of national liberation, Seoul Metropolitan Government demolished the colonial annex building of the National Tax Service Office and established a new cultural space between Deoksugung Palace, the front yard of Seoul Cathedral, the Anglican Church of Korea, and Seoul Citizens Hall Plaza. During the 4th SBAU, the SHUA will show research on 'Land Architecture, Land Urbanism' and analysis of "Future Cities."
10:00-19:00, Mon closed
Public holidays 10/2, 10/9 Open, 10/10 Closed
1-minute walk from City Hall Station Exit 3
Seoul Citizens Hall
Seoul Citizens Hall is a public space in Seoul Citizens Hall accommodating various citizen-led activities. Known locally as
Si-min
(citizen)
Chung
(listen), the Seoul Citizens Hall primarily serves as an auditorium and a venue for citizen discussions. During the 4th SBAU, the Seoul Citizens Hall will be the focal point for a global discussion on 'Land Architecture, Land Urbanism'.
09:00-21:00, Sun Closed, 9/29 Closed
2-minute walk from City Hall Station Exit 5
Byoung Soo Cho,
General Director

Byoung Soo Cho is a founder of BCHO Partners. For the past 30 years, his diverse architectural projects have been founded on a philosophy rooted in land, light, and nature. His architectural practice experiments with themes such as 'Experience and Perception,' 'Existing and Existed,' '- and ㄱ-shaped Houses,' 'Contemporary Vernacular Architecture,' and 'Organic vs. Abstract.'

His notable projects, including Hyundai Cheonan Global Learning Center, Namhae Southcape, Jipyeong Guesthouse, feature the values of both "sophistication" and "rough touch." These project have been recognized by the AIA Honor Award, Northwest and Pacific Regional (2003), Kim Swoo Geun Architectural Award (2010), AIA Honor Award by the Montana Architects Association (2013), KIA Awards (2014 and other years), Grand prize of The Good Place Award (2018), Excellence prize of The Good Place Award (2021), Red Dot Award and iF Design Award (2021).

Cho has taught at Montana State University as an associate professor (1999–2006), at Harvard University as a guest professor (2006), at Aarhus School of Architecture as Velux Chair professor (2014). He has served as curator in charge of architecture at the Gwangju Biennale (2009) and chairman of the Selection Committee for the Korean Pavilion at the Venice Biennale of Architecture (2016).

At the 4th SBAU, Cho will advance the idea of 'Land Architecture' that he has explored through his practice. He will also serve as a co-curator for the Thematic Exhibition and the Seoul 100-year Masterplan Exhibition, presenting potential pathways for sustainable architecture and urbanism.


Noh Hee Young,
Director of Opening Ceremony and Marketing

Noh Hee Young is currently a brand strategy advisor of CRB Media Group and the CEO of FNB LAB. She previously worked vice president of ORION, executive director of CJ Group Brand & Communication, and CEO of YG Foods. She has directed global events such as KCON(2012–2014), MAMA(2011–2013), and Korea Night at Davos Forum(2014), leading visual communication and marketing.
Eui Young Chun,
Thematic Exhibition Curator

Chun is an architect and professor of architecture at Kyonggi University. He served as General Director for the Seoul Design Olympiad (2009), the Gwangju Folly Project (2015), and the Seoul Architecture Festival (2019). At present, Chun serves as chairman of the Korean Institute of Architects. His book Open Architecture Changes the World: Revolution in Engaging Spaces presents methodologies to create sustainable urban spaces. Chun will serve as a co-curator for the Thematic Exhibition, which aims to establish ways forward for future cities based on land urbanism.


Jinyoung Lim,
Guest Cities Exhibition Curator

Jinyoung Lim is the founder of OPENHOUSE Seoul. As an architectural journalist and director, she has participated in various publications, exhibitions, research, and culture projects. She served as editor of C3 KOREA (previously Architecture and Environment) in 2000, senior editor of the monthly magazine SPACE in 2005, contributor of the architecture magazine MARK in 2010, and guest editor-in-chief of Documentum in 2018. With rich experience in architectural curatorial projects in publishing, exhibition, and research, Lim will serve as co-curator for the Guest Cities Exhibition to present case studies on urban density and publicness.


Sang Hoon Youm,
Guest Cities Exhibition Curator

Sang Hoon Youm is an architect and associate professor at Yonsei University. His research seeks to broaden the interface between the city and architecture. He has experience in curating international architecture exhibitions such as Swiss Positions Swiss Scale, Retrospective Futures: Seoul Regeneration, etc. He received the Korea Institute of Architects Award in 2021. Youm will serve as co-curator for the Guest Cities Exhibition and create arenas for discussions among global cities to collect diverse perspectives and solutions related to Land.
Sara Kim,
On-site Project Curator

Sara Kim is the leading architect of Diagonal Thoughts, an interdisciplinary architecture studio working across the boundaries of architecture, installation, and art. The representative works of Diagonal Thoughts are ( ) function: In between useless architecture and useful sculpture, the winning entry of the nominated competition for MMCA Gwacheon in 2021, and Alone Together: Portable Scenography, a Swiss pavilion for the Gwangju Biennale in 2021. Sara Kim will serve as the curator of the On-site Project, proposing architectural and sensual devices to raise awareness about Songhyeon Green Plaza, the major venue of the 4th SBAU, as a place reopened to the public in a hundred years.


Leif Høgfeldt Hansen,
Global Studios Curator

Leif Høgfeldt Hansen has engaged in various international exhibitions, research and exchanges over the past 25 years while working at the Aarhus School of Architecture in Denmark. He has participated in several key Korean projects, such as the Gwangju Folly Project, SBAU and Busan Biennale. He has been appointed to various posts, such as Deputy Chairman of DoCoMoMo, Denmark and The Danish Artists' Society Jury. In 2013 he established Studio CONTEXT and, in 2018, co-founded Studio Transformation. Hansen will serve as curator for the Global Studios and collect a variety of young and creative ideas from architecture schools around the world.



SBAU
The 4th SBAU
EXHIBITION
PROGRAM
LOCATION
CREDIT
NOTICE
SBAU
The 4th SBAU
EXHIBITION
PROGRAM
LOCATION
CREDIT
NOTICE